When it comes to creating a strong SEO strategy for your website it is essential to increase your search rankings in popular search engines like Google and Bing. Besides blogging, if you want to promote your content/products on social media platforms like YouTube and Facebook, you also need an SEO strategy to compete with your opponents.
Above all, if you want to sell your products on the world's leading online shopping platform Amazon, you need an SEO plan to be in the top organic search results when someone searches for the product you are selling.
Why do you need an SEO strategy?
If you want your content to be unique and also want it to rank higher on the search engines it is necessary to make an SEO strategy. The SEO strategy is needed to ensure that the content you put out there is relevant and unique, to generate the best possible amount of traffic. To get a good start on your SEO strategy, making a keyword research will help you a long way. Unique keywords with low competition but high search volume will give you the best possible results. Also, your keywords should be relevant to your brand, unique, and have high search volume.
To be honest, hiring a full-time SEO expert can be expensive. Moreover, it will be time-consuming for the marketing team to get involved in the following work:
Keywords Research: If you want to hit the target audience all you need to do is to make a Keyword research. This means to make a list of words and phrases that people search more often on, have in mind phrase matching is important. Keyword research is making a list of words and phrases according to your brand which will hit the target audience. In the end you'll end up with a list of keywords you can target.
Building external hyperlinks: It is targeting other websites and linking your existing domain with other domains to have a greater influence on search engine ranking.
Competitor Analysis: To pick the right competitor and then analysing their marketing strategies by conducting a SWOT analysis.
Semrush
Until recently Semrush did not offer a free trial for their product, because it's that good. Now you're so lucky you can get a free trial for 7 days, no credit card needed. I will recommend you very highly to test it out, and if you like it, then sign up right away. You can save a lot by choosing annual payments.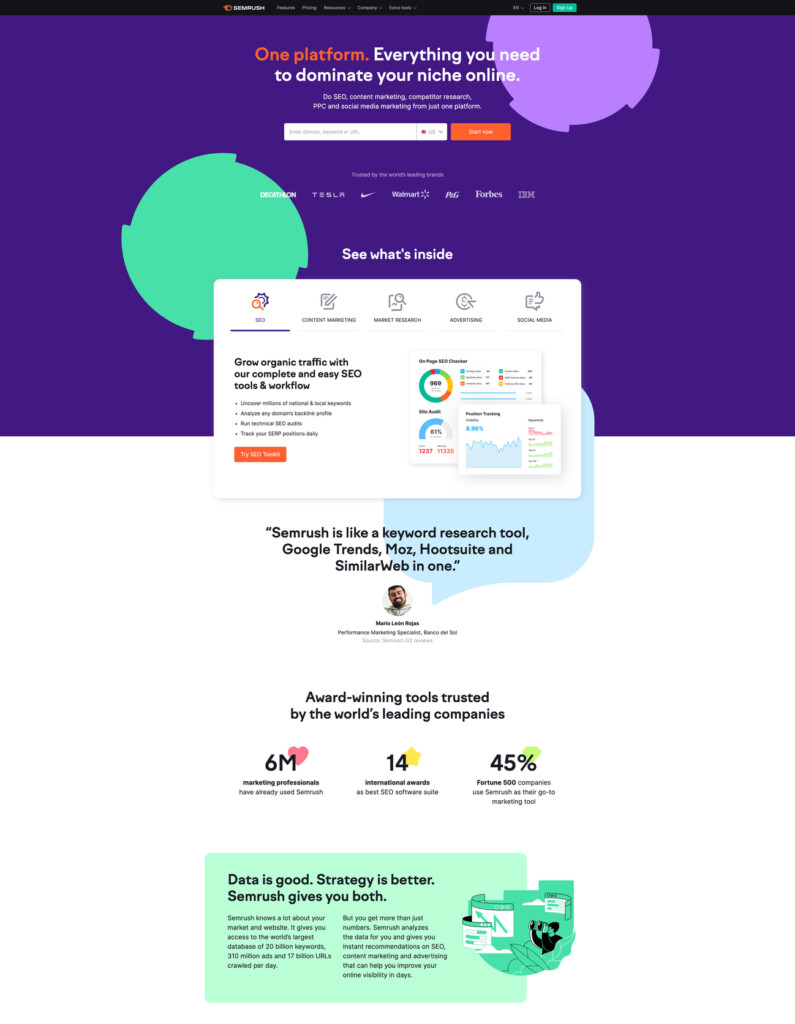 Technology has developed some standalone space-saving and all-purpose marketing tools which outshines the SEO monopoly. Thus, creating an SEO plan for your website or social media profile is no longer a headache. Thanks to technology, we now have several high-quality SEO tools (both free and paid) that will help you make your keyword research easy, and this way, you will get a better result in the end, and save time.
There are a ton of content marketing tools out there, also known as SEO tools. All these tools are different, some come with a content marketing toolkit, other doesn't. It's important you look into the features and find the tool that fits your need. Do you for instance need an SEO writing assistant, or instant recommendations? Well, then maybe Semrush is the right tool for you. Semrush is one of the few great award winning tools in my opinion.
Like other SEO tools, I have personally used Semrush for a while now, and in this article, I will highlight the features of Semrush that appeal to me the most.
Let's have a brief overview of Semrush.
Semrush acts as a compact marketing tool
Semrush is the most popular and accepted SEO tool in the market. Semrush is a SaaS product used by over 6,000,000 digital marketers worldwide. It is such a useful marketing tool that does a bunch of data analysing and insights actions instantly.
Semrush offers you the most competitive market research, which is the most helpful thing in developing new marketing strategies or revising the previous one.
It provides the complete solution needed to boost your brand across the globe. It has extensive coverage on almost all aspects of marketing, such as:
SEO
PPC
SMM
Keyword Research
Competitive Research
PR
Content Marketing
Data Insights
Ad Campaign Management
It is a pretty decent deal at a very reasonable price, which I will get back to later in the article. Once you get started using Semrush, you will be able to find lucrative keywords, optimise your website, bring in more traffic, and even keep an eye on your competition. In this article, I will guide you on how you can analyse your competitors through the feature: Magnifying glass.
Features of Semrush
Semrush may not be a new name to some; most likely, many of you have used this tool before. But if you are a new SEO learner, then Semrush is one of the best SEO tools. It is undoubtedly an all-in-one SEO tool. For example, you don't have to search here and there to analyse backlinks, keyword ranking, gaps in your content, and competing websites because you will explore all these things in a single platform using Semrush. The best thing about using Semrush is that you don't need to be a professional, all it takes is a simple tutorial video for beginners, and you can start playing with Semrush's tools. Semrush is very well-known for their real time website analysis. They have made a ton of articles on the subject, and it's a great way for you always to stay updated on your website's status. Semrush of course supports integration with Google Analytics and Google Search Console. It's must-have features for any SEO tool out there. There are ton of data collected by Google that Semrush uses to make you optimise your website to the fullest and win the SEO game. Here is a short overview of what the different integrations cover:
Google Analytics
Position tracking
On page SEO checker
Backlink audit
Organic traffic insight
My reports
Site audit
Content Analyser
SEO Dashboard
Brand monitoring
Marketing calendar
Google Search Console
On page SEO checker
Backlink audit tools
Organic traffic insight
My reports
Content Analyser
Link building tool
SEO Dashboard
Moreover, you can analyse both your own and your competitors' websites. This is the beauty of Semrush that sets it apart from the rest of all other SEO tools available online. This is something like peaking into your competitor's SEO strategy and then designing your own content that will rank higher. For example, if you are thinking of opening a pastry shop, you will first visit the market and check different pastry shops, especially those leading the market. You will review what makes them different from the rest of the stores, and on this basis, you will design the strategy for your pastry store. Similarly, Semrush gives you the authority to visit the online market (your competitors' website) and design your unique strategy. Now let's dig into how I used Semrush while working on a test website. The first and most important part I had to encounter was the niche selection.
Niche selection
I'm a web developer, so I've designed many websites for myself and for my clients. But before I start designing a website, I need to select the niche of the website. For this, I started from scratch. While searching for my niche, I had 3 questions in my mind. How many websites do I need to consider as my competition?
Once I have selected the best competitor websites, how do I then offer my services?
What should I offer to stand out from the rest and make my audience ask for my services? I also had to consider whether the topic/niche I'm working on is worthy? Will people search for the keywords related to my topics?
To create a website you have to check for many other things like colour scheme, images and videos, etc., but niche is the first thing that needs to be finalised before proceeding. While choosing a niche for the website, you need to keep in mind how people will search Google for keywords related to that topic. For example, one of my clients wanted to help left-handed gamers, so he asked me to develop a website for "left-handed gamers", which is a common organic search term, but people don't search this term more often and hence at this keyword the result generated was 210 searches per month.
This got me thinking for a while. Is my client looking for the right niche? Are lefties such a big audience to make an entire website about? So I asked my client why not create a website just for gamers and create a small section for "left-handed gamers". And believe me, it worked; as you can see, the organic search results of "gamers" alone provided 22.2K search volume results. However, it is a fact that we always look for low competition keywords but sometimes considering high competition keywords will also yield good results, when it combines with keywords having low competition. They have a great keyword research tool for you to find new keyword ideas you can rank on.
After finding the right search volume, the next step I follow is to search the top websites that perform well in terms of organic traffic on this list of keywords.
To do this, I scrolled down a bit and found the top 10 websites that have a large amount of organic traffic for the same keyword.
Once I have the top 10 results, I search for the domain that is closest to my chosen niche, and Semrush gave me an insight that this website has organic traffic of 8.6 million.
So you can see how Semrush made it easy for me to find the best possible niches and allowed me to take a look at the best competitor's websites. Finding a perfect niche which can potentially give your website a bunch of traffic, is a great start.
To find more lucrative keywords and optimise the website, I prefer to look for at least the 2 best performing competitor websites within my niche. This will help me to build the website with many high volume keywords without building tons of backlinks. In short, Semrush saves me a lot of time because creating backlinks takes much time. And as we all know, having a strong backlink profile is extremely important, as it tells Google that people find you relevant and trustworthy.
We have briefly touched it, but stealing keywords from your competitors is a lucrative way to know where to put your focus. Semrush supports this.
Keywords stealing
This is the most valuable feature I've found using Semrush, but let me elaborate what I mean by keywords stealing.
As I mentioned earlier, this amazing tool gives you insights into your competitor's website so that you can filter out some of the best organic keywords that drive more traffic to your competitor's website.
Here, stealing doesn't mean doing anything illegal. It simply means that this information is already available, but tools like Ahrefs and Semrush makes it easier to find these keywords.
Find the keywords of the buyers
Semrush also offers you an amazing feature. You don't need to be a web developer to use this tool. You will however use this tool more often if you are working on online shopping/affiliate websites like Shopify or Amazon. We will be looking for affiliate keywords, often called "buyer keywords". For example:
Best Tripod Stand
Samsung Note 11 Reviews
Best Air Cooler 2021
Here we are searching for organic buyer keywords which means the keywords which buyers use more often while buying products from an online platform like Amazon. If you are successful in finding the best organic buyer keywords, you will be able to create a list of the most popular products. Readers of this list will then go to websites such as Amazon, Walmart.com, GoDaddy, and others and get started with your. This means that you will get more commission for each sale by using the best keywords for buying products.
Source: https://www.nichepursuits.com/semrush-review/
Here you can see that I have entered the word BEST in my search bar, so this is a filtered list, and you will only see the keywords that contain the word "Best".
Filtering with a single word BEST is a simple method to find results. However, if you want to be more specific and play with more keywords, you can add more filters by clicking on "add one more".
Semrush helps me find the best results
You can also minimise your filter to search for the top websites to find the keywords that give you low keyword difficulty. For example, if I combine the word "best" with the search position of the websites on Google, Semrush will show me the results of the keywords from the top 5 websites that contain the word "best" in it.
Semrush gives high volume keywords
As a web developer, I prefer to target high volume keywords with low competition. However, I also believe in targeting low volume keywords that fit my website, even if they deliver an organic search result of 10 clicks per month. Based on my years of experience, I have often seen that combining a low-volume keyword with a high-volume keyword delivers more effective results. So never ignore low volume keywords. Besides, always try to search for higher volume keywords to get more traffic for your website.
PPC Features
This tool kit is so beneficial for PPC marketing and analysis.
Paid search and paid social campaign performance can be gauged with this tool easily.
Semrush offers you a feature that will provide you a brief report about your competitor's previous advertisers and campaigns.
Offers you site audit
If you are moving your site from http to https, then Semrush will give you insights into the performance of your web in the eyes of the search engines. Besides, you will receive reports on broken links that need to give your visitors a better experience browsing your website.
Source: https://www.nichepursuits.com/semrush-review/
Semrush as On page SEO Auditor
This option is similar to Site Audit, but here Semrush focuses more on individual pages and gives you a detailed analysis of keywords, word count, structure, and more. It also gives you an idea to plan your strategy to gain featured snippets and improve your search engine ranking. On Page SEO is also known as the technical seo part. As I always say it, SEO is parted in two; The technical part, and the content par.
Source: https://www.locationrebel.com/semrush-review/
Rank tracker
Your website rank on your different keywords tells you how well you are doing. So it is a must-have tool to track your position on the different search engines. Doing position tracking always tells you what you're doing good or wrong. Thanks to Semrush, that allows you to see how well your website is doing. Is your website ranking up or it is going down? Based on this you can plan your strategies accordingly. If you for instance experience a peak, it might be because of a new strategy you implemented, or do you experience a drop? Maybe Google released a new update you need to optimise your website to.
Keyword difficulty score
Semrush offers you a built-in keyword difficulty score. This is based on the idea of numbers. The higher the number, the greater the keyword difficulty will be. For this purpose, Semrush is not as effective as Long Tail Pro.
Source: https://www.semrush.com/kb/257-keyword-overview
These were the features I found quite interesting about Semrush. However, to make it easier for you, I am sharing some pros and cons of this tool under the light of my experience.
Pros and cons
Pros
SEMrush is a great source of exploring new keywords.
It will show you the organic keywords that your competitors are already ranking for.
With the help of SEMrush, you can discover new competitors and can also perform a gap analysis.
Not limited to SEO only but offers you way broad functions like backlink analysis, keyword difficulty scores, historical trends, PPC advertising research, and more.
Best of all, you can use it for free for up to 10 searches/day. Besides, they are offering a trial for both of their packages for 7 days.
Cons
The premium version is a bit expensive if you are using it individually.
Traffic numbers are just an estimate, and it doesn't correlate with the actual traffic numbers.
Semrush pricing
Software reviews each week
Join 600+ others, and get one new software review in your inbox weekly.
Conclusion
All in all, Semrush is an all-in-one digital marketing tool, focusing on SEO. As a web developer, I personally like the efficiency of Semrush, that they offer so many features in a single tool. However, if we talk about the cost, the price is a bit high for both the plans they are offering, compared to the competitors. Semrush is a great tool for marketers looking for the full package.
One of Semrush's biggest competitors is SEranking, which is another great SEO tool. I've written about my thoughts on SERanking, you should check it out.
FAQ
Which one is better: Moz, Semrush, or Ahrefs?
All of them offer more or less similar features, but, if we talk about uniqueness, then Moz pro is good for beginners, Ahrefs is the best choice for backlinks and competitor's research. In contrast, Semrush offers you the best tools for digital marketing and SEO.
Is Semrush worth it?
If you are working as an individual, Semrush will be costly for you, but if you have a monetized website or work as an agency, then $99 per month with their basic plan isn't a bad choice.
How do I find keywords in Semrush?
After opening the dashboard, you will see a search bar at the top where you can enter the domain for analysis or keywords that you are looking for. Type your keyword there and hit the search button. You will get complete results of related keywords.