WordPress Elementor play so well together, that I almost guarantee if you try it, you won't go back to using any other page builder.
A page builder is usually a drag n' drop tool to make it easy for you to build your website. It comes with a ton of standardised elements you can use and customise for your need. As soon as you have WordPress installed, which can often be done via a one-click-installation through your host, everyone will be able to build the website.
Elementor brands themself of being number one within page builders. Moreover the brand themself as being the world's leading WordPress page builder. But what is it they do so well which has created this huge success they have today? I'll try to dig a little into the different elements of Elementor in this post.
One thing Elementor does very well is their overall experience with their page builder. When you build your page, you simply drag and drop, but you see everything in real-time how it looks like. The competition out there is slowly getting this feature too, but it's not as well-functioning. Elementor really excellence in this feature.
Do you want to see something cool?
I have made my first Google Story, and I'm testing out the format. Click on the button to the right to see it. I think you will like it!
WordPress Elementor features
Editor
Elementor's number one feature is, of course, their editor. It features drag and drops, live editing and you'll experience it's much faster than other page builders.
It's very simplified which makes it possible for you and all others who, aren't necessarily very techy. It makes it possible for you to streamline your content and your daily changes of the website.
Popup builder
Another cool feature of wordpress Elementor is their popup builder. It's the same editor, but it's for a completely different focus. They have a ton of pre-built popup templates you can use or at least start with and change into your own style. This is awesome and will make your workflow way faster as you can re-use the popup on multiple pages, but only have to maintain it in one place.
Widgets
WordPress Elementor has a ton of widgets, you can check them out on their website. They have everything from simple titles to more advanced 3rd party widgets which automates your processes. Again the overall benefit you get from using Elementor, is you save time.
Integrations
WordPress Elementor has more features than mentioned, but integrations are the last feature I want to mention. As previously mentioned, Elementor is here to make your work life easier. Integration is a big part of it. You can integrate to your lead app, to feed all leads directly. You can integrate with your SEO plugin to make your life easier. As you might understand, you can integrate everything together to make it run all by itself.
Elementor support
There are numerous of ways you can get support from Elementor. They are very good at making video tutorials to show you specific issues and fixes for it. However they also have a huge knowledge base and FAQ where you often find you answer. Though will you some times experience you have a very specific issue you can't find an answer for. here I would refer to, if you have a pro license, to contact them directly. Otherwise last way out could also be the Facebook community they've made.
WordPress Elementor pricing
You can use Elementor completely free if you want to. It's free forever and you'll get a long way just using the free version. If you, however, are in a position where you have advanced needs I would recommend you upgrade to the pro version. You'll get a ton of features and be able to automate your processes even more. Depending on how many websites you want to use it on, the price is of course different. Notice you can pay USD 199 for 1 year, where you can use Elementor on 1000 website. It's a huge value for money if you ask me.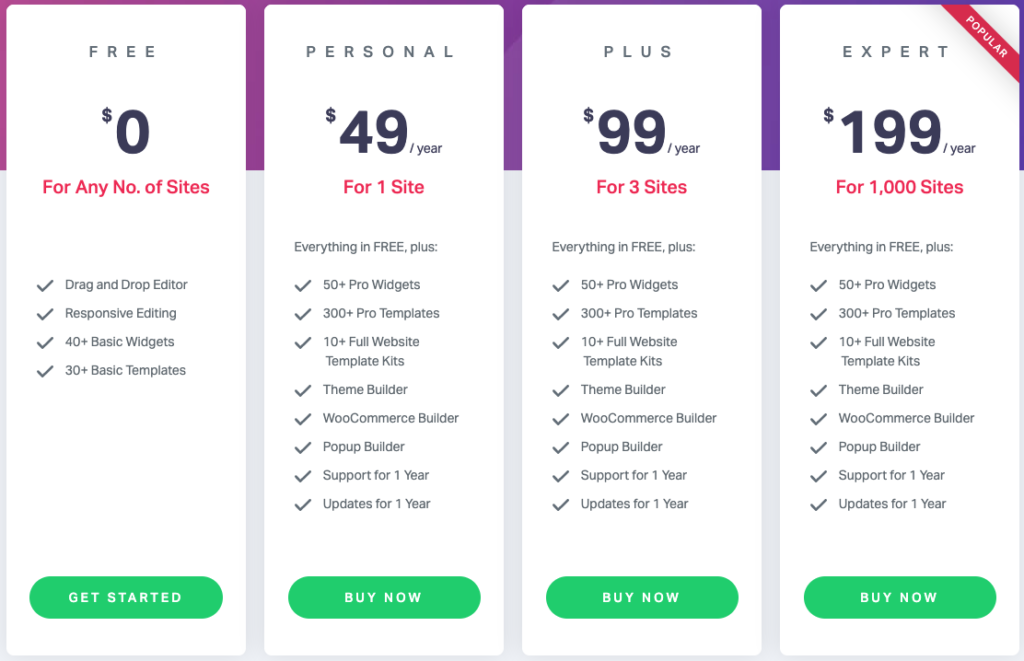 WordPress Elementor updates
Elementor is updated fairly often. You can check out the change log for the free version. Or you can check out the change log for the pro version. What you will see is that both of the versions are updated fairly often. They often add new features, but of course, also fix issues and bugs which occurs.
Do you use Elementor, or which page builder do you use?
Software reviews each week
Join 600+ others, and get one new software review in your inbox weekly.
Conclusion
There are of course a ton of different page builders out there, in this piece I dig into Elementor and the different elements WordPress Elementor provides. It's brief and easy to read for everyone. You will, after reading this, get an idea of what Elementor provides, functionality-wise. I've used Elementor for multiple websites like Wastecontrol and IoTSensors.
Elementor is definitely my favourite page builder out there, and I've tried a lot of different ones. The biggest differentiator for me is that Elementor just works. It's so smooth and fast, and easy to use. Those 3 pinpoints together make the perfect product for me.
FAQ
Is WordPress Elementor available for free?
Yes, they have a free version you can use. It's free forever.
What is WordPress Elementor?
Elementor is a page builder made for WordPress. It makes it easy for you to work with your WordPress website.
How do I open an Elementor in WordPress?
There are multiple ways of doing this. You can either go to the page and in the admin top bar click "Edit with Elementor". Or you can go to your admin and to your pages, and press "Edit with Elementor" on the page you want to edit.
Is Elementor good for SEO?
You can integrate Elementor with whatever SEO tool you're using. So to answer the question, yes it's good for SEO.