Keywords Everywhere is a popular keyword research tool that allows users to see search volume, CPC, and other metrics directly in Google Search results.
However, Keywords Everywhere recently transitioned to a paid subscription model, leaving many users looking for free alternatives.
In this article, I'll introduce you to some of the best free Keywords Everywhere alternatives you can use in 2024.
Here's a quick overview of them:
Keyword Magic Tool from Semrush
These tools offer a variety of features, including keyword research, competitor analysis, and SEO insights. Let's dig deeper into how they can help you and their pros and cons.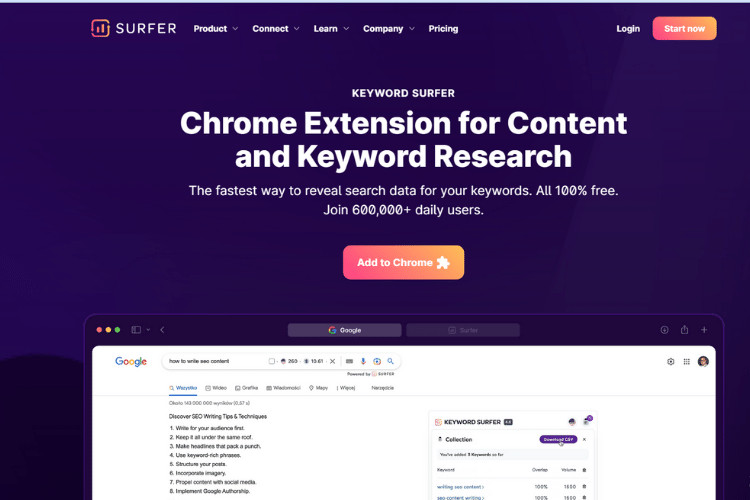 Keyword Surfer is a game-changer in the world of SEO tools. As a free Chrome extension, it's a go-to choice for SEO enthusiasts and content creators looking to streamline their keyword research process. 
What sets it apart is its seamless integration with Google's search results, offering a wealth of valuable data right at your fingertips. 
This nifty extension provides insights into search volume, CPC (Cost per Click), keyword suggestions, related terms, visibility metrics, and on-page data, making it a robust tool for refining your content strategy.
2. Google Keyword Planner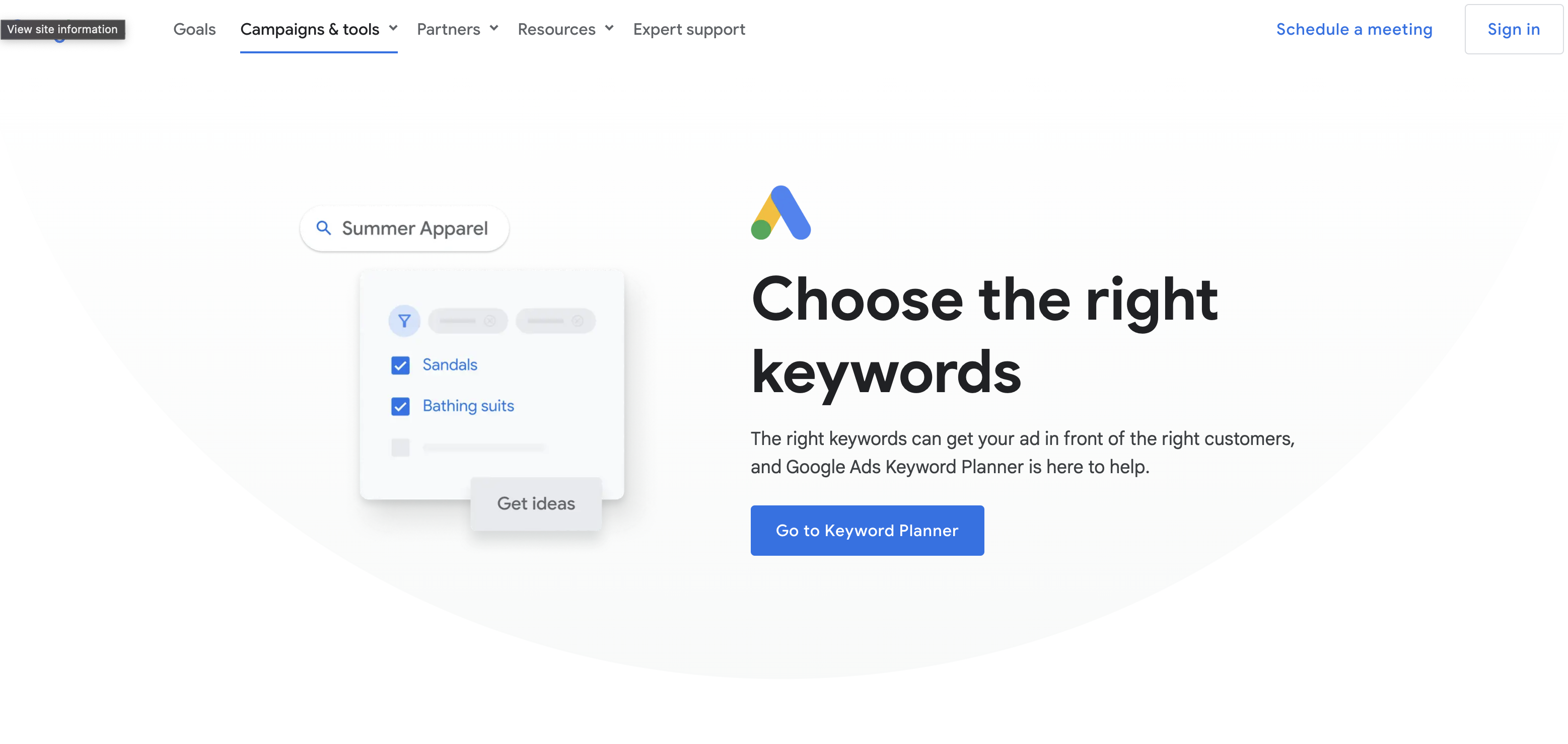 Google Keyword Planner is a powerhouse tool indispensable for advertisers and website owners looking to optimise their online presence through strategic keywords. 
As a free offering by Google, it's accessible through Google Ads. While you'll need a Google Ads account, rest assured that accessing the Keyword Planner won't cost you a dime.
With Google Keyword Planner, you can dive deep into keyword research, unearthing those golden nuggets of keywords that resonate with your audience. 
It lays out insights on keyword search volumes, competition levels, and suggested bid amounts, empowering you to choose which keywords to target.
One noteworthy feature is its ability to curate the most relevant keyword ideas based on your seed keyword, streamlining the keyword selection process for Google Ads campaigns and content optimisation.
Ubersuggest is a versatile SEO tool catering to the needs of marketers, website owners, and SEO professionals. This dynamic tool has many features, including keyword research, competitor analysis, site audits, etc. 
Ubersuggest doesn't stop at keywords; it empowers you to perform SEO audits to pinpoint and resolve website errors, thus elevating your search engine rankings. Its competitive analysis capabilities help you decipher your rivals' strategies and uncover avenues to outperform them. 
What's more, Ubersuggest's knack for generating content ideas and backlink opportunities sets it apart, making it a go-to resource for brainstorming blog topics and uncovering sources for invaluable backlinks to bolster your website's authority.
Get Actionable SEO Tips Right In Your Inbox
Join 700+ to receive an SEO tool review from my YouTube channel weekly, which I'll share with you. And on top of that, an actionable SEO tip every week.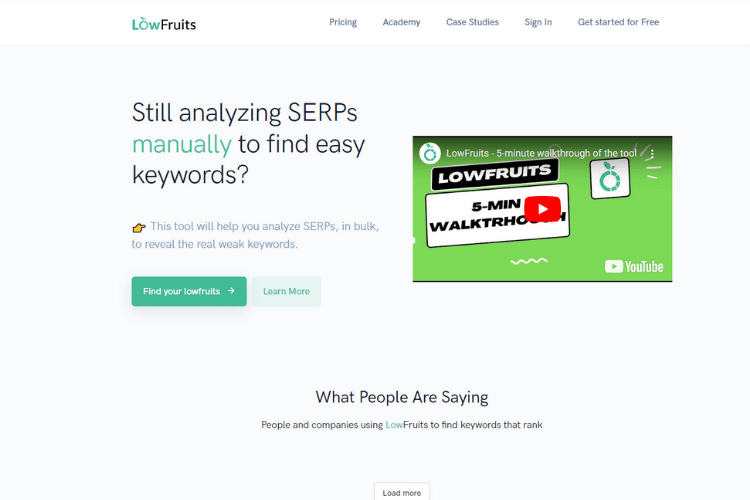 LowFruits is a potent SEO tool that streamlines keyword research, helping you boost your organic traffic and supercharge your SEO efforts. It excels in identifying low-competition keywords, making it a gem for marketers and SEO enthusiasts.
The user interface is also intuitive, and one of its standout features is its ability to visually display keyword difficulty. This means you can easily pinpoint keywords with excellent ranking potential—a valuable advantage if you ask me! 
Additionally, LowFruits empowers you with keyword clustering, allowing you to target related keywords concurrently, thereby enhancing your SEO game plan.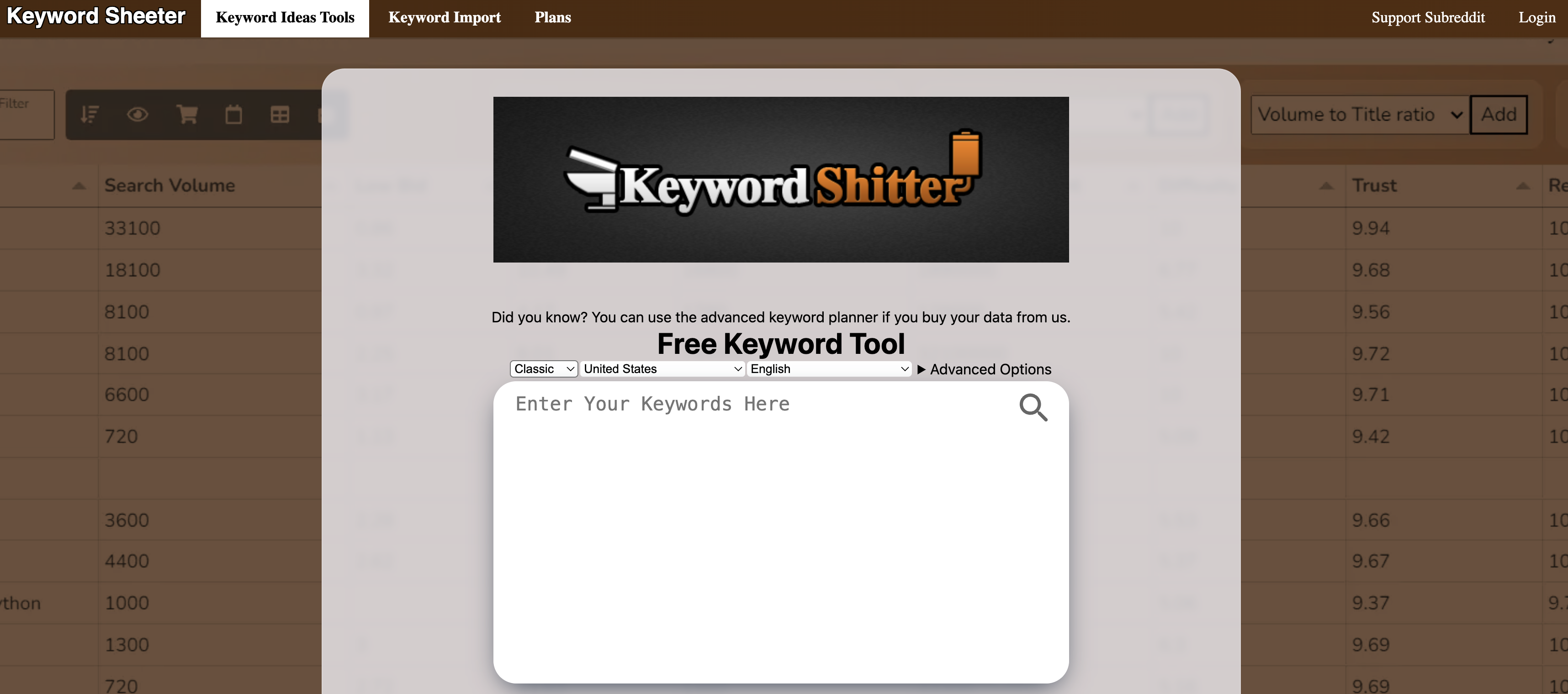 Keyword Sheeter is a dynamic and free keyword research tool designed to empower SEO professionals, content creators, and digital marketers with many keyword suggestions.
It diverges from traditional keyword tools by harnessing the power of Google autocomplete suggestions.
Using Keyword Sheeter is a breeze. Users simply input their desired keywords (one per line) and hit the "Sheet keywords" button.
In an instant, the tool generates a rich list of keyword ideas that are closely tied to the input. This makes it an invaluable resource for discovering long-tail keywords and trending search terms.
6. Keyword Magic Tool from Semrush
The Semrush Keyword Magic Tool is a potent resource for keyword research, catering specifically to SEO and PPC campaigns. 
For starters, it has access to a colossal database, housing over 24.6 billion keywords. This feature helps enable exploration across a broad spectrum of niches and topics.
Additionally, by inputting a seed keyword, you can effortlessly generate a list of pertinent and related keywords. As such, you streamline keyword strategy expansion.
The tool also boasts an intuitive, organised interface that simplifies the keyword research process. It allows for quick organisation and filtering of keyword lists, enhancing research efficiency.
Plus, you can tailor your research to target specific geographic locations, ensuring you pinpoint keywords most relevant to your audience's location.
Wrap-Up: What Is the Best Keywords Everywhere Alternative?
To sum up. finding the best Keywords Everywhere alternative depends on your specific needs. 
Keyword Surfer offers free, location-specific data, while Google Keyword Planner provides historical insights. 
Ubersuggest excels in affordability and keyword research, LowFruits uses Google Autosuggest, and Keyword Sheeter simplifies the process. 
Semrush's Keyword Magic Tool is a top choice for extensive data and efficiency. 
Consider your budget, goals, and expertise to select the perfect keyword companion for your SEO and content endeavours in 2024.