After trying 70+ SEO newsletters, I've now curated my favourite list of newsletters, and there are 12 newsletters.
These are not only the common SEO newsletters you see on other websites, but there are some smaller ones which are goldmines, and they bring so much value every single time.
So, let's dive into them.
There are probably 100s of SEO newsletters, and there is a lot of irrelevant content in-between, but these 12 bring value.
Each newsletter I've chosen excels in four key aspects:
Maintains a consistent schedule of email updates without interruption.
Concentrates exclusively on SEO (not just general marketing).
Delivers a unique offering that surpasses other SEO newsletters.
Provides valuable free content without being restricted by a paywall.
Niche Site Lady was a newsletter I stumbled upon on Twitter, and she shares the same Twitter username.
She's a one-man army, previously working in an SEO position at a large company and transitioning into running her own blogs.
She's running a travel blog, and she shares tips, tricks, news in the industry and her processes for how she tackles SEO.
This is my favourite newsletter, and I get so excited whenever it pops up in my inbox.
Email Schedule: Every Tuesday
Author: Niche Site Lady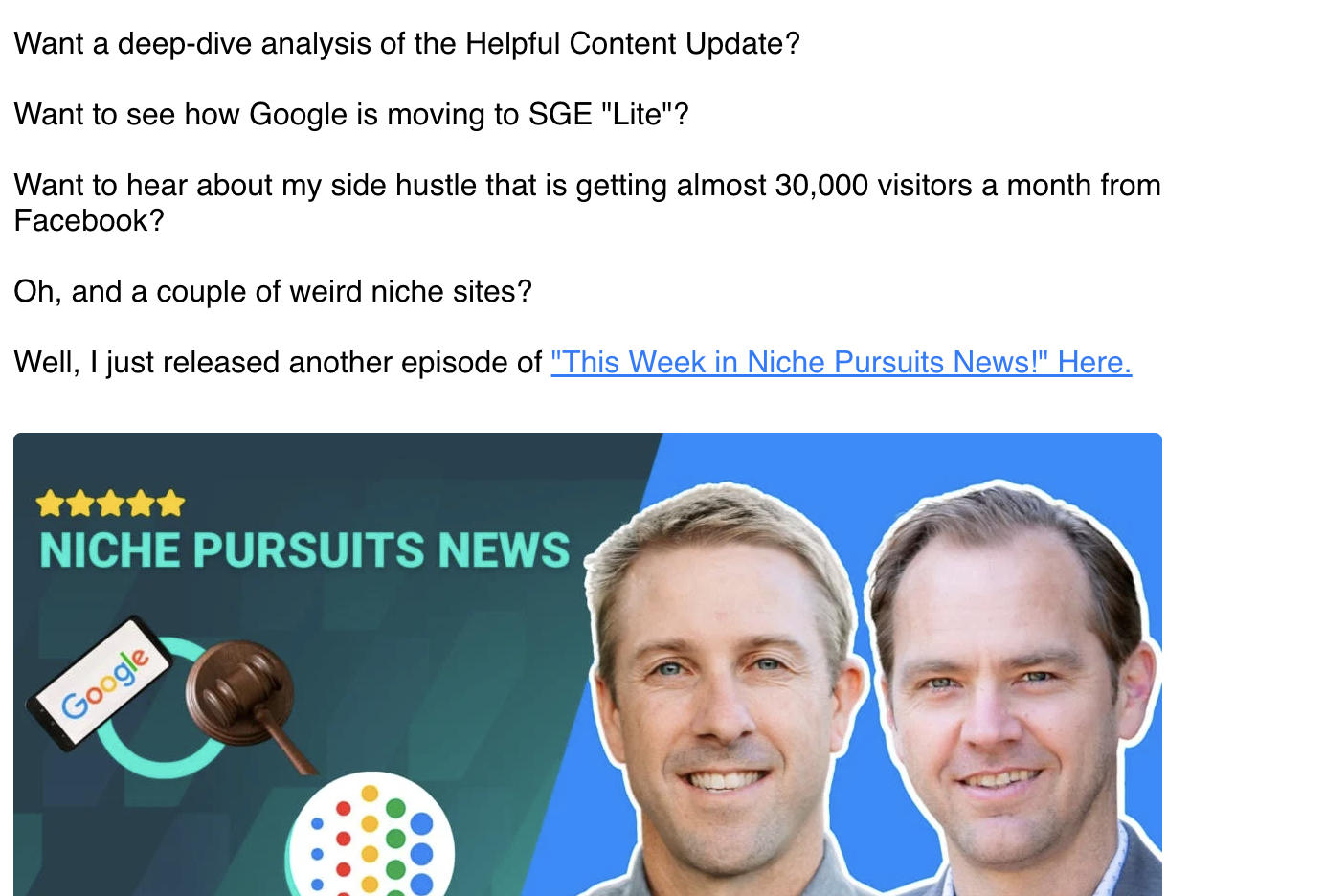 Spencer Haws and Jared Bauman mainly drive Niche Pursuits, and they're just excellent. They have a podcast as well.
Their weekly newsletter often shares whatever happens with their podcast, but it brings golden nuggets anyway.
Spencer is great at sharing projects and techniques for using AI in his content production.
Spencer is also being Link Whisper and other WordPress plugins, which he shares information about.
Email Schedule: Weekly
Author: Spencer Haws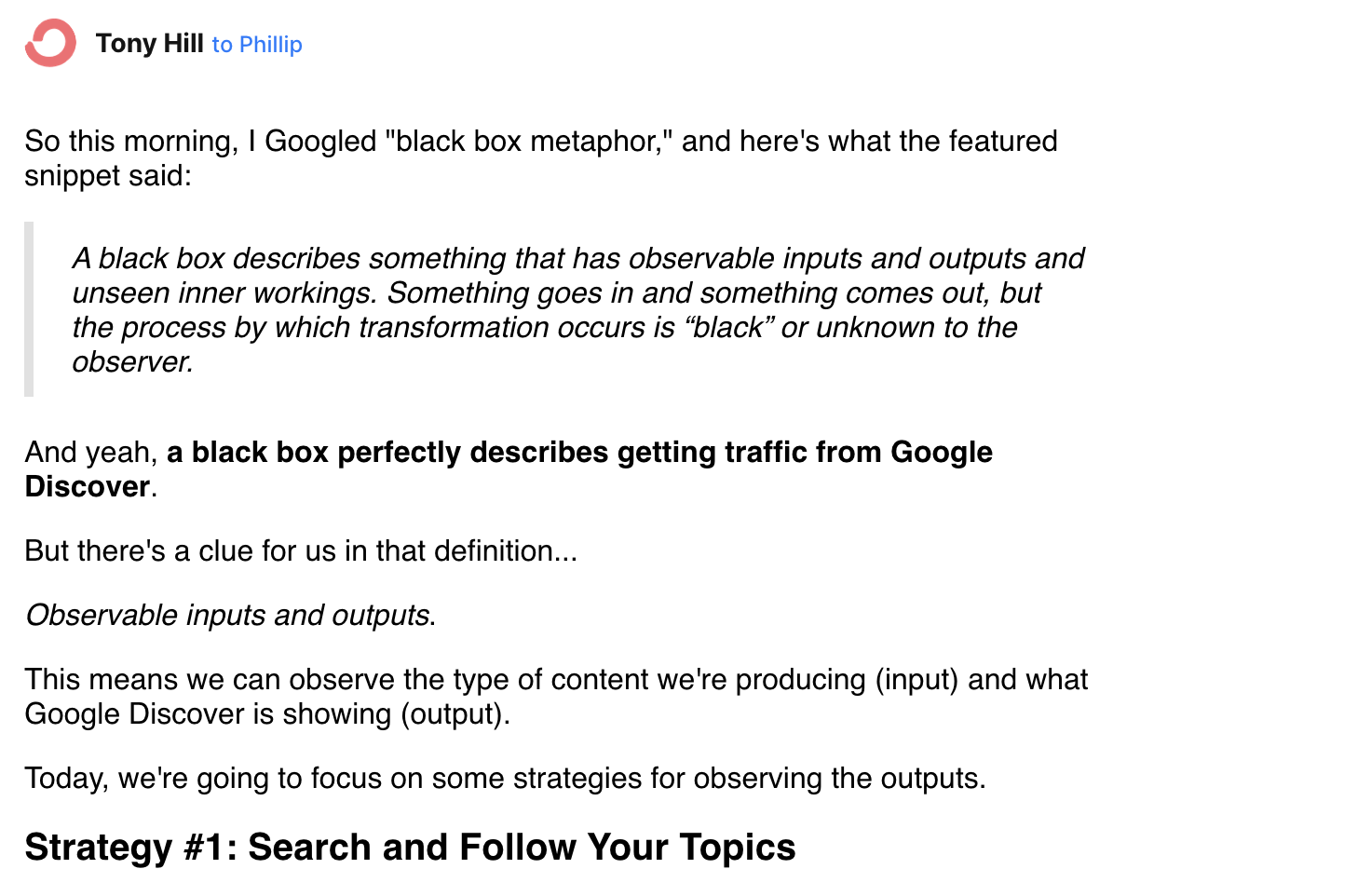 Tony Hill is an expert when it comes to Google Discover and Pinterest.
I saw a podcast episode with him on how he generates 1 million clicks from Pinterest every month, and it's super impressive.
I've been following him for some while, and he's now all in on Google Discover, and he shares great tactics on how you can tackle it.
Google Discover is a goldmine if you can nail it, but there is no right or wrong way to do it.
As recently as today, as I'm writing this article, I received an email from Tony regarding how you can identify Google Discover subjects to write about.
Email Schedule: Every Wednesday
Author: Spencer Haws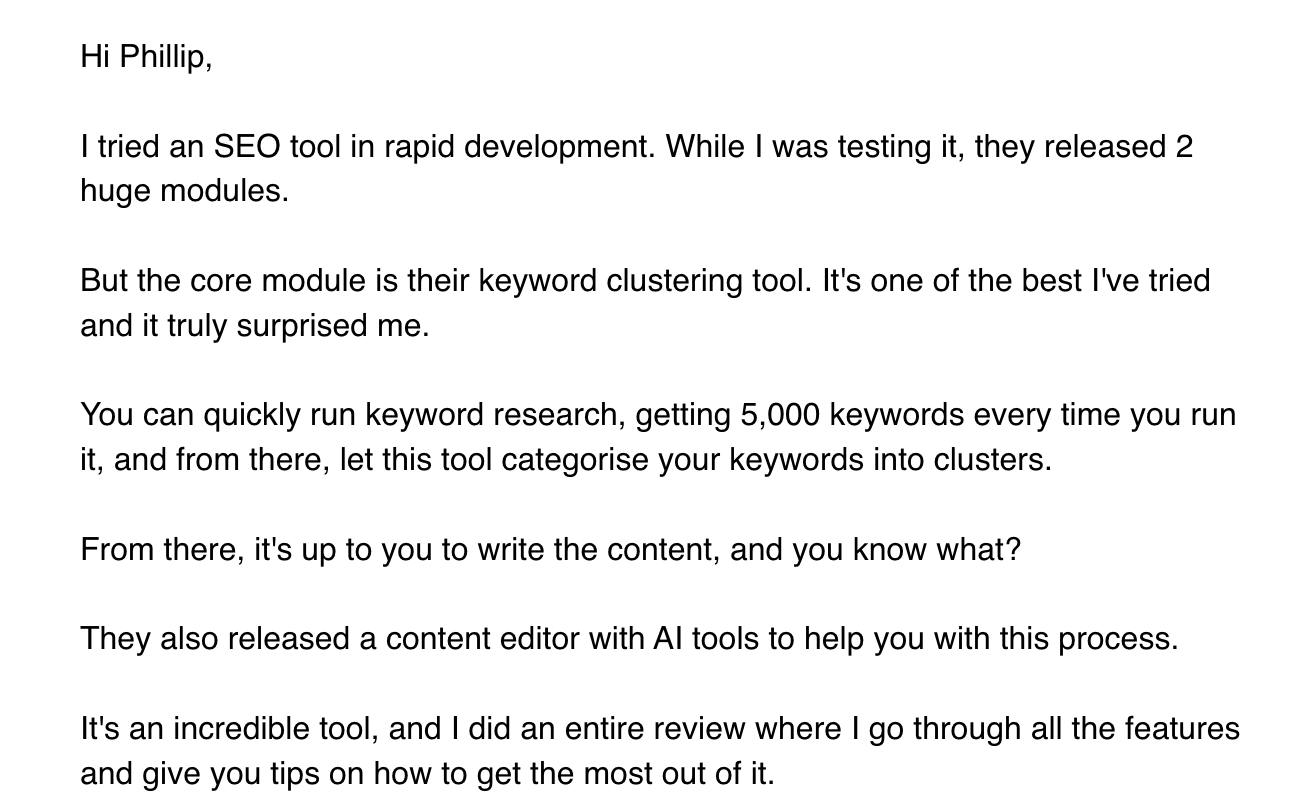 I have a newsletter as well. Surprise, it's on the list.
I love sharing actionable SEO tips on how you can improve your SEO efforts by doing small changes that take less than an hour.
I share two weekly newsletter episodes, 1 with an SEO tool review and 1 with an actionable SEO tip you can do immediately.
Email Schedule: Every Tuesday and Thursday
Author: Phillip Stemann
Get Actionable SEO Tips Right In Your Inbox
Join 700+ to receive an SEO tool review from my YouTube channel weekly, which I'll share with you. And on top of that, an actionable SEO tip every week.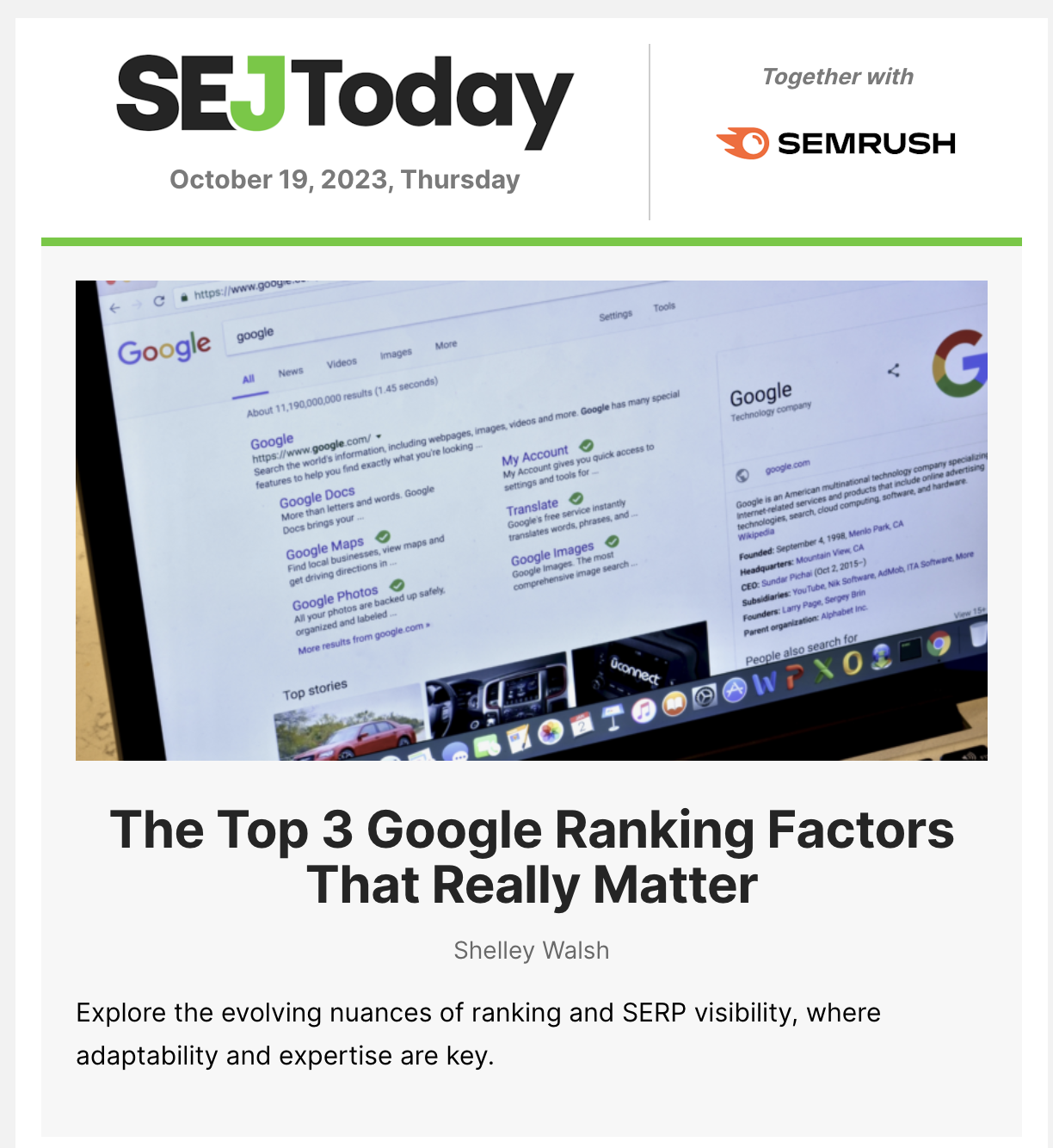 Search Engine Journal is for me what reading regular news is for others. This is my go-to newsletter for search news and algorithm updates.
Whenever there is news in the SEO industry, you'll get your SEO updates from Search Engine Journal.
It's just my go-to for news within SEO, and they're so great to be upfront with the news, and as soon as Google is doing something, you know, Search Engine Journal has an article on it.
They do have a daily newsletter as well, which is awesome and brings the news and tips right to your inbox.
Email Schedule: Each weekday
Author: Loren Baker
Jared Bauman runs Weekend Growth, and it's a goldmine of tips and tricks on how to improve your SEO efforts.
Just last week, he sent out a Google Sheet to help you recover from the Google Helpful Content Update, entirely free for 72 hours.
He gives so many golden nuggets I've stopped counting, and then he's just a standout guy.
Email Schedule: At least twice a week
Author: Jared Bauman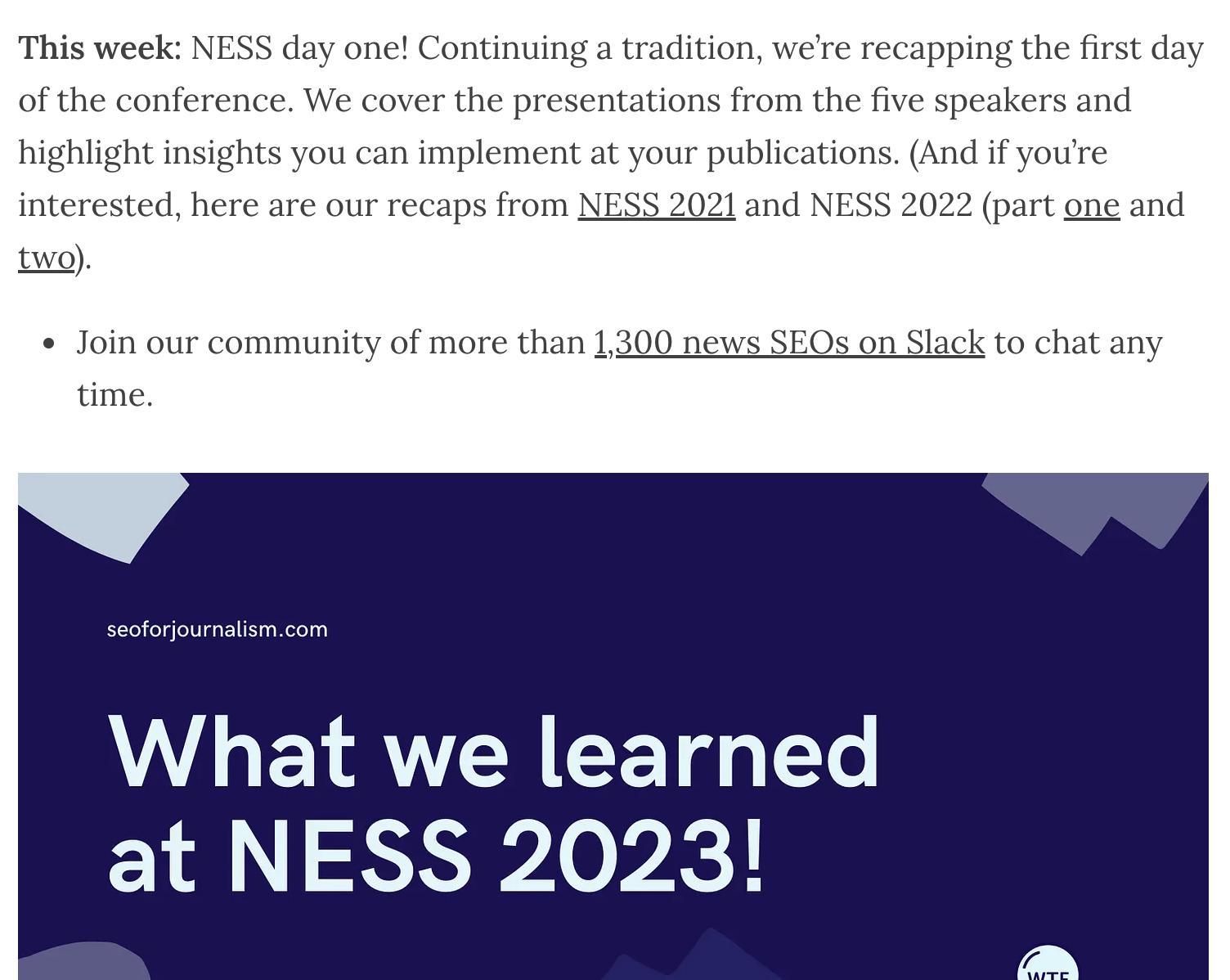 This is such a great weekly newsletter tailored for publishers and content creators.
I love the name, and it insinuates that this newsletter is taking something complicated, which SEO is, and breaking it down to allow anyone to comprehend it.
It's a different type of weekly newsletter in the traditional sense, where the design is very newsletter-like.
But they mix their content with SEO news and tips and tricks.
Email Schedule: Every Monday
Author: Jessie Willms & Shelby Blackley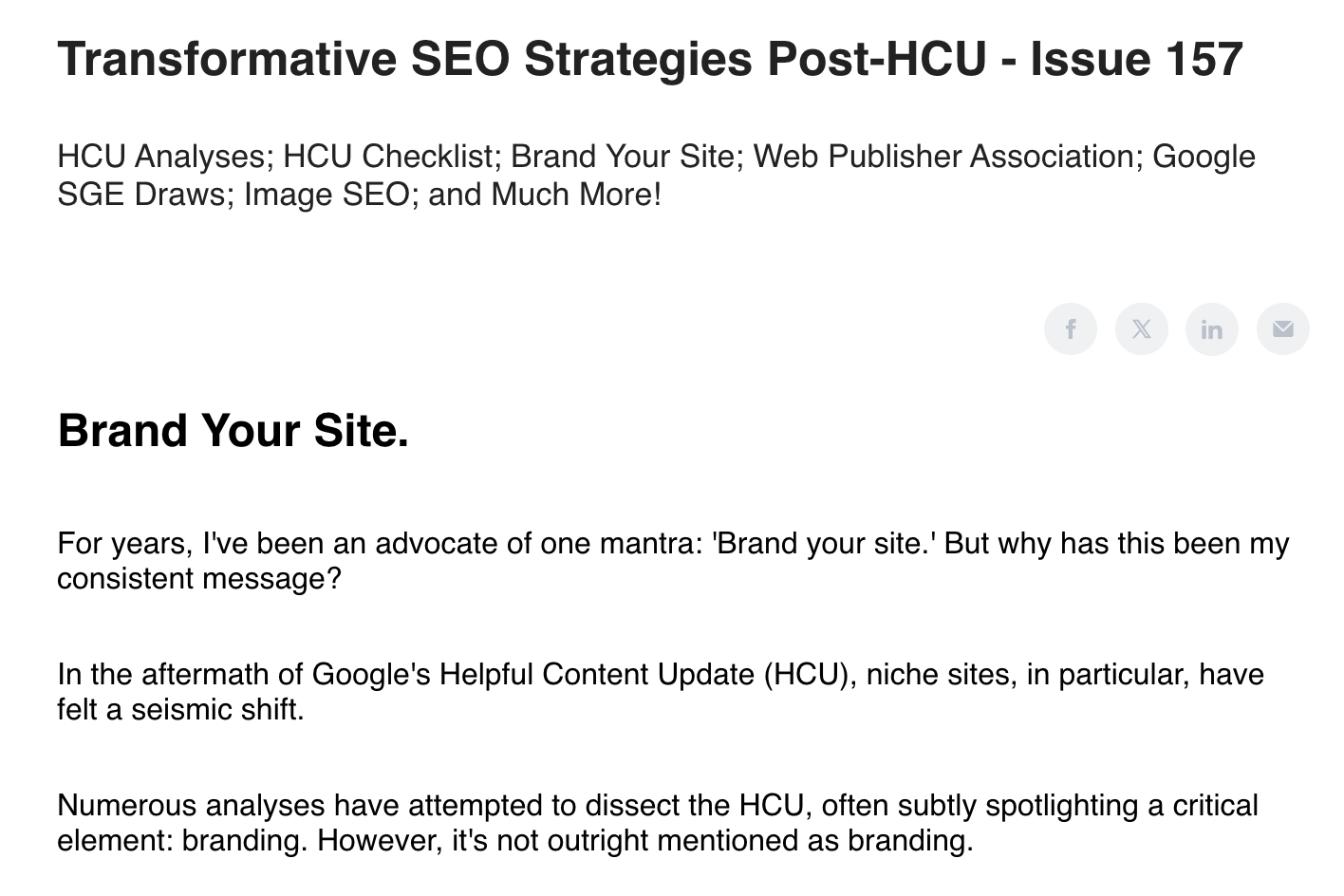 Nichesurfer is the "longest" SEO newsletter I get every week, and it's incredible.
It's jam-packed with SEO news and content pieces you can read right away to improve your SEO skills.
I love skimming through it and opening up the articles I want to read, and Yoyao is great at adding some informational content in the beginning to give you a little push.
Email Schedule: Every Saturday morning
Author: Yoyao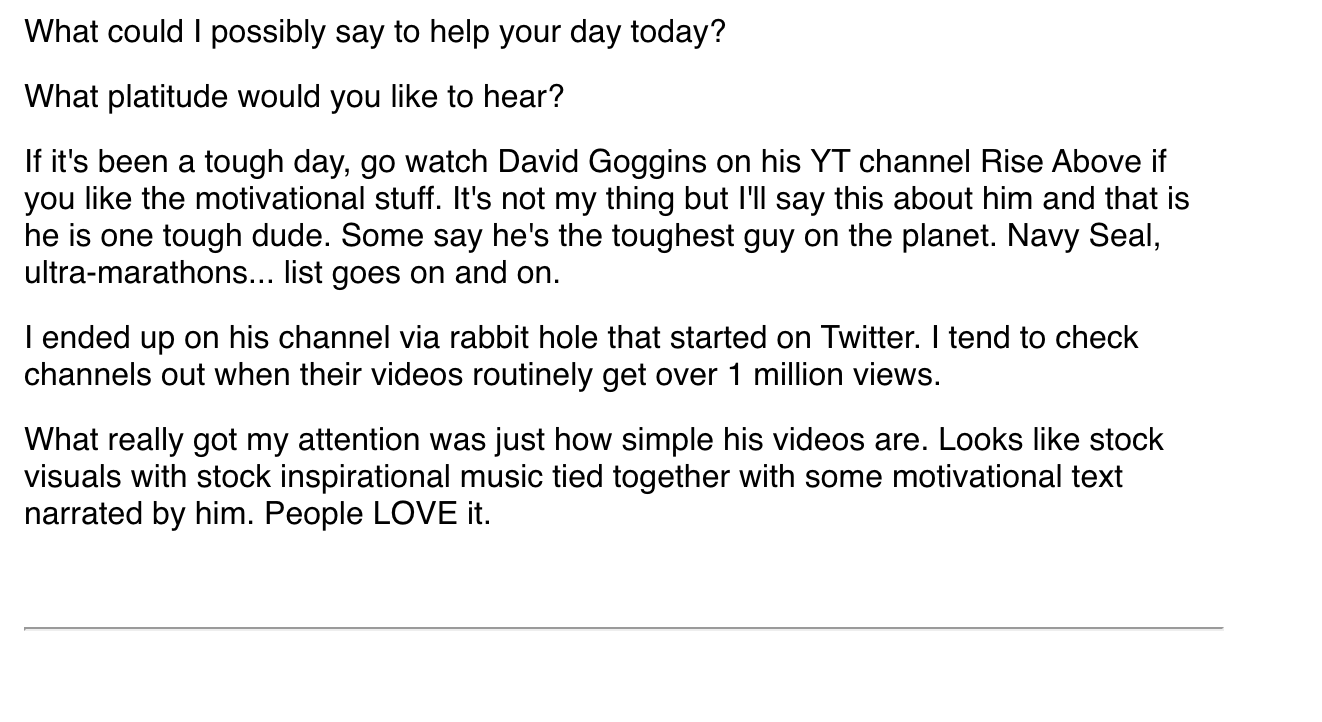 I stumbled upon Jon and Fat Stacks this year, where I bought his course, and it's great, but he also has a newsletter which brings great value for SEOs.
Not only does he share his processes and tactics. He also shares tips and tricks within SEO and what you can do to ramp up your content production.
Jon is a big fan of creating multiple traffic streams and avoids relying only on Google.
He also has a YouTube channel, where he's interviewing SEO experts and giving SEO tips and tricks.
Email Schedule: Weekly
Author: Jon Dykstra
Beth Sachs is one of the newer newsletters I signed up for some months ago, and Beth is awesome.
She's a big fan of RankIQ, which is her go-to SEO tool for keyword research and content creation. She loves using it with KoalaWriter.
All her tactics, progress and tips are what she shares in her newsletter, and it's super fun to follow along and get some nuggets.
Email Schedule: Weekly
Author: Beth Sachs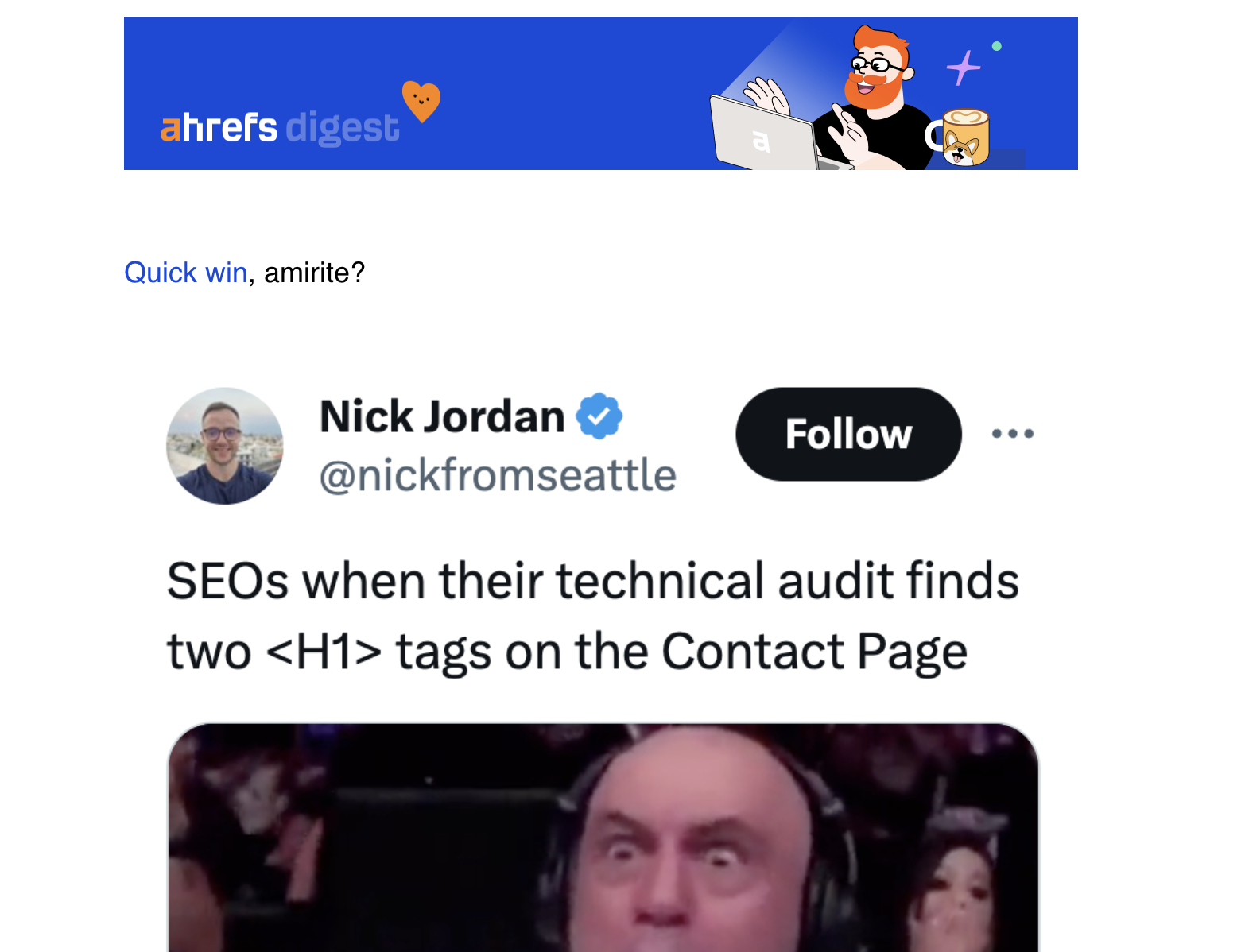 Ahrefs is together with Semrush, the 2 biggest SEO tools in the industry, and I love Ahrefs keyword research because their database is so big.
But that said, they obviously have an enormous amount of knowledge within their company that they share every week.
Sometimes, it's a bit of generic advice, but this SEO newsletter is perfect for beginners in SEO.
Email Schedule: Weekly
Authors: Dmytro Gerasymenko & Si Quan Ong
Steve Toth runs SEO Notebook and is excellent at sharing his SEO knowledge, both on how he does his SEO content and search engine optimisation in general.
He shares everything from his exclusive SEO strategies to more simple SEO tips you can do to improve overall.
He offers a lot of bonus content you can download entirely free, but overall, it's a great newsletter with great informational content.
Email Schedule: Weekly
Author: Steve Toth
SEO newsletters are my favourite way of staying up-to-date on what's happening in the industry.
I love to sign up for multiple SEO newsletters so I can get some news about what Google is doing, but also some tips on how I can improve my SEO skillset.
It's important you sign up for SEO newsletters which are on your level.
If you're a beginner to SEO, I would recommend the Ahrefs newsletter, and if you want more advanced tactics, then Fat Stacks and Beth Sachs are great.
I also have a newsletter where I share actionable SEO tips every week. I try to take something complicated and break it down into bite sizes, and you can sign up here.
Get Actionable SEO Tips Right In Your Inbox
Join 700+ to receive an SEO tool review from my YouTube channel weekly, which I'll share with you. And on top of that, an actionable SEO tip every week.