When you're a beginner in search engine optimisation (SEO), you often find yourself overwhelmed by the complexity and multitude of tools available.
Choosing the proper SEO tools is crucial for optimising a website's visibility and driving organic traffic. In this article, we will explore the key factors to consider when selecting SEO tools tailored to you.
What Is Important For Beginner SEO Tools
We will dive into the importance of guidance, keyword research, keyword rank tracking, and competitor research in determining the best SEO tools for beginners. By understanding these essential aspects, you, as a beginner, can confidently make informed decisions and start your SEO journey.
The first aspect to look into is guidance. Guidance is how well the tool guides you through the SEO Universe. This is one of the critical aspects you should consider when evaluating beginner SEO tools.
If you're a beginner, proper guidance is essential to understand the various concepts and strategies involved in optimising search engines.
You can look for tools that offer clear explanations, tutorials, and onboarding processes to help you navigate the tool's key features and understand how to use them effectively.
You can also check the SEO tools' intuitive interfaces, informative tooltips, and easily accessible documentation to help you decide whether that tool is suited for your website.
Keyword Research / Search Analysis
Keyword research is a fundamental aspect of SEO, as it forms the basis for creating optimised content.
Beginner SEO tools should provide robust keyword research capabilities to implement keyword analysis and find relevant keywords related to your target audience and industry.
It can also help you to identify the most valuable keywords to target when the SEO keyword research tool offers insights into search volume, competition level, and keyword trends. This is what it's all about with these keyword tools.
Look for tools that provide comprehensive keyword suggestions, related search terms, and data on search intent. It can make the keyword research process much smoother for you as a beginner when it has a user-friendly interface and intuitive filters. 
Keyword rank tracking is a type of analysis of how well you're ranking on the different terms and the keywords you're targeting
Tracking keyword rankings is crucial to monitor the success of SEO efforts. To allow you to analyse how well your website performs, beginner SEO tools should also offer a reliable keyword rank tracking feature. 
It should provide regular updates on competitive keyword positions in search engine result pages (SERPs) and offer historical data to track progress.
To allow beginners like you to benchmark your performance and identify areas for improvement, a practical rank-tracking feature should also provide insights into competitors' ranking positions.
Understanding how your website compares to competitors is essential for developing a successful SEO strategy.
A solid competitor research module should offer competitive analysis functionalities that allow you to analyse your competitors' websites, the keywords they are targeting, and their overall SEO strategies.
It will also help you to optimise your website's performance in organic search rankings when SEO tools also focus on improving organic search visibility by providing features and insights. 
You should get insights into your competitor rankings, backlink analysis, content strategies, and other relevant data with competitor research to help you identify opportunities and learn from successful competitors.
It can also assist you in gaining a competitive edge in your SEO efforts when SEO tools offer a user-friendly interface and clear visualisation of the competitor analysis 
While comparing yourself to your competitors, you will see the domain authority from your competitors is relatively high. Don't focus on this initially, as it's not important.
Top 5 Best SEO Tools for Beginners
#1 Product Recommendation
SE Ranking has always been behind Ahrefs and Semrush, the top SEO products, but SE Ranking still gives you a ton of value.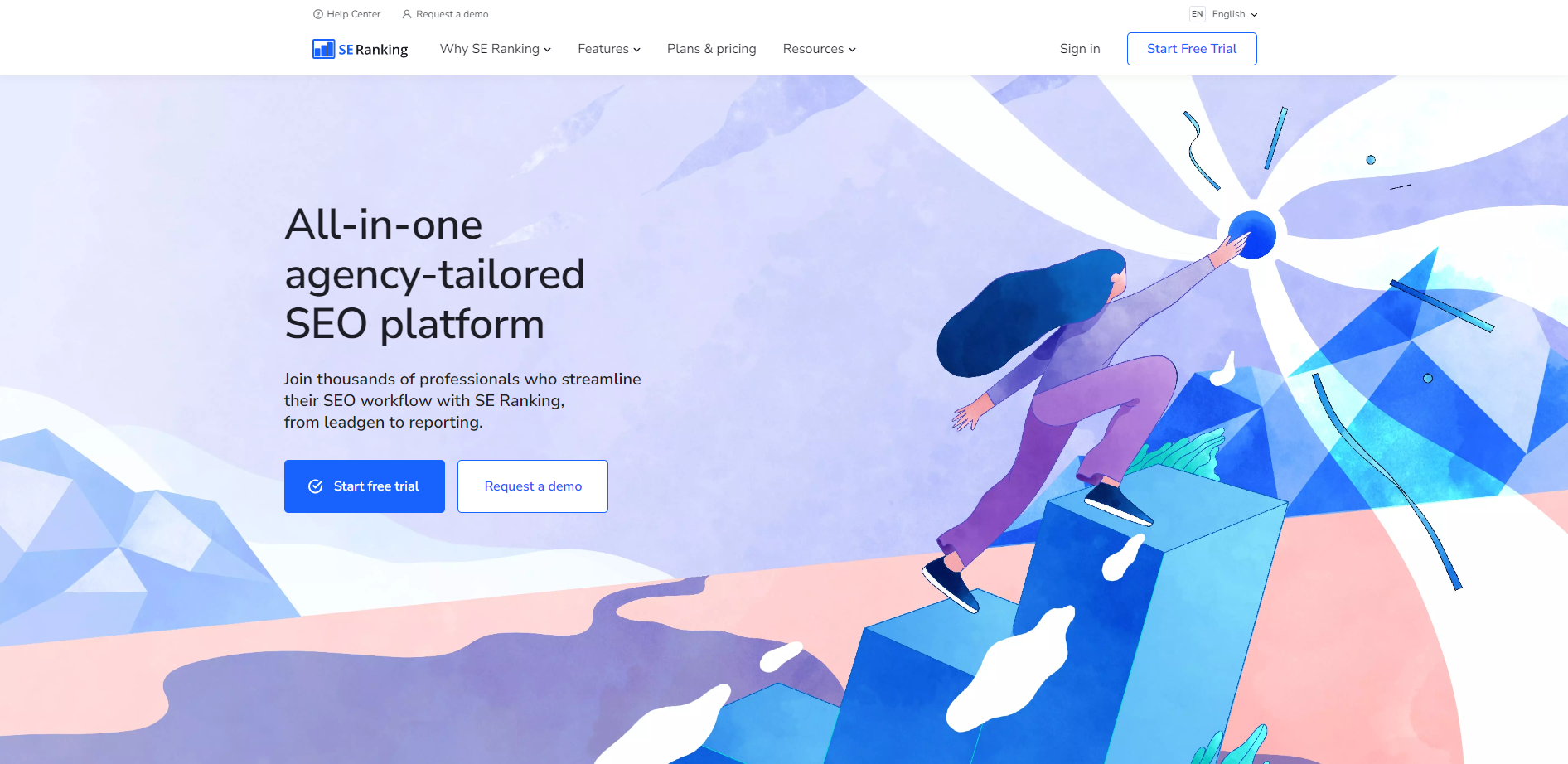 SE Ranking can be an ideal tool to help analyse your website's on-page SEO elements. It checks meta tags, headlines, content optimisation, internal linking, and mobile-friendliness. The tools SEO audit provides recommendations to improve your website's SEO performance.
With the SEO audit, you get information about broken links, internal links issues, external links issues and sometimes an entire backlink analysis. It's super valuable for your online presence.
SE Ranking is a keyword tracking tool that works super simply, and you can set it up quickly. SE Ranking helps you analyse competitors, track multiple search engines, and see search engine rankings on SERP features.
They also have a solid competitor analysis tool where you can compare yourself to your competitors on traffic, keywords, backlinks, and much more that's why it's a super reliable module.
Its keyword research module is super thorough because it shows you all you need to know, such as difficulty and volume, but SE Ranking also shows search intent, which is essential for your article. On top of this, it will show you the organic results and most popular ads.
Another critical feature SE Ranking has is an extensive keyword database that shows when you use it. Another good thing is that you can try it out entirely free before signing up.
Serpple is better at guiding their product, but SE Ranking has a simple design that helps you quickly understand how the module works. And then their support is swift if you have any doubts.
SE Ranking comes in at $49 for the lowest plan, and it is limited compared to some of the alternatives, but this is where you get the best modules and the product with the most data.
#2 Product Recommendation
Serpple primarily surprised me with its keyword research and SEO Competitor AI modules. But before we dive into that, let's start with guidance.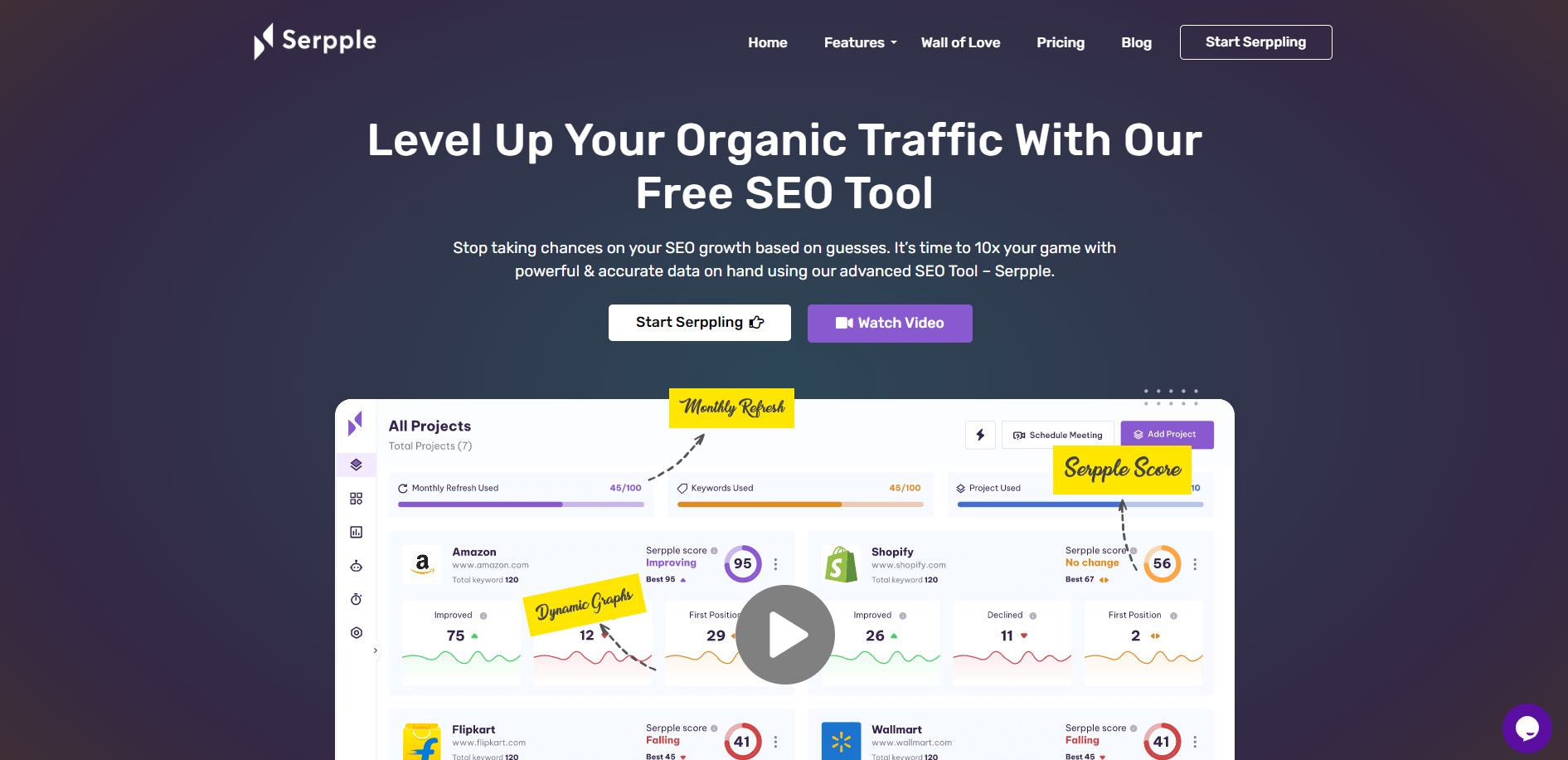 Overall there is no onboarding; however, the modules are all explained with text and many information icons. Even in its keyword ranking module, they take time to explain everything. This is the best experience so far, based on guidance.
Serpple also has a keyword ranking module that does its job, although nothing revolutionary. You can see your position on search engine rankings, an overview of all your keywords, how it's going with winning snippets, etc.
Another exciting key feature about it is the SEO competitor AI module. This SEO competitor research module is the best for beginners because it doesn't matter how old your website is. Serpple looks at keywords. So you enter a bunch of keywords describing your website, and then Serpple finds similar websites, and it's good at it.
The keyword research module is in beta, but this is a very well-developed beta. You can search by domain or specific keyword, and then you're flooded with information positively.
You get general information such as trends, volume, and competition. But you can also get who is at the top on this keyword, related searches, auto-complete predictions, and related keywords. This is impressive for an SEO tool's key features.
And my favourite part? You can get all this for $1. Of course, particular limits exist, but you can upgrade to the expert plan and only pay $39 monthly.
#3 Product Recommendation
 WriterZen is an SEO tool that focuses on keyword research and content optimisation but does not have rank tracking or competitor analysis.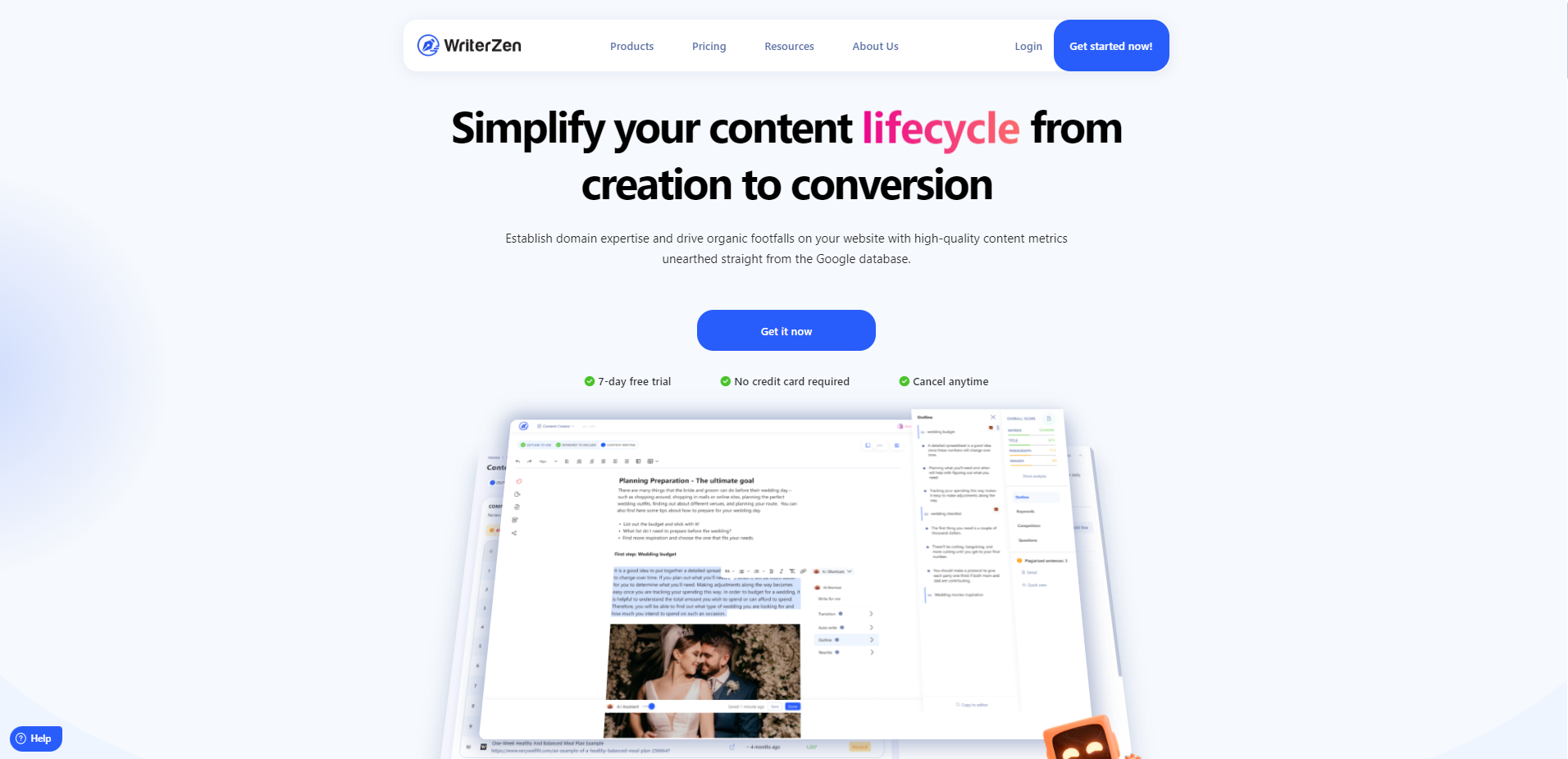 Regarding guidance, you only get a little. However, the platform is super intuitive, as there are few modules.
For keyword research, or keyword explorer as they call it, you get all the generic data such as the trend, estimated volume, and difficulty. But you also get a golden score.
A golden score is a combination of low competition and high search volume. This is a factor you can sort by, and then you have your to-do list of content. It's brilliant, but it continues beyond here.
WriterZen has managed to integrate keyword clusters with its keyword research tool. So often WriterZen will cluster keywords for you and helps you save tons of time.
WriterZen pulls data from Google, and people also ask about sections and topics other discusses.
Additionally, WriterZen includes a key feature: the content creator with a user-friendly and SEO-optimised text editor, competitor knowledge insights, AI writing assistance powered by GPT-3, a plagiarism checker to ensure originality and a feature-rich interface. It aims to enhance productivity and concentration while providing dependable customer support.
And on top of this, it also integrated topic discovery. If you've been in SEO for a few days, you've probably already heard about topical authority. It's what you want to achieve within any subtopic of your niche.
A topical authority is your ability to cover a topic from all angles. WriterZen helps with this as well, both with keyword clusters and topic clusters, to help you fully understand what needs to cover for a topic to reach topical authority.
So far, this is the complete keyword research module with so many integrations which you get for $19.
#4 Product Recommendation
StoryBase is an excellent SEO tool for websites in terms of content research, and it also helps you discover and optimise content to improve your search engine rankings. Great SEO artists like Brian Dean from Backlinko, Matthew Barby from Hubspot, and many more also used StoryBase.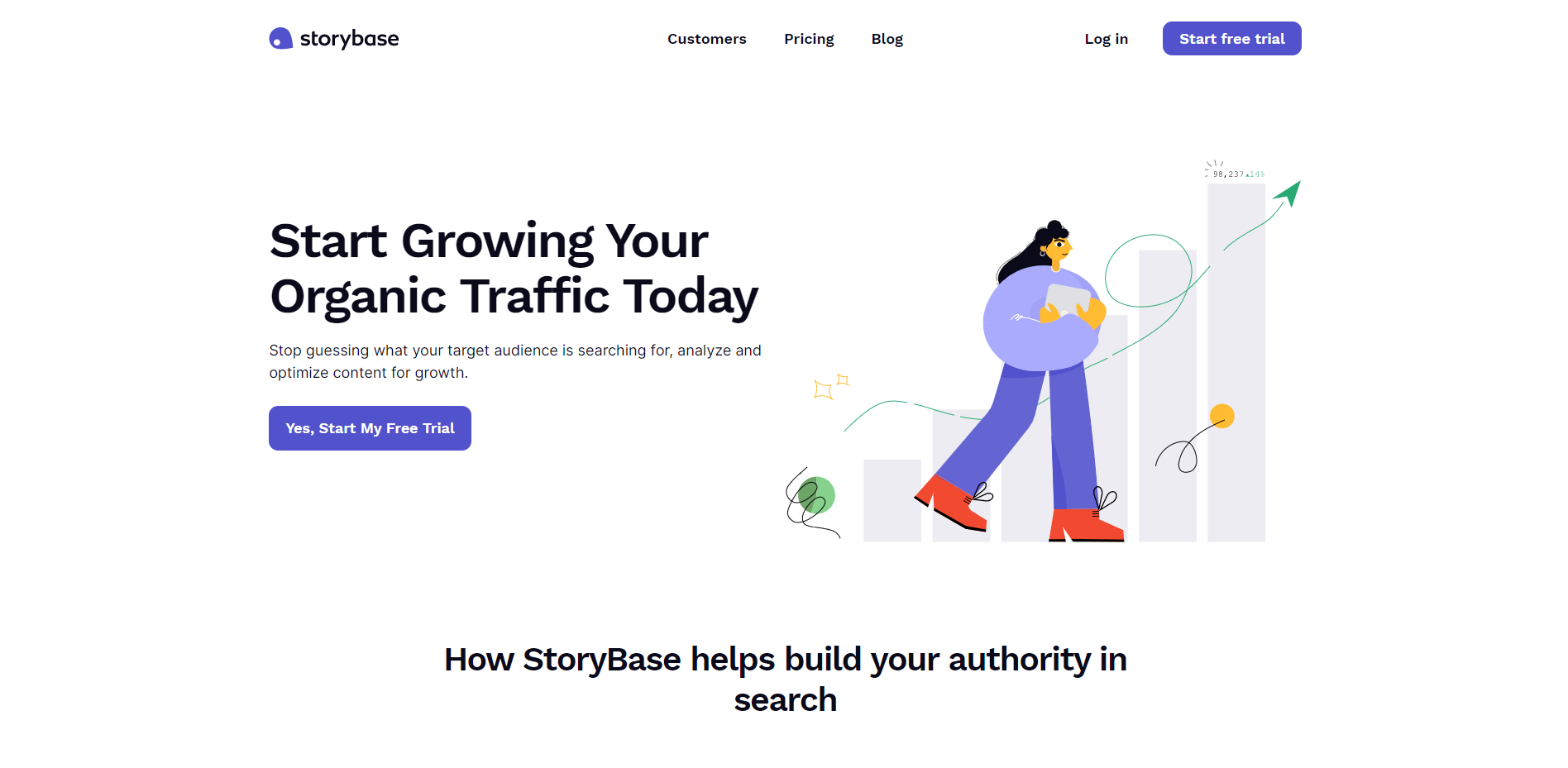 It is also an ideal tool to help you increase your organic traffic by providing valuable insights into your target audience's search behaviour and by analysing and optimising your content based on actual Google searches. StoryBase allows you to create compelling and sought-after content that aligns with your audience's questions, concerns, thoughts, and dreams.
Opposite to Dinorank, you can use StoryBase keyword tracking tool for long-tail keywords. It's one of the best in class, and with long tail keywords where you find the opportunities.
Another bonus of using StoryBase is that you can filter the keyword research on phrases and questions.
Writing articles answering questions is what you want to do, and the more long tail the questions are, the better of a chance of ranking. That is why StoryBase is brilliant for beginners.
When it comes to guidance, StoryBase is in-between. While they don't guide you through a tour, their tool is so simple that anyone can use it. And they do have some great extra modules to help you grow.
One of its key features is a CTR (click-through rate) tool that provides recommendations to make your Title Tag and Meta Description more appealing and engaging, thus increasing the likelihood of users clicking on your content in Google search results. With StoryBase, you can start growing your authority in search and attract more organic traffic to your website.
For their competitor research, it's simple to use again, enter your keyword, and StoryBase will find your competitors. Sounds great, right?
But the problem I found here is that the newer your domain is, the more difficult it is for StoryBase to find competitors.
And as a beginner, your domain is often relatively new so competitor research could be better.
Lastly, they don't have a keyword ranking module at all. So even though Dinorank has all the features, StoryBase is still a better tool solely because of its keyword research tool. It's the foundation for any content.
StoryBase lowest plan starts at $49, so it's just under the limit, but for a reason. Its keyword research tool is also outstanding.
#5 Product Recommendation
Dinorank is an all-in-one SEO suite designed to improve visibility on Google, attract qualified traffic, and increase revenue. It is an affordable and intuitive platform that aims to simplify SEO for professionals and companies.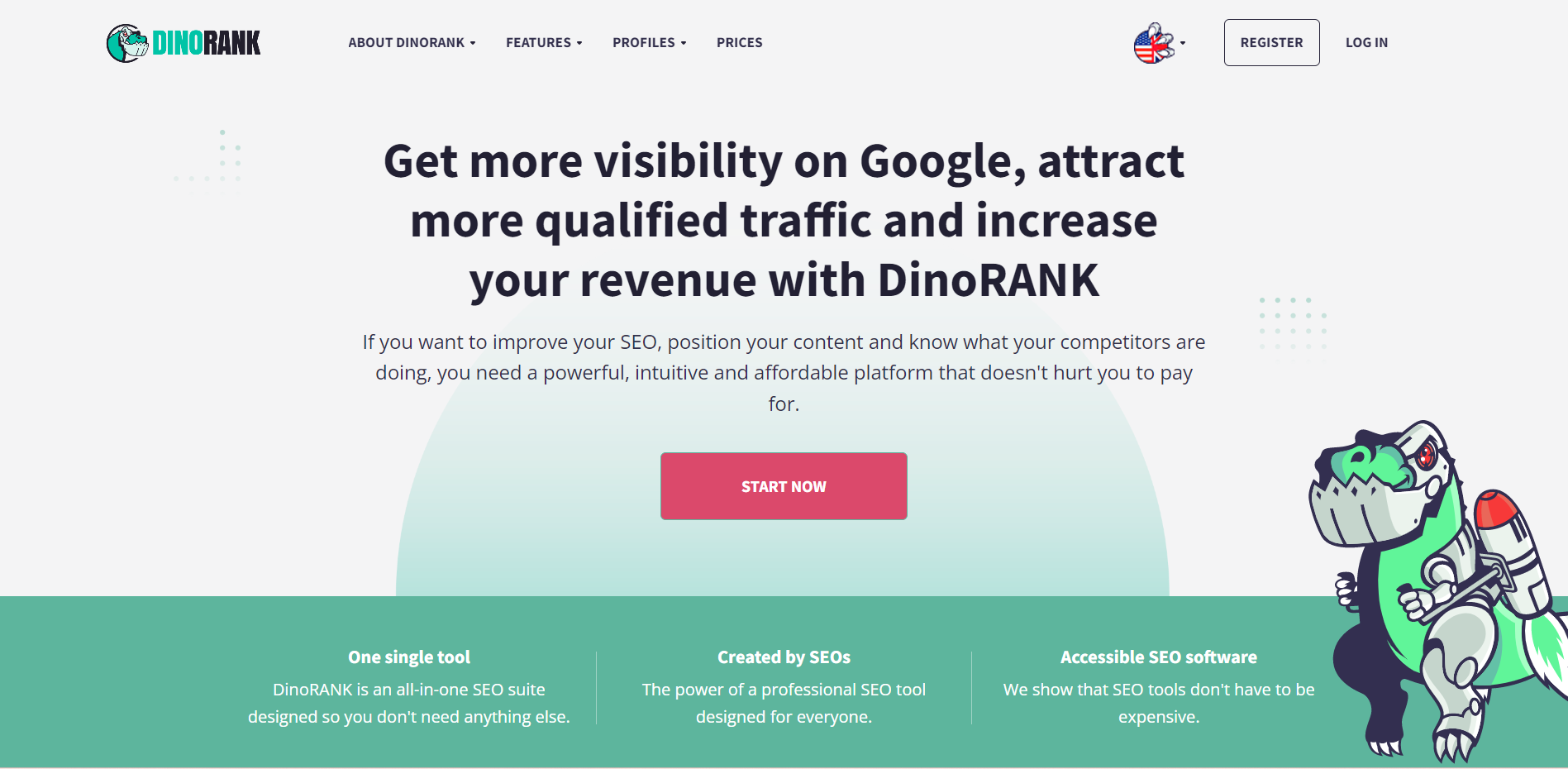 Dinorank has a keyword research module, and they have rank tracking. Nothing extraordinary. It works, but the more long tail you try, the worse the results become.
For rank tracking, or position tracking as Dinorank calls it, they also show all the features Google Search Console would. But you get a trend graph and snippet options, and you can filter on mobile and PC.
You can also see in Dinorank whether you're ranking in images, featured snippets, FAQ, or similar for the snippets, while it lacks guidance and the overall UX. Another thing is through its content gap key features, you can also identify what keywords your competitors are ranking for that you are not.
Another critical feature Dinorank has is its SEO Audit, where you can quickly identify and fix SEO mistakes on your or clients' websites. Conduct comprehensive audits with just a few clicks, including determining 404 pages, setting up 301 redirects, and optimising poorly optimised posts.
This helps you find broken links, address duplicate content and overall help you with an analysis of your website. Opposite Google Analytics which shows you behavioural data from your visitors.
You can also visualise and analyse the internal link structure of your website or your competitors' websites. Its external link management also keeps track of all backlinks pointing to your website and manages your link-building strategy.
When you use Dinorank and get through it, it can seem messy, and a lot is happening.
Dinorank makes search engine optimisation accessible to a wide range of users through its pricing plan, which starts at $30, and even their pro plan comes in under $50, and with the pro plan, you get full functionality. It has a keyword research tool and a keyword rank-tracking tool for websites.
As a beginner with SEO, the tool you choose is crucial, as it will help you optimise your website for the best SEO performance possible. These tools offer clear explanations, user-friendly interfaces, and informative documentation to help you navigate the SEO universe smoothly.
You should choose a tool that provides comprehensive keyword suggestions, search volume data, and insights into user intent since keyword research is essential. Tracking keyword rankings enables you to monitor progress and adjust your strategies. Competitor research functionality empowers beginners to analyse competitors' tactics and gain valuable insights.
SE Ranking stands out among the top five SEO tools for beginners, offering valuable modules and comprehensive data. Serpple impresses with exceptional keyword research and AI capabilities for competitor analysis.
If you particularly need key features like topic discovery and keyword clustering, choose WriterZen. Storybase excels in long-tail keyword research, answering questions, and identifying opportunities, so choose it when you are particular about those key features. Dinorank provides basic keyword research and rank tracking at an affordable price.
Considering these factors, you can choose SEO tools that meet your needs and use them in your SEO journey. Understanding SEO fundamentals, conducting keyword research, tracking rankings, and analysing competitors are made easier with the right tools.
Using these beginner-friendly SEO tools, you can establish a solid foundation and drive your websites toward greater visibility and success in search engine rankings.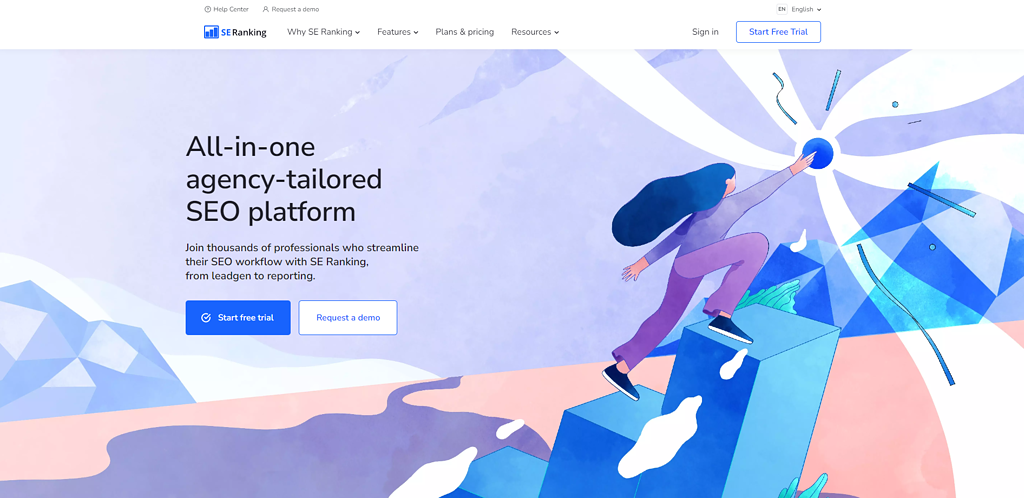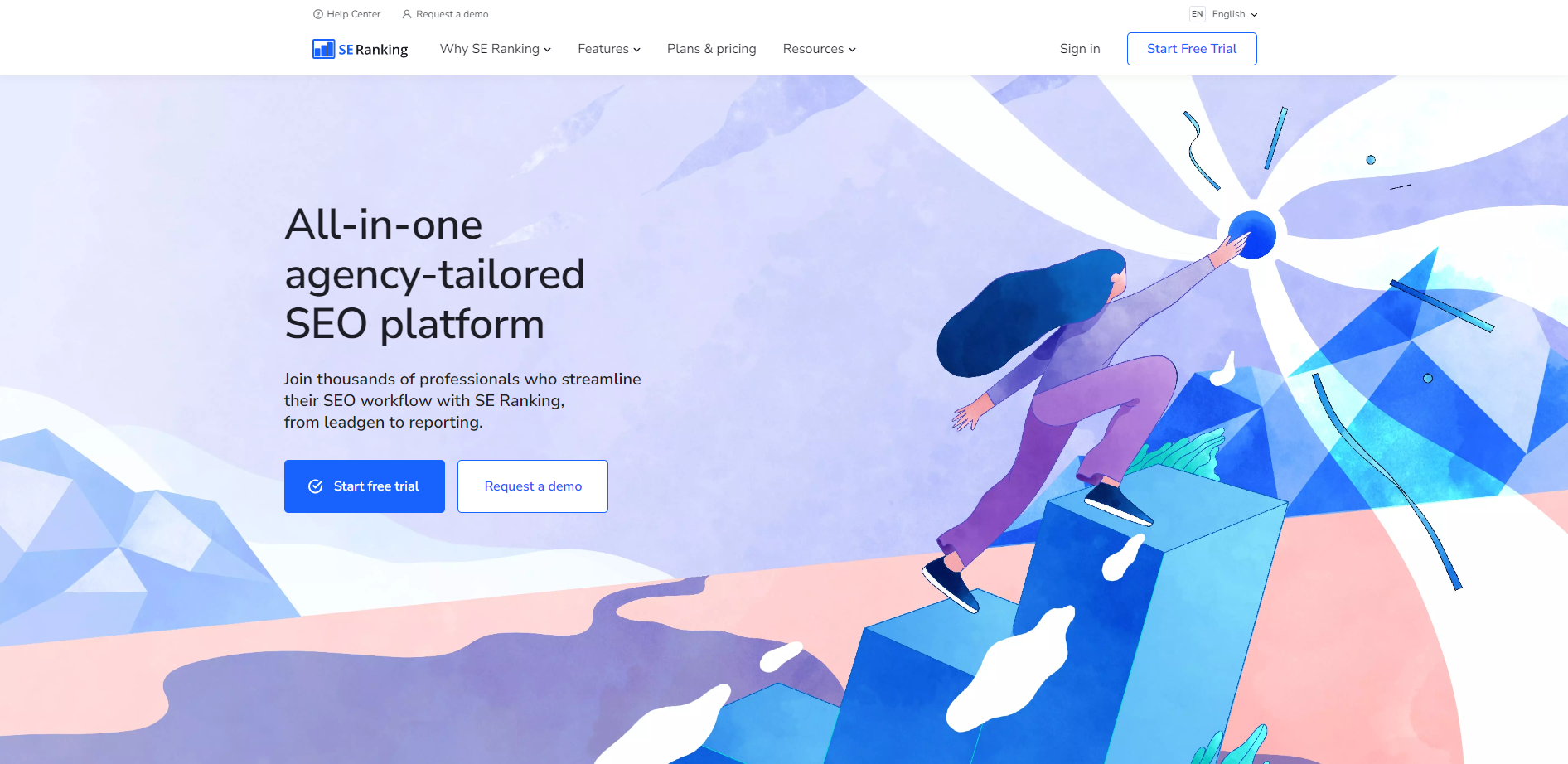 SE Ranking is the best SEO tool for beginners. It's the tool that has the largest dataset of these 5 beginner SEO tools.
On top of this, you get a bunch of extra SEO modules to help you with your content and local SEO.