There are podcasts and podcasts about SEO, and they're the best SEO podcasts I've collected in this list, and there are some good ones.
After searching far and wide and listening to different podcasts, I've finally rounded up the 14 best SEO podcasts for you to try.
So, without keeping you waiting, here they are!
Regarding the SEO podcast list for 2023, you can find many new shows covering different topics.
You have from career advancement and personal growth to search marketing strategies.
Yet SEO is constantly evolving and has new algorithms for seismic changes like front-end integration of AI.
Listening to podcasts is a great way to keep up with the latest SEO trends and not to be left behind.
For this reason, I chose the following SEO podcasts as they are helpful, have regular publishing, and focus on helping you as a search marketer to an agency to thrive.
Niche Pursuits is my favorite podcast run by Jared Bauman and Spencer Haws, two good guys with a ton of SEO knowledge.
They do 2 episodes per week, one where they have a guest who is often an expert within an area of SEO or has achieved success with SEO.
I love how they explain everything on a level so we all follow and can understand search engine optimization.
Podcast Frequency: Once or twice a week
Hosts: Jared Bauman & Spencer Haws
Authority Hacker is hosted by Mark & Gael, and they do an episode a week more, or they mix between doing an episode with a guest and just discussing an SEO subject.
They're excellent at experimenting with SEO and sharing results and methods in the podcast so you can perform the same experiment.
I always look forward to new episodes because you get so much gold from them, and they make an extra effort to boil it down and make it easy to understand for everyone.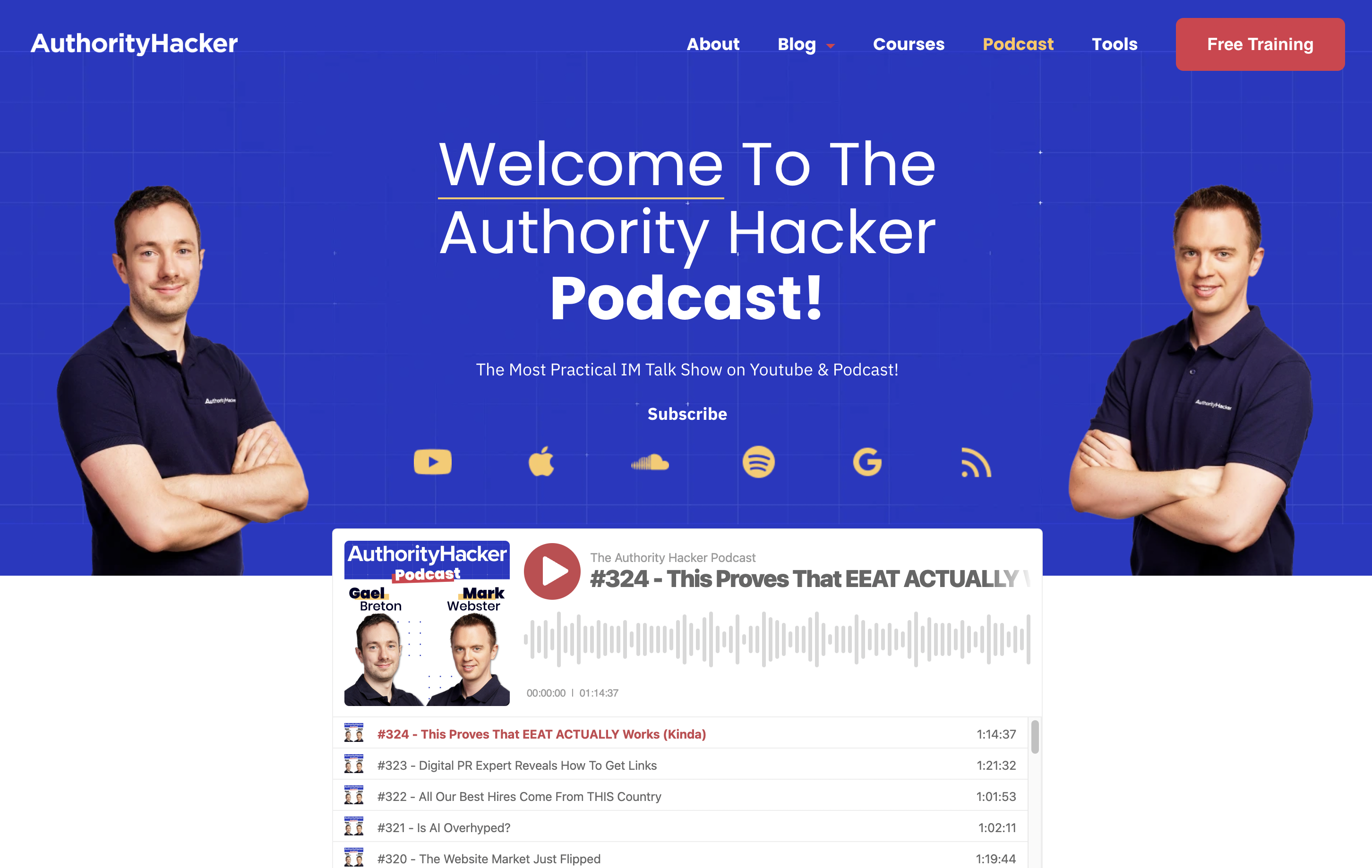 Podcast Frequency: Twice a month
Hosts: Gael Breton & Mark Webster
3. Search Off The Record- Editor's Choice
Do you want to learn more about what is stirring behind the Google Search scenes? Then Search Off The Road will get you there regarding Google podcasts.
The podcast looks at the inner workings of SEO and plunges deep into the discussion in the community.
Some highlights discussed are the Google Search Console feature prioritizing and some projects the teams work on.
These industry experts also venture into more than technical jargon and look at link-building.
The podcast differs from others focused on businesses, and as it is from Google, it gives you a compelling reason to tune in.
Unfortunately, they do not provide a weekly podcast, only a periodic one.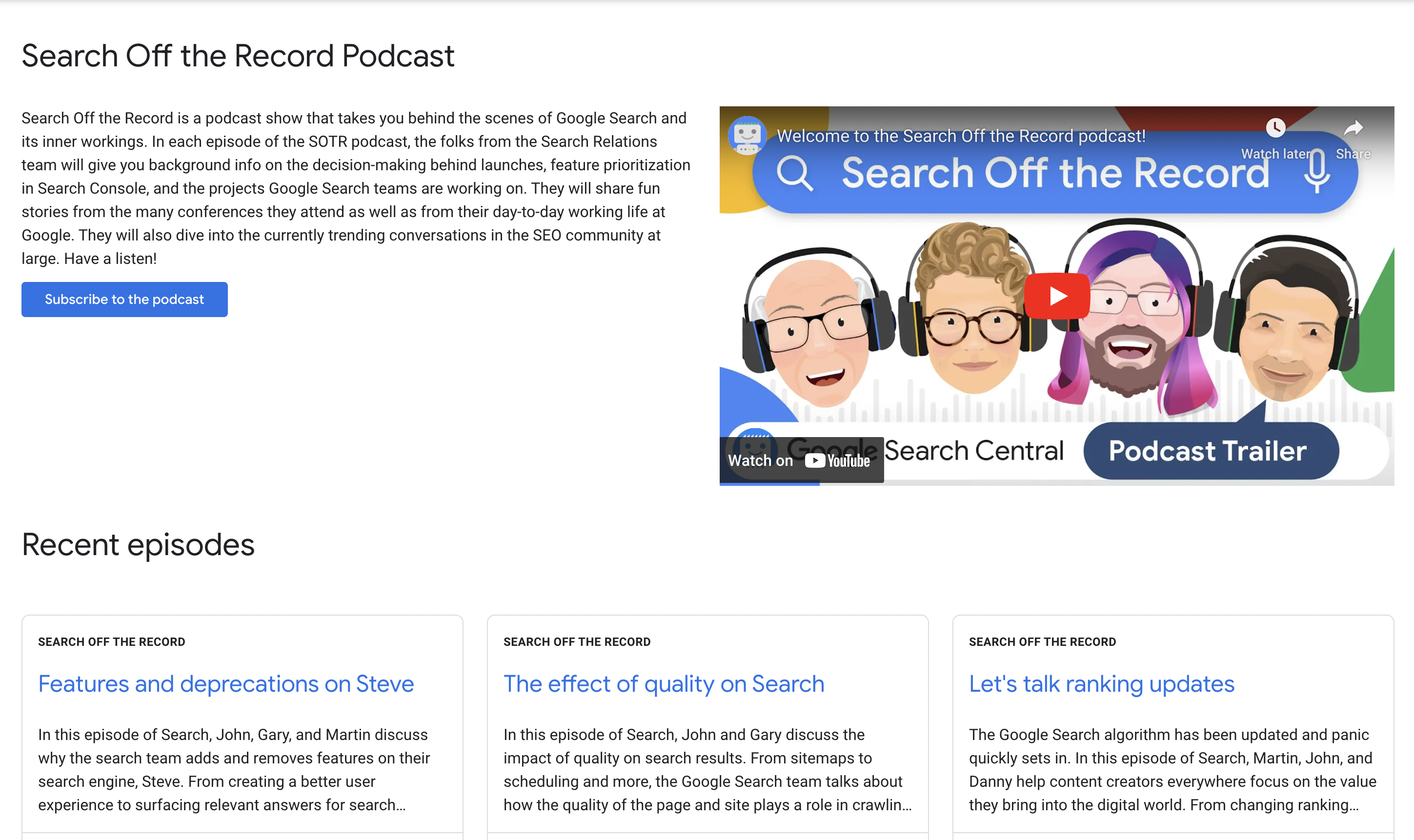 Podcast Frequency: Once a month
Hosts: Gary Illyes, Lizzi Sassman, Martin Splitt & John Mueller
4. Voice of Search - 2nd Best Choice
Voice of Search is a great podcast to listen to.
It brings you the latest news with some fresh insights you might need to navigate the fast-changing nature of content marketing and SEO in a digital marketing podcast.
With the team, you can discover strategies and learn new ways to gain data insights to help you navigate the ever-changing world.
Voice of Search has regular podcast updates available when it comes to SEO branding.
Podcast Frequency: Everyday
Get Actionable SEO Tips Right In Your Inbox
Join 700+ to receive an SEO tool review from my YouTube channel weekly, which I'll share with you. And on top of that, an actionable SEO tip every week.
5. Search Engine Journal - SEO, Search Marketing News and Tutorials 3rd Best Choice
Search Engine Journal I found covers a broad SEO topic spectrum. The team discusses SEO strategies and some great internet marketing tactics.
The SEO experts explore the future of evolving and programmatic content trends.
You can listen to professional search marketers sharing their knowledge and experience with host Loren Baker.
So, if you're new to the Search Engine Journal show, you will be in for a treat as you have hundreds of episodes you can listen to.
Podcast Frequency: Once a month
Hosts: Loren Baker
PODCAST RECOMMENDATIONS:
While the above podcasts are some of the best SEO podcasts available with the latest industry trends, other recommendations are worth listening to.
The podcast by Candour focuses on digital marketing topics and search engine optimization.
The hosts are Nick Wilsdon and Paul Woodward, both digital marketing experts. They share their insights, discussions, and experiences on various aspects of SEO and other topics.
You can get insights on online marketing strategies and learn more about the ever-evolving search engine landscape.
Podcast Frequency: Twice to thrice per month
Hosts: Jack Chambers-Ward
In the podcast space, Mordy Oberstein remains a well-known name. He also co-hosts other popular podcasts, including Erin Sparks the Edge of the Web.
Yet, SEO Rant is a solo project where Mordy leads search marketers to share their insights on programmatic SEO for content generation and much more.
I found you get a lot of search engine marketing tips available with each podcast episode.
Podcast Frequency: Once a month
Hosts: Mordy Oberstein
I've enjoyed this podcast by SEO Mindset. The podcast has two hosts that cover topics like SEO career development for building online empires.
Some of their recent shows looked at cultivating good habits to conquer the bad ones and how to overcome the fear of failure.
The hosts give actionable strategies for personal growth and career development tips for any SEO professional.
So, if you want to improve or enhance your career and not only the algorithms, give it a listen. You will always find fresh content available.
Podcast Frequency: Thrice a month
Hosts: Sarah & Tazmin
Talk about equality and inclusivity, right? WTSPodcast is an all-starring women's show in the SEO industry.
Their shows primarily cover everything technical related to SEO and personal development issues for workers in SEO.
In recent episodes, you can hear the discussion of structured data, an exciting take on on-site architecture, and extensive website migrations.
They give actionable advice with an SEO case study and insider tips. 

Podcast Frequency: Twice a month
Hosts: Isaline Muelhauser & Areej AbuAli
Are you at the management level of an SEO department or agency?
Then, you'll benefit from listening to most of the Strategy Sessions Podcasts.
Their content focuses mainly on performance marketing and tips on growing your department or agency.
Podcast Frequency: Weekly
Hosts: Andi Jarvis
Interesting name, right?
DoFollow features people who have specialties in specific aspects of SEO sharing and digital marketing.
They give you tips and valuable insights with knowledge to kickstart your SEO online businesses.
Podcast Frequency: Monthly
One of the most popular SEO podcasts I've listened to is Experts on the Wire.
The majority of the episodes focus on SEO and also on social media to content marketing.
You get a worthy user experience. So, the podcast is a worthy listen if you want to learn new strategies as a business owner.
Podcast Frequency: Monthly
The Edge of the Web covers anything related to digital marketing news and presents you with notable guests on X (Twitter).
The team also specializes in using data for analytics in SEO.
So, you will find the content insightful and valuable for the latest digital marketing trends and interviews with top names.
Podcast Frequency: Weekly
Hosts: Erin Sparks
14. In Search SEO Podcast by Rank Ranger
If you publish a website or use SEO practices, whether an agency, in-house, or independent search marketer, listen to The In Search SEO Podcast.
The team regularly updates episodes with new information every Tuesday. You can listen to various SEO topics as they share their valuable knowledge with you.
Podcast Frequency: Every Tuesday
Hosts: David Bain
What's Important For You In An SEO Podcast?
It helps to include written content when making a podcast, allowing Google to index it. Also, ensure that you use the keywords in each episode.
When providing content, it must be accurate yet spot-on and informative for listeners to keep them intrigued.
Having guest speakers specializing in different SEO and topic areas is excellent and will keep listeners interested and wanting to learn more.
So, keep things simple and avoid too much theory to help build an online presence.
One thing I learned while looking for the best SEO podcasts is that I found countless options available on the web.
While most are helpful, these 12 are highly recommended to help you succeed on your SEO journey.
Still, if you're new to podcasting, we recommend you read the outline first to glimpse what it is all about.
Get Actionable SEO Tips Right In Your Inbox
Join 700+ to receive an SEO tool review from my YouTube channel weekly, which I'll share with you. And on top of that, an actionable SEO tip every week.