In this Query Hunter Review, I'll showcase how I use Query Hunter to optimize my content for SEO and how you can do the same.
Query Hunter integrates with Google Search Console to find keywords you're getting impressions on but no click. Which often means you're not covering the topic well enough.
But Query Hunter has more great features, so let's dive in.
Integrate with your Google Search Console to get customized feedback for your content.
Generate content for queries you're not covering using AI.
Get a list of your posts ordered by the post you should optimize first.
Pros And Cons Using Query Hunter
I've been using Query Hunter ever since it was released in its first beta version, and it's come a long way.
Here are my pros and cons.
Here, you get a brilliant SEO tool that integrates with Google Search Console to give you actionable insights into your content.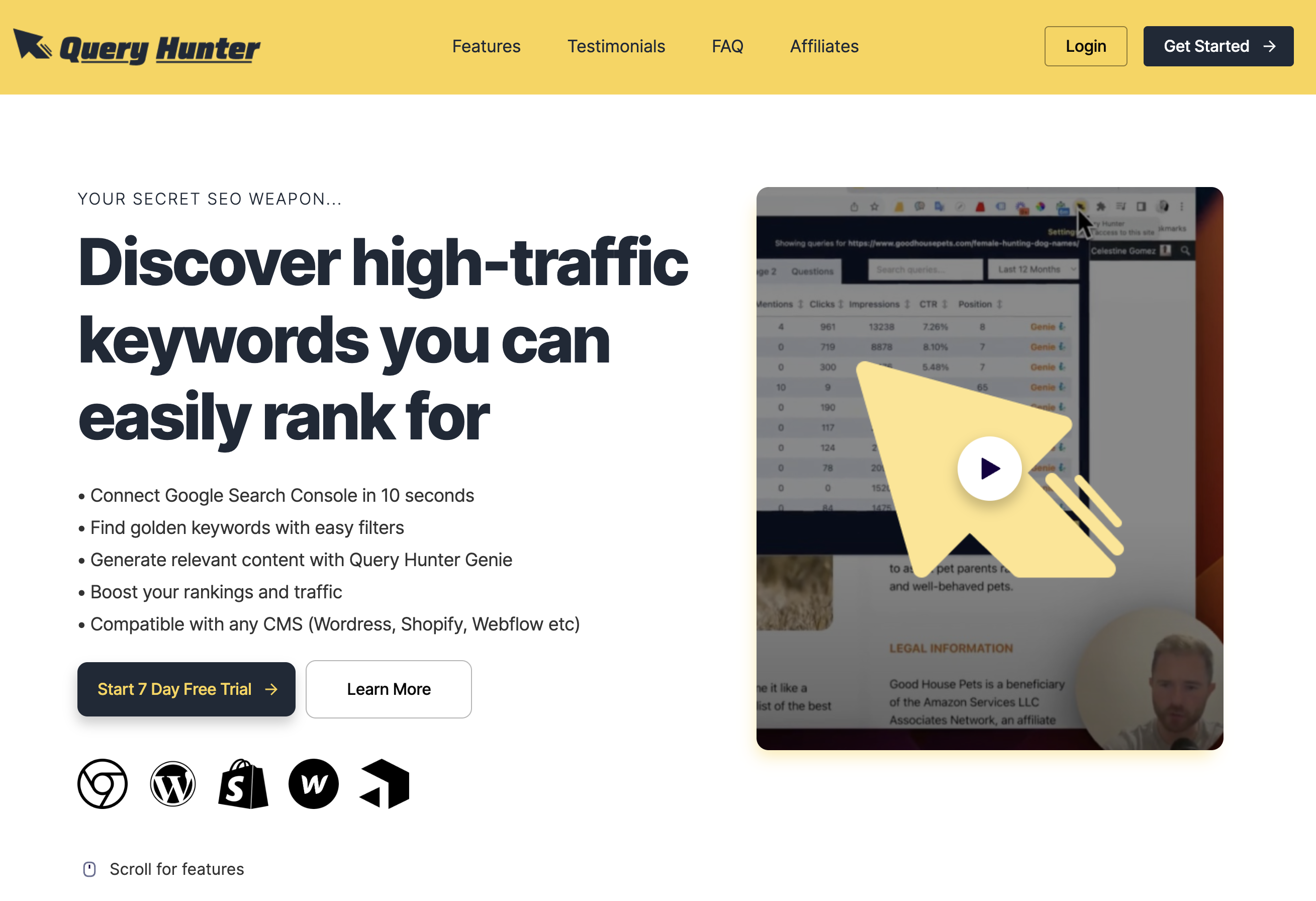 Great for finding keywords you're missing in your content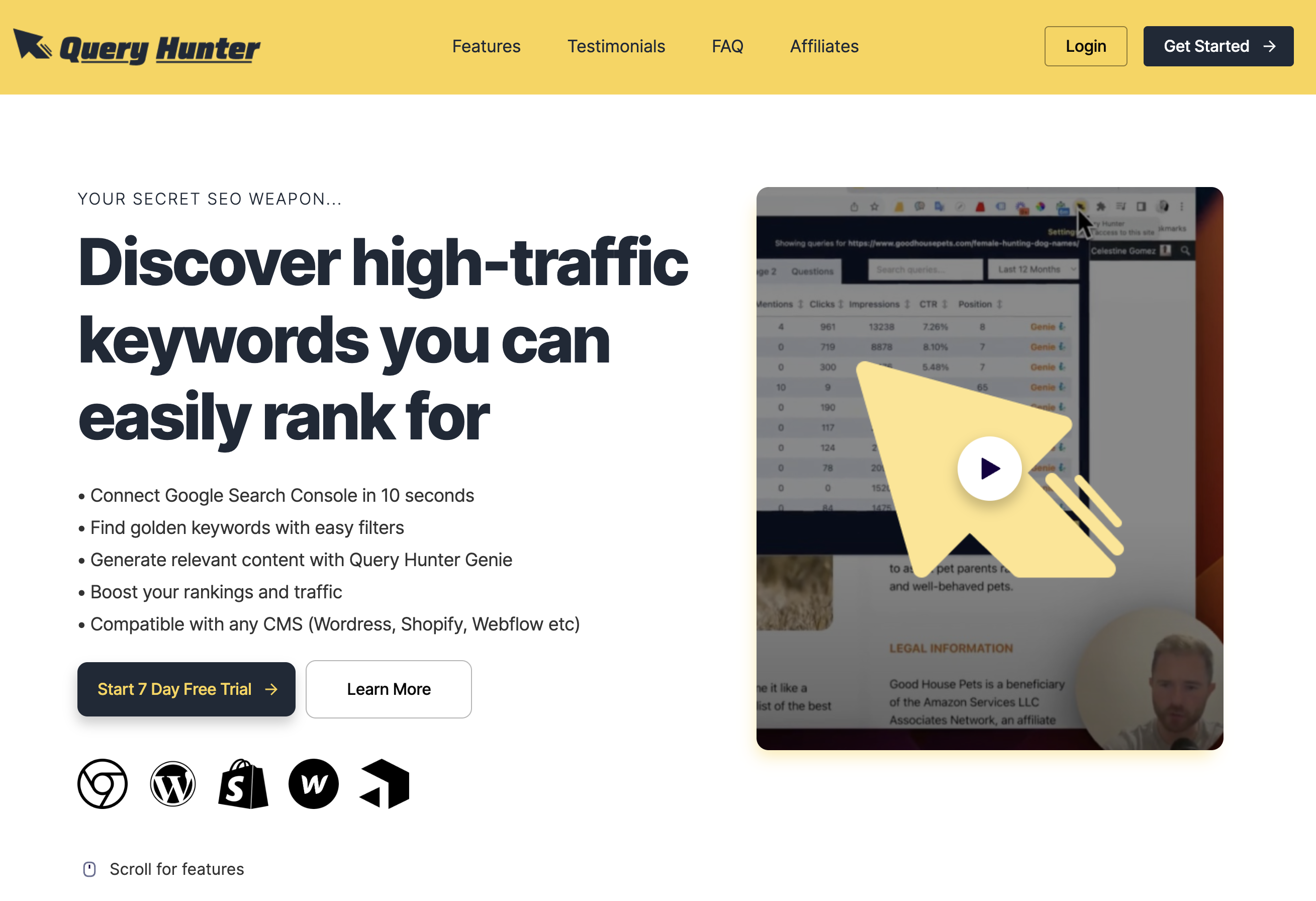 Query Hunter is a tool to help you optimize your content using the data from your Google Search Console.
It works both as a WordPress plugin and a Chrome extension. The Chrome extension supports WordPress, Shopify, Webflow, and many more CMS systems.
It's incredible at showing you keywords you're getting impressions for but no clicks, so you have some work cut out.
You can also get an overview of the questions your content is ranking for, and if you need help from AI, you can generate content to cover the keywords you're not already covering.
Get Actionable SEO Tips Right In Your Inbox
Join 700+ to receive an SEO tool review from my YouTube channel weekly, which I'll share with you. And on top of that, an actionable SEO tip every week.
Query Hunter Review Features
Now, let's dive into the features and what you can use this brilliant tool for.
It analyzes your content to find underserved queries or even help you win the featured snippet.
I'm using the WordPress plugin, but they also have a Chrome extension, which works similarly.
5 Ways To Optimize Your SEO Content
Using Query Hunter, you can optimize your content in 5 ways using your Google Search Console queries.
1. Optimize Based On All Queries
This is not a view I use a lot, but it still gives you an overview of all queries your content shows up on Google for and how your content performs.
For each query, you can see the following:
Is it mentioned in your content?
Amount of clicks
Amount of impressions
CTR
Average position
These 5 data points easily give you an indication of how it's going and if you need to optimize for any of the queries.
2. Optimize Based On Missing Queries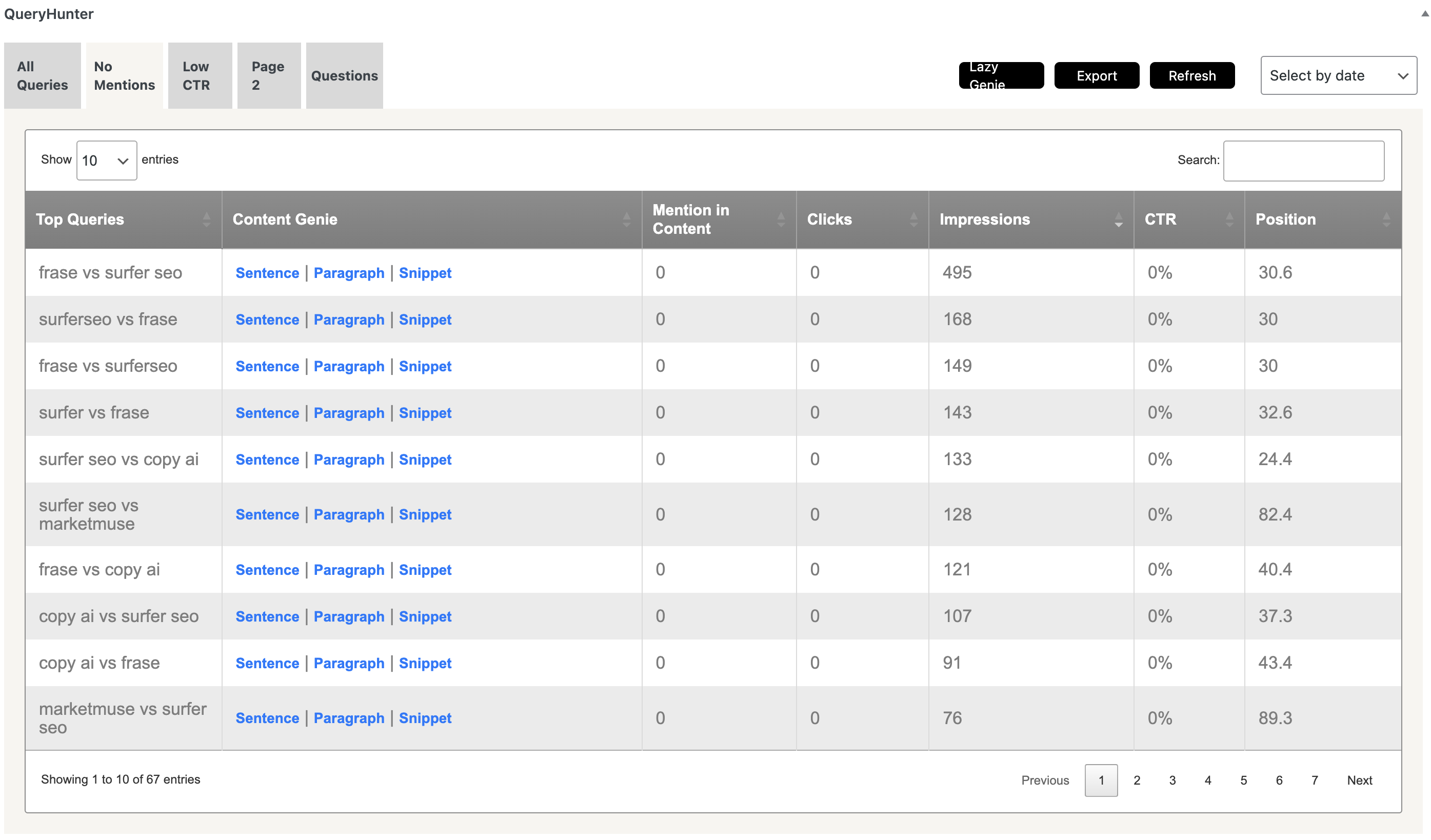 This is my favorite view because here, I can see relevant searches where my content is showing up, but I'm not covering the subject.
So here, if I find relevant queries, which I often do, I either incorporate them into an existing section or write a new section covering the subject.
You can also generate a sentence, paragraph, or snippet for the query, which works decently.
Pro-tip
Don't just generate the AI content and hit publish. Edit it and optimize it. Use it as a starting point for you to expand your expertise.
Lastly, you can use the "Lazy Genie" option if you want to write a section covering all the queries you're not covering already.
This is, again, great for ideation and to get a starting point, but it's not good to generate and press publish. It needs your final touches.
This is brilliant for optimizing your title and even meta description. A low CTR means many people see your content, but no one is clicking on your content.
This is often because your title is not enticing enough or your meta description needs to be updated.
Tips for writing a good headline:
Use Power Words
Include Your Target Query Early
Avoid Keyword Stuffing
Keep Your Title Below 60 Characters And 560 Pixels Wide
Use Numbers And Symbols
Invoke Curiosity Without Being Clickbaity
Test Different Types Of Titles
If your title fulfills these, then you're good to go. Sometimes, you'll also find that some queries get more impressions than your key query. In this case, it's a good idea to change.
4. Optimize Queries You're Ranking On Page 2 For

Queries you're ranking on page 2 for are queries where your content is relevant, but you're missing some important elements, or you're not covering the topic at all.
That is one side, and that's the side you can control. The other side includes domain authority, how Google sees you, and if you're an overall authority on the topic.
So remember not to kill yourself to get your blog post on page 1. Sometimes, you can't do more because you're not an authority. Just ensure you're covering the subject fully.
Pro-tip
You can also search for the query, analyze the top 3 websites on the query, and compare your content to theirs to find differences and ensure you have something unique they don't.
5. Optimize Based On Questions

The last step is where you can see all the questions your content is ranking for.
Had this been just 1 year ago, I would've suggested you create an FAQ section, answer each question, and set up an FAQ schema.
But after Google removed this option for smaller websites, it's a waste of your time.
The best you can do is to ensure you're answering these questions in your content itself, and if you are, you're not getting any clicks. Then see who is ranking better on the questions and how they are answering them. 
List Of Decaying Blog Posts
This is such a simple yet interesting view. Here you get an overview of all your blog posts that are decaying.
That means they've peaked and are trending downwards, so it's time for you to update them and optimize the content again.
Start from the top and work down until you're through them all. The list is constantly updating, and just by using Query Hunter, you can easily optimize your content to become great again, covering all topics within your key terms.
I'll say there are 2 things you must fulfill to use it. You need to focus on content creation, and you need to have a Google Search Console account with data.
If you have data already in your Google Search Console, then you should go ahead and try the 7-day free trial already.
If not, I strongly recommend you sign up for a Google Search Console account. It's entirely free, and you get so much valuable data.
Let your Google Search Console run for a month or so before you invest in Query Hunter.
Alternatives To Query Hunter
While Query Hunter is unique because it builds purely on your Google Search Console data, other tools do some of the same things.
I've chosen the 2 closest alternatives as I see it.
Frase is similar to Query Hunter but also has its differences.
While Query Hunter pulls data from Google Search Console, Frase pulls data from the SERP and gives you actionable insights live as you write.
I use both to optimize my content, but I only use Frase to write my new content as Query Hunter depends on data from Google Search Console.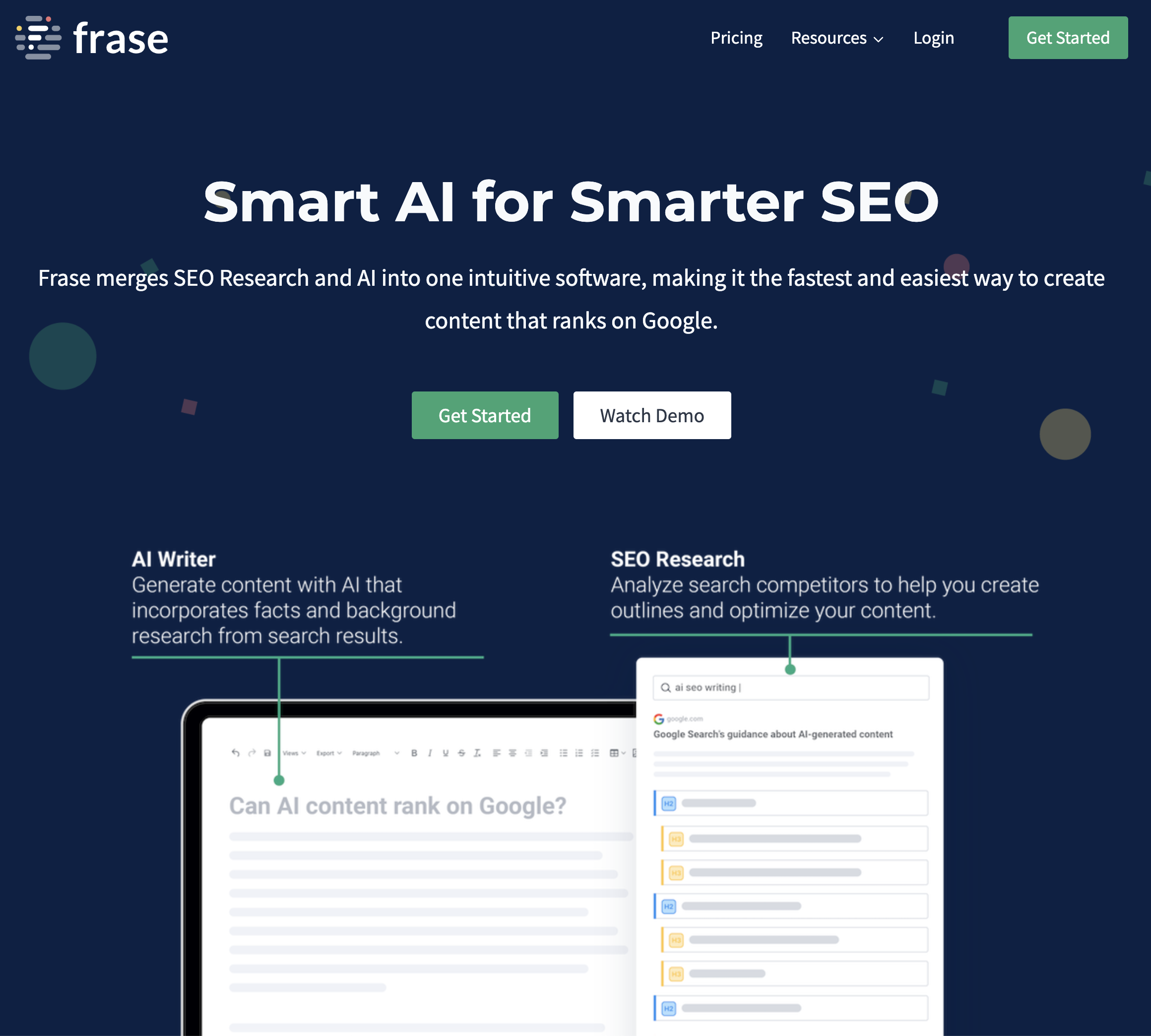 SEOTesting is super similar to Query Hunter as they both depend on data from Google Search Console.
However, SEOTesting has more functionality to test different SEO cases and is a much more advanced tool.
The pricing starts at $75 for one website per year and then increases.
It is a bit pricey of a tool, in my opinion, but that's just what these heavy data-processing tools cost, after all.
There is a lot of development behind creating tools like this, but in the end, you have to justify if it's within your budget and if it makes sense for you.
It's no secret that what Query Hunter is doing you can do for free using purely Google Search Console, but it takes a lot of time to do it.
For me, it's justified in the time that I save. That's why I use it every single day. It's a huge time-saver.
Wrap-Up: Is Query Hunter Worth It?
Yes, Query Hunter is worth it by far. I've saved hours using it instead of going through the long list in Google Search Console manually looking for a search query I wasn't covering.
Ultimately, you have to ask yourself if spending $75 for a year will save you more than $75. If not, then continue to optimize your content manually.
If you can justify it, I strongly recommend using Query Hunter. You can always start with a free trial for 7 days and see how it works for you.
I'll continue to use Query Hunter, as it's incredible for my use case.
If you're working on optimizing your content and you have data in your Google Search Console, then Query Huner is a must for you.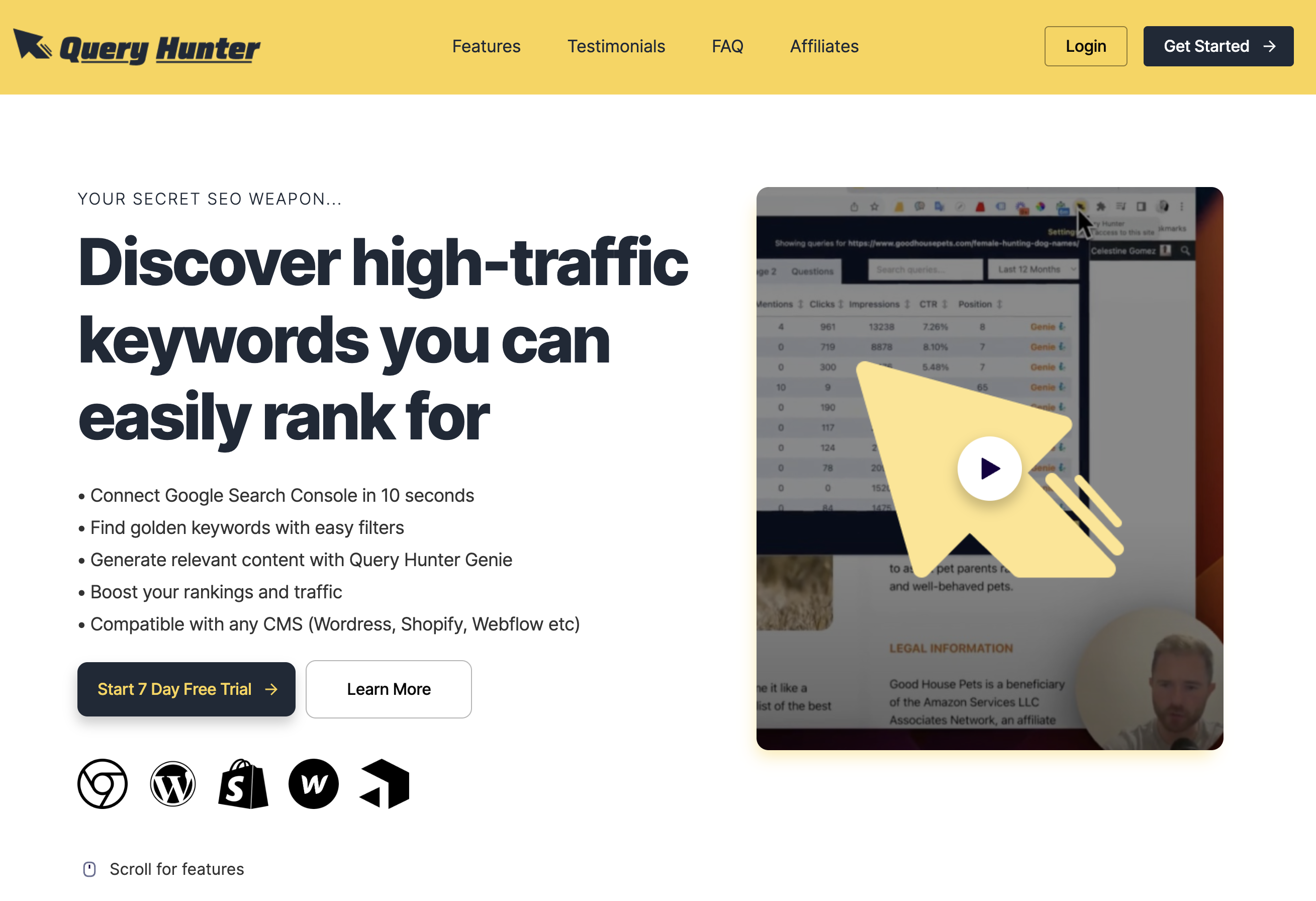 Query Hunter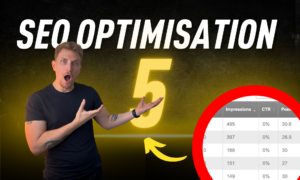 I've used Query Hunter for a couple of months to help optimize my content, and now I'm showing you in this Query Hunter review how to do it.
Price: 79
Price Currency: $
Operating System: Web
Application Category: SEO
Pros
The data is customized based on your website and your website's data.
It makes optimizing your content much easier, and you know you cover the right subjects.
You get a list of your posts ordered by what post you should focus on optimizing first.
Cons
The AI-generated content is of very low quality.
It doesn't work in the Elementor editor. You have to switch back and forth.