In this Contentpace Review, I'll share with you how I use Contentpace to improve my ranking of content on Google and how you can achieve the same results.
Contentpace helps you optimize each piece for the best search engine results.
I found that the application saves you money by using disconnected content-writing tools. Most importantly, it saves you time compared to other SEO tools.
Still, that is only some of what Contentpace offers, as it has many other great features. So let's get started.
Allows multiple people to work on the content in real-time.
You have a centralized content hub to store and manage all your content projects in one place.
Provides insights into content performance with monthly reports on views, engagement, downloads, and more.
Pros And Cons Using Contentpace
I've been using Contentpace for a while now, and as with any software product, you have advantages and disadvantages.
Contentpace is a simple content management platform where you can research and schedule your content all in one place.

Simple content management

Contentpace is a powerful content strategy creation and optimization tool designed specifically for SEO.
The AI-powered content optimizer helps users research topics more efficiently, create optimized content briefs, and collaborate across teams.
The SaaS product offers a suite of AI-powered tools for every stage of the content process.
These include topics research, content brief creation, grammar and SEO checks, and content analytics.
Using the platform saved me time and money and helped optimize my website content.
Get Actionable SEO Tips Right In Your Inbox
Join 700+ to receive an SEO tool review from my YouTube channel weekly, which I'll share with you. And on top of that, an actionable SEO tip every week.
Contentpace Review Features
Great; now that you know what Contentpace is, let's look at the features this amazing software offers.
One thing is sure: Contentpace will simplify your content marketing to manage and craft engaging campaigns.
Furthermore, the resourceful platform makes getting ahead of the competition easier. The big plus is that it is a huge time saver. 
So, should you invest in this online content marketing tool? Before you decide, let's look at some of the available features.
Content Management: Optimize Your Content for SEO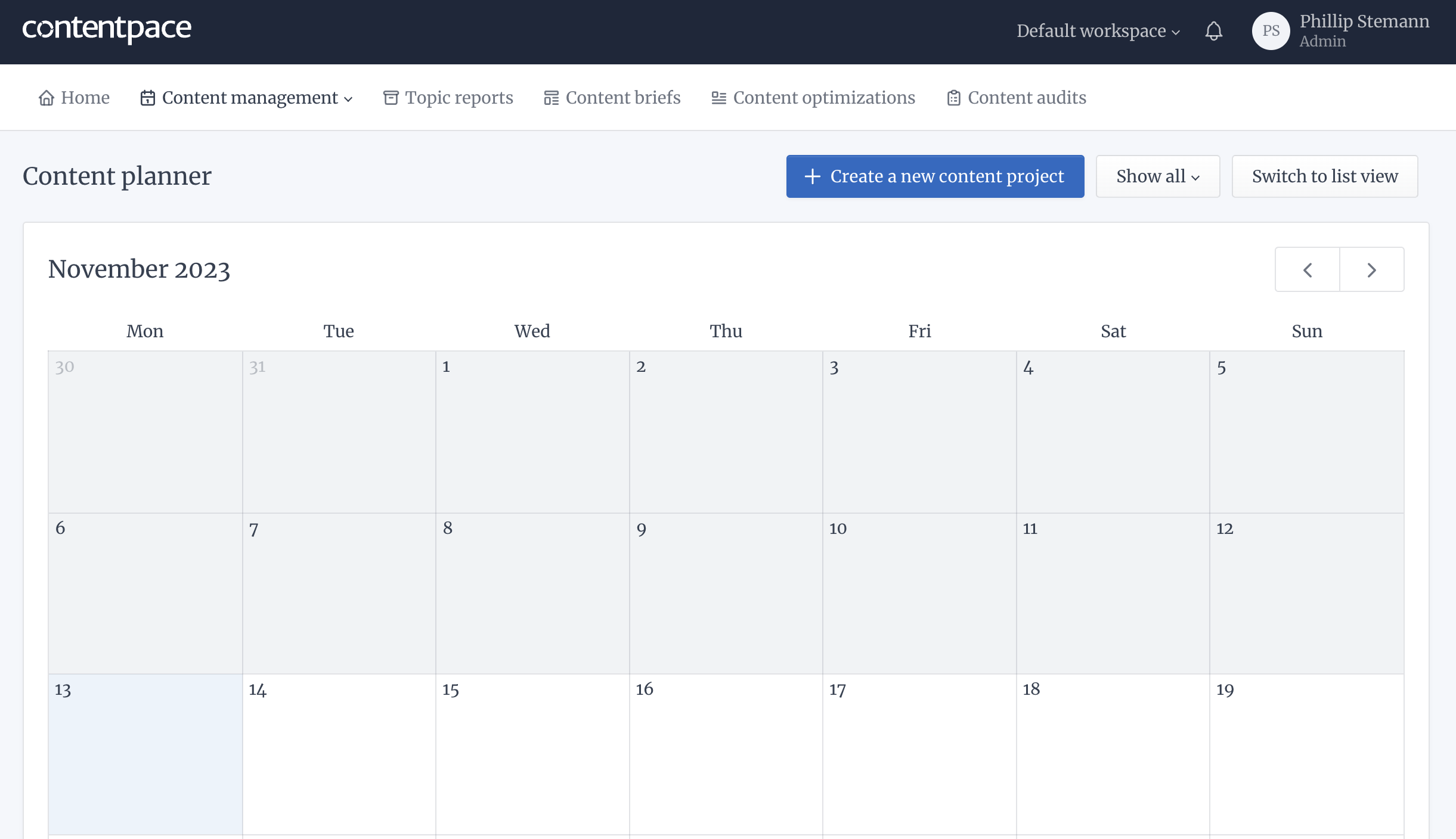 I like the centralized platform as it helps you create, organize, publish, and share digital content in one place.
So you get easy collaboration with an intuitive editor to create well-formatted detailed content images, videos, tables, and more.
Thus, it helps you to reach your content optimization goals. At the same time, the workflows are flexible for you to review, approve, and schedule your content for publishing. All this is possible in one place.
Lastly, you get SEO optimization on meta titles/descriptions, alt text, and more while publishing.
In summary, Contentpace is your content assistant, helping to streamline the entire content lifecycle – from ideation to publishing and analytics.
The all-in-one content optimization platform saves time, improves collaboration, and ensures brand consistency.
Topic Reports: Analyze Your Topic From A-Z
If managing all your content in one place is excellent, there is more. Contentpace takes it a step further.
The platform allows you to gather and organize research from across the web into topics and subtopics, making it easy to structure your analysis.
The AI-powered content SEO research platform can automatically surface essential facts, statistics, quotes, and visualizations related to your topic as you conduct research.
It saves time gathering supporting evidence. Once your research is structured, you can automatically use Contentpace to generate an outline for your report based on your topics and subtopics.
Then, Within each topic page, you can write your analysis and findings. You can also @mention colleagues to get feedback and collaborate.
I like that Contentpace lets you query your knowledge base to pull customizable reports on any topic or set of topics. Great for data-driven leadership presentations.
When your report is complete, export it to a PDF, PowerPoint, or other document type to share with stakeholders.
Content Briefs: The Place To Start Your Content Journey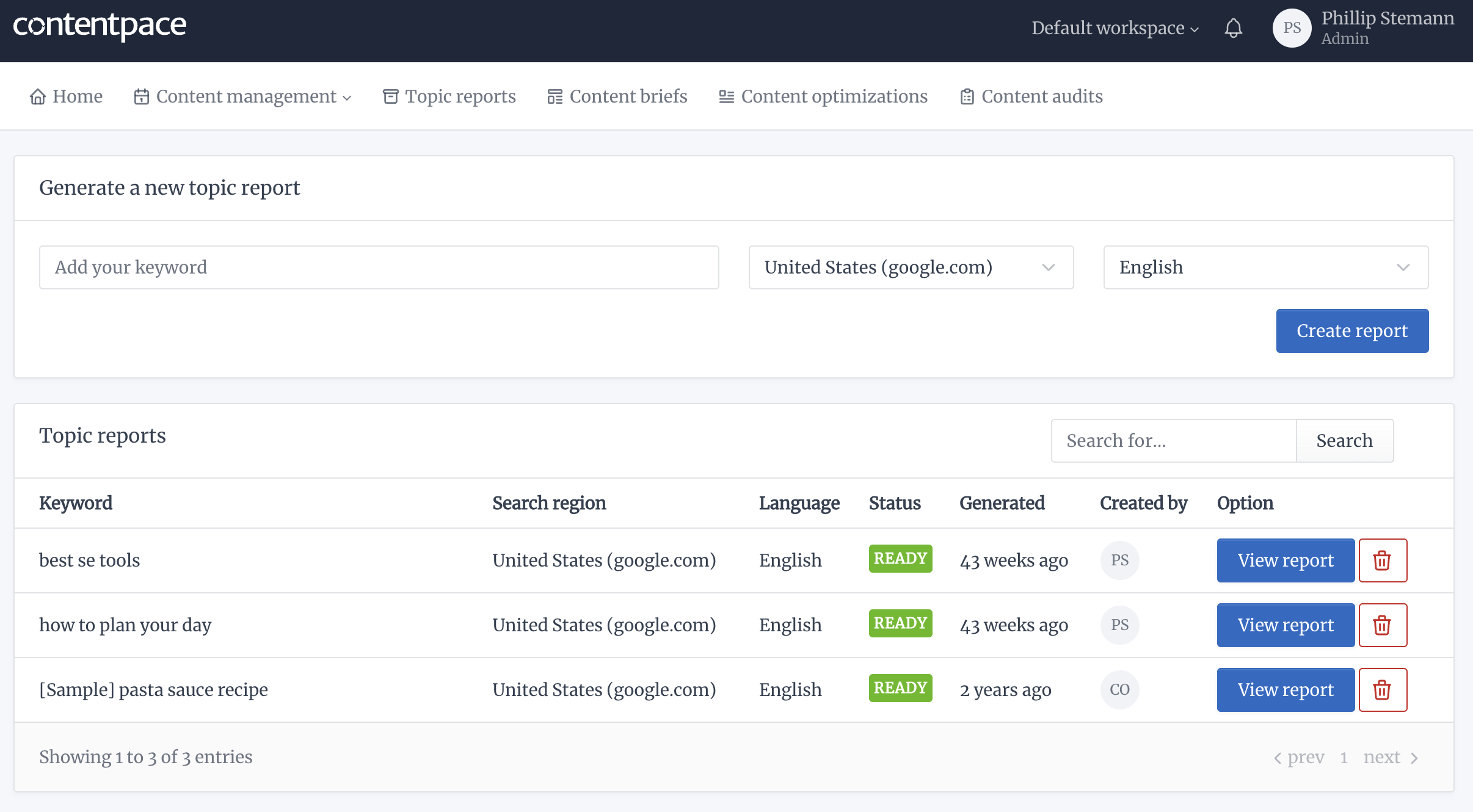 Another important highlight is the content brief editor, which makes managing information a breeze.
Compared to other platforms, you do not have the endless cut-and-paste method. All you do is click the relevant data from your topic reports, which will be in reach immediately.
I could streamline my collaboration with my writers or clients to edit multiple content projects quickly. I could also keep track of the changes in real-time and manage the feedback better.
I had no wasted time sending countless emails or rewrites, so it cut my editing hours from start to finish.
Content Optimizations: Get Live Feedback On Your Content
Another thing I liked was the AI-based writing platform that automatically optimizes my content before publishing it. 
You get guided suggestions to help refine and improve the content for a higher SEO ranking. 
You can compare the metrics with competing content as the software examines more than 1250 characters to provide tailored recommendations.
So, you can easily spot missing entities in your content on the central dashboard to refine it in less than half an hour while optimizing it for any keywords.
Content Audit: Analyze Your Content On 20+ Points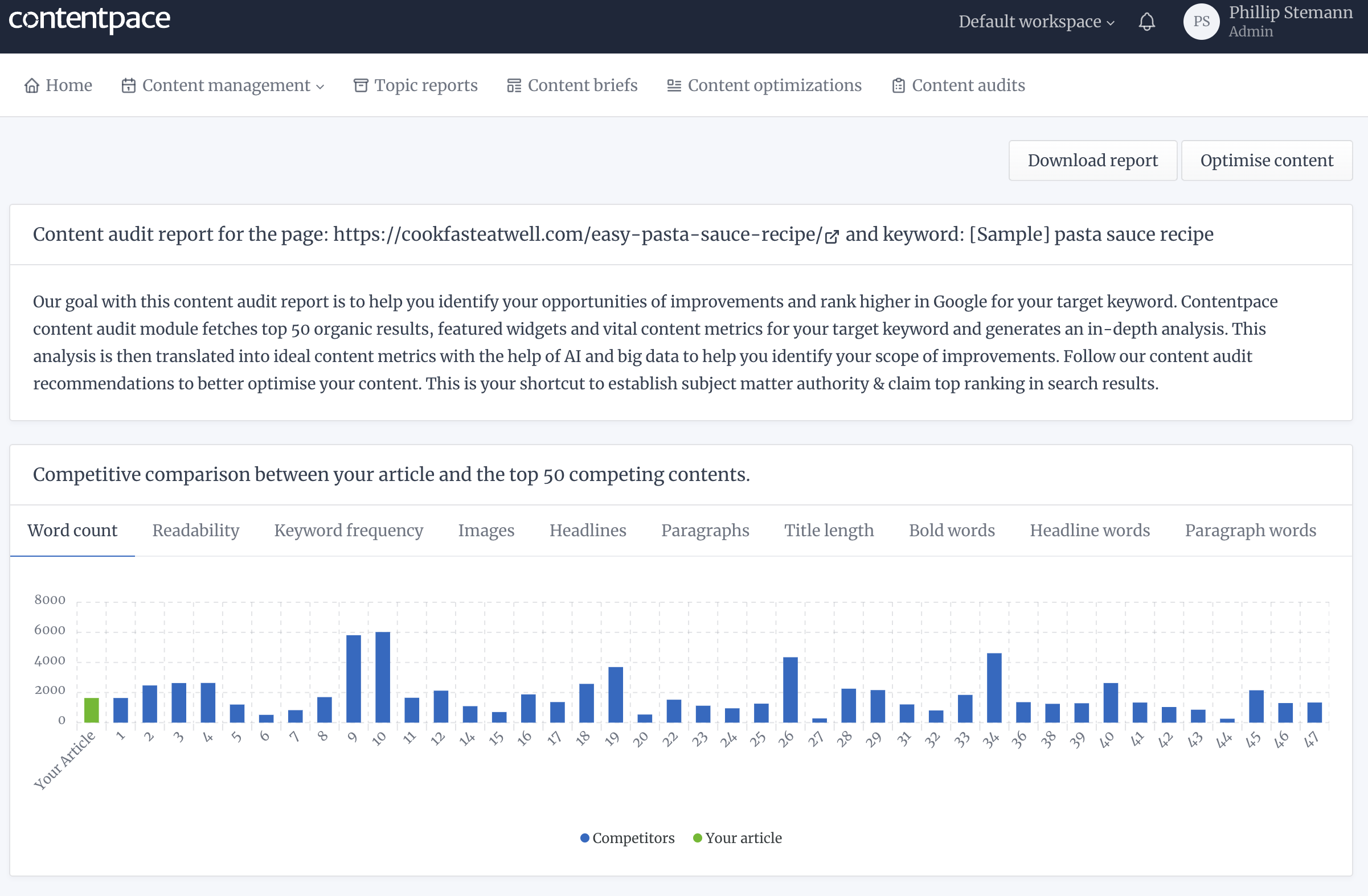 Contentpace shines with the content audit, giving you an in-depth review of your content and how you can boost it to rank on Google.
I gained valuable insight into where I needed to improve articles to provide more engaging content. 
The application gathers information from the top 50 results using your keyword and keyword research tools.
Furthermore, it gives you featured widgets, powerful keywords, and other metrics related to the results.
It then analyzes the information with AI to translate it into content metrics.
So, I always know how to improve my existing article to ensure it reaches the first page on Google. Thus, in short, it provides content for search engines. 
Who Is Contentpace Made For?
You can use Contentpace for different online business callings. It is ideal for the go-to blogger who needs to step up the content game for publishing.
With the drag-and-drop interface, you will quickly build stunning SEO-optimized content as the analytic features are powerful.
Contentpace will also help affiliate marketers create and evaluate content that will optimize conversions. Thus, it has excellent tools for content marketing.
The AI-powered analysis tool provides enough information with performance data to modify your campaigns for easy profit growth.
Lastly, the AI-powered content workspace can help agencies to help manage their content without any hassles.
Alternatives To Contentpace
While Contentpace is a unique platform that helps with content creation workflow and publishing, other tools have similar features.
I've selected the closest two alternatives you might be interested in.
Blogely is similar to Contentpace, a blogging platform that focuses on helping you create and manage your content.
It also features a drag-and-drop editor with SEO Optimization, multimedia embedding, formatting tools, scheduling, and more. 
So, it gives you a modern writing experience for creative writing for all readability levels.
But Contentpace is a broader platform with more AI-powered suggestions, from content planning, creation, collaboration, workflows, approvals, analytics, and distribution.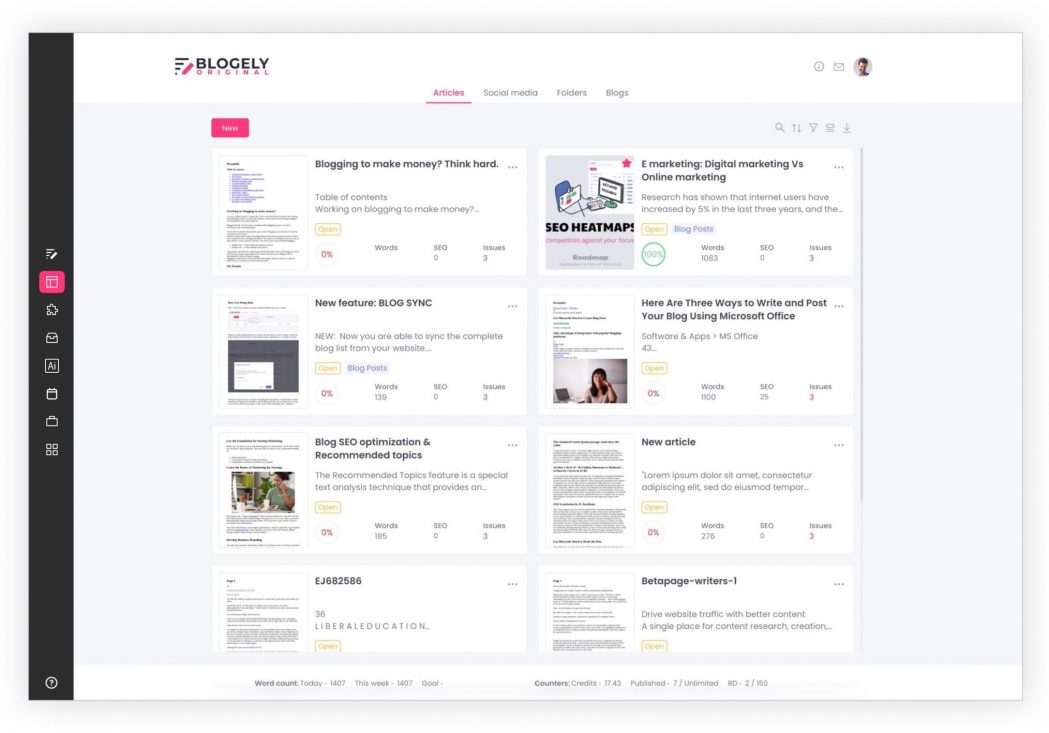 Texta.ai is more of an AI writing assistant that generates drafts, outlines, and edits for content.
The software tools focus on content creation and creativity, and it also suggests and generates initial drafts to help speed up your writing.
Unfortunately, it lacks collaboration features and a complete analysis, benefiting individual creators and designers.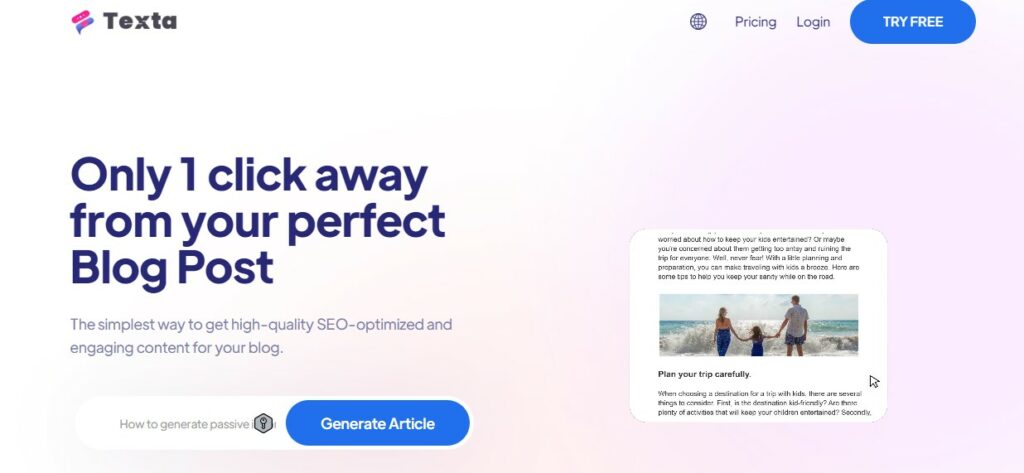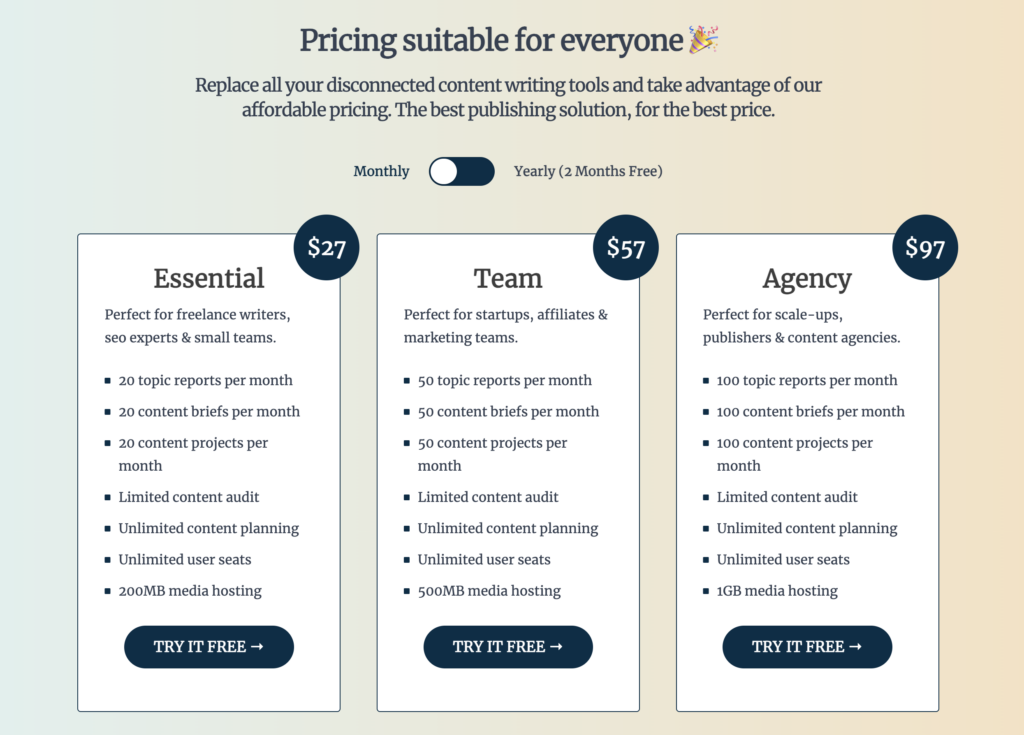 Contentpace offers you a 14-day free trial, and you need not add any credit card details. When you sign up for a yearly plan, you get the first two months free.
The price starts at $27 monthly for the essential plan and goes up to $97 for an agency.
Contentpace is more expensive than individual tools but provides enterprise-level capabilities that can justify the cost for large teams managing substantial content at scale.
Wrap-Up: Is Contentpace Worth It?
Contentpace is worth using for teams creating SEO content, and I use it regularly. You can get unlimited user seats, and it has an intuitive user interface. 
The topic research and content creation features can help streamline workflows. It fills an essential gap between barebone content tools and expensive enterprise SEO suites.
Nonetheless, solos and small teams will be better off using cheaper alternatives for basic topic research when you target keywords to boost organic SEO traffic.
The collaboration becomes more practical for 5+ team members.
But for SMBs to mid-size companies wanting to step up their SEO content process, Contentpace hits a sweet spot for value. The 14-day free trial makes it easy to test out.

Plan your content in advance
Contentpace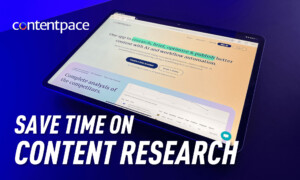 Contentpace is a perfect SEO tool if you're writing content to rank on Google. It does thorough content research for you.
Price: 9
Price Currency: €
Operating System: Web
Application Category: SEO
Pros
The editor is easy to use, with drag-and-drop functionality to create high-quality content. Great for non-technical users.
It allowed my freelance writers to collaborate on real-time content with comments, tasks, and version history.
The fact that it automates manual processes with customizable workflows for efficiency is excellent.
It stores all my media, like images and videos, in one place for easy access.
Even publishing to diverse channels and formats from one place is high on my list.
Cons
The wide range of features may have a learning curve for some users.
I did not like the data loading, which sometimes takes a long time during content creation.
The application does not include APIs and integrations.