Internal link building, for me, is some of the most difficult parts because it requires you to know all your posts and where you can link to and from.
It's a tedious process, and I dread it every time I'm done writing a blog post, but I've found a tool that automates this.
Linksy shows you, based on your content and keywords, what other blog posts are closely related.
Increase your organic traffic by adding internal links to your content.
Automate your entire internal link-building process with Linksy, a super simple WordPress plugin.
Get an overview of all your anchor texts to optimise and ensure no duplicates.
Pros And Cons Using Linksy
So Linksy has a lot of great features that make it easy to interlink your posts, but they're also lacking in some areas.
Here are my Linksy pros and cons.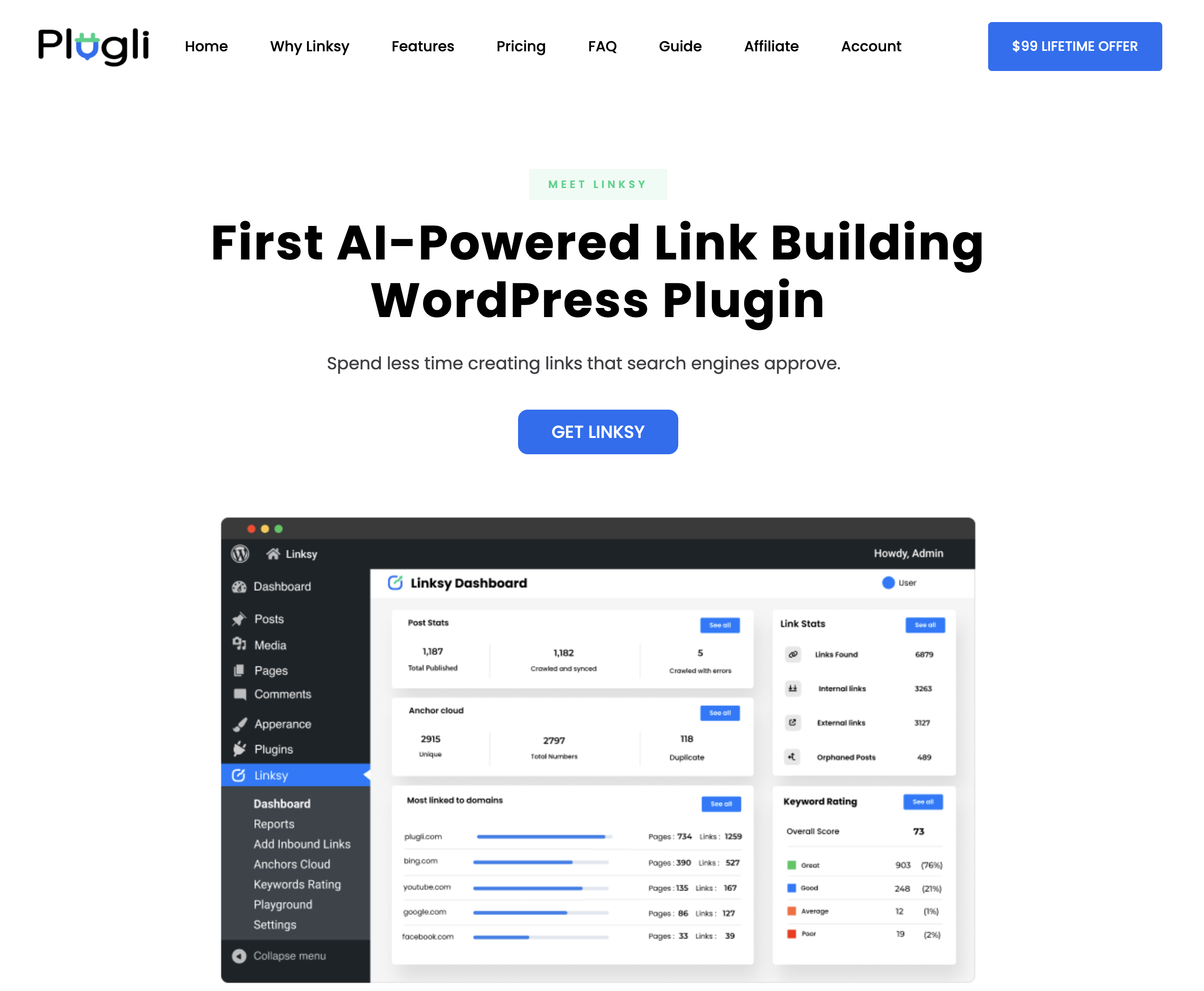 Increase your organic traffic with internal links
Linksy is one of those WordPress plugins you install, and then it just works from the start and saves you time.
My favourite feature is the overview of the anchor texts, so I ensure it's fully optimised and I have no duplicates.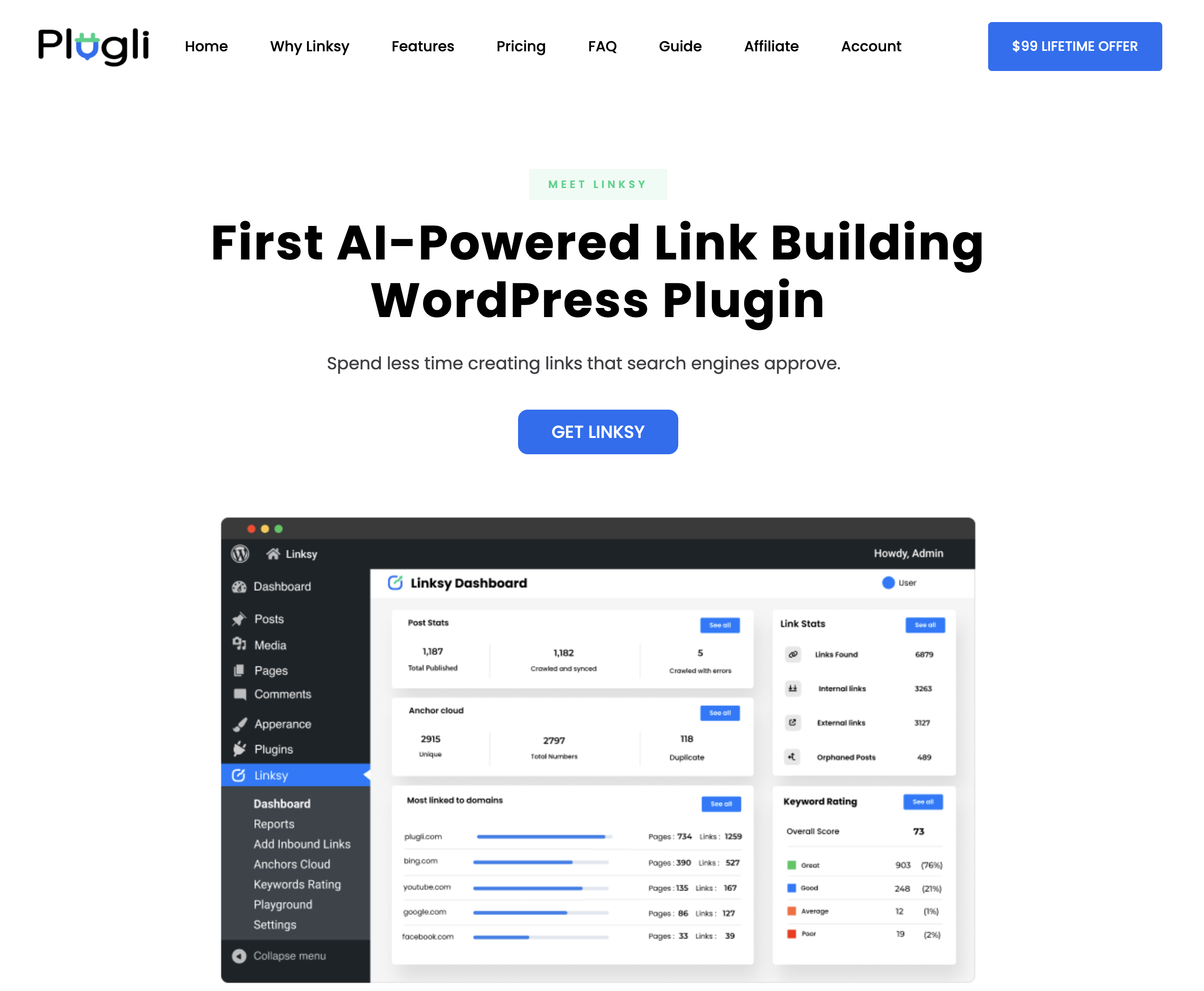 Linksy is a WordPress plugin which scans all your blog posts and uses natural language processing to find relevant blog posts you can interlink to.
It's super easy to use, and you get a long list of suggested links you can add by simply clicking on a button, and then Linksy takes care of inserting the link.
Linksy supports major page builders such as Gutenberg, Elementor and so on.
They continue to add new features to the plugin, and it's in rapid development. I've been using it for a couple of weeks now, and I'm a fan.
Get actionable SEO tips in your inbox
Join 700+ other SEO enthusiasts to receive an SEO tool review from my YouTube channel weekly, which I'll share with you.
And on top of that, an actionable SEO tip every week.
Now let's jump into the exciting part. I'll share my thoughts after using all the features to interlink my blog posts.
Linksy Dashboard: Get An Overview Of Your Links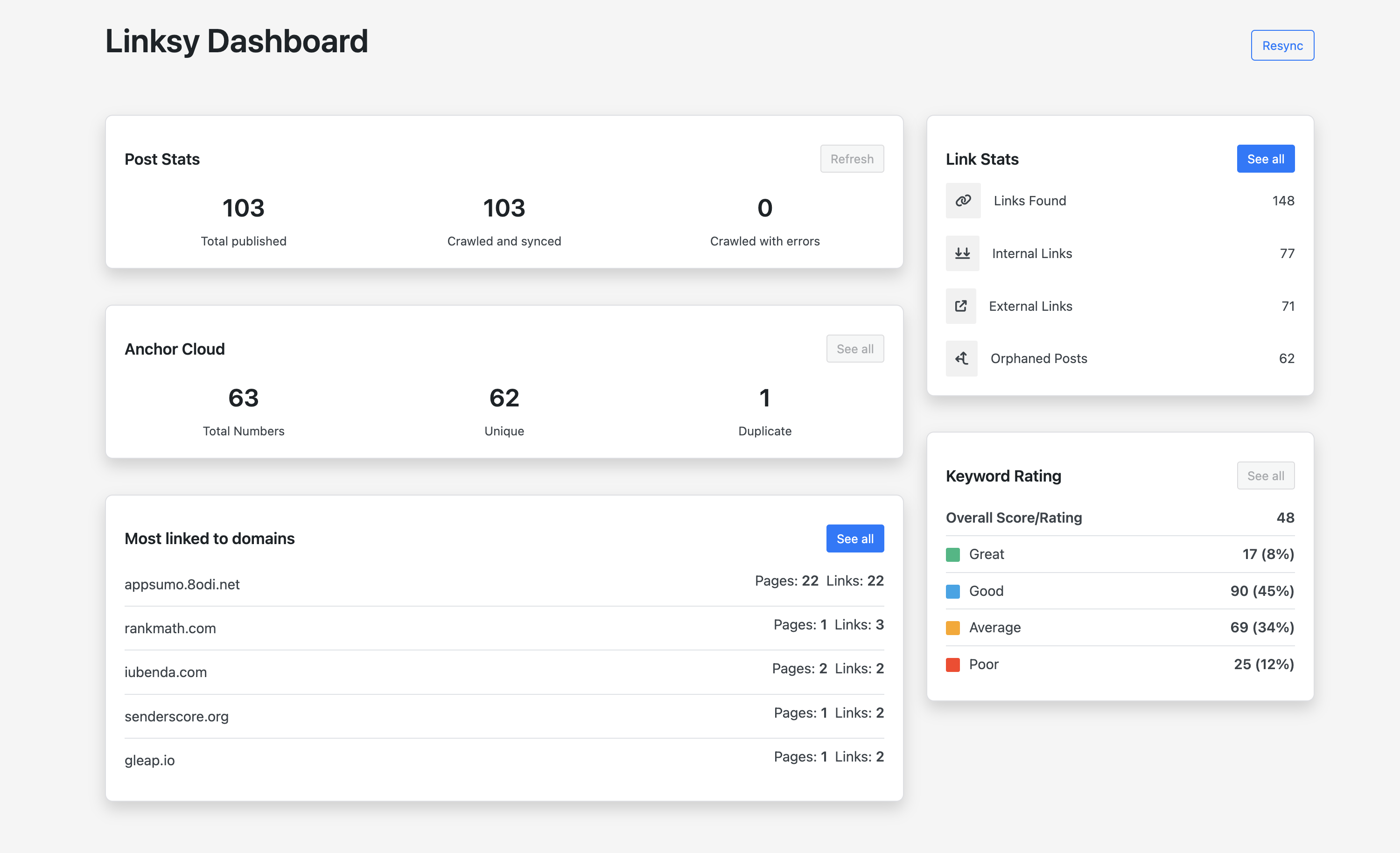 This is the dashboard, and it's super simple, which is a thing that goes through the Linksy plugin.
Here you can quickly get an overview of your interlinking efforts and how well you are at using the right focus keywords for your blog posts.
In the link stats, I really like to see the orphaned posts that you want to be 0, and as you can see, I have some work cut out for me.
The anchor cloud is interesting as well because you want to avoid duplicate anchor texts to some extent.
Overall, I just really like the overview; it's simple and does what it's supposed to: Give me an overview of my interlinking efforts.
Linksy Reports: Interlink Your Blog Posts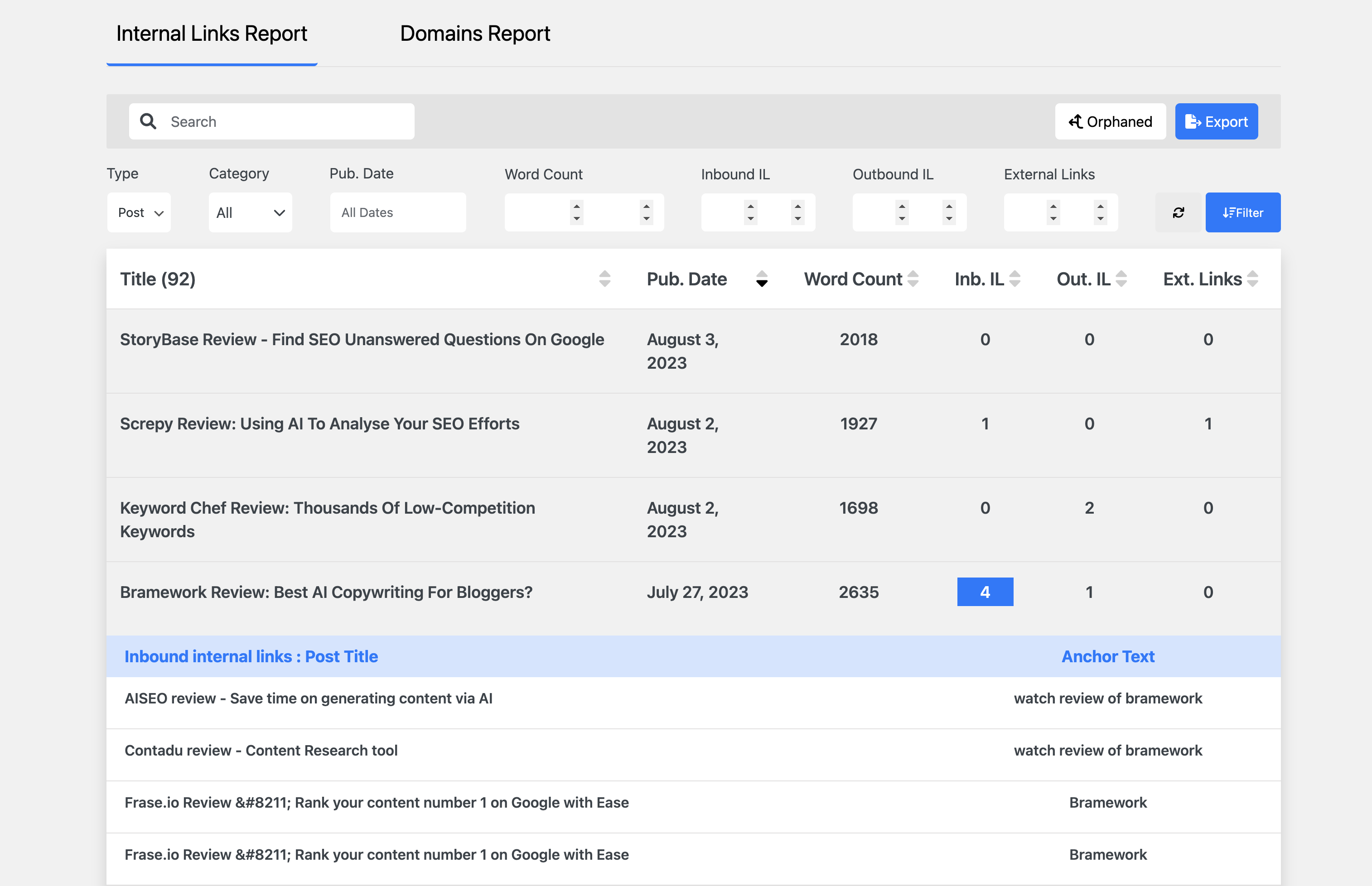 This is the report overview, and it's divided into 2 sections.
Internal Links Report
Domains Report
The domains report is just an overview of your external outbound links, where you can get an overview of the domains you link the most to and which posts link to that domain.
The interesting part is the internal links report section.
Here you have an overview of all your posts, and you can segment on the top right to only show orphaned posts.
An orphaned post is a post without any internal links pointing to it. This you want to avoid at all costs. Google says if you don't even link to your own posts, why should we?
Other than that, then you can hover over a post and add inbound links and outbound links, which I'll dive more into in the next section.
But one of my favourite features with Linksy is also in this module, and that's the inbound links overview. Here you can see all the posts linking to a post, and you can see the anchor text.
And the reason why that is amazing is because you want to diversify your anchor texts. if all your internal links to a blog post are the same, then Google will only count them as one.
Pro-tip: Go into your Google Search Console, and find the keywords you're ranking for. And then use those keywords as anchor texts. It'll work as a secondary backlink and work very well.
Add Inbound Links With Linksy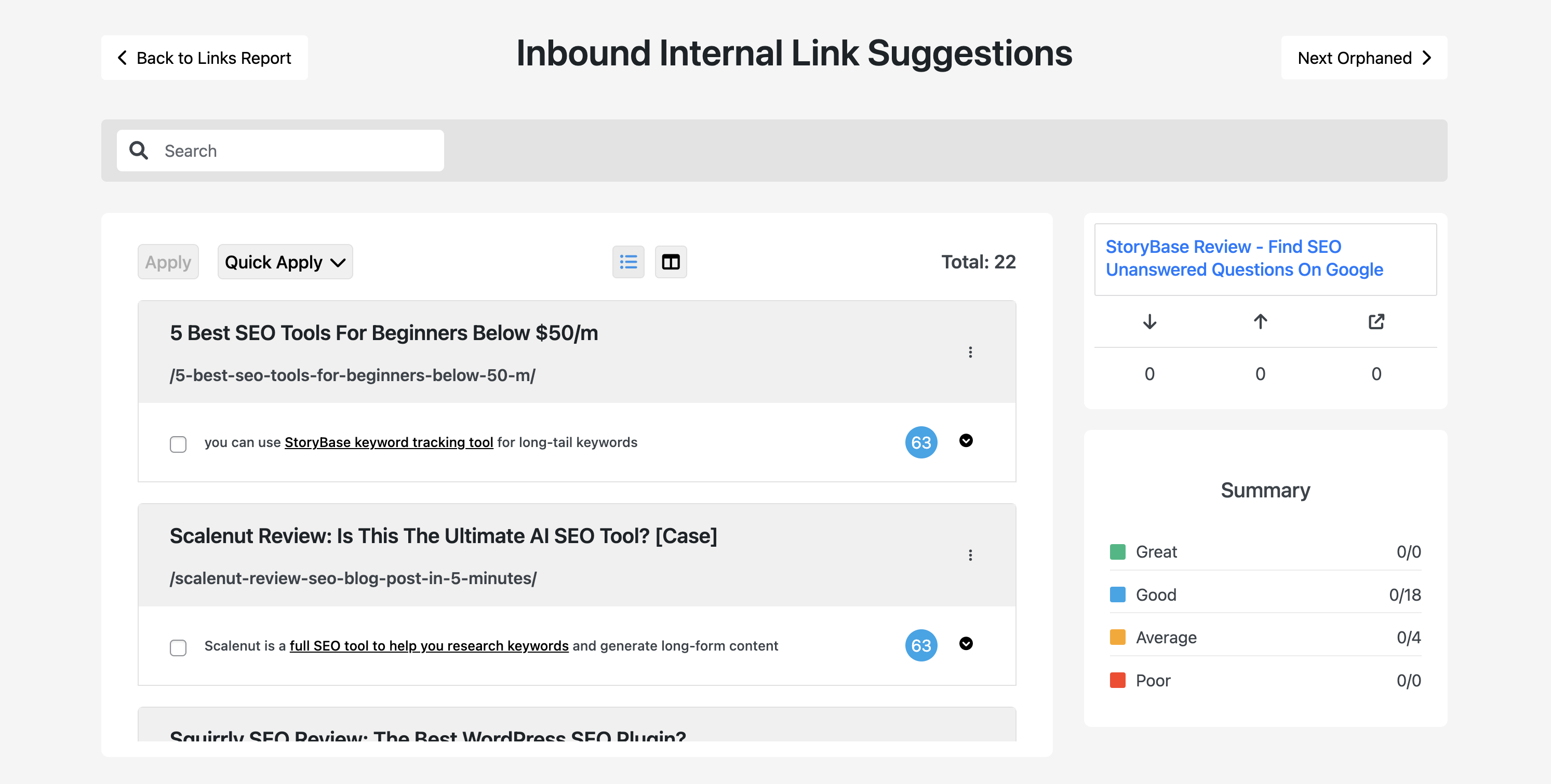 And this is where you add the inbound links to a post. So by going from the reports module and clicking on linking in.
Linksy has already scanned your posts, so this is where you'll get automatic suggestions on where you can interlink.
Strong recommendation: Start with your orphaned posts to ensure every post has at least one internal link.
But each box on the left is another blog post where you can add a link to your current blog post, and it's as simple as check-marking it and then clicking on apply. Then Linksy takes care of it.
You also get a score for each internal link; the higher the score, the better. The score is based on your target keyword for the blog post.
This is a super nice view, I really like it as it's simple, and I can add links in multiple blog posts to my blog post in a few seconds.
Add Outbound Links With Linksy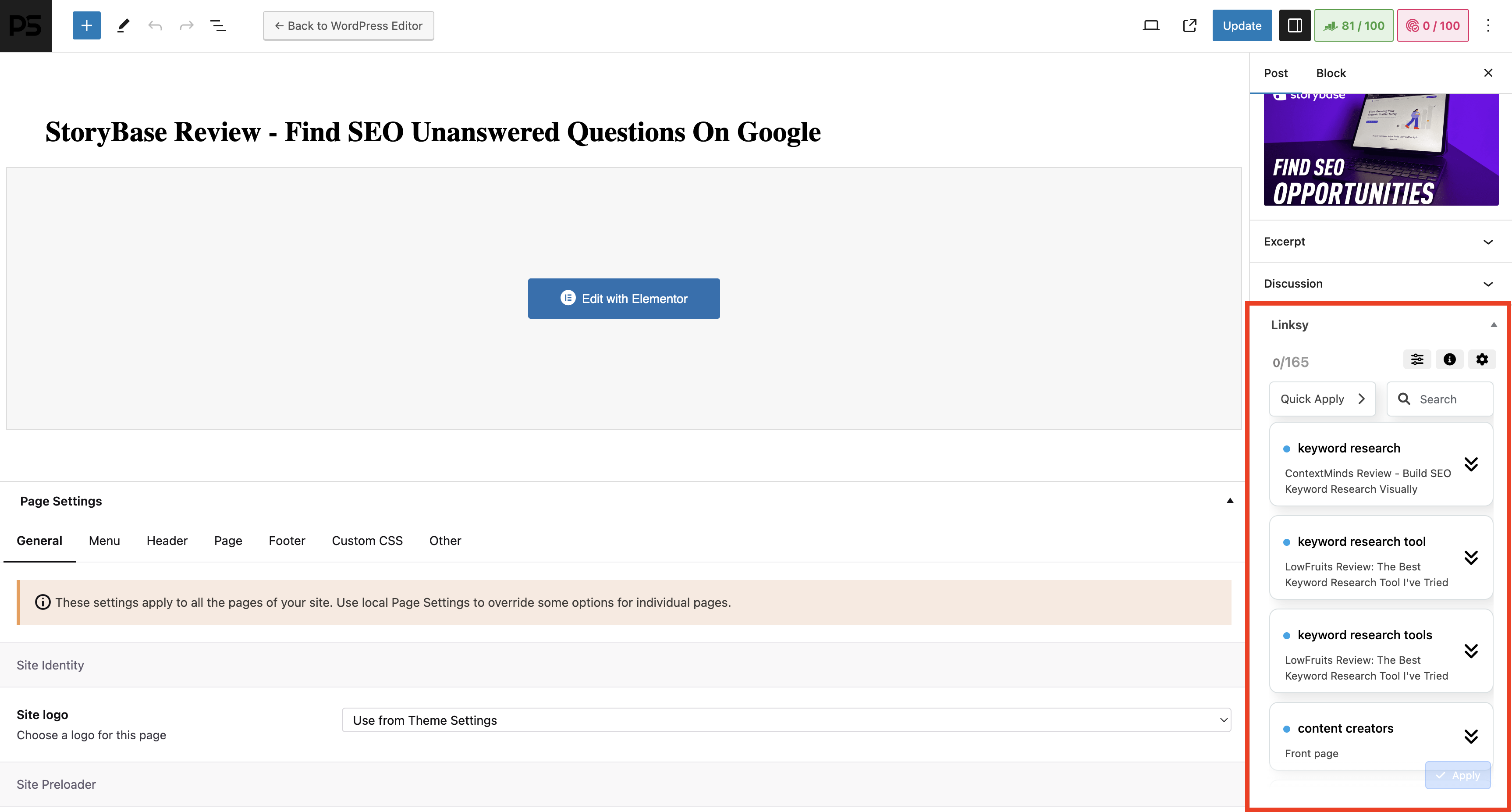 If you want to add outbound links from a specific post, then it's possible in the editor.
Whether you're using Gutenberg or Elementor, then it's possible. But based on my testing, I've found it to work better in Gutenberg.
When you're in the Elementor editor, you don't have the option to interlink. So you have to open your post in edit mode as on the image, and then on the right side, you have a Linksy box.
And this is super simple, and it suggests an anchor text and a post you can interlink to. All you have to do is mark the links you want to create and create them.
And just to put emphasis on this again, Linksy is so simple, and it shows over and over again.
Anchors Cloud: Get An Overview Of Your Anchor Texts
This is nothing super useful, at least not for me. However, it's an overview of all your links where you can see the anchor texts.
So on the left, you have the anchor text, and on the right, you have the 2 posts which are involved in the internal link.
You can use this to see if you need to diversify your anchor texts more, but then I'm missing the option to filter on posts, and this I can already do in the report overview.
So I didn't find this module super useful.
Keywords Rating: Find The Best Keyword For Your Blog Post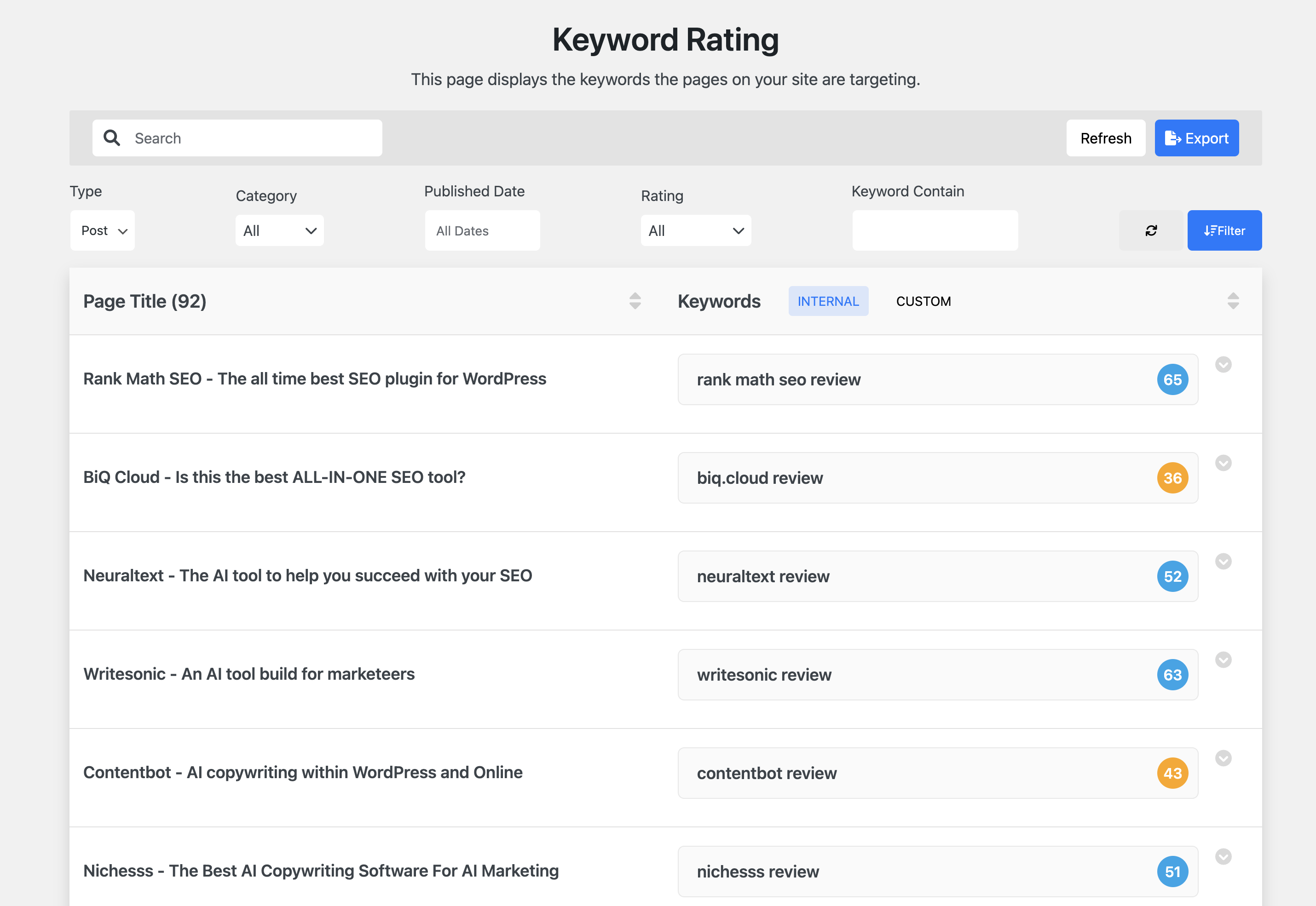 This is an awesome module, but it's missing some key features.
Here you get an overview of all your posts with the target keyword. And each post and target keyword combination gets a score.
The higher the score, the better you've been to optimise your blog post for the target keyword.
And this sounds like an awesome idea. However, you don't get any help on what you can do to optimise your blog post further to get a higher score.
Of course, you can include it in the title, meta description and so on. But some guidelines would be a big help in this module.
If you find that Linksy is using the wrong target keyword, then you can add your own custom keyword and get an evaluation score based on that.
Playground: Test Your Keywords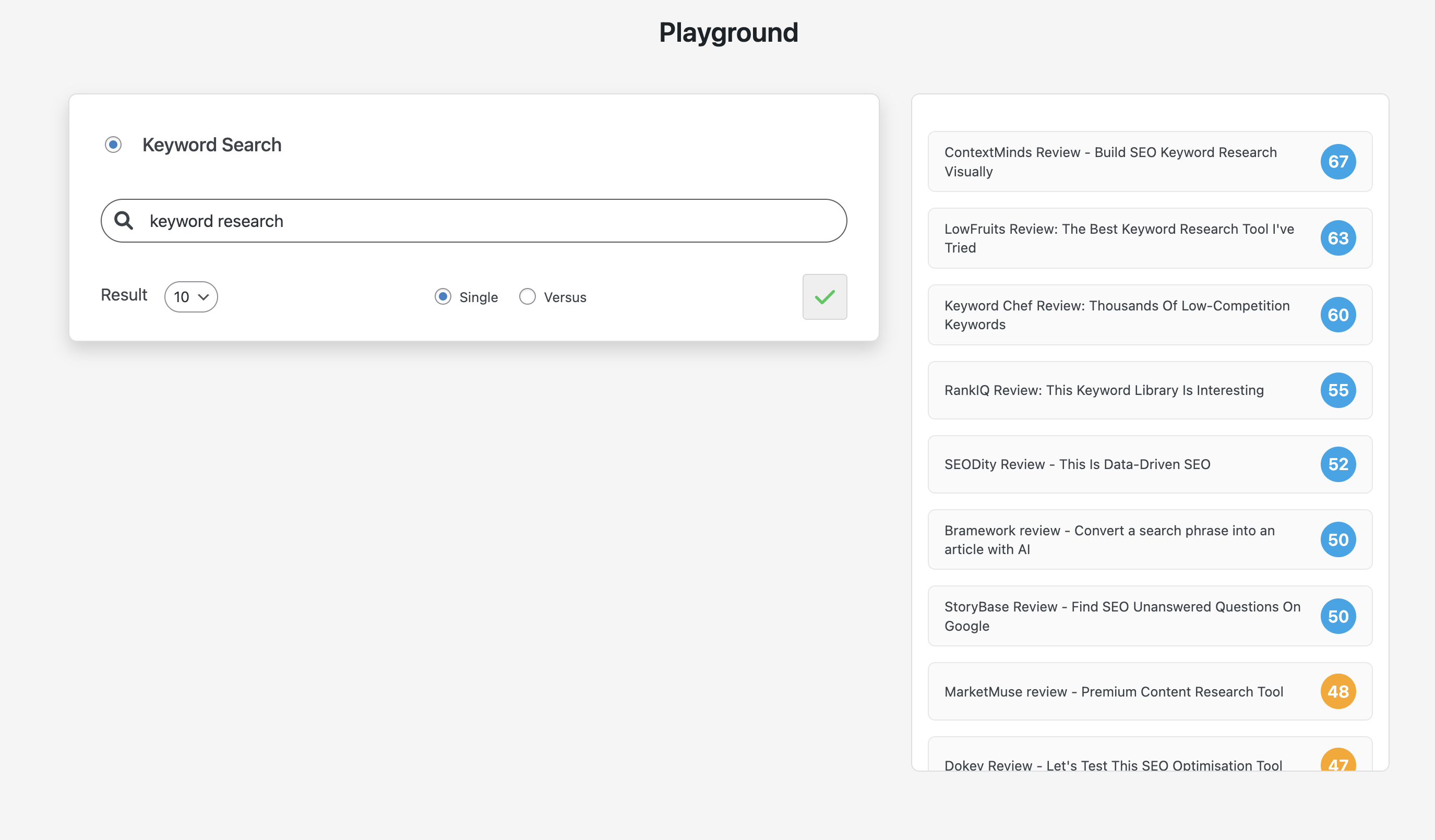 This is more of an analysis and fun module.
Imagine you've found a secondary keyword in Google Search Console, you don't have a blog post which targets this directly, but you might have some that target the keyword secondary.
You then have 2 options.
Write a new blog post targeting this keyword.
Optimise a current blog post to have a section targeting the keyword.
If you go for the second option, then enter your keyword in the playground module, and let Linksy tell you what blog post has the highest chance of ranking for this keyword.
Settings: Customise Your Linksy Experience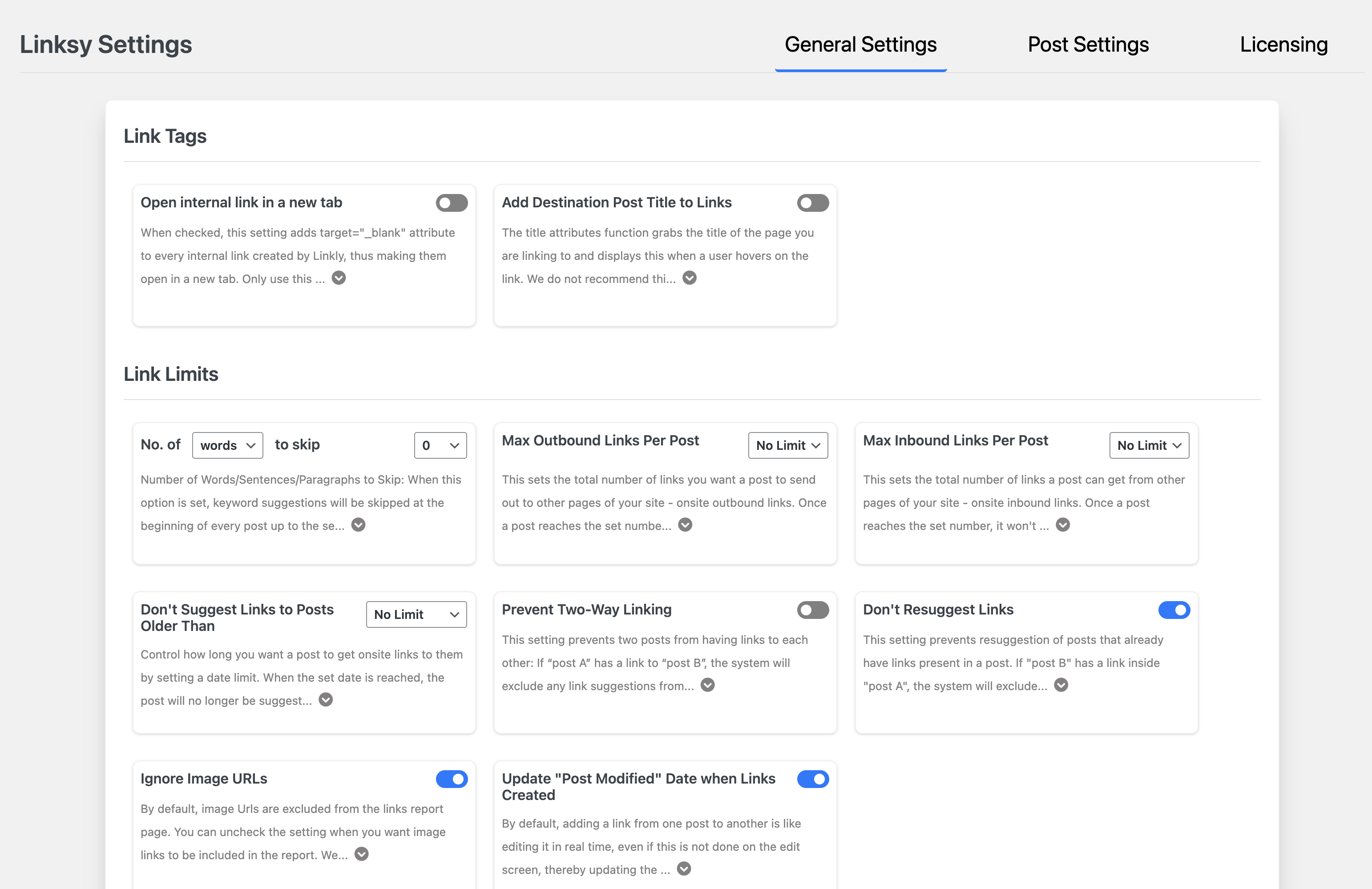 As mentioned, you can customise your experience with Linksy.
Everything from adding the destination post title to links to ignore image URLs and more. There is not much to say about this module, and I'll just highlight your options.
Link Tags
Open the internal link in a new tab
Add destination post title to links
Link limits
No. of words to skip
Max outbound links per post
Max inbound links per post
Don't suggest links to posts older than X
Prevent two-way linking
Don't re-suggest links
Ignore image URLs
Update the "Post modified" date when links created
Categories and post types
Categories to be Ignored for Suggestions
Post Types to Sync
Page limits
Posts to be ignored for suggestions
Show Ignored posts in reports
Linksy is one of the simple plugins to work with internal link building for your website, and there is another alternative.
Link Whisper does the same as Linksy except for one thing. You can't as easily get an overview of all your anchor texts.
That said, Link Whisper comes with 404 reports, more customisability, supports more languages, and is just a plugin with more functionality.
So if you need simplicity, go with Linksy. Otherwise, go with Link Whisper.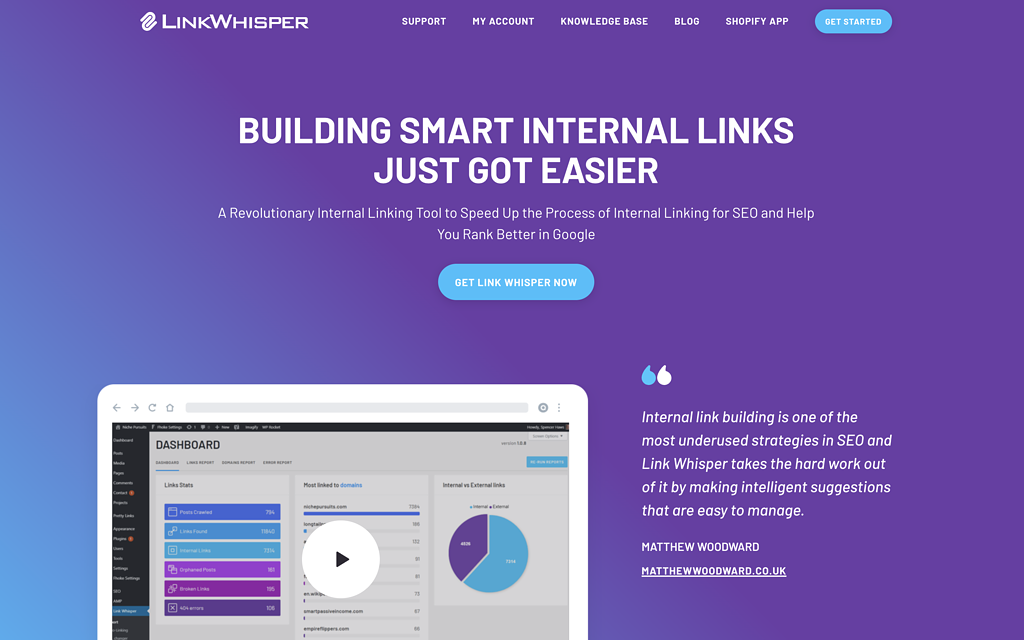 Linksy is made for anyone using WordPress who is serious about their content.
Interlinking is so important to help spread the SEO juice and increase the session time for your website visitors.
On top of this, then, it also helps Google understand the relations between your blog posts, but I know it's super difficult.
The more blog posts you write, the easier you lose the overview. And that's why you need a plugin like Linksy.
So if you're looking for a plugin which can give you suggestions on what blog posts you could interlink, then Linksy is a great option. It's not perfect yet, but they're getting there.
Wrap-Up: Is Linksy Worth It?
Yes, Linksy is worth it if you're looking for a simple interlinking SEO plugin for your WordPress website.
There are more complicated plugins like Link Whisper, where you get more functionality, such as link reports on 404 and more.
But what I think Linksy does so well is the simplicity. You get a simple setup, and you can still customise it for your needs.
And then it really makes your life easier by telling you what blog posts you should interlink and more.
The playground is a funny addon to see if any of your blog posts have the potential to rank for other keywords.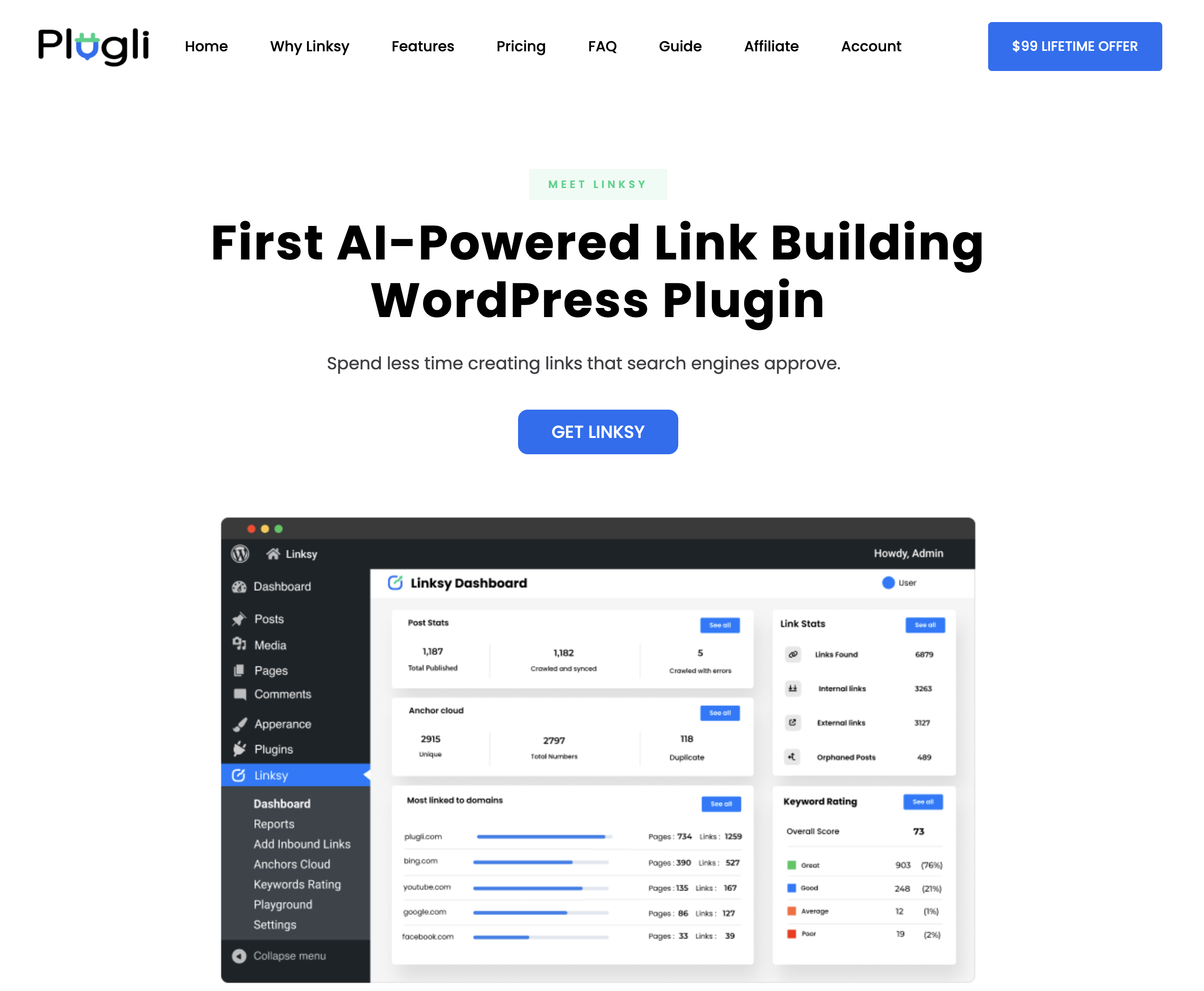 If you're like me and you just can't start interlinking your posts, then get a plugin like Linksy.
It simplifies the process, and you can even automate much of it. And what Linksy suggest is 10 times better than not doing any internal link-building.
Linksy
Linksy is an internal link building plugin for WordPress that just works. Check out my Linksy review to get a full understanding of this plugin.
Pros
It analyses and shows you automatically all your opportunities to interlink your posts.
You can get an overview of all the anchor texts linking to a specific blog post.
It's easy to find orphaned posts you need to add links to.
Cons
Now it's focusing on links. I'm missing a 404 report.
It's missing a feature where it would suggest adding a paragraph with a link to another post. Right now, it only uses text which is already there.