StoryBase is one of those simple SEO tools that provides so much data to you. So if you're looking for long-tail keywords with high search volume, this is the tool for you.
On top of this, then, they have additional SEO tools to help you win the SERP.
Let's dive in and test it.
Run a keyword research on your seed keyword and get hundreds of content ideas.
Analyse your content to find missing keywords to enrich your content to rank higher.
Get feedback on your meta title and description to increase your CTR to increase traffic.
Pros And Cons Using StoryBase
After using StoryBase for quite some time, I'm excited to share my pros and cons. It's an incredible tool, but there is definitely room for improvement.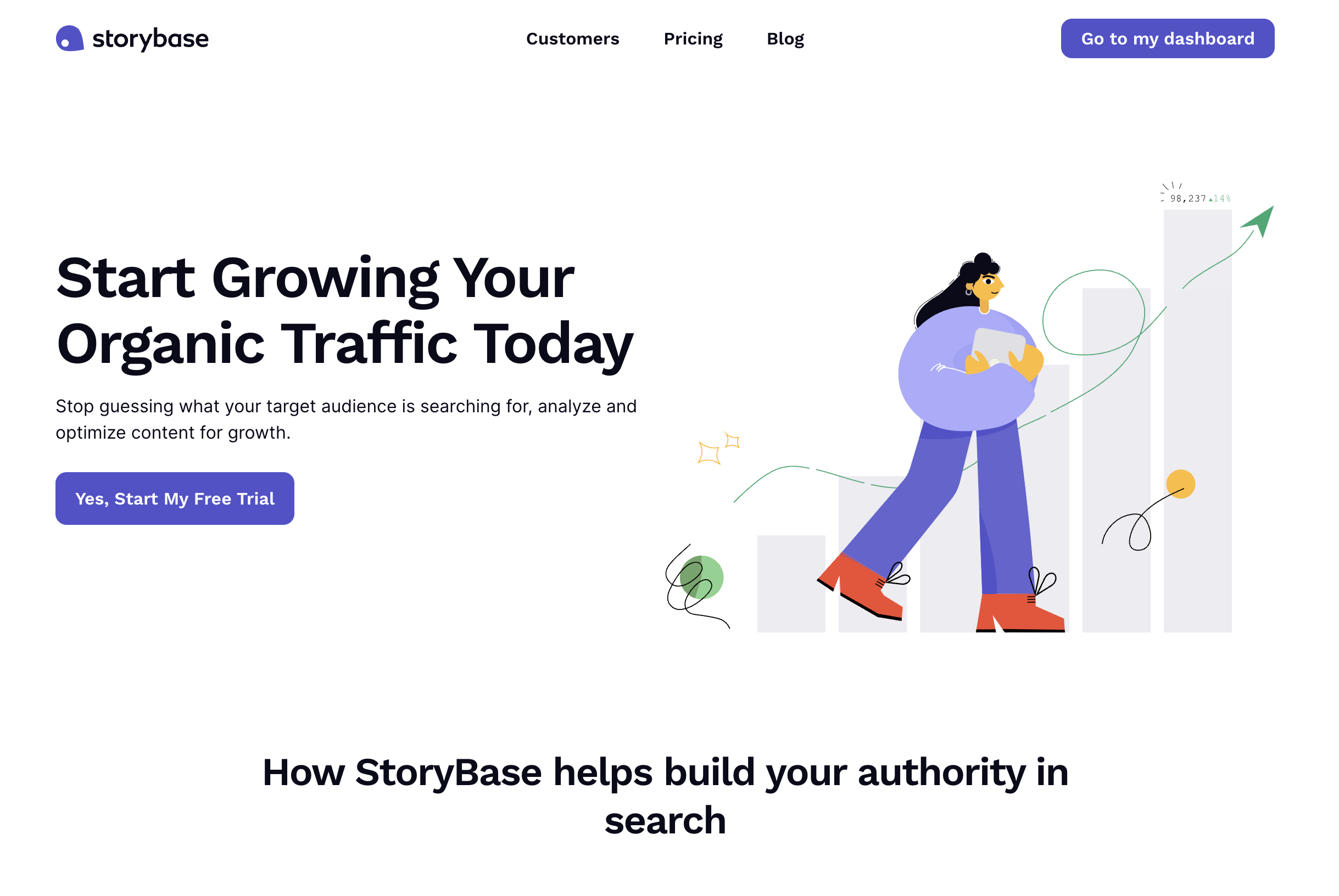 Find long-tail low-competition keywords
StoryBase is an awesome SEO tool with a thorough keyword research module and many great additional SEO tools.
You can use it to build a topical map for your niche, and entirely automatic and it works well.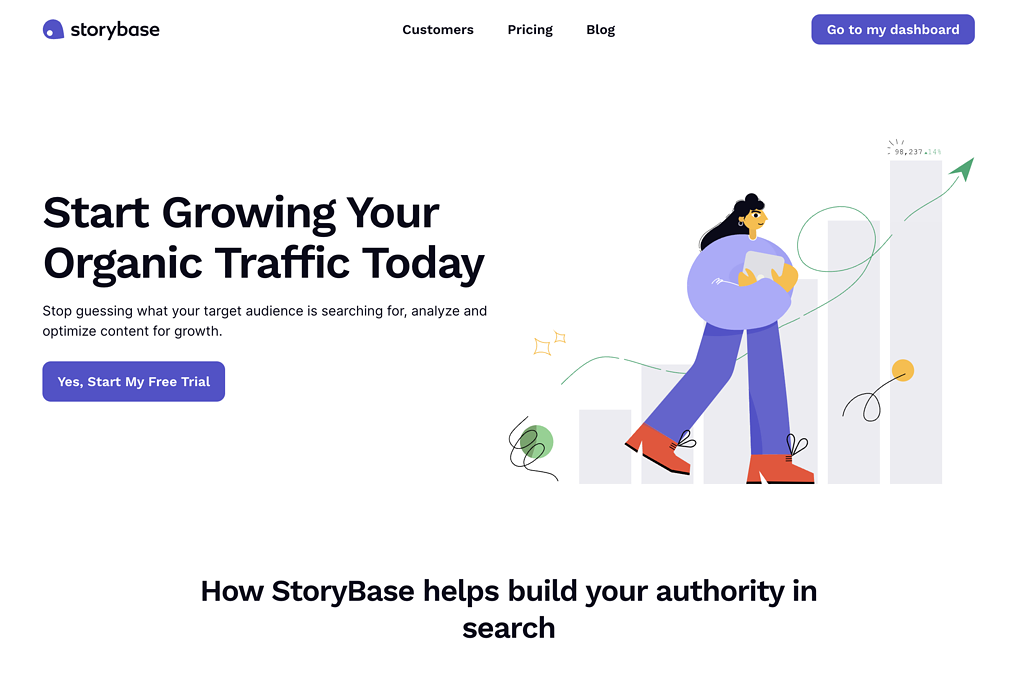 StoryBase is one of those SEO tools which are much more than just a keyword research tool.
You can run keyword research on your seed keywords and get hundreds of content ideas back for your target audience.
But you can also analyse your SEO content to find missing keywords and determine how to improve your CTR.
You can integrate with Google Search Console, which helps you with internal link building and much more.
Overall it's a solid SEO tool with a variety of get SEO tools to help you step up your SEO marketing and increase the traffic to your website.
Get actionable SEO tips in your inbox
Join 700+ other SEO enthusiasts to receive an SEO tool review from my YouTube channel weekly, which I'll share with you.
And on top of that, an actionable SEO tip every week.
StoryBase Review Features
Now let's dive into the many great tools from StoryBase, and let me show you how you can use it as a brainstorming tool and content marketing resource.
Let's start with the keyword research.
Keyword Explorer: Discover Untouched Long-Tail Keywords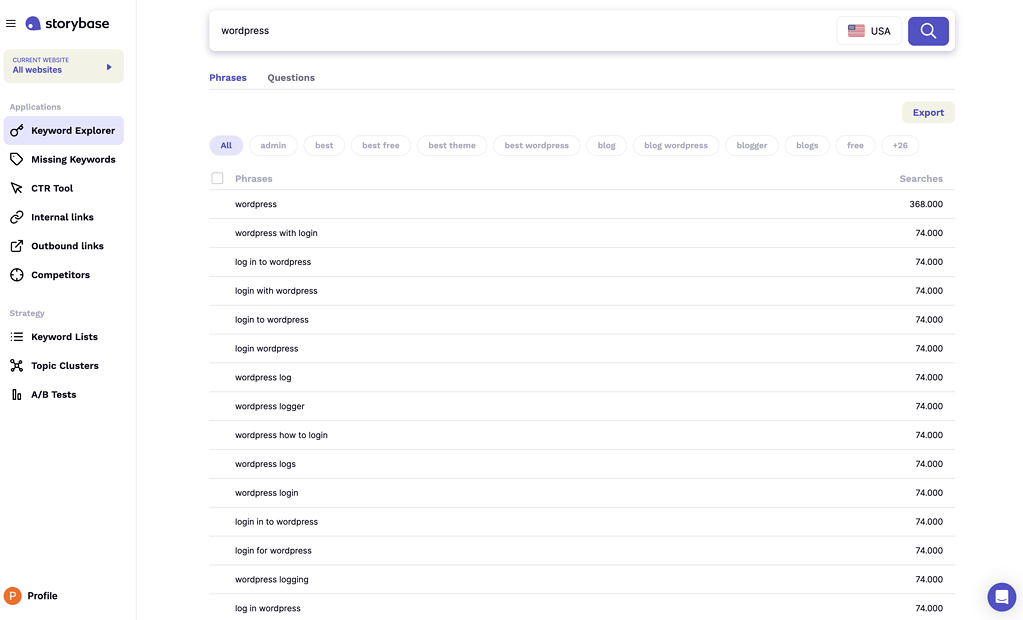 In the keyword research tool, you can search for keywords in a little more than 20 countries, so it's not covering all countries.
However, the reason being their database of keywords is super unique, and you'll see keywords which you don't see in many other keyword research tools.
They do cover major countries like the United States, United Kingdom and Brazil. And some minor countries as well.
And as keyword research is often the first step in the process of content generation, it's important we find unique keywords.
For each keyword, you can see the search volume, which is a great indicator. But you can also see related questions for your keyword and related keywords.
Overall I'm super satisfied with the result. Of course, you should ignore the first couple of keywords as the competition is high, but once you scroll and move on to some of the pages, you get some great results.
The questions section is by far my favourite, and I really like to write relevant content based on a question.
One thing I'm missing is a competition score based on the domain rating in the SERP. That would help me easier identify the keyword opportunities and save a lot of time on researching.
Missing Keywords: Improve Your Content Velocity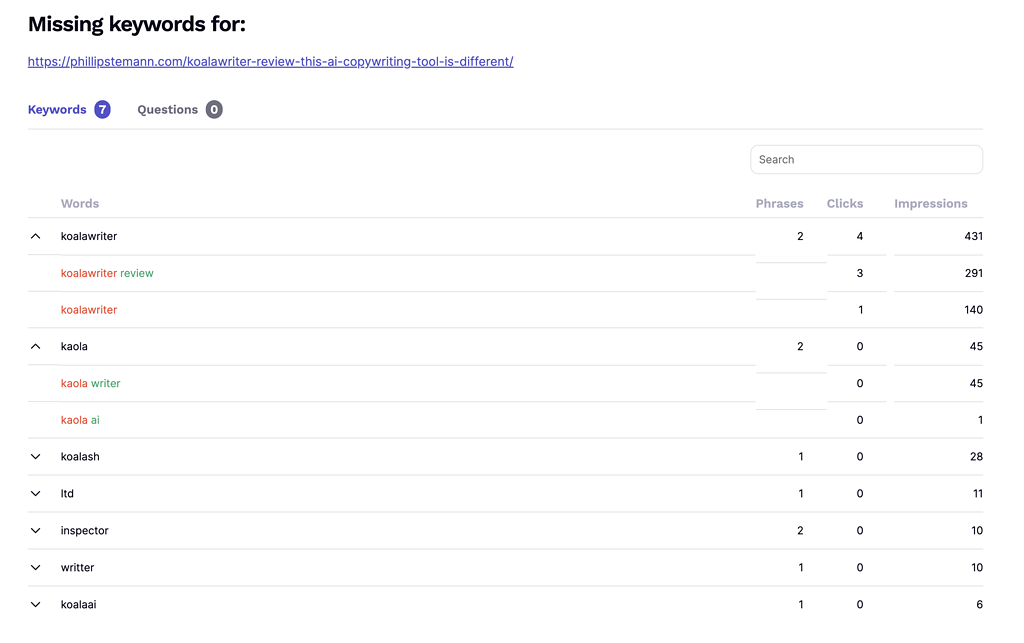 This is an interesting module; you can integrate with Google Search Console and pull data from there.
So the way this module works is that it pulls all the keywords from Google Search Console where your article has impressions and the keyword is missing in your content.
Then all you have to do, depending on your writing style, is incorporate those keywords into your content.
And here I'm really missing a full-screen editor to be able to do it right here and now, with real-time feedback. Hopefully, something they'll add because the insights are super helpful.
CTR Tool: Improve Your CTR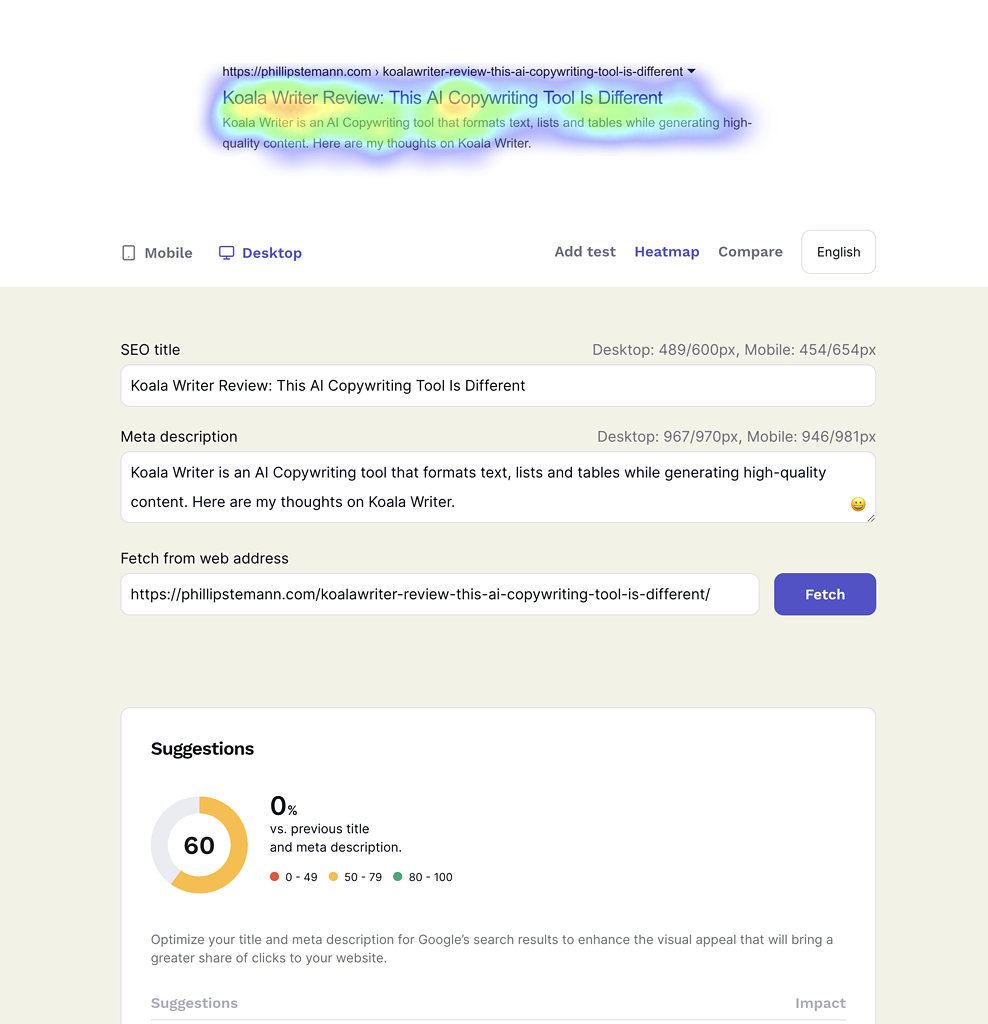 This is the CTR tool, and in fact, it's entirely free to use. This is perfect for increasing the traffic to your website.
The better your CTR is, the more people have clicked on your website content in Google.
Here it's super simple and you enter your URL and press fetch. Then StoryBase fetches the information needed and gives you suggestions on how to improve, and gives you a score.
The suggestion is as follows:
Use a CTA
Use a power word in your title
Use a power word in your meta description
Make your title longer than 50 characters
Use numbers in your title
Your meta description should be between 120 and 165 characters.
Make your meta description 2-4 sentences long.
All the suggestions are great, but for the power word, I wish they would come up with examples or, even better, use AI.
They can generate a new title and description for me that fulfils all the criteria they set, so I just have to copy and paste.
But for now, it's a great tool to analyse your appearance in the SERP.
Internal Links: Find Internal Link Opportunities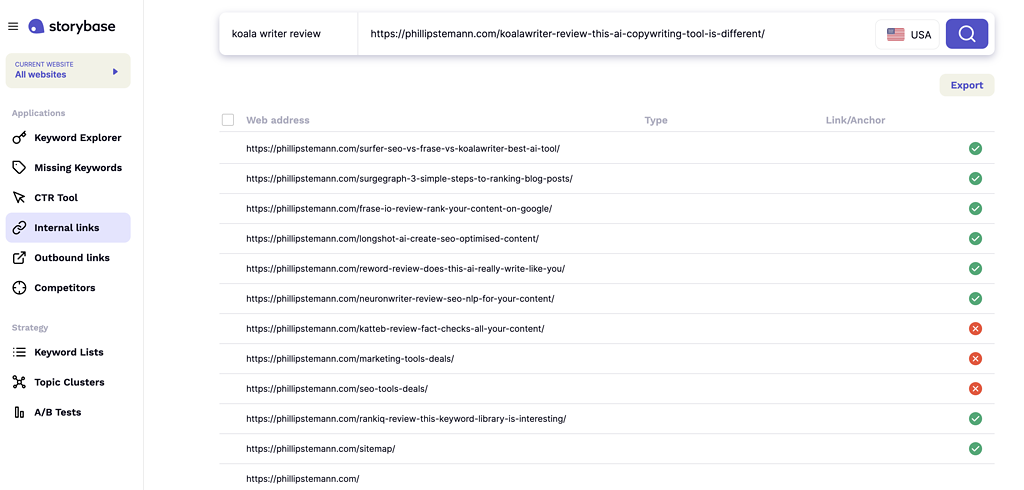 Here is a module which suggests internal links based on your topic and your link as well.
It does suggest some precise links you can add, but I found it often just looks for exactly the keyword you enter in other articles.
And there is nothing wrong with that, but what I wish it did is use the keywords from Google Search Console and suggest that as anchor texts in my links in other articles.
Another cool thing could be if they could use AI, analyse the content to understand if it's relevant and then suggest a paragraph I could add to the article linking to my other article.
These are just some thoughts, but that's something that could bring value.
Outbound Links: Find Vetted Sources To Link To
The outbound link module is interesting as well for finding external sources you can link to for a little content boost.
I have seen in the past that linking to high-authority websites is a bonus.
Here you enter your keyword, and then you get many links to add to your article. Each link comes with a relevance score; the higher the score, the more relevant it is.
I will say the links' quality is very mixed. Some of them make sense, but others are completely off.
However, I wish they would add the domain rating as well, as it often helps to easier filter through the domains.
Competitors: A Competitor Analysis On Share Of Voice
The competitor module is interesting. If you're a new website, you won't get many results here, and then you'll have to do it manually.
If you're an established website, then you'll get some great results.
I ran it for my website, and I'll say the majority of these websites are not my competitors, but in between, I did find some relevant websites.
So if you run this, just prepare yourself that you have to spend some time going through the list to filter out your closest competitors.
And when you have found them, you can mark them and analyse them.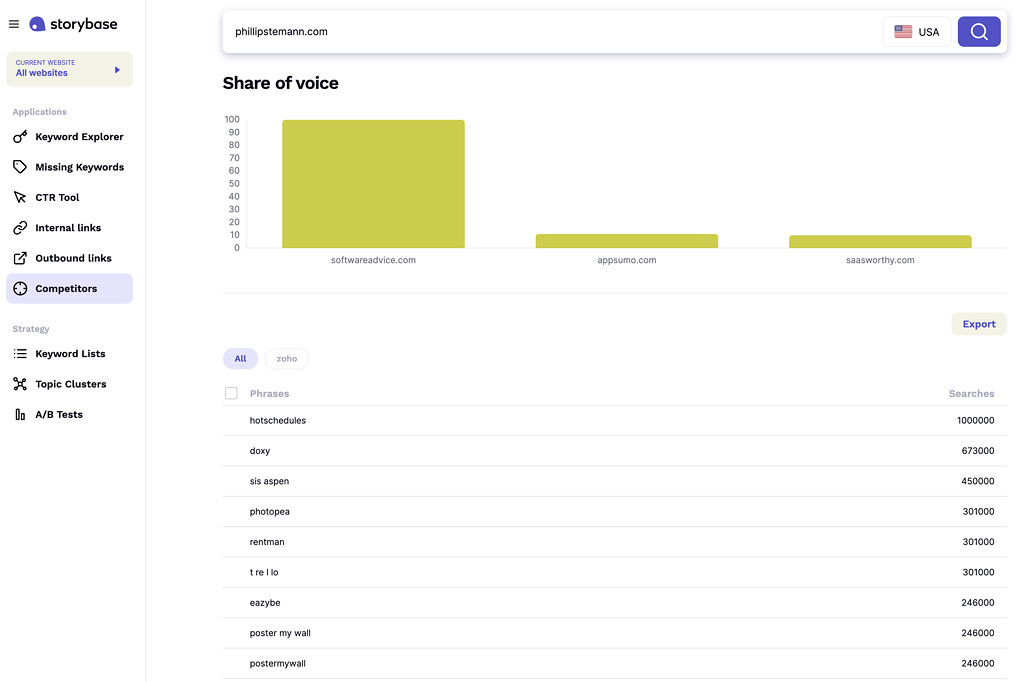 And then it looks like this, here, you can compare your competitors to each other and get the share of voice and phrases relevant.
Overall it's a decent idea, but I'm really missing an option to be able to compare my competitors to my own website. They should definitely add that as a feature.
And then, I would like to see more data points as well, and it's not the most in-depth competitor analysis I've seen.
Keyword Lists: Create Lists Of Keywords To Target

The keyword lists are a super simple module.
When you start to find keywords you want for your content creation, then you can add them to a list.
For each keyword, you can see the following:
The phrase
If you're ranking with a URL.
How many clicks do you get?
Your position in the SERPs.
Monthly searches on the keyword.
It's super cool it uses Google Search Console to pull in data and show the keywords you're focused on, what is your progress.
Topic Clusters: Achieve Topical Authority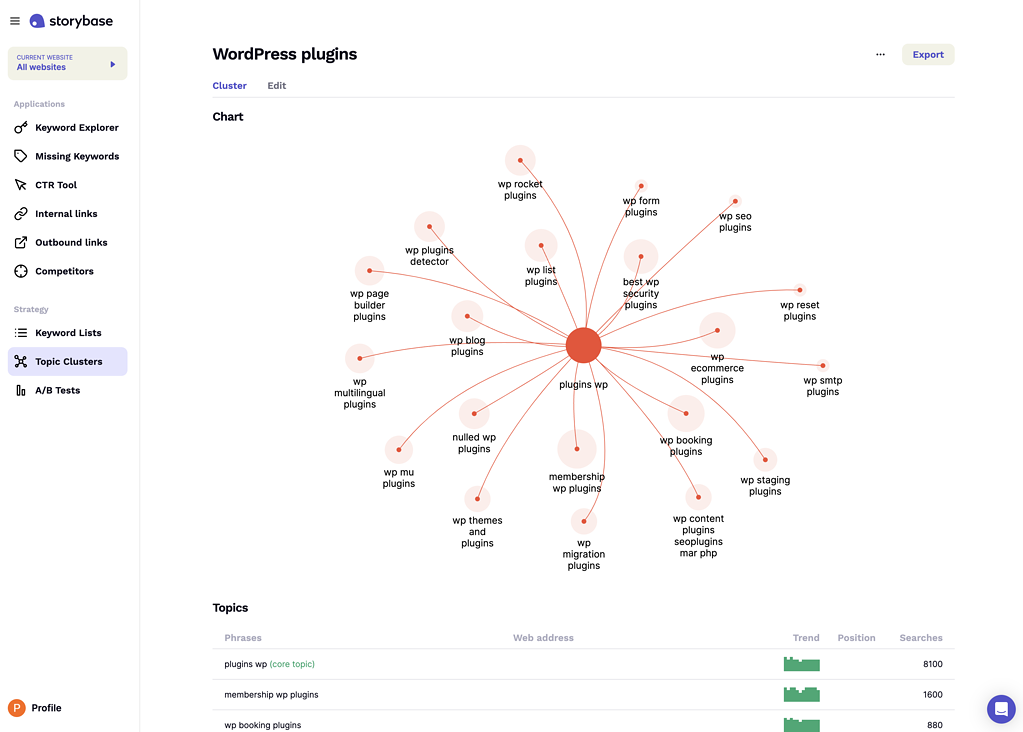 This is such a cool module, and you don't see it made like this in many places.
You can create topic clusters in 2 ways: Manually or automatically.
If you choose manually, then it works just like a keyword list, as described previously.
But if you choose automatically, then StoryBase create the entire topic cluster for you based on your content silo seed keyword. It's incredible.
 As you can see in the image, you get both the visual topic map, but you also get all the topics in a long list.
And, what I really like is that for each topic you get, whether it'øs trending, your position on the keyword in the SERP and monthly searches.
Overall this is such an incredible tool, especially if you find it difficult to create a topical map. This is a great start.
Run it for your seed keyword, and then take the keywords it finds and run a topic cluster research on those keywords and move deeper until you feel you got it all covered.
A/B Tests: SEO Experiments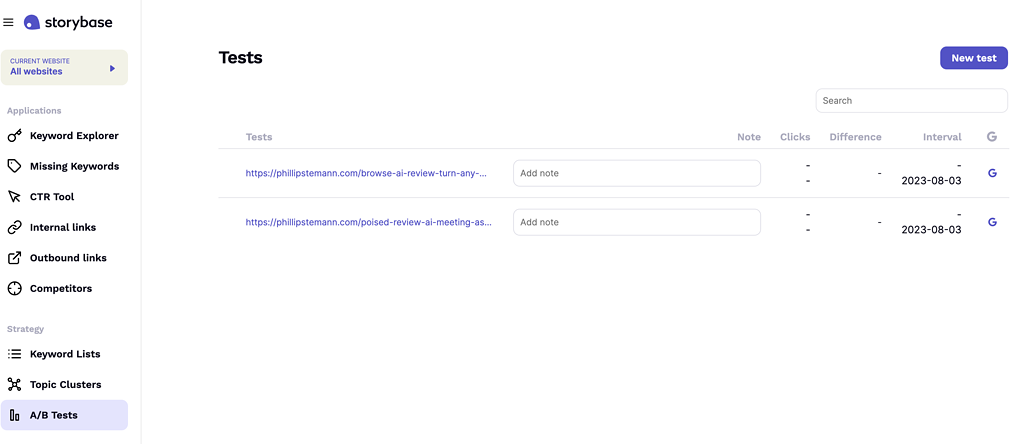 This is perfect if you like to run experiments on your articles.
Here you can easily add multiple pages from your website, add notes, and then monitor them.
It could be anything from changing the title or meta description on your page to changing the style of content entirely.
And here, you can add notes and compare the intervals. It's just great to have everything in one place, but I wish they would add predefined tests to encourage how you can A/B test your SEO content.
Alternatives To StoryBase
StoryBase is an SEO tool, and many are out there, but StoryBase has a unique approach to many of its SEO tools.
StoryBase is primarily a keyword research tool, so I've found some alternatives you can look into if you're looking for similar SEO tools.
WriterZen matches StoryBase on many elements, and they also have a keyword cluster module.
They both have a thorough keyword research module and are great for topic clusters.
WriterZen is a bit better for content optimisation, and StoryBase is a bit better for optimising traffic to your website.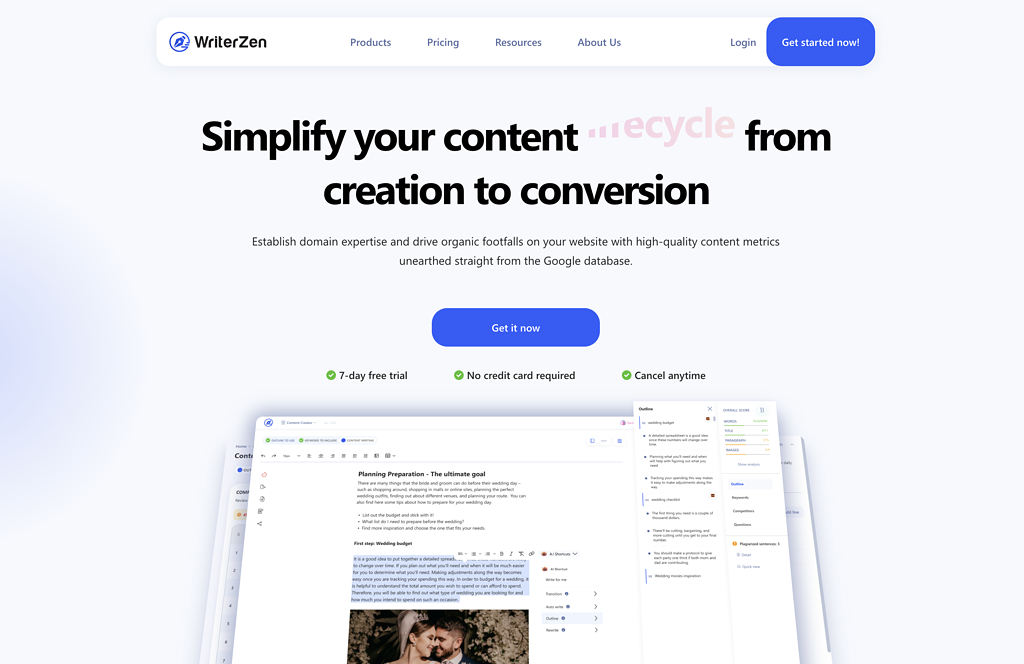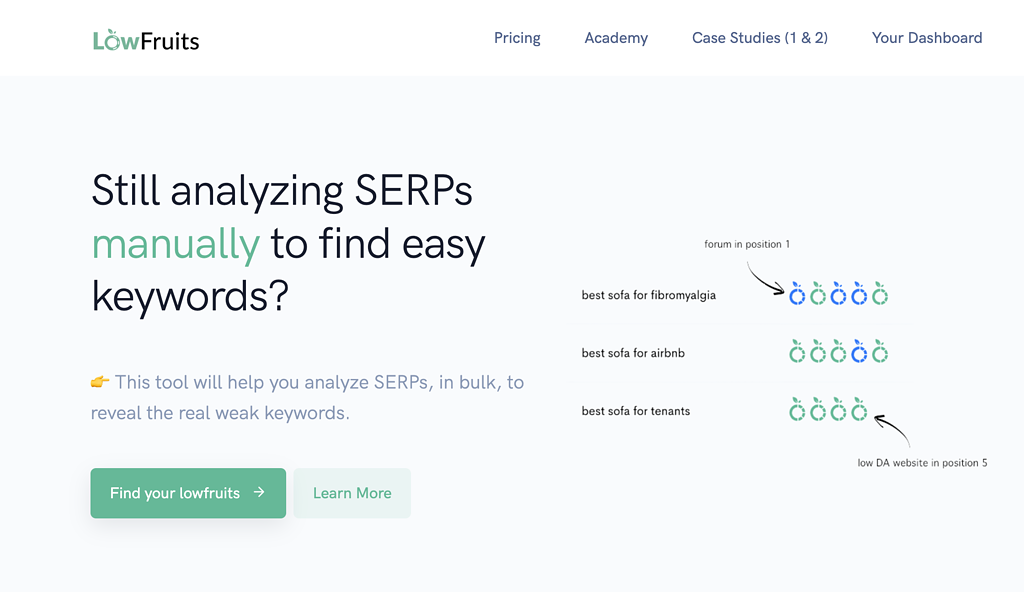 While LowFruits doesn't have optimisation features or topical mapping features, they have a different keyword research method.
LowFruits uses Google autosuggest for their keyword research, showing completely different keywords than you're used to.
Who Is StoryBase Made For?
StoryBase is made for bloggers and content creators who want to improve their rankings and get more traffic.
With keyword research, where you start with an original keyword and get a bunch of keyword ideas, to the missing keyword module and the CTR tools to improve your rankings, you're fully covered.
StoryBase is one of those must-have tools for your SEO marketing as a content marketing resource. You have to have a keyword research tool, and StoryBase just gives you so much more.
So if you're serious about your organic traffic, and want to grow it, then StoryBase is perfect for you.
Wrap-Up: Is StoryBase Worth It?
Yes, StoryBase is worth it by a mile. It starts at $49 per month, so it's a mid-tier SEO tool, but you'll be able to publish so much amazing content based on the keyword research module.
And you'll be able to optimise your current content. Both adding missing keywords but also optimising your CTR.
There are many content search engines out there, but StoryBase can do a lot more than that for your SEO marketing.
StoryBase is both perfect for beginner content marketers and experienced SEO experts as well. Because you get so much data and tools, you can use them to optimise your current SEO setup.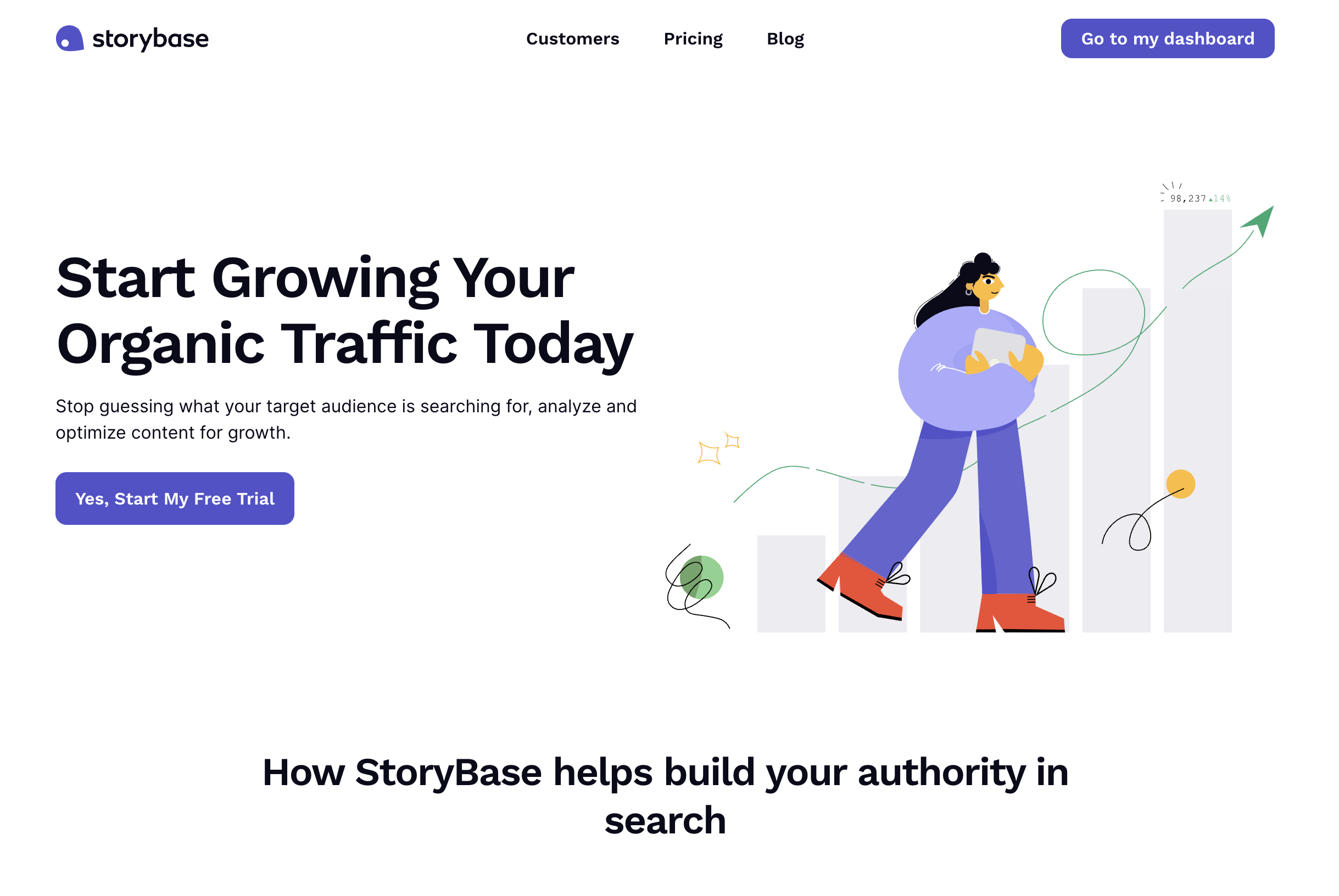 Achieve topical authority with StoryBase
The topical authority has become more important than ever with all the AI content.
If you haven't created a topical map yet, I'll strongly recommend doing it manually or using a tool like StoryBase.
StoryBase
With Storybase, you get an SEO tool perfect for finding unanswered questions on Google for which you can write and rank articles.
Pros
Get feedback on your meta title and description on how to improve it.
Analyse all your content to find internal links and ideas for your content.
Get thorough competitor research based on your domain.
Cons
The missing keywords module lacks an editor where we can start implementing the changes.
The CTR tool is missing some examples of how to improve our meta titles and descriptions.