Ahrefs is one of the best SEO tools together with Semrush, and I find it fascinating how extensive their database of keywords and backlinks is.
They have a database of 22.1 billion keywords and 35 trillion backlinks. Yes, it's trillions.
This just shows how big of an SEO tool it is and why it's one of the best tools, but did you know they offer 10 entirely free tools?
And these tools are awesome tools, and my favourite is their site audit.
Let's get into it.
Use the free site audit to ensure your technical SEO is top-notch and you have no errors on your website when Google crawls it.
Get an overview of all your backlinks entirely free using the Ahrefs report module.
Use the free site explorer to get an overview of a domain with hundreds of statistics.
Get actionable SEO tips in your inbox
Join 700+ other SEO enthusiasts to receive an SEO tool review from my YouTube channel weekly, which I'll share with you.
And on top of that, an actionable SEO tip every week.
10 Free SEO Tools In Ahrefs
Now let's get into the tools, and I'm so excited to share them with you as they're entirely free.
I have the site audit running every week, and it often finds mistakes I need to correct because I either forget or don't pay attention to them.
Let's go.
1. Ahrefs Webmaster Tools (Site audit & Site explorer)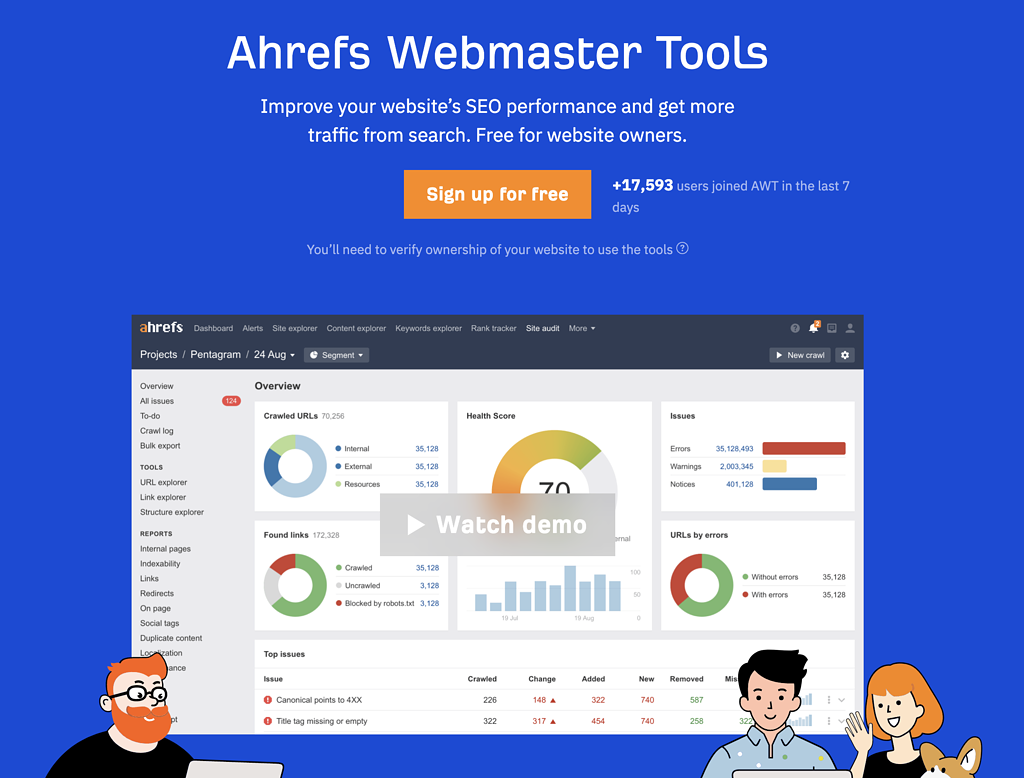 This is by far my favourite tool using Ahrefs for free, and I can only recommend you sign up for this tool as well.
The Ahrefs webmaster tools are divided into 2 tools.
Site audit
Site explorer
Free Site Audit With Ahrefs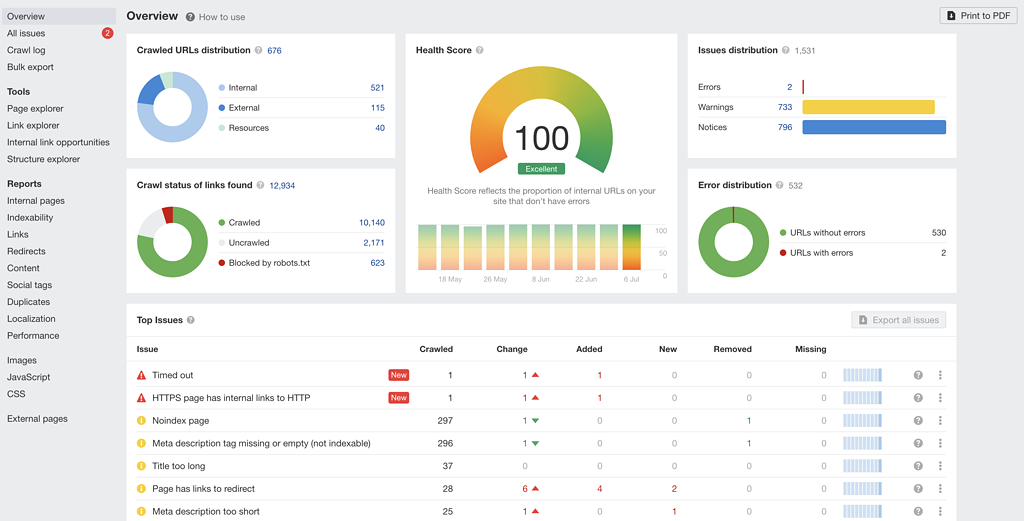 This is the site audit from Ahrefs, and it's by far the best I've tried. Overall then, you get your health SEO health score.
It gives you so much insight into your website, and you get a report weekly, or manually, whenever it runs and tells you everything wrong with your website.
I have fixed so many issues on my website using this site audit. Anything from my articles linking to external 404 pages to my articles interlinking is wrong.
You get so much value from this tool, and it runs automatically. You even learn so much from it.
Every time you have an issue, then in the report, Ahrefs even tells you how you fix the different issues.
I counted 25 items they're checking my website for, and there might be more because I only have issues with these 25 items.
Site Explorer With Ahrefs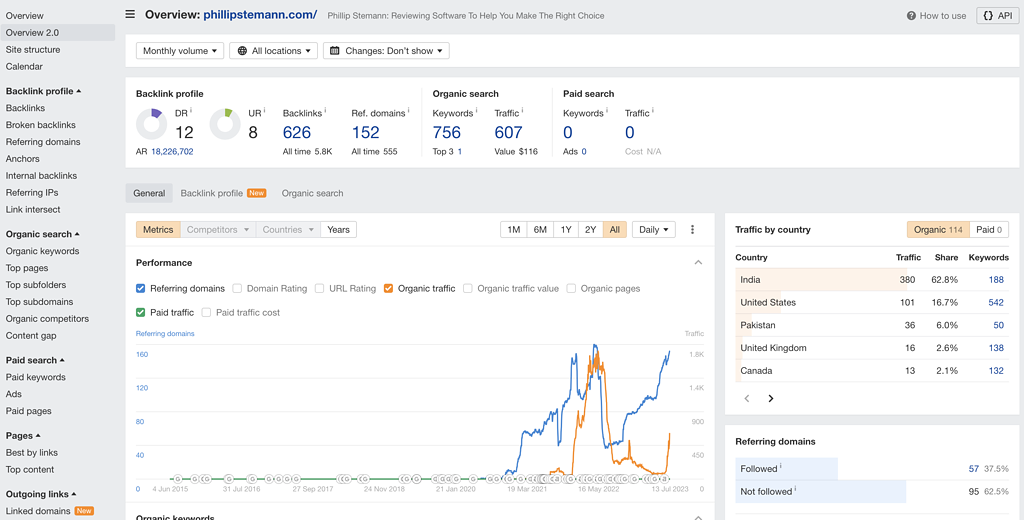 The other free tool within Ahrefs webmaster tools suite is the site explorer, and this is an awesome overview as well.
You can check your own websites you've verified through Ahrefs webmaster tools, and you get so much data from the backlink profile to search traffic, organic traffic, and so much more.
What I really like is that you get the entire backlink profile. You can see all links linking to you from other websites.
You can also see anchor texts and referring domains.
For organic search, you can see keyword ideas, organic keywords and your organic competitors as part of the free plan.
I just really like how much data you get, entirely free.
There are some features within the site explorer you can't see.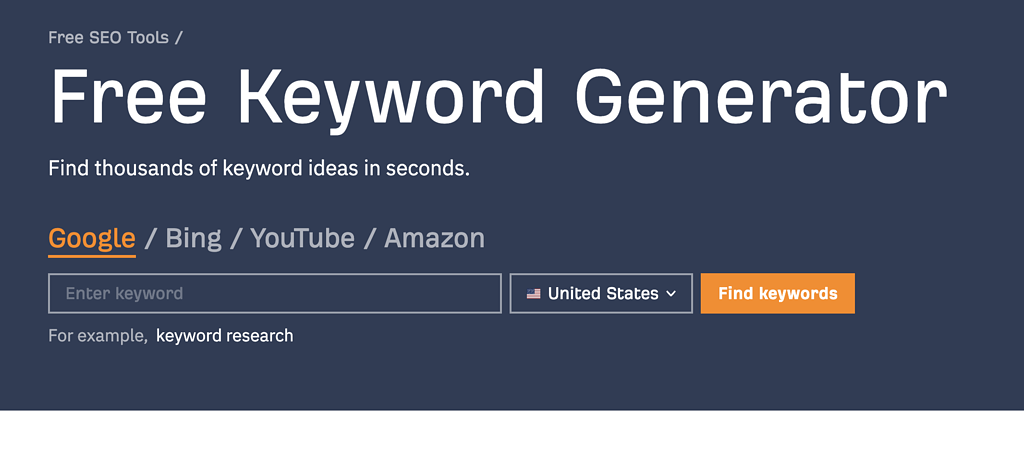 The keyword generator is another free tool, and it's a basic keyword research tool you can use to find keywords based on a seed keyword.
So if, for instance, you enter kitchen appliances, then it returns related keywords based on phrase match, and you can also see search traffic, keyword difficulty and when the keyword was last updated.
So yes, you get the same data as a keyword research tool, but the amount of keywords you get is very limited.
You get full data on the first 10 keywords, and it shows 100 keywords + 50 questions.
There is definitely some value in using this tool, and you don't need an account. You can simply just use it without being logged in.
3. Keyword Difficulty Checker

This is a minor tool, but it's useful if you want to see how difficult a specific keyword is to rank on.
Enter your keyword, and in return, Ahrefs shows you the keyword difficulty score and the SERP as it is right now.
The tool also tells you how many backlinks Ahrefs estimates you need in order to rank in the top 10 for the keyword you're checking.
You will get this data in the keyword generator mentioned earlier, but as it only shows 10, you can copy and paste it into this tool and get data on a specific keyword.
It works well, but it's not super efficient, checking one keyword at a time.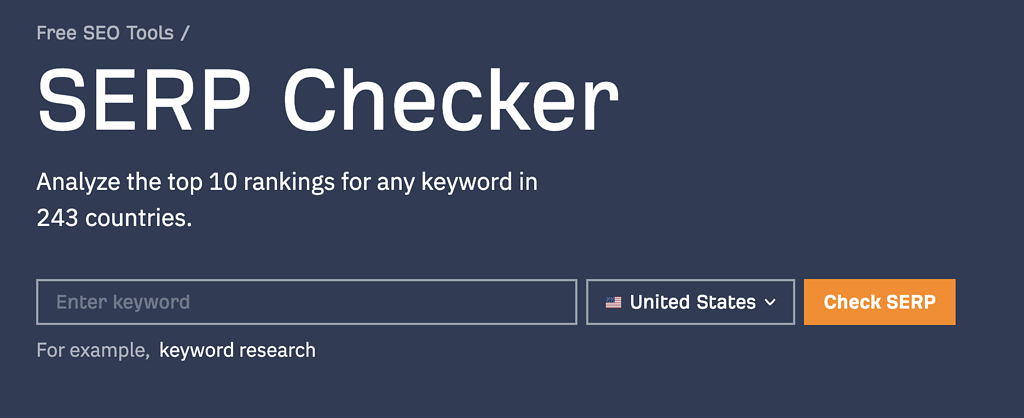 This shows the search results on a specific search query, you get the top 10 on a keyword, but you don't get full SERP data on all 10.
You get full data on the first 4 search results, and for each domain, you get the following:
Domain rating
Url rating
Amount of backlinks
Domains
Estimated traffic
Keywords
It's definitely useful data to make a decision whether you want to pursue the keyword or you want to look for new keyword ideas to pursue.
But again, it's not the most efficient way of doing it, but if you insist on keeping your cost low, this is the best solution.
5. Website Traffic Checker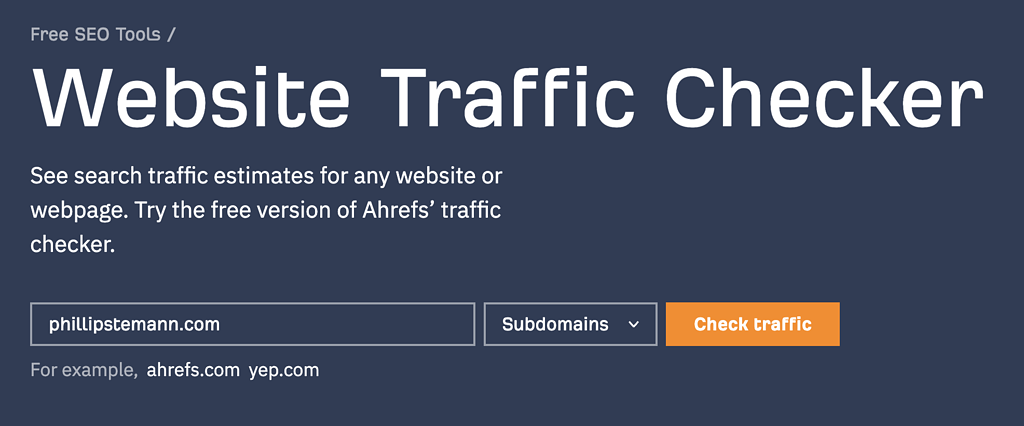 The website traffic checker is an interesting one, as you get a quick snapshot of a domain.
You can enter any domain you wish, and then you get the following data points:
Organic traffic (Search volume)
Traffic value
What countries the traffic comes from
Top Keywords
Top pages
So it's a bit like the site explorer from Ahrefs Webmaster tools but much more limited in the dataset. At least here, you can run any domain you wish and get data.
It's interesting if you quickly want to see a competitor or a specific website to know how much monthly traffic they get.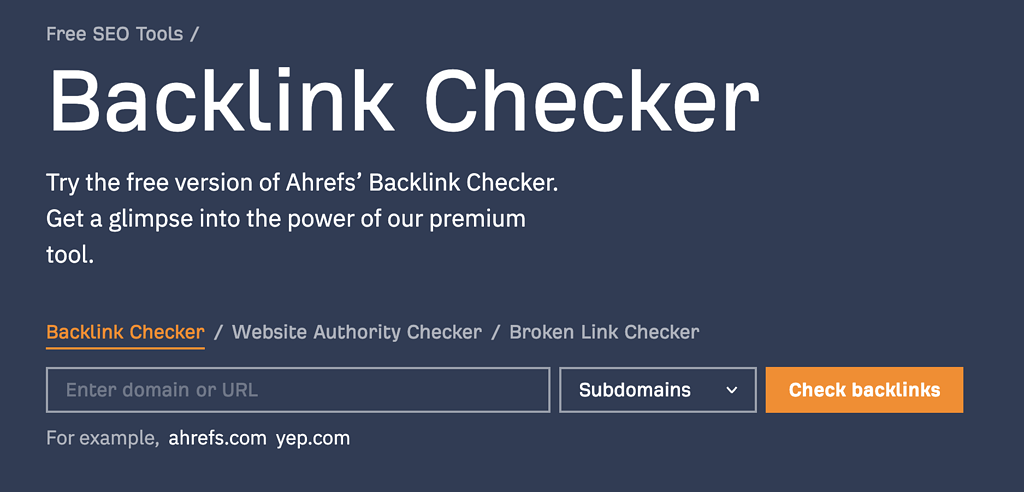 Next up, we have the backlink checker, which can check the website authority and for broken backlinks as well.
Again, this is from the site Explorer, but you can run it here on any website.
I like to use the website authority checker to see my own domain rating and other specific domain's domain rating.
By running the backlink checker, you get the first 100 backlinks to a domain, and for each backlink, you get to see the link and the domain rating for the domain.
It works perfectly, is super fast, and is a great way to get a quick overview of a domain to estimate its domain rating in search engines.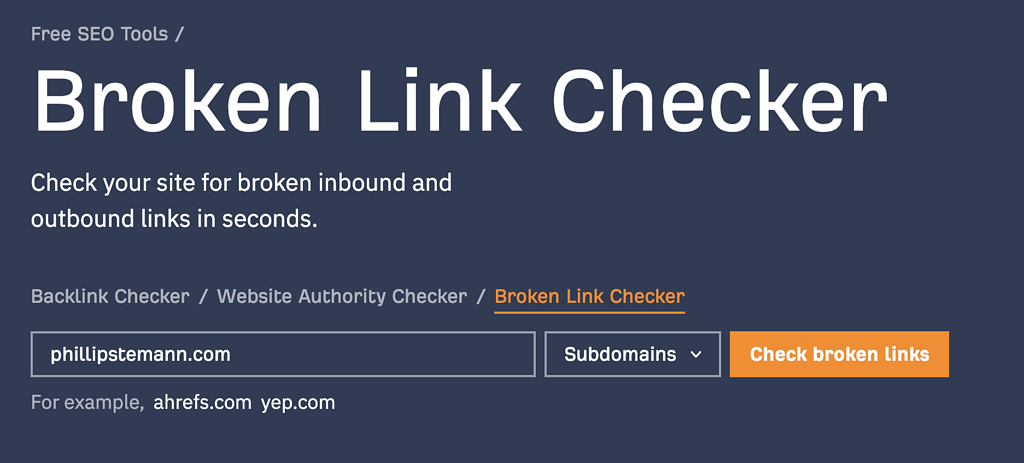 As I just mentioned, this is part of the backlink checker, but I also chose to include it for one reason.
I just ran it as I'm writing this article, and I found 6 broken links on my website, which I just fixed.
So this is definitely useful, and I'll recommend you run it on your website as well.
When backlinks from external websites are broken, it takes a bit more work to get it fixed.
First up, you should set up a redirect and then reach out to the website to ask them to correct their link to your website so you don't lose any SEO juice.
8. SEO Toolbar (Chrome Extension)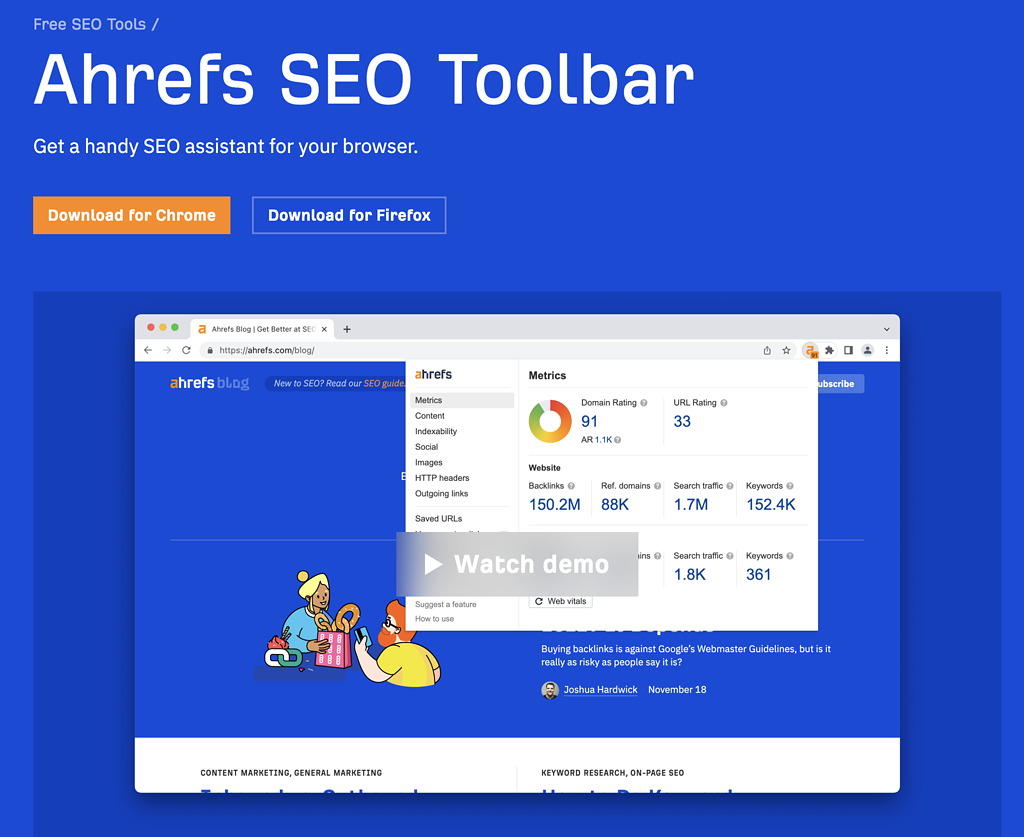 Ahrefs has developed an extension for Chrome and Firefox, which works very well.
Whatever website you're on, you can open the extension and see a lot of technical SEO data for the specific URL.
Some of the things you can analyse with the extension are:
Web vitals
Outgoing links
Schema data
Statistics on the content
Images
Social
… And a lot more
It's a nice little feature if you want to know more in-depth about a specific page or domain. Perhaps what schema they're using.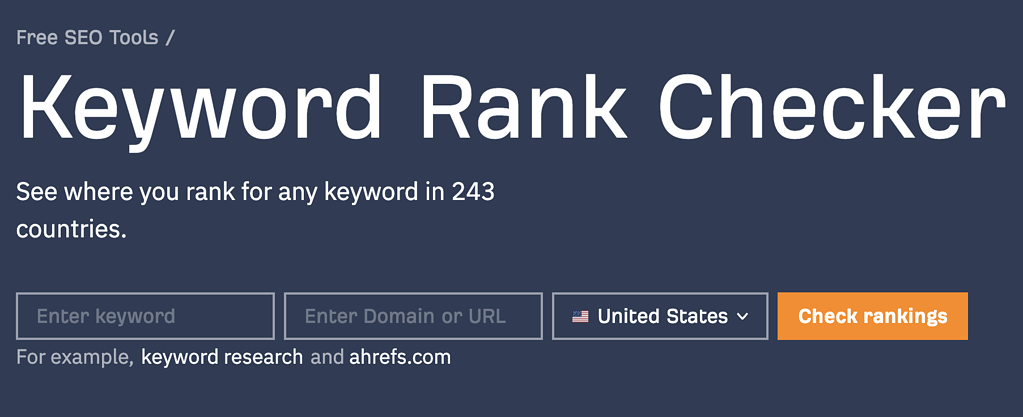 This is another great little tool from Ahrefs. You can use this to check how your website is ranking for a specific keyword.
It's not an advanced keyword rank tracking tool or a tool to find keyword ideas.
You get your position on a specific keyword if you're ranking in the top 100 on the keyword.
On top of getting your own position, then you get the top 10 on the keyword, and for each domain, you get the following data points:
Domain rating
Url rating
Amount of backlinks
Domains
Estimated traffic
Keywords
It's actually great to compare yourself to the top 10. However, you only get data on the first 4 results, so it's still limited to how much you can use this data.
At least you can see your position and perhaps what you need to change to rank higher.
10. Ahrefs' WordPress plugin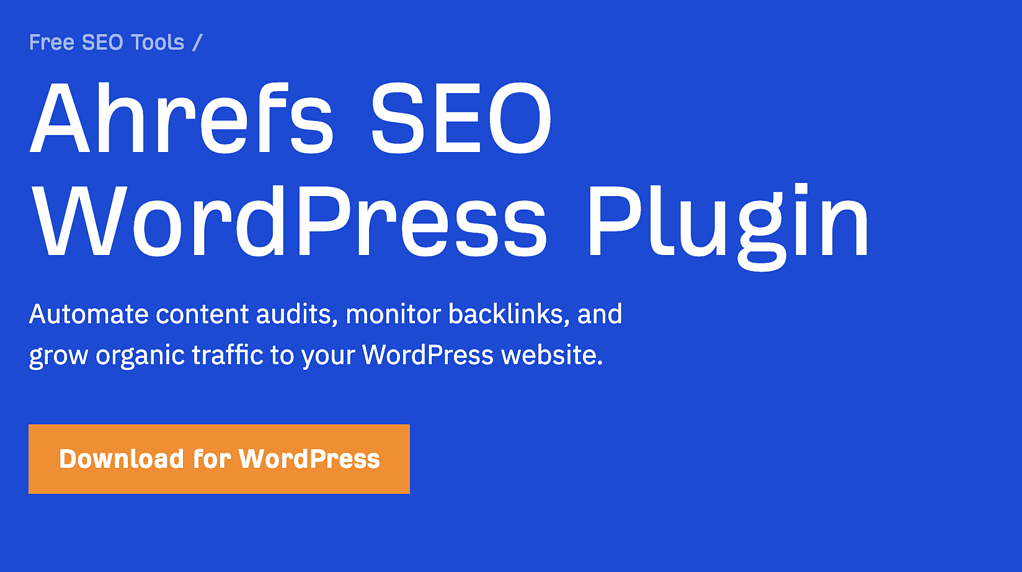 Besides the free Ahrefs webmaster tools, you also get a free WordPress plugin.
The WordPress plugin can be used to run a content audit on all your content.
I'll say it's limited to what you can use the WordPress plugin for.
It'll analyse all your content, suggest a target keyword and then show you the following data points:
Position
Total traffic
Organic traffic
Backlinks
Referring domains
A suggestion
The suggestion is the most interesting part. It can be anything from excluding it from the content audit to doing nothing or updating the post.
If the plugin tells you to update your content, then it'll also tell you what subjects you should cover better, and that is the most helpful part of the WordPress plugin.
It might be worth installing for that case alone; it doesn't cost you anything, and you only gain from it.
Wrap-Up: Should You Use Ahrefs?
Yes, you should absolutely use Ahrefs for free. I always say this, the site audit from Ahrefs is the most thorough I've tested, and I've tried a lot.
Not only is it thorough, but it's entirely free, so why not do it?
You might be wondering why Ahrefs is offering these features for free. My theory is that they get data in return.
When you add your domain, Ahrefs gets all the data surrounding your domain, which they can use for their paid users to pull data from.
For me, that's no problem at all because the benefit vastly outweighs the downside, if you can even call it a downside.