Topic Mojo is an interesting tool that has developed extensively over the years.
Now within SEO, a topical map has become more important than ever, and this is exactly what Topic Mojo are experts within.
A topical map is an overview of your entire niche, including silos and what content pieces you need to write to achieve topical authority and better rankings.
Let's dive into Topic Mojo and see how good it actually is.
The topic model can build an entire topical map for you based on your seed keyword.
The questions module finds questions based on your target keyword from Google, Reddit and Quora.
Find trending topics before they explode.
Pros And Cons Using Topic Mojo
I've used Topic Mojo primarily for research. I've used it both to create topical maps, but also to find related questions when I write articles.
Recently they've added the trending module that lets you discover news before they explode and bring in tons of traffic.
But here are my pros and cons.
Build a topical map with Topic Mojo
Not many tools are made for creating a topical map, but Topic Mojo is one of them.
Topic Mojo pulls data from 16 sources to try and cover your topical map from as many angles as possible.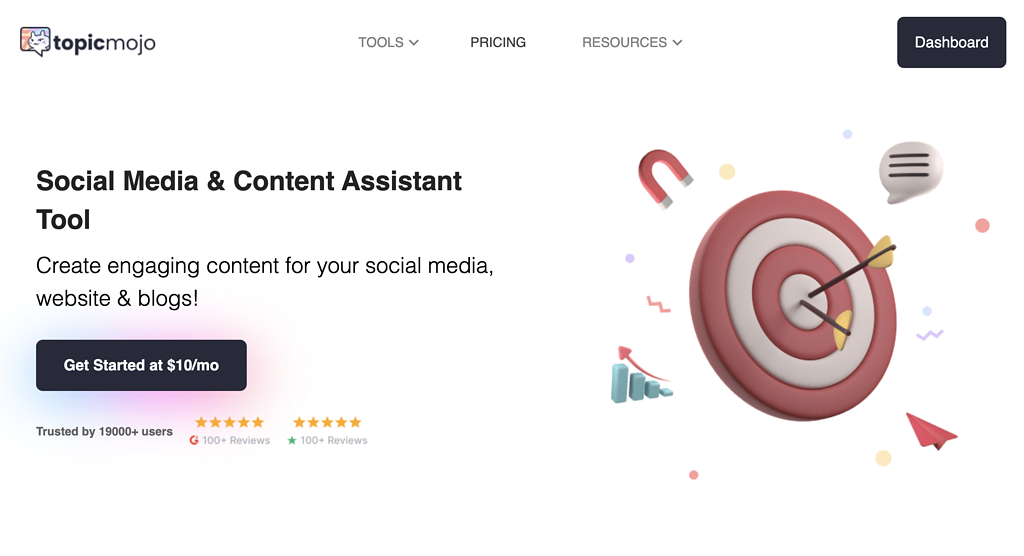 TopicMojo is an SEO tool made to create topical maps, find questions from the SERP and overall help you with your content research.
If you have a target keyword, then you can run an analysis on your search queries to get related keywords, questions and much more.
You can use TopicMojo for keyword research as well, where your topical map is your method.
They have also added an interesting module: Search Listener. This is similar to if you monitor the price of a product you want to buy on a website.
But instead of monitoring a price, you monitor a keyword to ensure you write content for it before it starts trending and potentially explodes.
So overall, I use Topicmojo for research, and in this Topicmojo review, I'll go through all their features and share my use cases and opinion.
Get actionable SEO tips in your inbox
Join 700+ other SEO enthusiasts to receive an SEO tool review from my YouTube channel weekly, which I'll share with you.
And on top of that, an actionable SEO tip every week.
Topic Mojo Review Features
Now it's time to get into the many great features Topicmojo has, from the topic model to finding every question people also ask from the SERP.
Let's start by generating a topical map for a seed keyword and work our way through to be able to write informative content, hopefully.
Topic Model: Build Your SEO Topical Map Based On Your Seed Keyword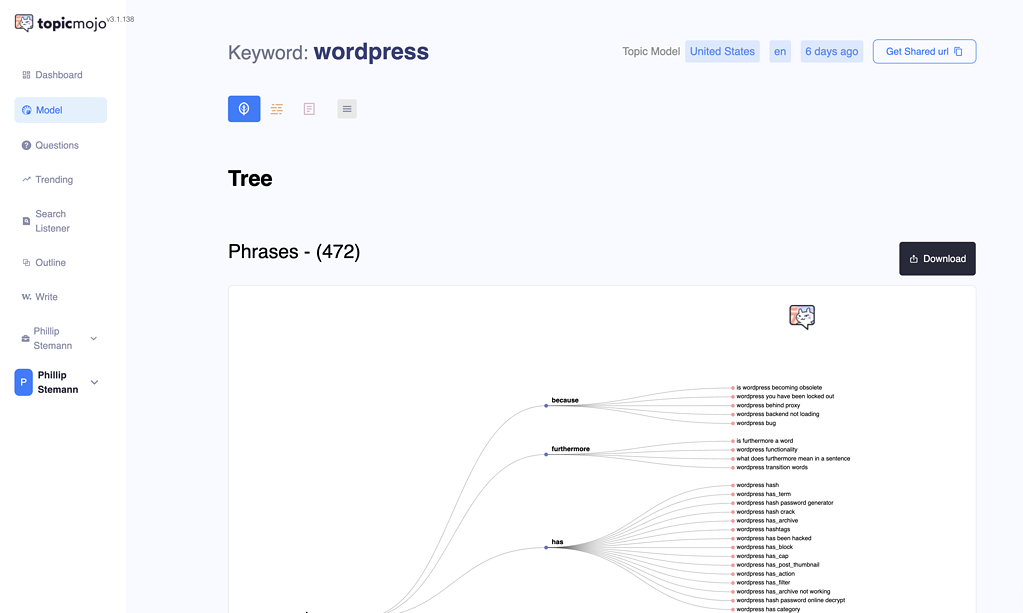 This is the most valuable feature, in my opinion, with TopicMojo.
You enter your seed keyword, and here I tested with the seed keyword: WordPress.
Based on this TopicMojo then runs an analysis to find all related searches, breakout searches, search volumes and much more.
You can change the view to be in groups instead of the tree format, and I like to do this as it gives me an easier overview.
And then you basically have your topical map.
Of course, this is not an exhaustive list, but you get a lot of topics and questions.
You can also change the keyword research view.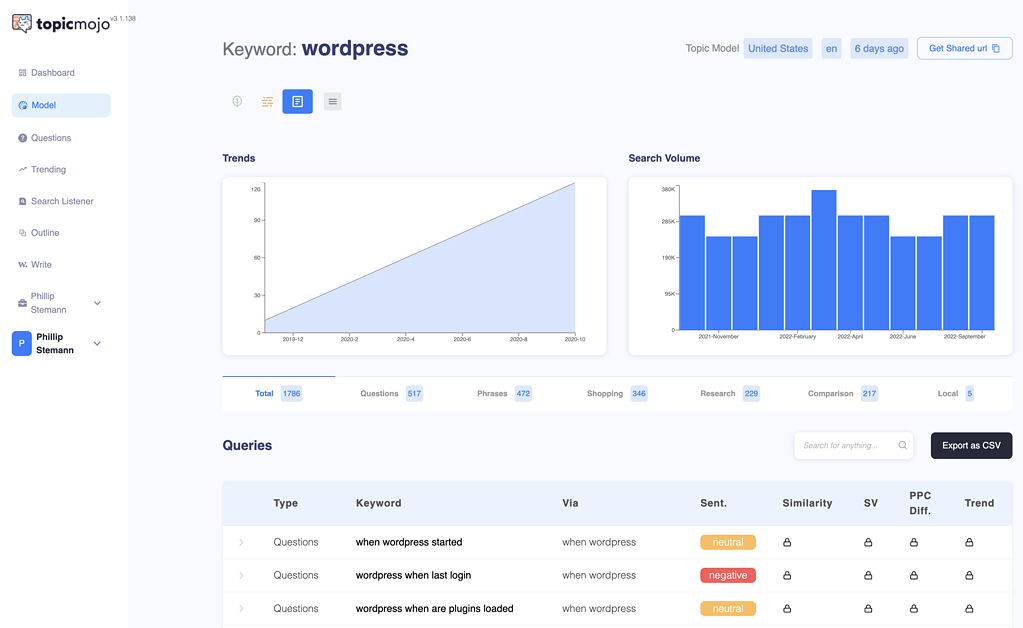 We're still in the topic model module, but here you get an overview of all the questions and keywords.
Here you get 8 data points on each query:
Type
Keyword/Query
Via
Sentiment
Similarity
Search Volumes
PPC Difference
Trend
This is a great overview, and you can even filter the results on the following categories:
Everything
Questions
Phrases
Shopping
Research
Comparison
Local
Lastly, then the report pulls data from 16 sources, and you can filter these data sources as well.
The 16 data sources are as follows:
SERPs
Forums
Video
Tweets
Instagram
Pinterest
Reddit
TikTok
Tumblr
LinkedIn
Amazon
Shopify
Etsy
Ebay
Medium
News
This is one of the most extensive reports, and you get so much data on not only the topics but also search volumes and even Google Trends on individual queries and keywords.
By far my favourite module within TopicMojo.
Questions: Find Questions Asked Around A Keyword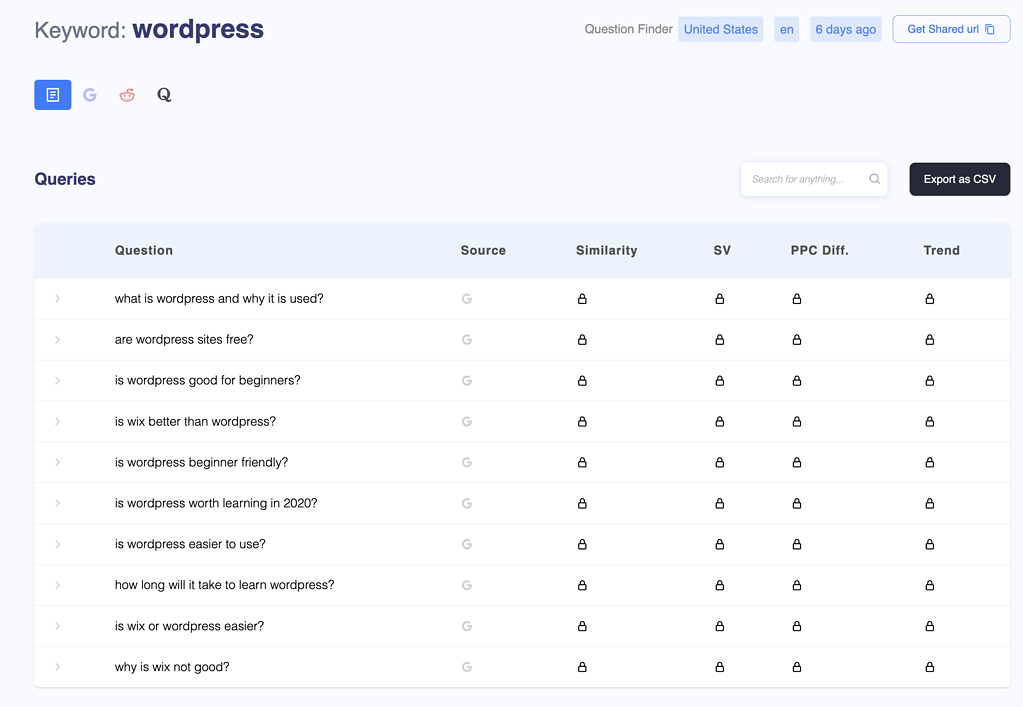 This module is excellent if you're writing a content piece or you just want to see actual searches for a question.
You get the same data in the topic model, but here it's more curated with only 3 data sources: Google, Reddit and Quora.
It works very well, and you just enter the keyword you're targeting with your blog post.
For each question, if you have the SEO addon, you get to see search volume, if it's trending, and more.
It's a great module that works well as an extra research module for your news articles or blog posts.
Trending: Get An Overview Of Trending Topics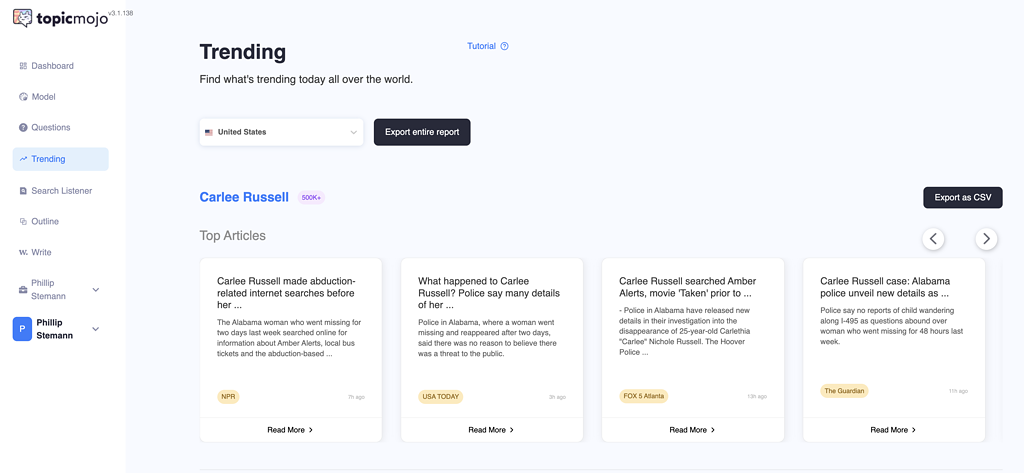 This is a super simple user interface to find trends before they explode or what is trending right now.
It's based on numerous sources, Google Trends being one of them.
It's basically a way to see popular subjects and get ideas on what to write about.
See it as an idea generator.
If you write for the United States as your target country, then it works perfectly.
But if I change to a country like Denmark, then it shows just the same as the United States, so that's a bit of a bummer.
It's not a module I've used a lot, but if you're into news and want to write about what's trending, then this is the module for you.
Search Listening Alerts: Find Keywords Which Have Never Been Searched Before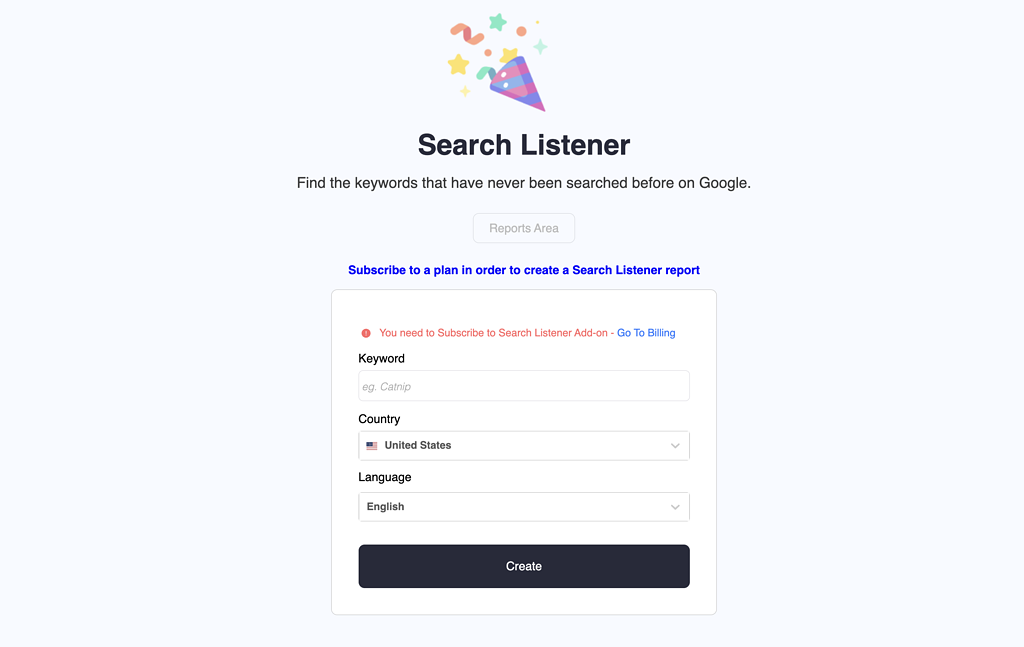 This is an interesting SEO module, and it works just like a price monitor.
Have you ever wanted to buy something, but you want to wait until the price is right, so you sign up for a price monitor?
This is exactly what the search listening feature is for, but just with keywords instead.
Add your keyword, and then monitor related keywords to see when it starts to trend.
For each keyword, you get the trend and search volume, and you get an email with updates, so the moment you can see the keywords start to trend, or hopefully before, then you write a content piece to pursue it.
It works great, and it's a nice add-on to TopicMojo.
Outline: SEO Competitor Research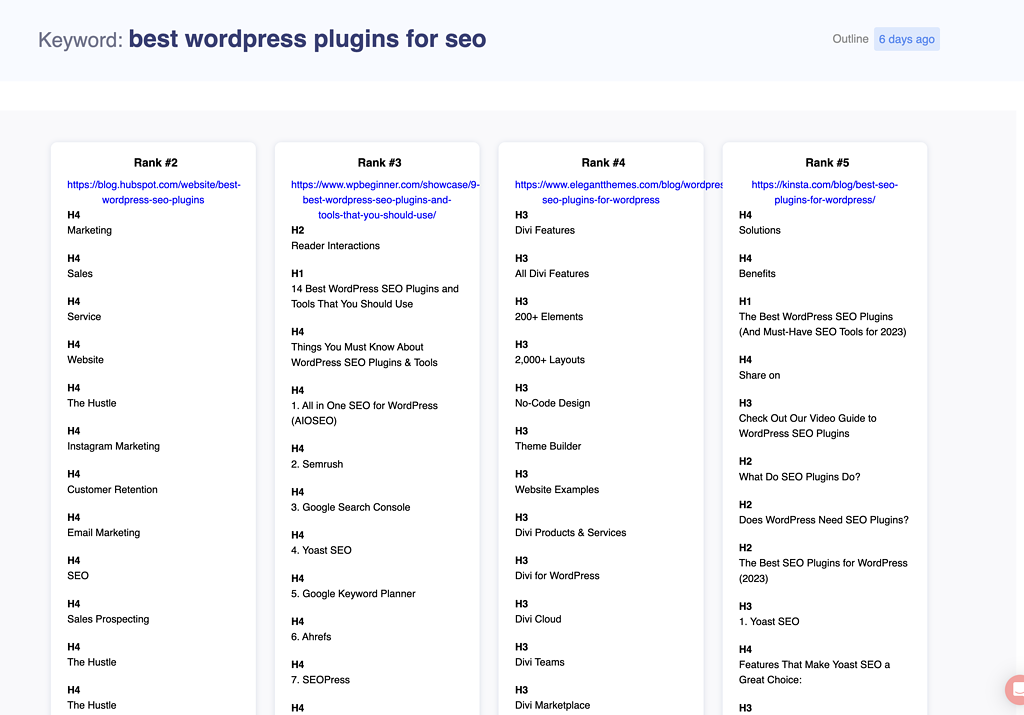 Now the outline module is super simple and might be too simple.
It's basically a research module where you can see the outline from your competition on a specific search query, and that's it.
You can see domain rating, meta description or meta title.
It's super limited, even though it does what it's supposed to: Show the outlines.
I wish they would combine this with the writing module and the topic model module and make one big research module.
Write: Optimise Your Content For Keywords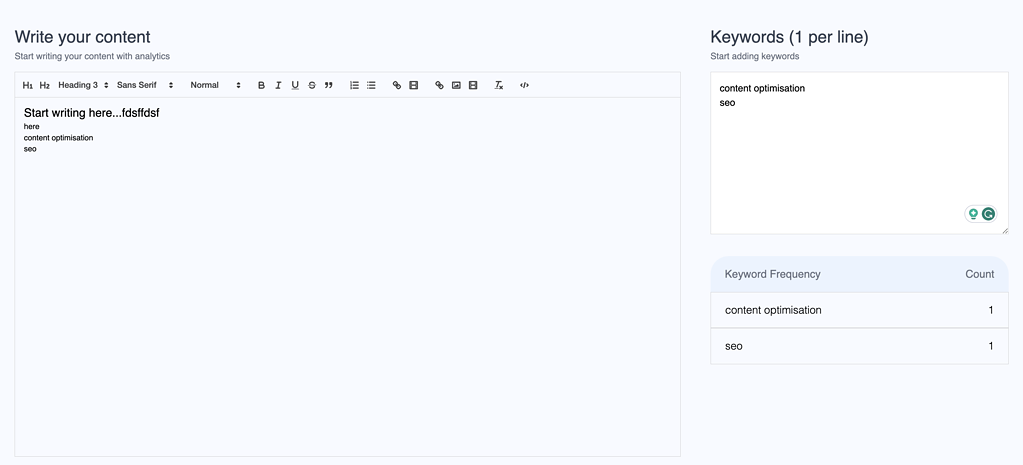 The writing module is as simple as the outline module.
You can manually enter your keywords on the right and then start to write your content on the left.
On the right, the module will then keep track of how often you use the individual keywords.
It's super minimal, and normally we would see an entire research module showing keywords automatically, and they have the functionality for it.
So I wish they would combine some of their modules to make one amazing content editor with research and everything. That said, this is a start.
Alternatives To Topic Mojo
While no tools come close to the way Topic Mojo builds topical maps, some tools do something similar.
I've found 2 tools I've previously reviewed, so let's get into them.
LowFruits is my favourite keyword research tool. It uses Google Autosuggest to find thousands of keywords based on your seed keyword.
It does this very well, and you can choose to analyse specific keywords to identify whether they're worth pursuing.
However, LowFruits doesn't create the same topical maps as Topic Mojo.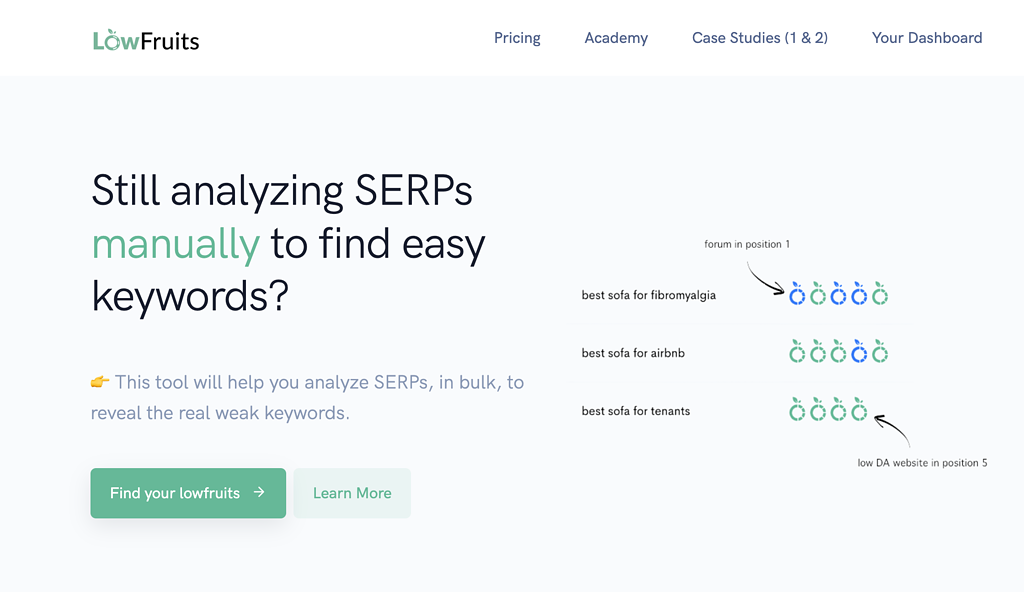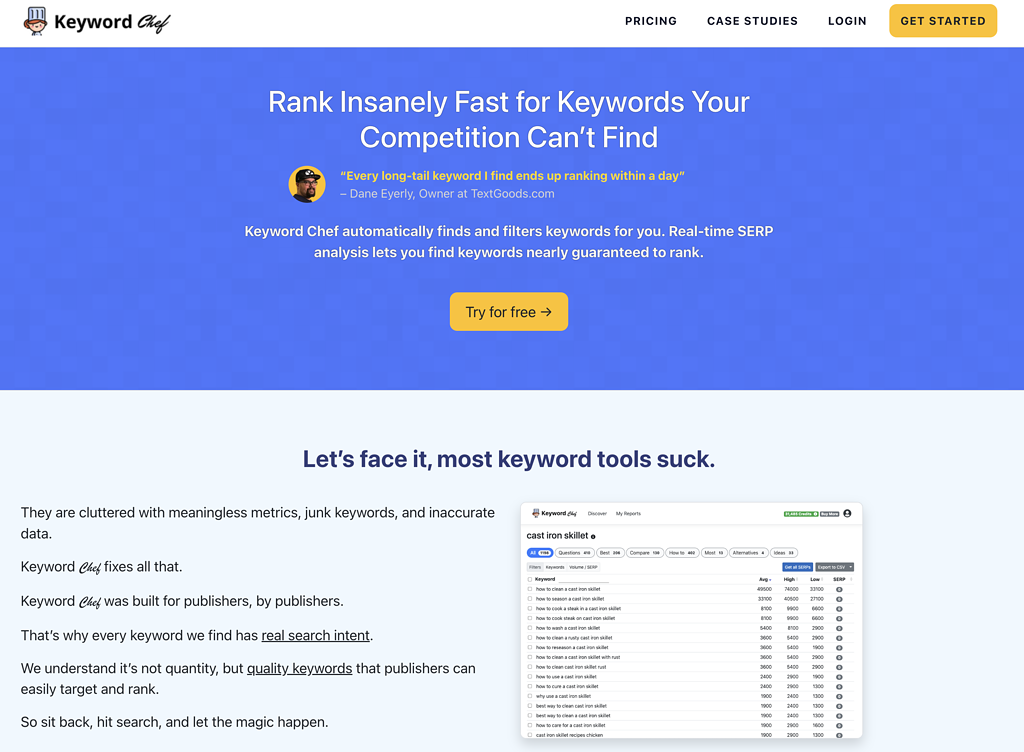 Keyword Chef is a tool similar to LowFruits, where you can get thousands of keywords based on a seed keyword.
And this is the way you build topical maps. Even though it's not the same as Topic Mojo, then it comes close.
Keyword Chef does have a better keyword research module than Topic Mojo, though.
Who Is Topic Mojo Made For?
As you've hopefully identified through my Topicmojo review, then Topicmojo is made for content creators and content marketers.
Before you just start creating content using various keyword research tools, then take a step back and create a topical map.
This is exactly for Topic Mojo is for.
So if you're a content creator or looking for content ideas, or looking to create a topical map, then I can strongly recommend Topic Mojo.
Overall TopicMojo is perfect for developing content strategies and, in the process, finding ideas for content.
It's a brilliant tool, and I'm a big fan of it.
Wrap-Up: Is Topic Mojo Worth It?
Yes, Topic Mojo is worth it. You can start entirely free, and otherwise, then the pricing plans start for as little as $10 per month.
If you want the full package, then it's $49.5 per month.
You get so much functionality from the topic model with keyword research included to a Google Trends alternative with the trending module and search listening.
Topic Mojo is the perfect tool to assist you in creating a topical map and ensure you remember all topics, sn all the right questions as well.
So whether you're writing content for potential customers or you're a niche site owner, then TopicMojo is definitely for you.
Pull content research from 16 sources
Topic Mojo is by far the best tool I've tried to build a topical map, even though you get a bunch of data that sometimes look messy.
If they continue in the right direction and expand their research module, it'll become an even better SEO tool.
Topic Mojo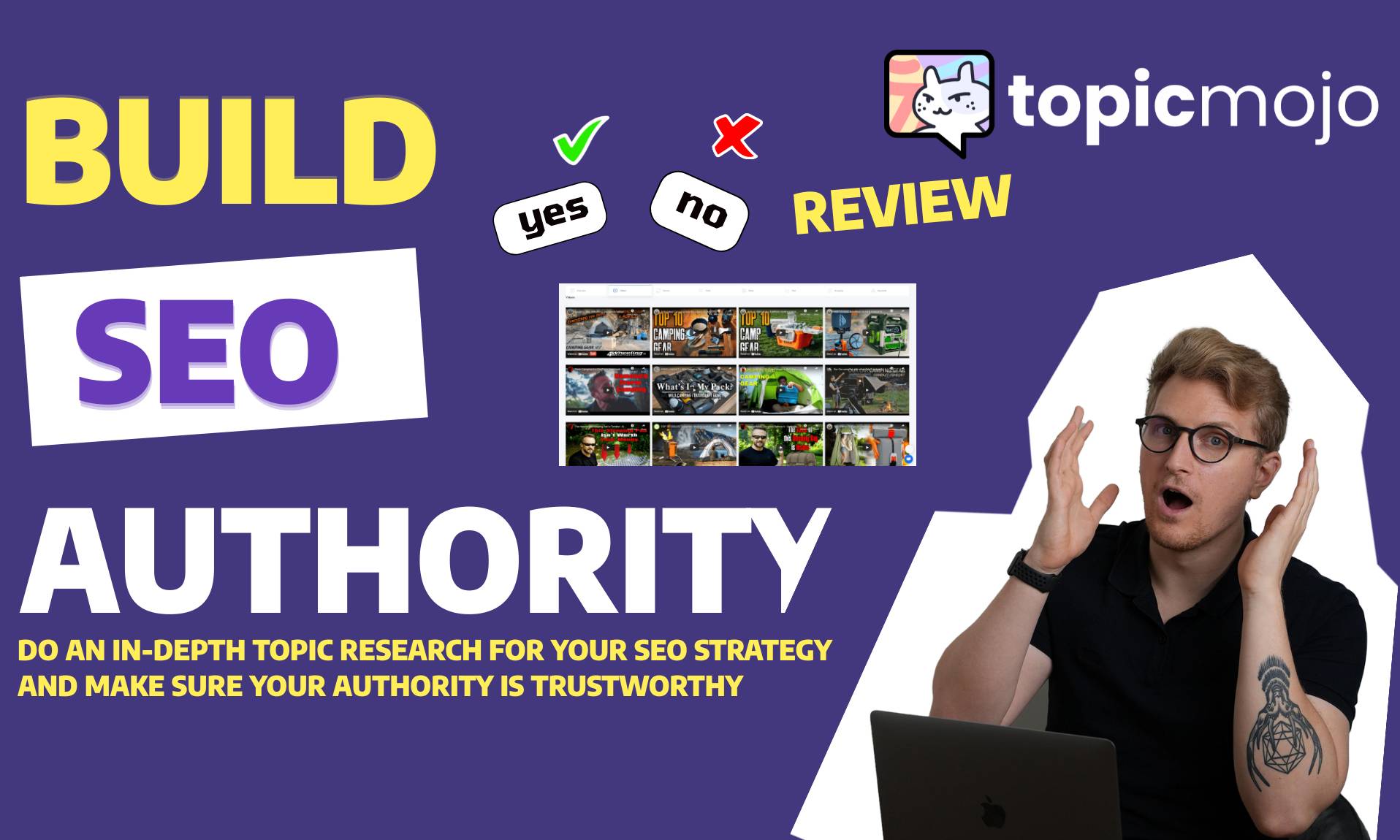 Use Topic Mojo to build your topical authority simply by entering your seed keyword. Topic Mojo pulls content data from 16 sources.
Pros
You get an SEO topical map based on 16 sources for each seed keyword you run the topic function for.
You can run unlimited queries to find relevant questions for your seed keyword.
You can monitor keywords to target them before they trend and explode.
Cons
The topical map can be a big mess, so you have to have the patience to filter the unnecessary keywords away.
The research module consisting of the outline and writer modules is a bit of a miss.