In this Boostramp review, I'll dive into how well Boostramp works as an AI SEO co-pilot and how many of my manual SEO tasks it can automate.
At the same time, I'll showcase its functionality and how well everything is working. From the landing page, it certainly sounds interesting.
So let's get into it.
4 different ways of doing keyword research.
Finds organic growth opportunities for your website.
Analyses your website for technical tasks you need to solve.
Pros And Cons Using Boostramp
After using Boostramp for some time, I want to share the pros and cons of using it for optimising my website.
Boostramp is great for showing growth opportunities for your website if you're stuck.
At the same time, it can analyse your website to find technical issues.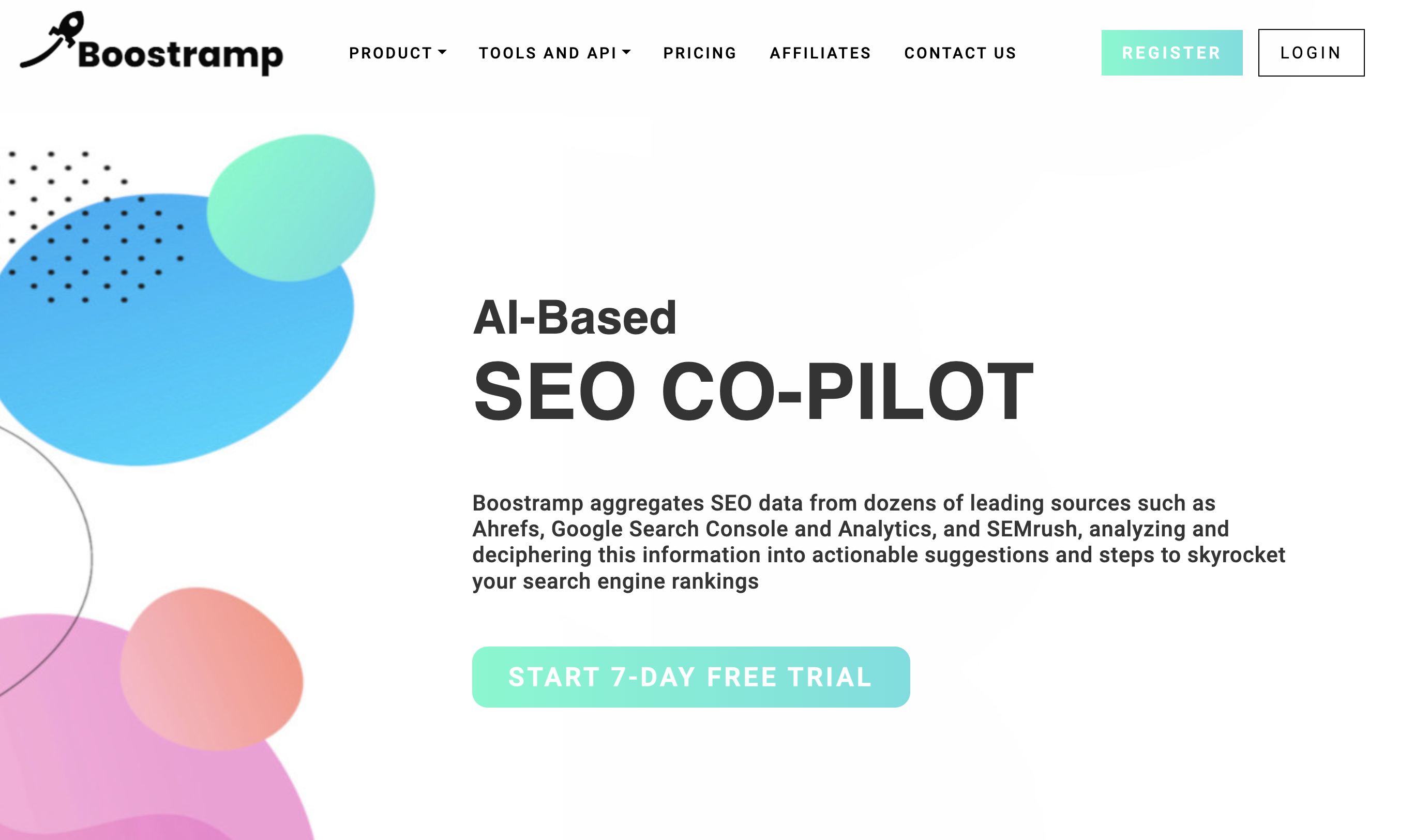 Boostramp is a solid SEO tool to analyse your website.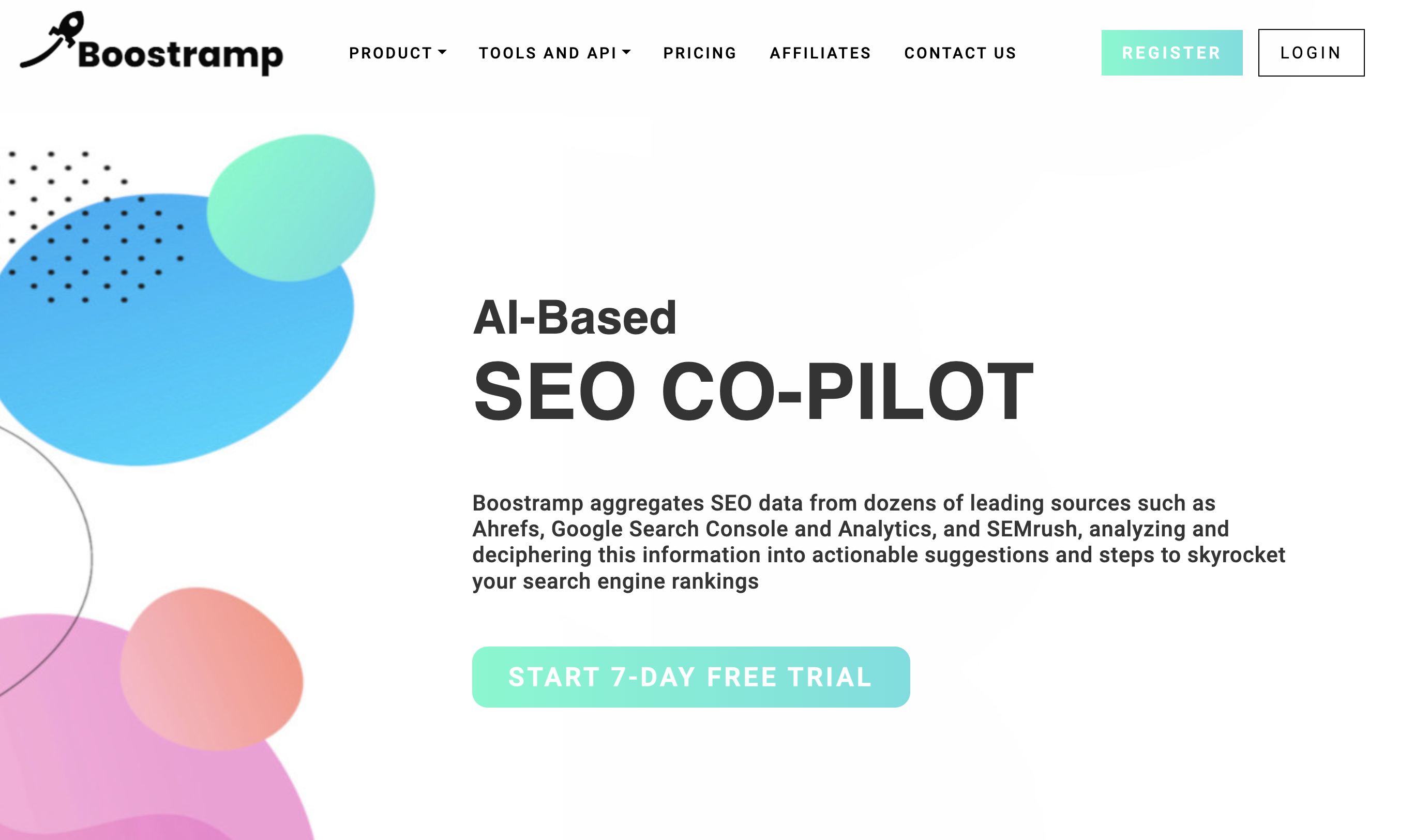 Boostramp is an SEO tool that claims to be an AI SEO co-pilot to help your website perform better on multiple parameters.
It scans your website and integrates with Google Search Console to show your growth opportunities, technical issues with your website and an overview of your pages.
You also get a backlink monitoring module, access to do keyword research in 4 different ways and much more.
I'll dive into each one of the features, so let's get started.
Get Actionable SEO Tips Right In Your Inbox
Join 700+ to receive an SEO tool review from my YouTube channel weekly, which I'll share with you. And on top of that, an actionable SEO tip every week.
Boostramp Review Features
It's time to dive in, and Boostramp has many exciting features I haven't seen in all other SEO tools.
So let's get into it.
Dashboard: Get An Overview Of Your SEO Performance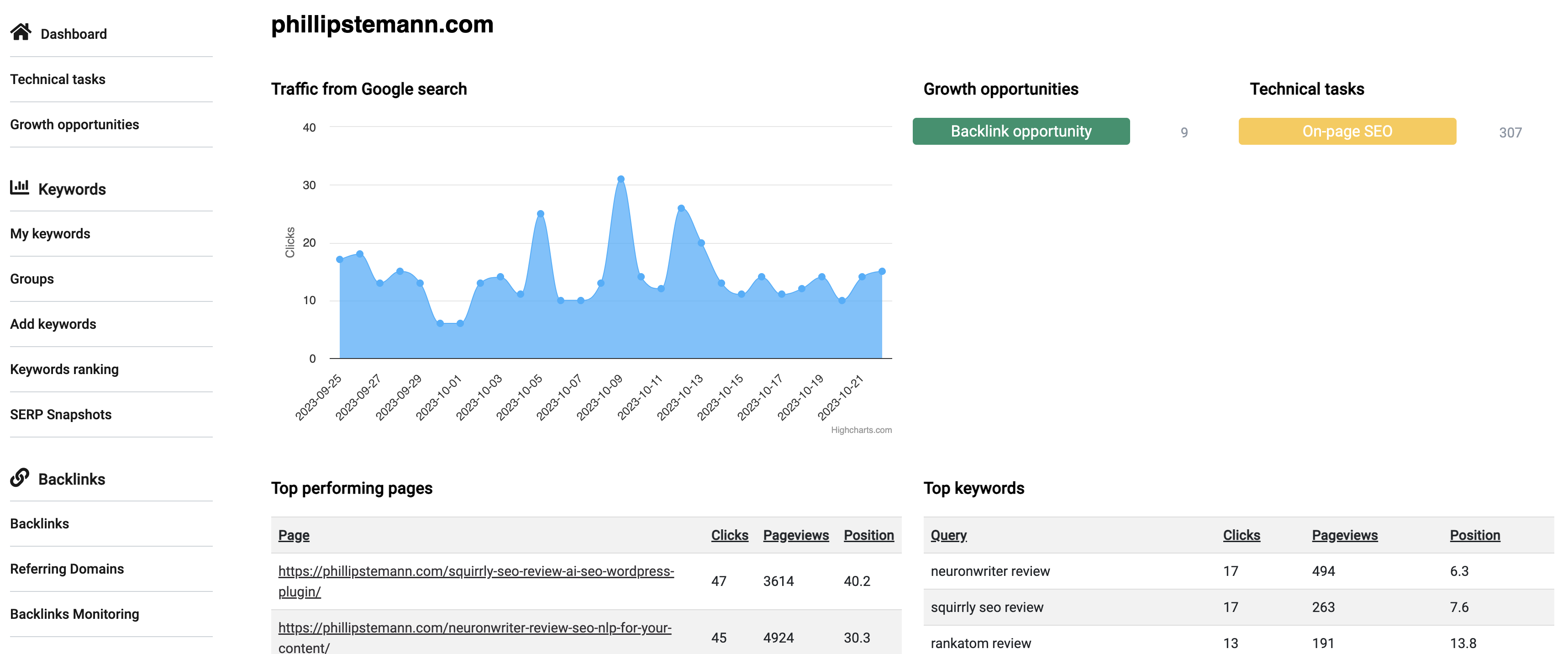 The dashboard is where it all starts. Here, you can get an overview of your traffic from Google Search, which you can also see in Google Search Console.
You can see your top-performing pages and top keywords while getting an overview of your growth opportunities and technical tasks, all grouped together in categories.
This was not a view I used often, as I just dove into the modules I needed. This information I got from Google Search Console.
Keywords: Monitor Your Keyword Rankings

The keywords module is great for tracking your rankings on specific keywords, even though you often get this information from Google Search Console.
However, you can also get traffic estimations on your keywords, which indicates what to expect.
But the keywords module consists of 5 modules:
My Keywords
Groups
Add Keywords
Keywords Ranking
SERP Snapshots
My Keywords is where you can see the keywords you're tracking, the worldwide traffic, traffic in your region and the CPC.
Groups are great for grouping keywords, not something you can do in Google Search Console. For example, if you use multiple writers, you can group their keywords and see who performs best.
Add Keywords is simply to add the keywords you want to track using Boostramp.
Keywords Ranking is where you can see your current rankings, your keywords in the top 10, your average position and keyword visibility.
SERP Snapshots is an interesting feature because you can see how the SERP changes over time and get inspiration from your competitors crawling up in the SERP. You can, of course, also see your own performance.
Backlinks: Watch And Find New Backlinks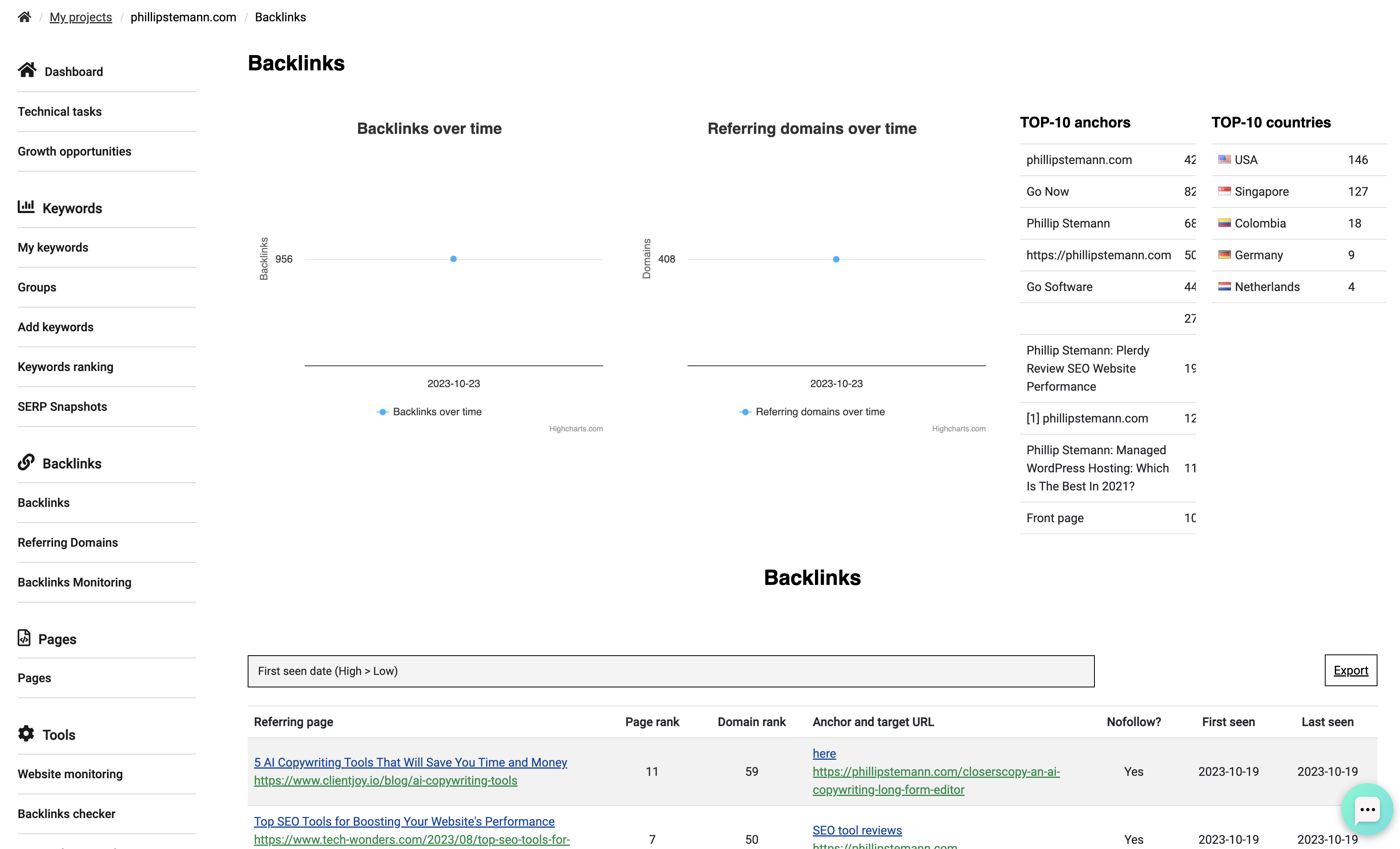 I have to be honest, and I was surprised when I saw Boostramp had a backlink monitoring module. That's normally only something more established SEO tools have, like Ahrefs and Semrush.
But they do have it, and it's surprisingly good.
It consists of 3 submodules:
Backlinks
Referring Domains
Backlinks Monitoring
Backlinks show you all the backlinks Boostramp is aware of while showing you top-10 countries linking to you with top-10 anchor texts.
The anchor texts are interesting because you want to vary your anchor texts and make them relevant. The more different anchor texts linking to you, the better.
Pro-tip
If you have a lot of "click here" anchor text links, then reach out to the website and ask them to change the anchor text to something more relevant, which you suggest.
Referring Domains is an overview of all domains linking to you. This is great if you don't want to see each individual URL but just the domains overall linking to you.
Backlinks monitoring is great if you have specific links you want to monitor. For example, it can be a guest post you've made on another website.
Pages: See All Your Pages

I was sceptical when I first saw this module because I thought it was just an overview of my pages, just like I can see it in Google Search Console.
But you can see loading time, page size, and top-ranking keywords for each page.
The loading time especially is interesting because you want to keep this low, so you can sort by the slowest loading page on your website and then start optimising that for better performance.
Of course, the top keywords help you ensure you're writing the content targeting the right keywords.
If you click on a page, you can also see internal links to the page, the monitoring history of text changes, and the loading time.
It's a small tool, but it's quite interesting to dive into if you're into technical SEO.
Tools: Interesting Extra SEO Tools
Then they have a collection of extra tools they've packed in the bottom, and here you can do keyword research in 4 different ways, monitor your website and more.
The extra tools are:
Website monitoring
Backlinks checker
Keywords research
Keywords based on website content
Website monitoring is great for ensuring your website is always up and running and loading fast.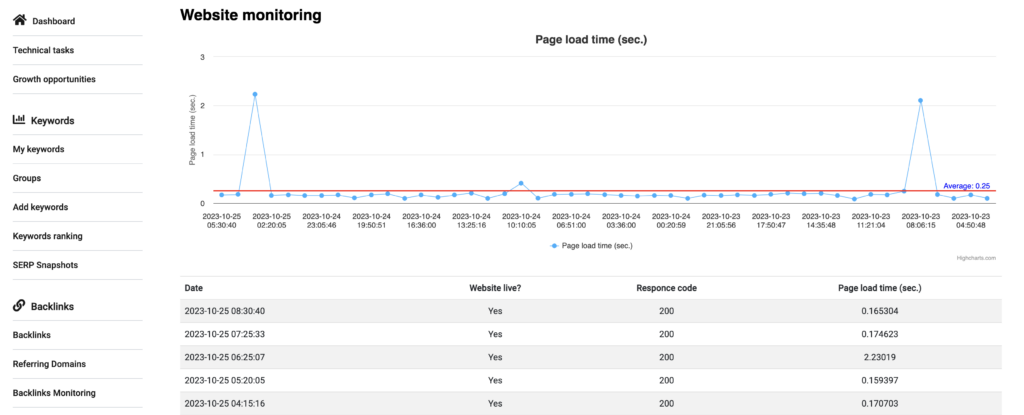 Here, you can historically see how your website is loading, how fast it's loading, and if you've had any downtime.
If you experience downtime, you'll know immediately because of this monitoring.
Next, the backlinks checker is great for pursuing new backlinks.

You can enter one of your competitor's domains and let Boostramp find all backlinks which they know of.
Based on these backlinks, you can either pursue them yourself or get inspired to find similar backlinks.
It's a great way to find strategies to find new backlinks for your website because, as we all know, backlinks are a huge ranking factor.
And then, we have the first 2 keyword research methods of the total 4, the keyword research module.

You can run keyword research using the traditional method, where you'll get related keywords based on your seed keyword.
Or you can use the AI method to generate keywords based on your seed keyword.
I will say that the keywords suggested are high-competition keywords, so if your domain rating is low, you might want to look into LowFruits instead.
The next keyword research method is Domain ranking keywords, and here, I'll recommend you enter one of your competitor's domains to see the keywords they're ranking for.

This is great for inspiration if you need new keywords to pursue, and you know what I love about this keyword research module, just like the others? Keyword difficulty.
Normally, we only have CPC to use, but CPC is used to see how competitive a keyword is for advertising, and sometimes it relates to organic search, but not always.
Keyword difficulty tells you how difficult it is to rank on this keyword, and I like to see this.
Other than that then, you can keyword see:
Search volume
Estimated traffic
Competition level
Keyword difficulty
PPC click
And then, it's time for the last keyword research method, keywords based on website content.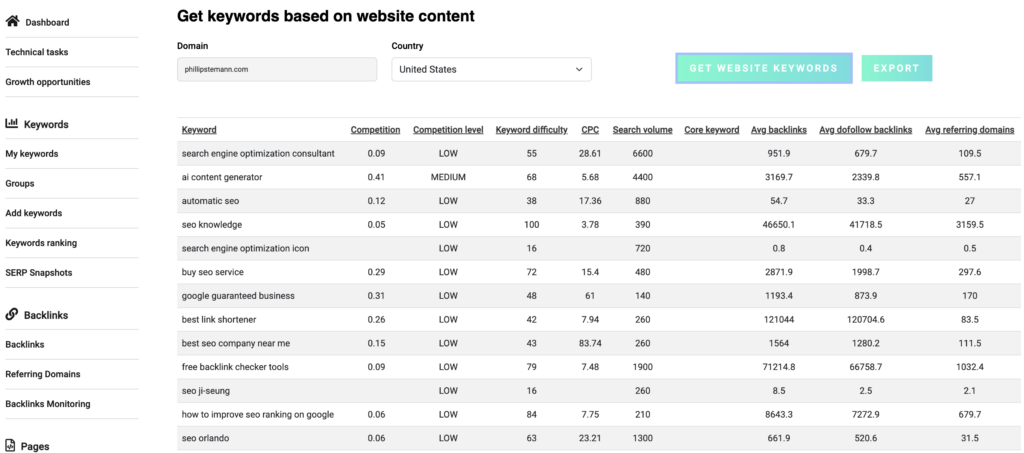 For this, I'll recommend you enter your website and then, based on the content on your website, Boostramp will find related keywords.
This is great if you're empty of ideas or need to find a new keyword cluster you haven't thought about before.
And that's it, that's the 4 keyword research methods. Seeing some innovation in this area is great, as we need it.
Boostramp is made for various businesses, from small websites that want to ramp up their SEO efforts.
To more established websites with a high authority who need to do keyword research to find high-competition keywords with a ton of search volume.
So, the use case for small businesses is to use the growth opportunities and technical tasks to get your fundamentals in order.
For more established businesses, it's great for keyword research, blog post idea generation, backlink monitoring and more.
Alternatives To Boostramp
Boostramp has some unique features, such as growth opportunities, but they're also missing features to make them a fully-fledged site audit tool.
Here are 2 alternatives you can look into.
SiteGuru is more developed than Boostramp at the time of this review. They have a more in-depth analysis of your website.
I use SiteGuru and get a weekly report with Ahrefs on my technical issues.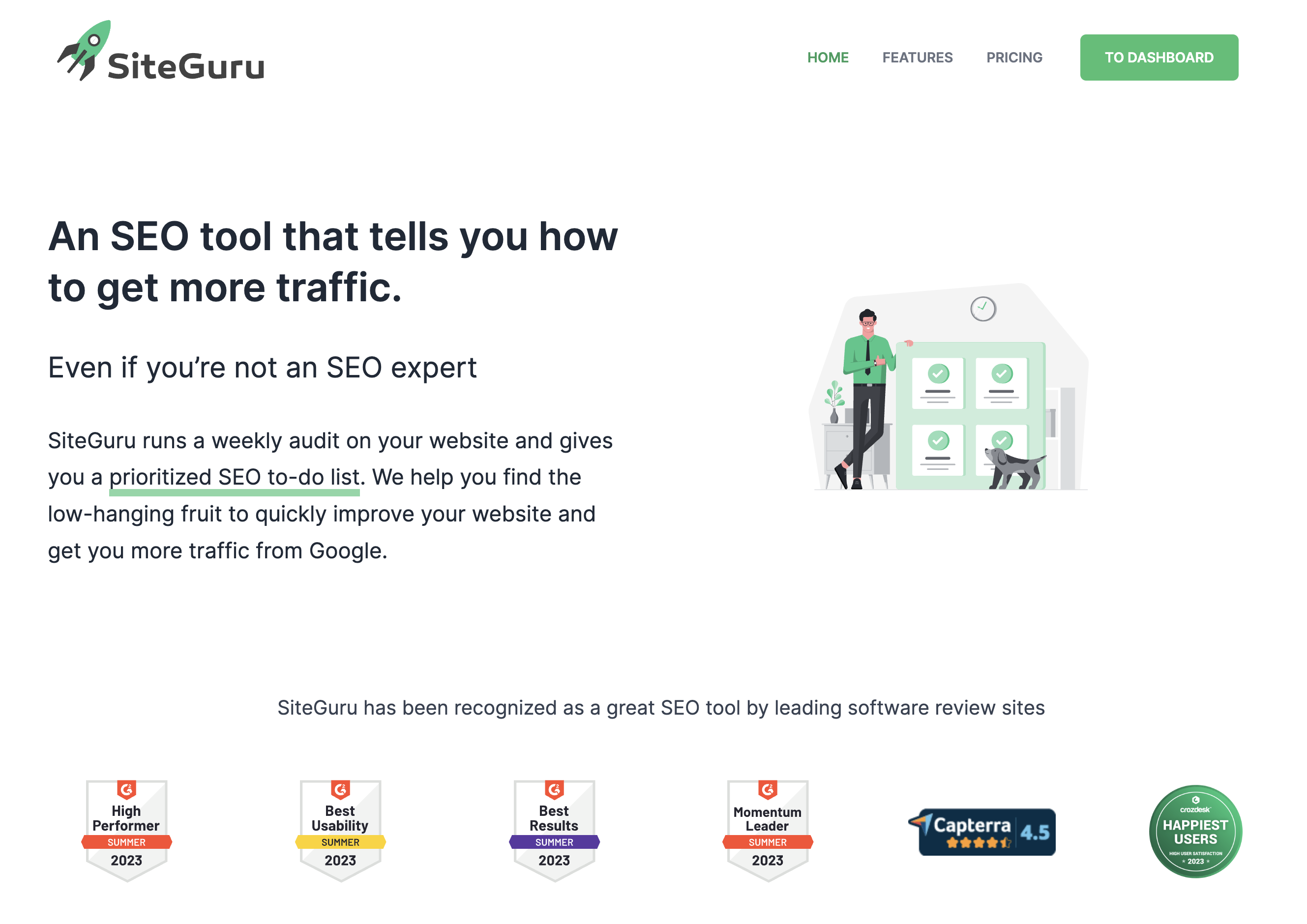 Labrika is a more general site audit tool to find technical issues on your website.
It doesn't have keyword research methods like Boostramp and focuses on finding technical issues on your website.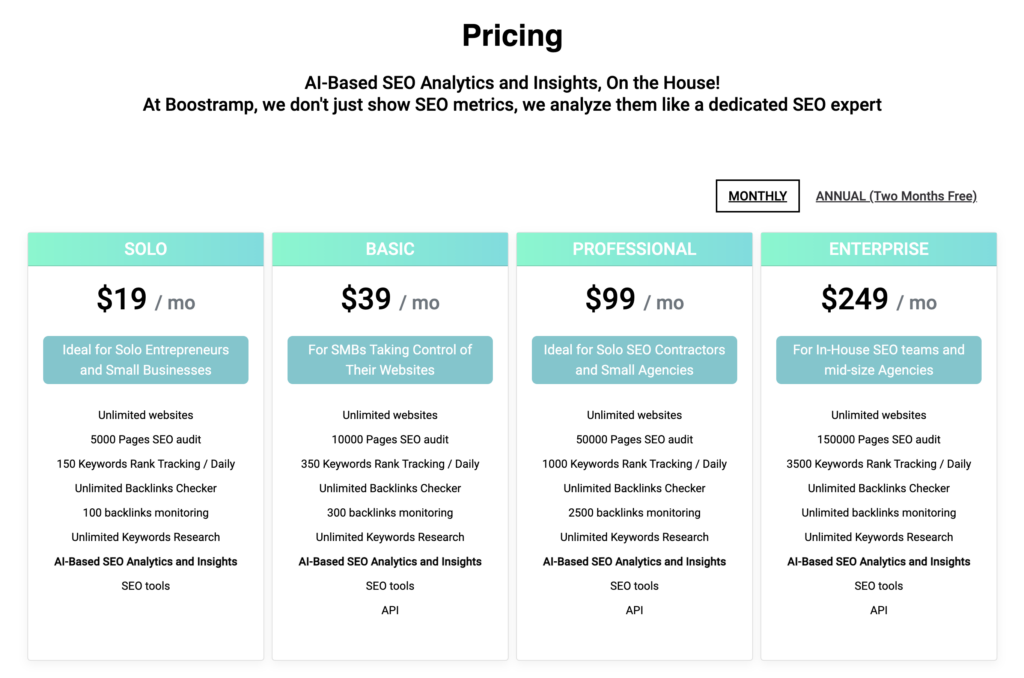 Boostramp's pricing is super simple, and it varies on 3 parameters.
The parameters are:
Amount of pages SEO audit
Amount of daily keyword rank tracking
Amount of backlinks you want to monitor
Most will be sufficient with the solo plan to $19 per month, and as you get unlimited websites in all plans, that's not an issue you need to worry about.
You can also see the small descriptions of their recommendations for the different plans. Unless you have a huge website, the solo plan will be great.
Wrap-Up: Is Boostramp Worth It?
Yes, Boostramp is worth it if you're looking for an analysis tool to show you SEO opportunities.
However, I will say I'm not at a point where I can personally recommend you use Boostramp over a long period of time until they add more functionality.
I recommend signing up for a month, performing all the tasks Boostramp suggests, and then moving on.
When they add more growth opportunities and technical checks, I can see myself using Boostramp daily.
If you're looking for a site audit tool that can automatically show you all issues with your website, then look at Boostramp.
It'll show you growth opportunities at the same time to grow your website.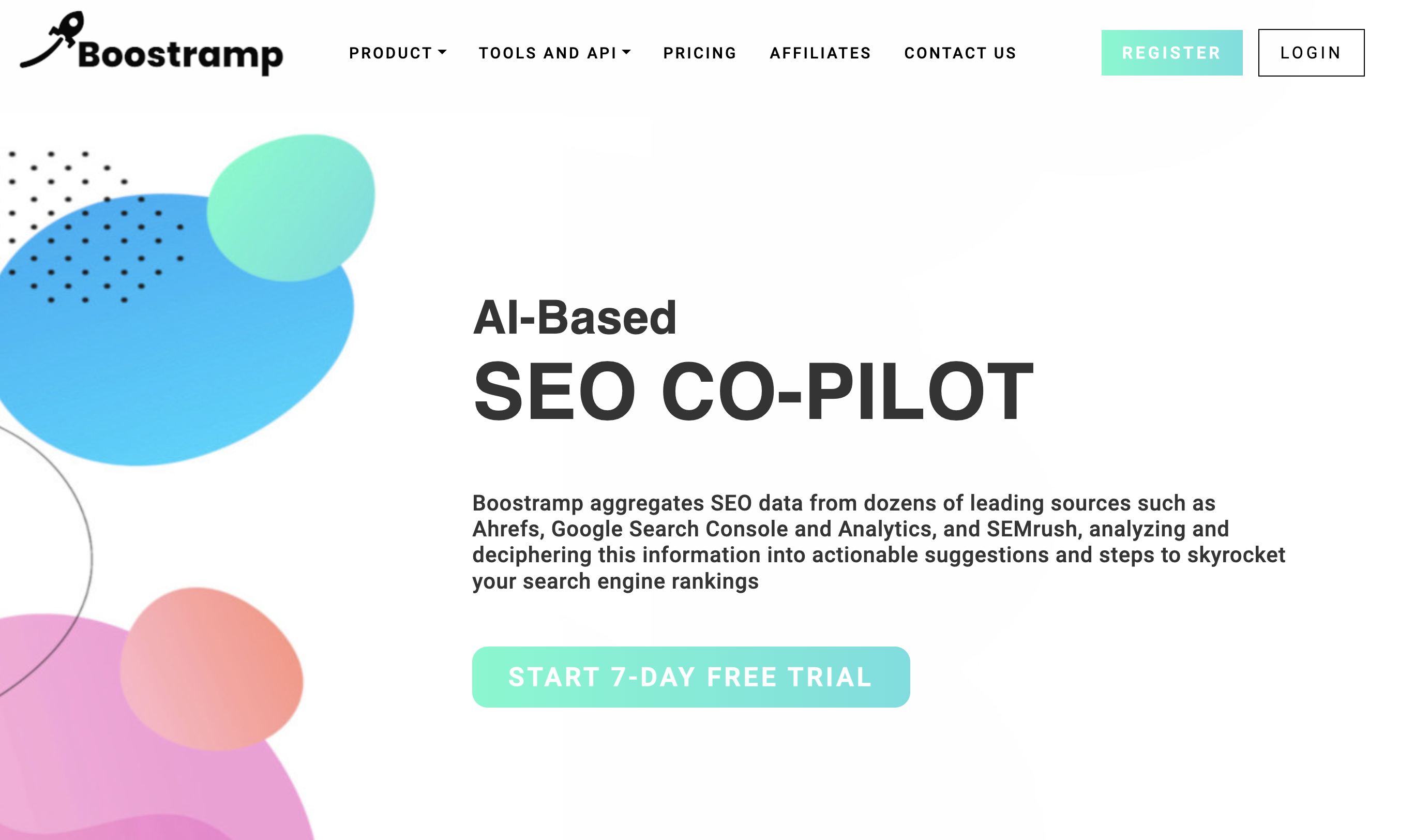 Boostramp is great to automate your technical SEO,
Boostramp
In this Boostramp review, I'll dive into how well Boostramp works as an AI SEO co-pilot and how many of my manual SEO tasks it can automate.
Price: 19
Price Currency: $
Operating System: Web
Application Category: SEO
Pros
You get growth opportunities tailored for your website.
You can do keyword research using 4 methods to find high-competitive keywords.
Use the backlink module to monitor your backlinks and spy on your competitors.
Cons
You don't get low-competition keywords when doing keyword research.
The technical tasks are sometimes incorrect, especially for external linking.