I was on the lookout for a content writing service, and here I found ContentPit after reading a newsletter I'm subscribed to.
I have heard about ContentPit before, but I've never really got to try them until now.
I tried their "All-in-one DFY AI Content", where they handle everything from keyword research to content writing and publishing.
Let me dive into the process and how it went.
You really get high-quality content from ContentPit.
The communication and process has been one of the best I've tried.
The all-in-one DFY service is incredible, saves you time, and gives you a better result.
Pros And Cons Using ContentPit
I tried ContentPit for their "Do it for you AI service" and was super excited. And let me just break to you now. Overall, it was a great success.
Here are the pros and cons of my experience with ContentPit.
ContentPit is the best service I've tried for that price point.
The turn-around was incredible, and the communication throughout the process was awesome.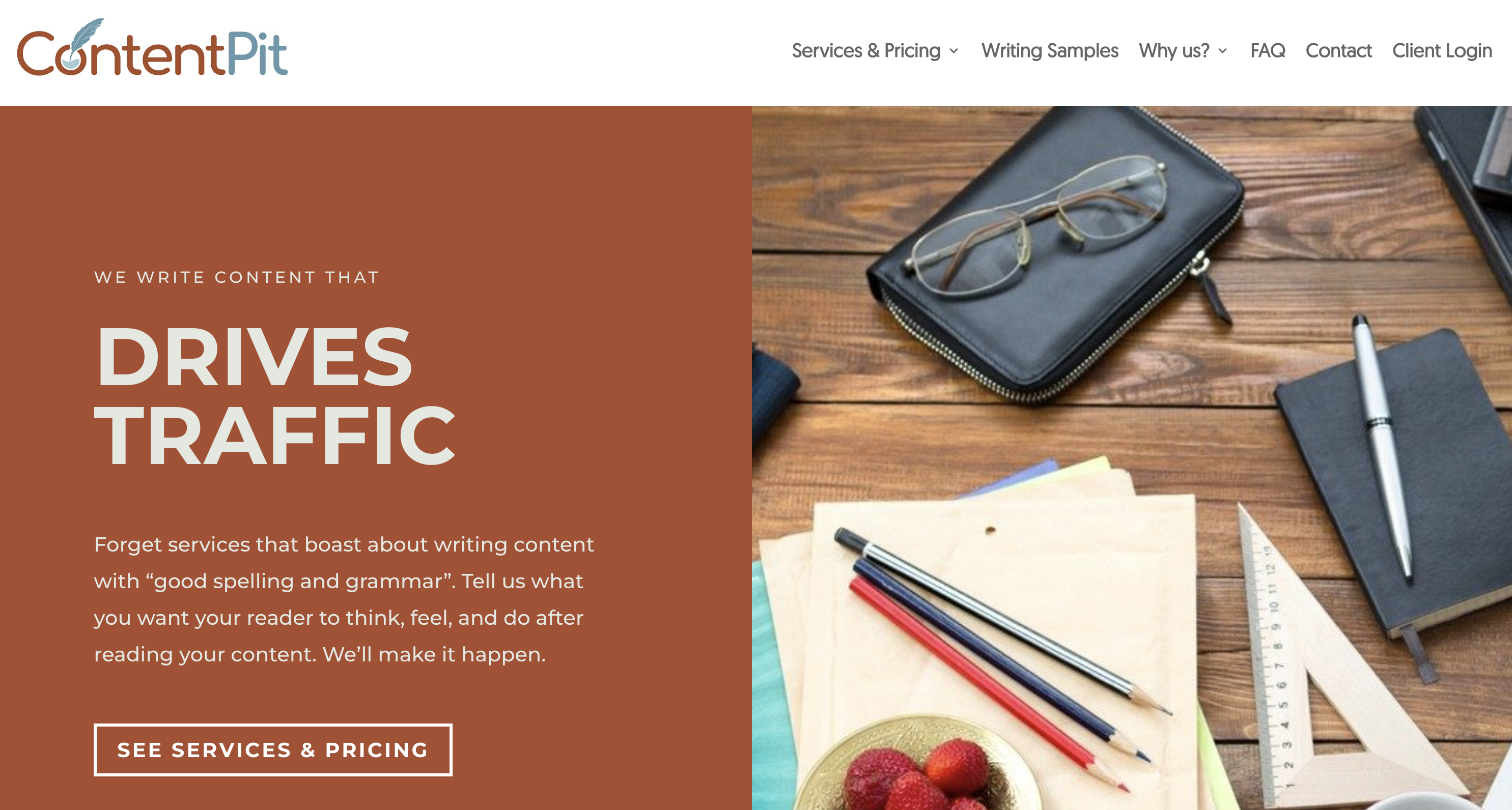 Incredible value for the price point.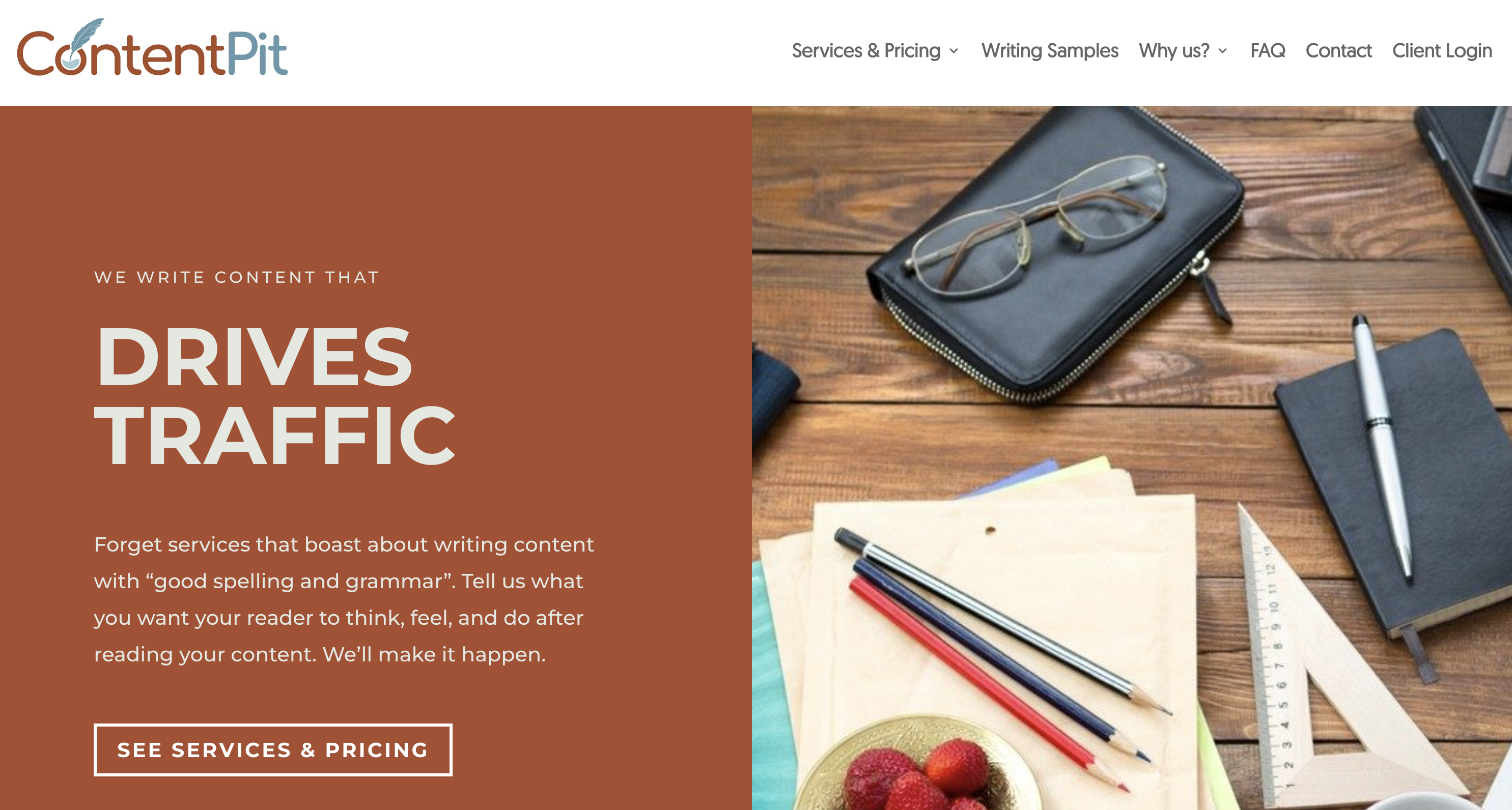 ContentPit is a content-writing service that offers 4 different services to help you scale up your content with ease.
You can let them handle it entirely, or you can get some hands-on yourself.
They have a complete DFY service where they do the keyword research, content research, write the content, optimise it, interlink and upload it to your WordPress website.
You can also just order pure content, and then you take care of adding images, interlinking and uploading to WordPress.
They offer both AI-written and human-written content, and let me say it already. It's an incredible process.
Get Actionable SEO Tips Right In Your Inbox
Join 700+ to receive an SEO tool review from my YouTube channel weekly, which I'll share with you. And on top of that, an actionable SEO tip every week.
ContentPit Review: My Thoughts After Trying The Service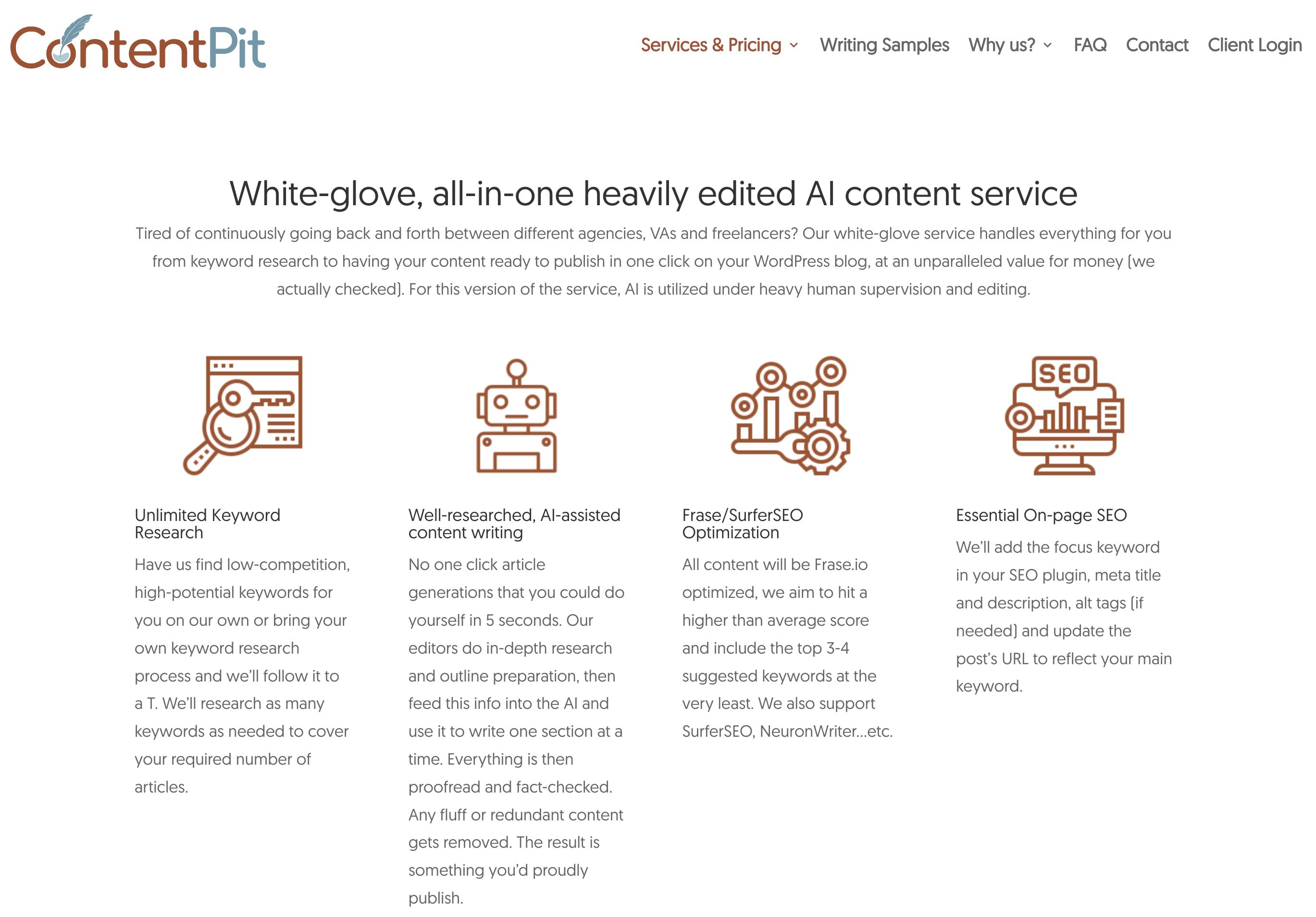 I ordered 10,000 words from the All-in-one DFY AI Content service. It resulted in 7 articles and, in total, 10,180 words.
When they first suggested the 7 articles, I was a bit worried about the word count, but they nailed it, so let's get into my experience with ContentPit.
Process Of Signing Up For ContentPit
ContentPit offers 4 products at the moment; they keep it simple, making it super easy to choose.
Human-written Content
All-in-one DFY Human Content
All-in-one DFY AI Content
AI Content Writing/Editing
Human-written content is where you provide the keyword the article needs to focus on, you choose the package of words, and you divide the words into articles.
All-in-one DFY Human Content is where you can just lean back and relax. ContentPit handles everything from keyword research to internal link-building and uploading the content to WordPress.
All-in-one DFY AI Content is the same as above, and the content is just written by AI, looked through by a human, and optimised by using Frase.
AI Content Writing/Editing is where you provide everything, and in return, you get content pieces based on the amount of words you've bought.
I went with all-in-one DFY AI content and was super excited to test it out. This was the first real test for me to use a content writing agency to write blog posts.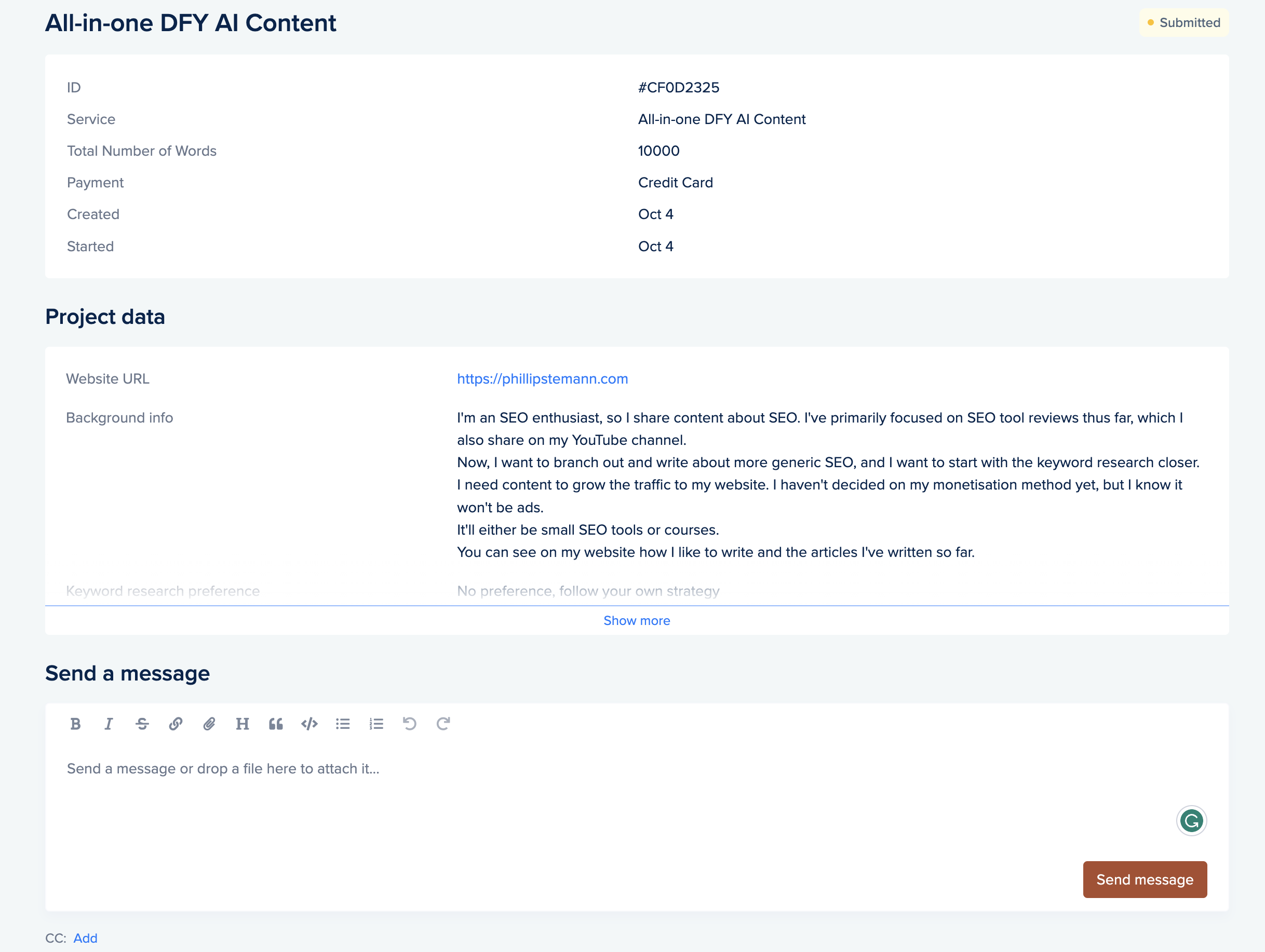 The process for signing up was super easy. After I had paid, I got access to a client portal to enter the information about my website.
You have to fill out the following:
Website URL
Background info
Keyword research preference (You can choose no preference)
Minimum keyword volume (Semrush – US)
Article length preference (You can use the SEO team's recommendations.)
Content optimisation tool (Frase included or your own)
Internal link-building preference
WordPress login
Other notes
As I chose the DFY service, I had to provide little to no information, and they're doing literally everything. It took me less than 2 min to fill this out. (You can see some sample content here.)
Once you've entered your website domain and described your website, you need to wait for the team to confirm your order and ensure they have everything they need.
Then, it took 4 business days before they returned with 7 keywords they wanted to target. And they were all great keywords I hadn't already covered.
I asked how they do the keyword research, and Yassin from the SEO team explained as follows:
We reverse-engineered SEO subreddits to find low-competition keywords related to keyword research and SEO-driven content. We are aware that the recent HCU (Helpful Content Update) has rewarded forums like Reddit, Quora, and other UGC websites. However, we still believe that this is a good method to find underserved keywords.
Until this point, the turnaround time has been incredible, and let me just share it now already. It has continued to be so.
Once I approved the keywords, the team then started on the blog posts.
Content Quality From ContentPit
After only 3 business days, my first 5/7 articles were ready; the next day, the last 2 articles were ready.
I read through each article word-by-word, and I must say it's super high-quality content.
I was concerned whether the content quality would be lacking since I chose the AI DFY service, but I can't sense AI has generated this.
I ran it through Grammarly's plagiarism checker as well, and there was not a finger to put on the content. It was unique and well-written.
It was clear that this type of content had been manually edited and optimised while I was reading it.
AI-Detectors
However, I did run the content through a couple of AI detectors, and it did catch that AI wrote the content. Which is not something I'm concerned about, but it's worth mentioning.
I did address this with the SEO team, and they answered: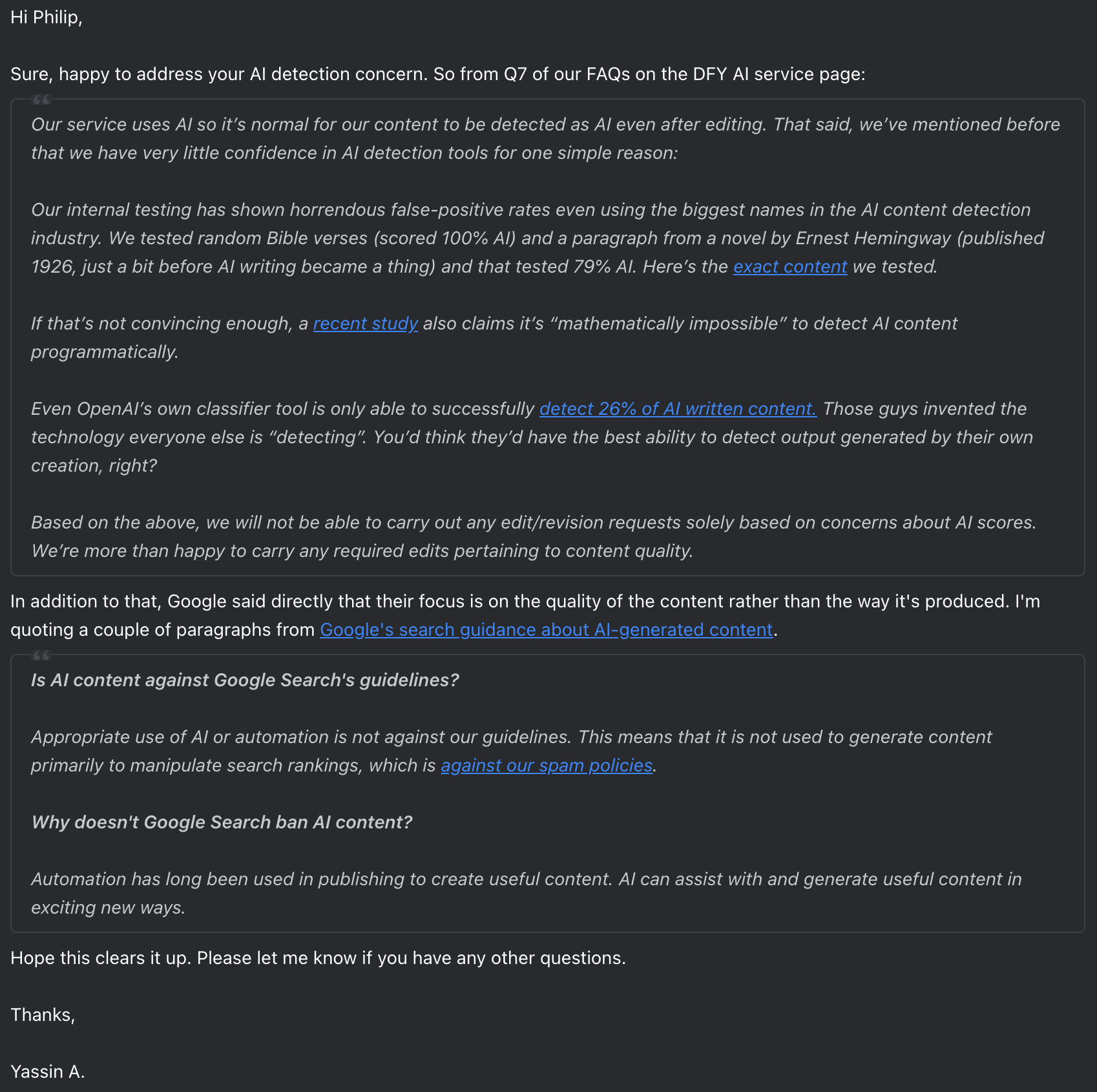 So it's a question they've addressed already, and it's a great answer, no doubt. I completely follow Yasson on this one.
They use in-house writers, and they're all labelled as professional writers to ensure excellent content quality.
All in-house writers are native speakers, per the website, which is a super important part of content production, but I could feel that, too.
One thing I found with my content is that they write it in US English, whereas my entire website is written in UK English. I addressed this as well, and they changed it right away.
Be aware
When you receive your content, you have 3 business days to give feedback before the content auto-approves. I think it's completely fair, and it also forced me to push the process forward faster to get my content done.
Now to the other services they offered as part of the package I bought:
Internal link-building
Images
WordPress publishing
Before posting to WordPress, I only saw a few internal links, and I saw no images at all. This only happened once they started publishing the blog posts to my website.
Find the best AI Copywriting tool
I've tested 50+ AI copywriting tools, and they all have unique use cases. I've collected my favourite 7 and made a beautiful e-book for you.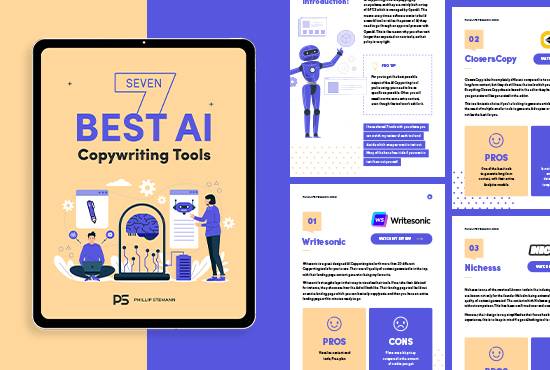 Quality Of Publishing On My Website
I use Elementor for the website they wrote the content for, so I was excited to see how they would tackle this.
To my surprise, they opened one of my previous blog posts to see what format I publish in, and then they replicated that format, which was great. It saved me a lot of time.
There were minor things, with some images missing alt texts and some formatting in the blog posts not being exactly how I wanted them to be.
But it's also limited how much you can expect from the service. They have delivered more than I expected, but they still did correct my feedback, which is brilliant.
I'm on a spree to test a bunch of content-writing services, and I can now say with confidence that ContentPit is one of the cheapest services, but communication is some of the best I've tried.
Pro-tip
The pricing varies from service and the amount of words you're looking for. I recommend you start with a small package to align expectations and see if the service is for you before you ramp up your content production.
They really take you from A to Z, they're good at answering questions you might have, and you feel taken care of constantly. They're really doing well.
The pricing is more than fair, and once I'm done testing various content-writing agencies, I think I'll get back to getting my blog posts written by ContentPit.
They really ensure high-quality content which is optimised using Frase(My favourite SEO content optimisation tool), and they do it all by communicating well.
So yes, this price is more than fair. It's incredible.
Guarantees From ContentPit

You get 3 guarantees when choosing ContentPit as your content agency.
48-Hour Response Guarantee
Unlimited Revisions Policy
100% Money-back Guarantee
As mentioned in the blog post, their communication is top-notch. They guarantee a 48-hour response time, but from this content agency, I often get an answer within hours. It's a delight to work with.
You also have the ability to request changes to your informative content endless times. I doubt you'll need it a lot, but there are always some minor changes you want to make. I used 1-2 revisions, and then my content was ready to be published.
If you try the service, and it's just horrible, you're not satisfied, and revisions can't fix it, they offer a 100% money-back guarantee. You just contact them within 30 days of your order date, and they'll refund your money, no questions asked.
It's important to take these 3 elements into consideration, as it makes you feel more comfortable trying out their services. You can read more about their guarantees.
This was where they surprised me the most because it's a fine line. You want your content fast, but you want it refined, not at a low quality, because you just want it fast.
And all-in-all, I received my content after 4 business days, which is incredibly fast. I then read through it all and asked for revisions to make some changes.
But this is definitely a unique selling point for this content agency. They deliver fast content at scale while keeping the content refined.
Customer Service Before And During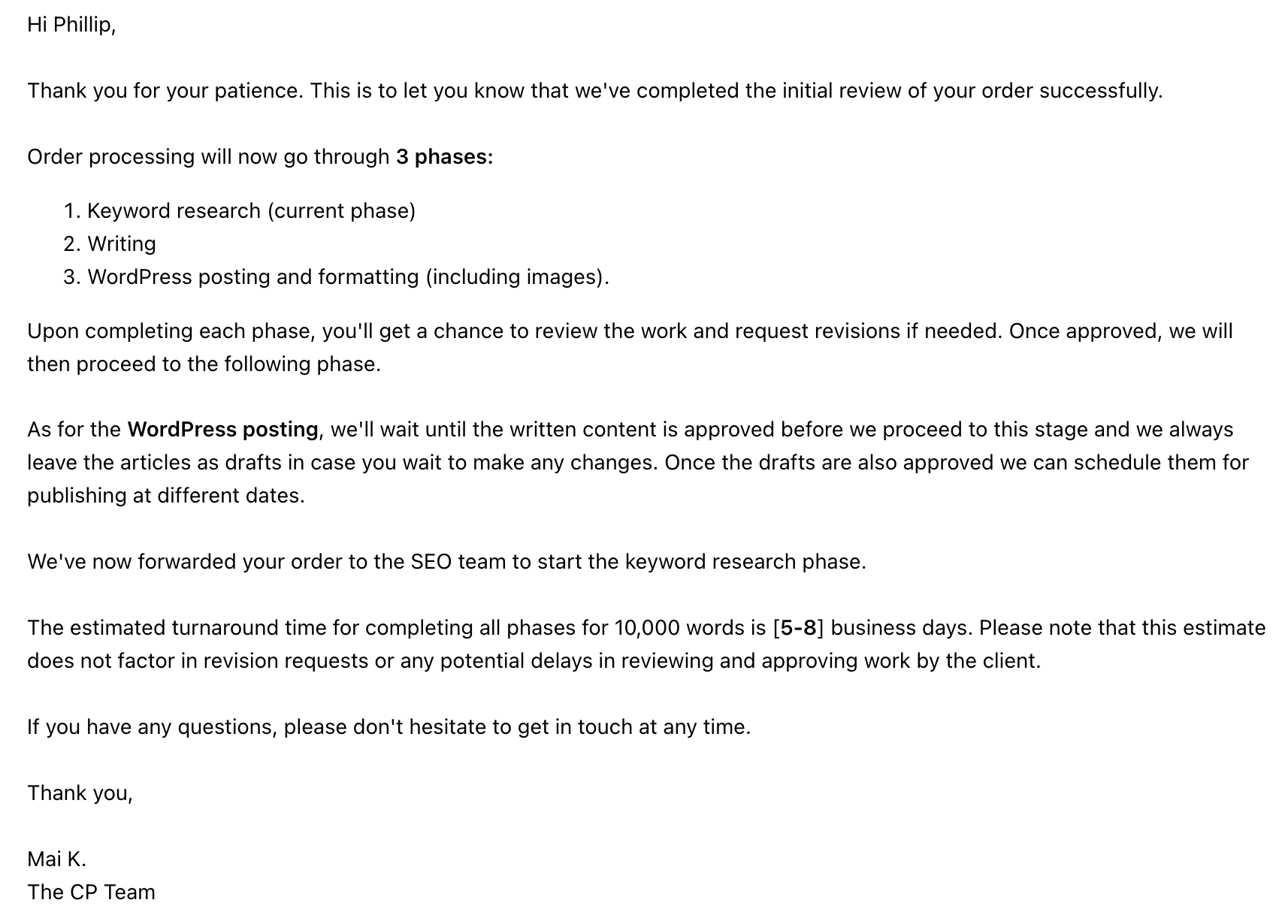 The customer service has been best-in-class. I contacted them before placing an order because I had some questions about the process regarding keyword research, and they answered promptly.
Even non-customers still get an answer fast and way within the 48-hour timeframe.
They're super helpful; you can ask as many questions as possible before deciding. They don't pressure you into buying their content creation services; they just help you with whatever question you have.
Communication Throughout The Process

When you place an order, you get a client login to their client portal, which is genius.
Here, you can communicate directly with your writers, and you can always see the status of your order while keeping the entire history of your order.
This makes it so much easier, and I never have to ask the golden question: What is the status of my order?
The client portal makes the communication through the process super streamlined, and it's the easiest way to communicate with the team.
Every time there is a new message or change on your order, you also get an email, so you don't have to check the client portal constantly.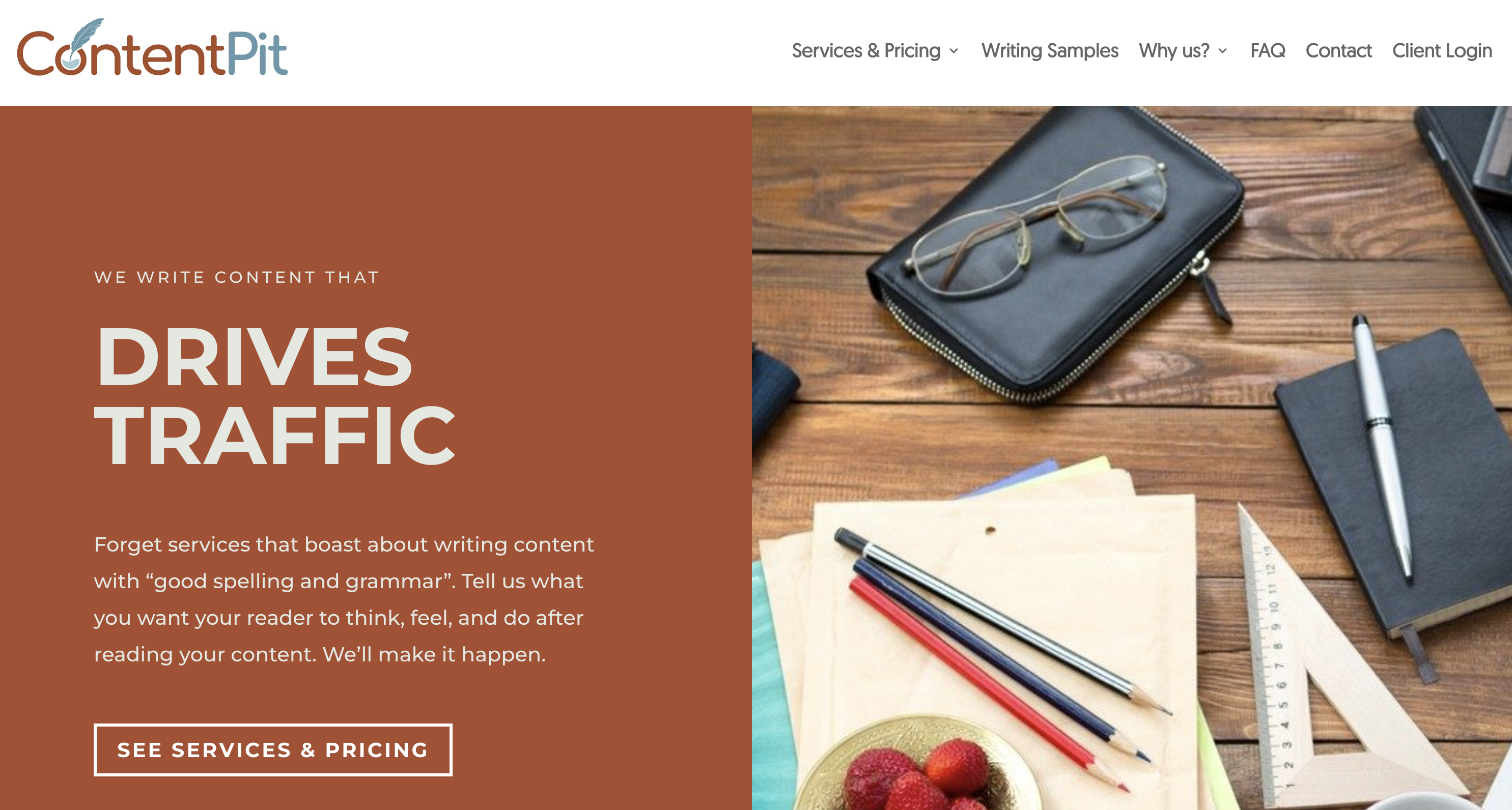 This writing agency is for bloggers and websites looking to scale up their content production while keeping quality content.
If this is you, then you want to look at ContentPit and utilise their in-house writers to help you with your content planning and write your content at affordable prices.
The more you order, the cheaper it gets, and after testing the DFY service, I can really recommend this as well.
After the team uploads the content, you or your VA just have to add some design touches, and then the piece of content is ready to be published.
I saved so much time. It's unbelievable.
What Services Does ContentPit Provide?
ContentPit has kept it super simple and offers 4 services which match anyone's needs to get excellent content produced.
You can either choose human-written content or AI-written content, and within each of these choices, you can get pure content, or you can get an entire DFY service where the in-house writers take care of everything.
The human-written content service starts at 1,000 words, whereas the 3 other services start at 5,000 words.
The price starts from $49 for 1,000 words written by a human and goes up to whatever you need.
If you choose a DFY service, you get the following services as well:
Unlimited Keyword Research
Well-researched content writing
Frase/SurferSEO Optimisation
Essential On-page SEO
Images
Internal/External Link Building
WordPress Publishing
So you can see with these services, you're fully covered, and you can focus on other aspects of your website. Because with this service, you get high-quality of content creation written by English writers for your blog.
ContentPit vs. Hiring A Freelancer
I've tried multiple times now with freelance writers, and I've failed with this process. Using freelance writers requires a different setup, SOPs and much more hands-on.
Whereas an agency that takes care of everything, from A to Z, makes the process much easier.
I don't say one thing is better, but you must know the circumstances and the differences when hiring a content agency and a freelancer.
Both will be able to deliver high-quality content and ensure your informative content is published to WordPress with internal links, but they require different setups.
One thing I will say, though, is that it's much easier to scale your content with a content agency than using freelance writers, as you have to hire new freelancer writers and educate them while scaling up.
Alternatives To ContentPit
There are not a lot of one-stop SEO tools like Serpstat that provide that much value for such a low price.
And they keep adding modules, but here are the 2 closest competitors as I see it.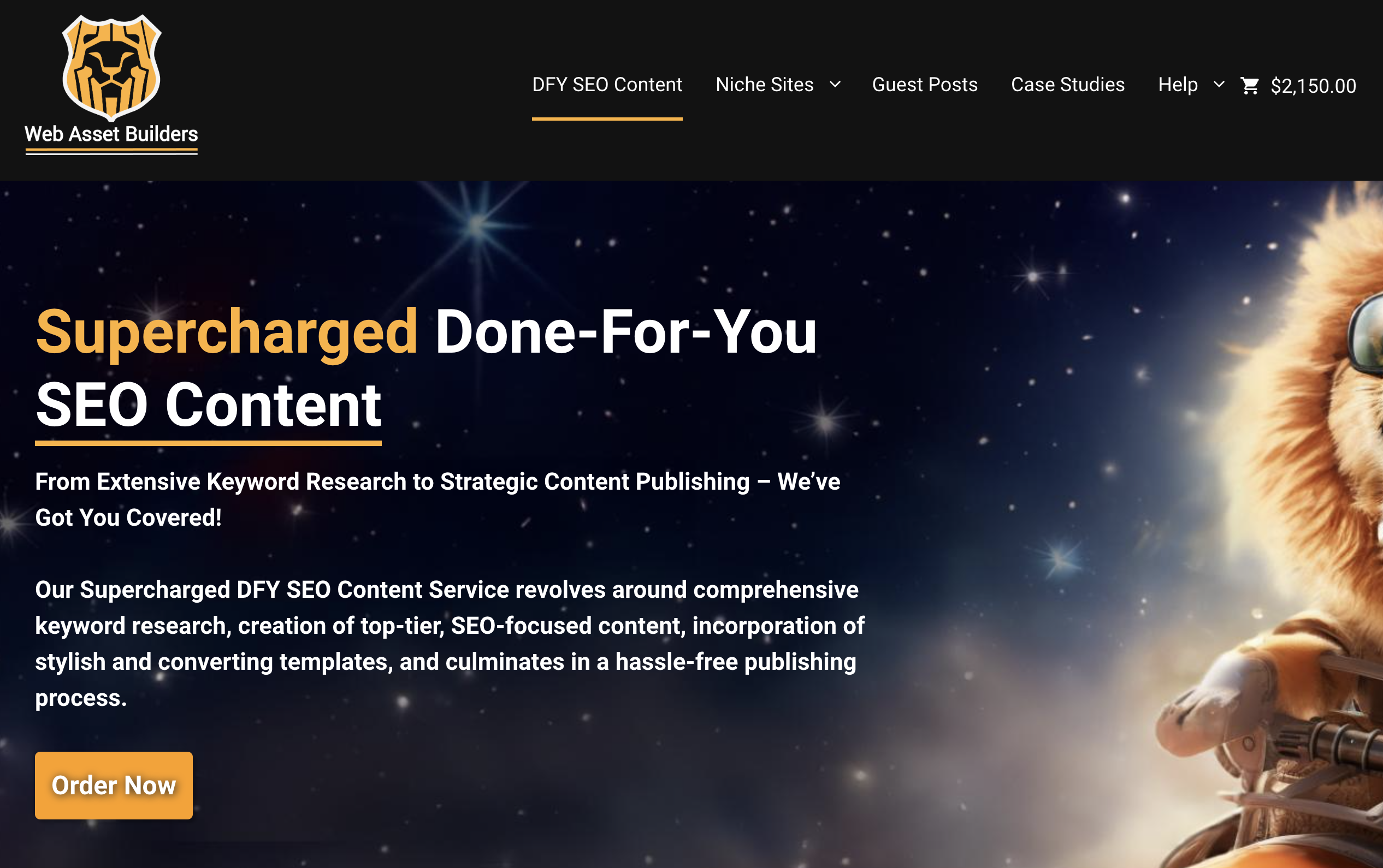 SEOButler is even more expensive than Web Asset Builders, but they also offer both link-building and content production for all different cases.
All their content is human-produced.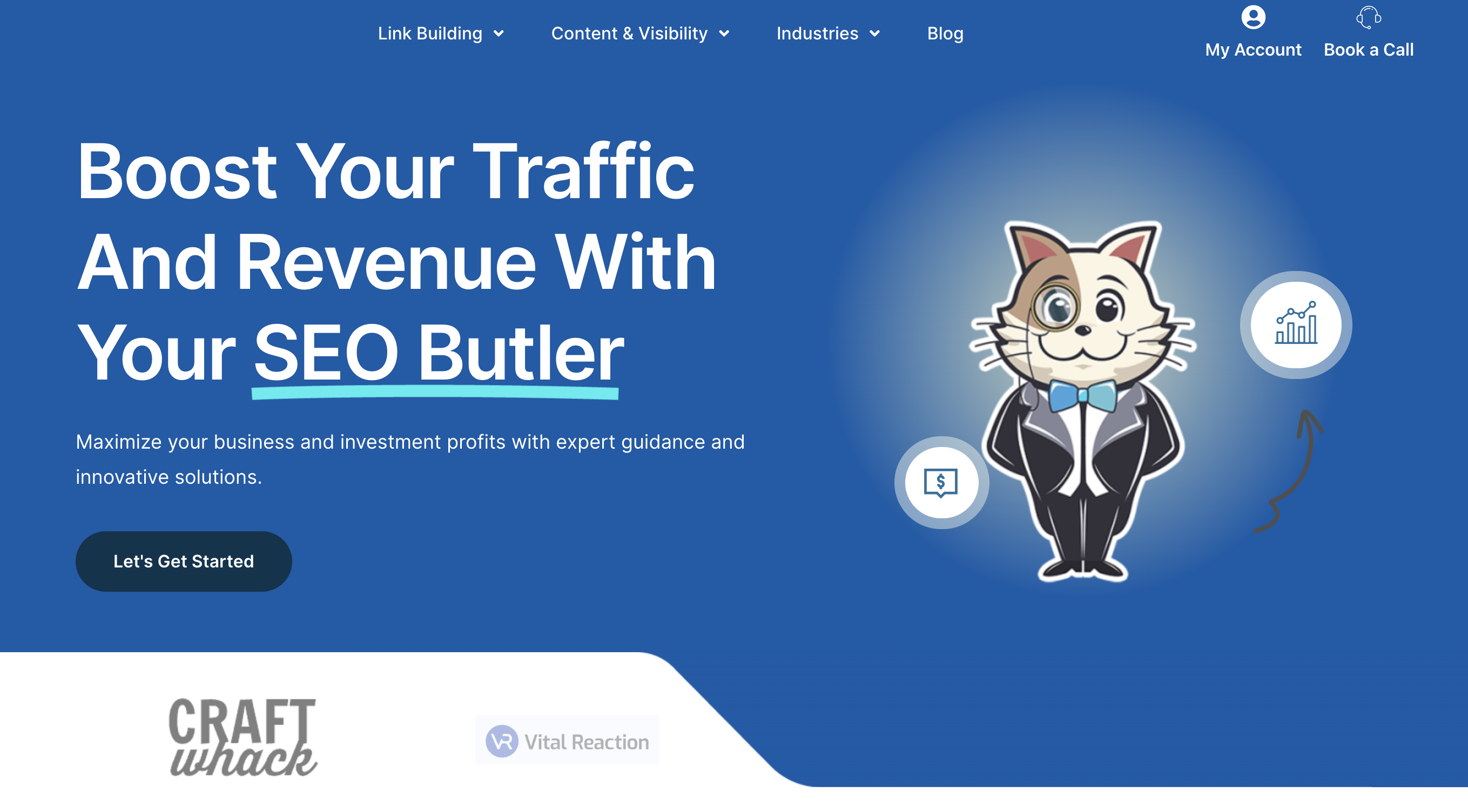 Wrap-Up: Is ContentPit Worth It?
Yes, ContentPit is definitely worth it. Every penny I've spent on ContentPit has come out great as content refined to a high quality.
The process is super lean and easy to follow, and you get so much guidance and help that anyone can do it.
They keep their prices low, but the quality of content stays very high.
I can really recommend ContentPit as a viable content agency, and I'll continue to use and test them, so if you have any questions, feel free to reach out to me.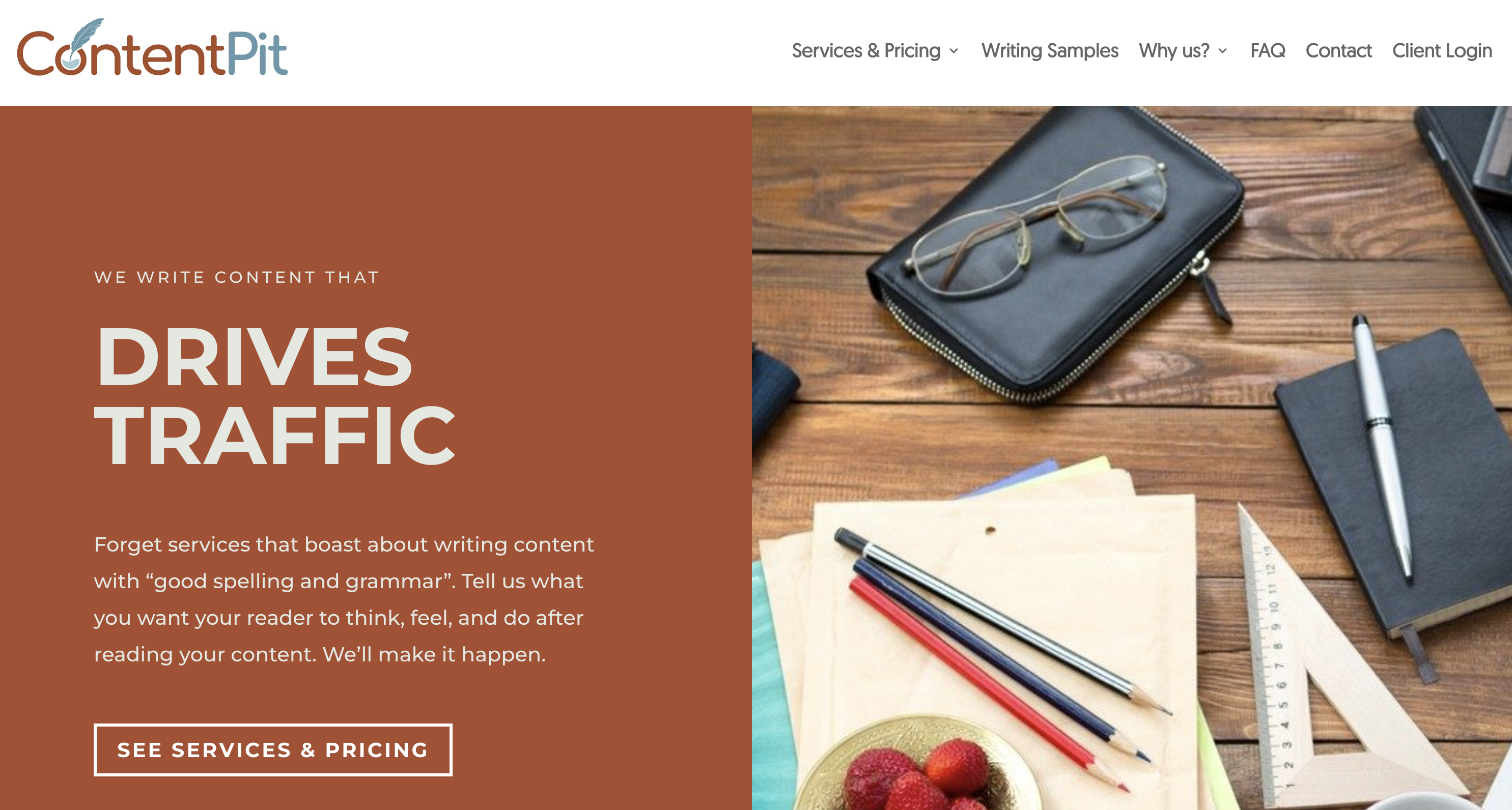 Perfect content writing service for scaling content production.
ContentPit Review
In this ContentPit review I share my experience after trying their AI DFY service where they create content and upload it on my website.
Pros
Quick turn-around.
High quality content.
Great communication.
Cons
Wrong facts in one article.
Products misspelled.