For years, I've navigated the complex world of content research and SEO, and Frase has been my trusted companion in this journey.
Understanding the challenges many of us face in optimizing our content for better rankings, I'm excited to share the insights and strategies I've gathered using Frase's content optimization tool.
Whether you're grappling with SEO complexities or seeking to enhance your content strategy, this review is tailored to meet your needs.
Let's dive into how you can leverage Frase effectively to elevate your content and achieve your SEO goals.
Frase is great for content research, helping you include all the right keywords.
Frase AI is built with GPT 3.5, but the results vary compared to the alternatives.
Frase has the ability to let you build custom AI templates with no coding.
Pros & Cons Of Using Frase
They've developed many features after I've been using Frase since 2020, but I've boiled down my pros and cons at Frase's current stage.
There is no doubt Frase is an excellent writing tool, and with a few tweaks, their AI could easily become one of the best to grow your organic traffic.
Frase is my go-to platform for content optimization, and it makes it so easy to ensure your content is fully optimized.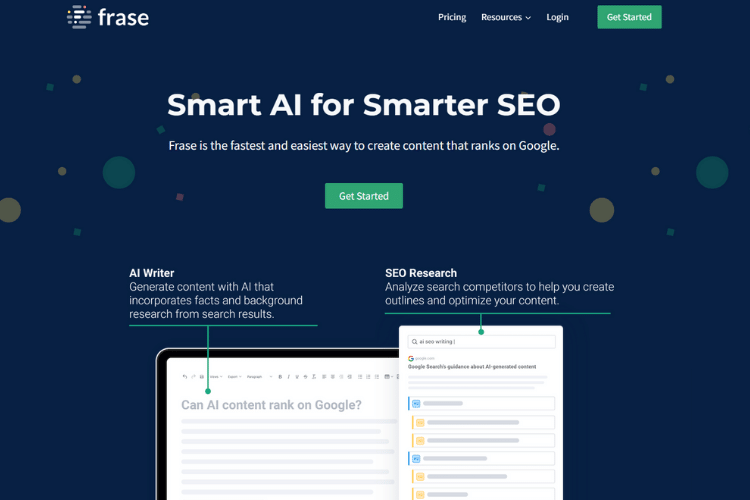 My favorite SEO optimization tool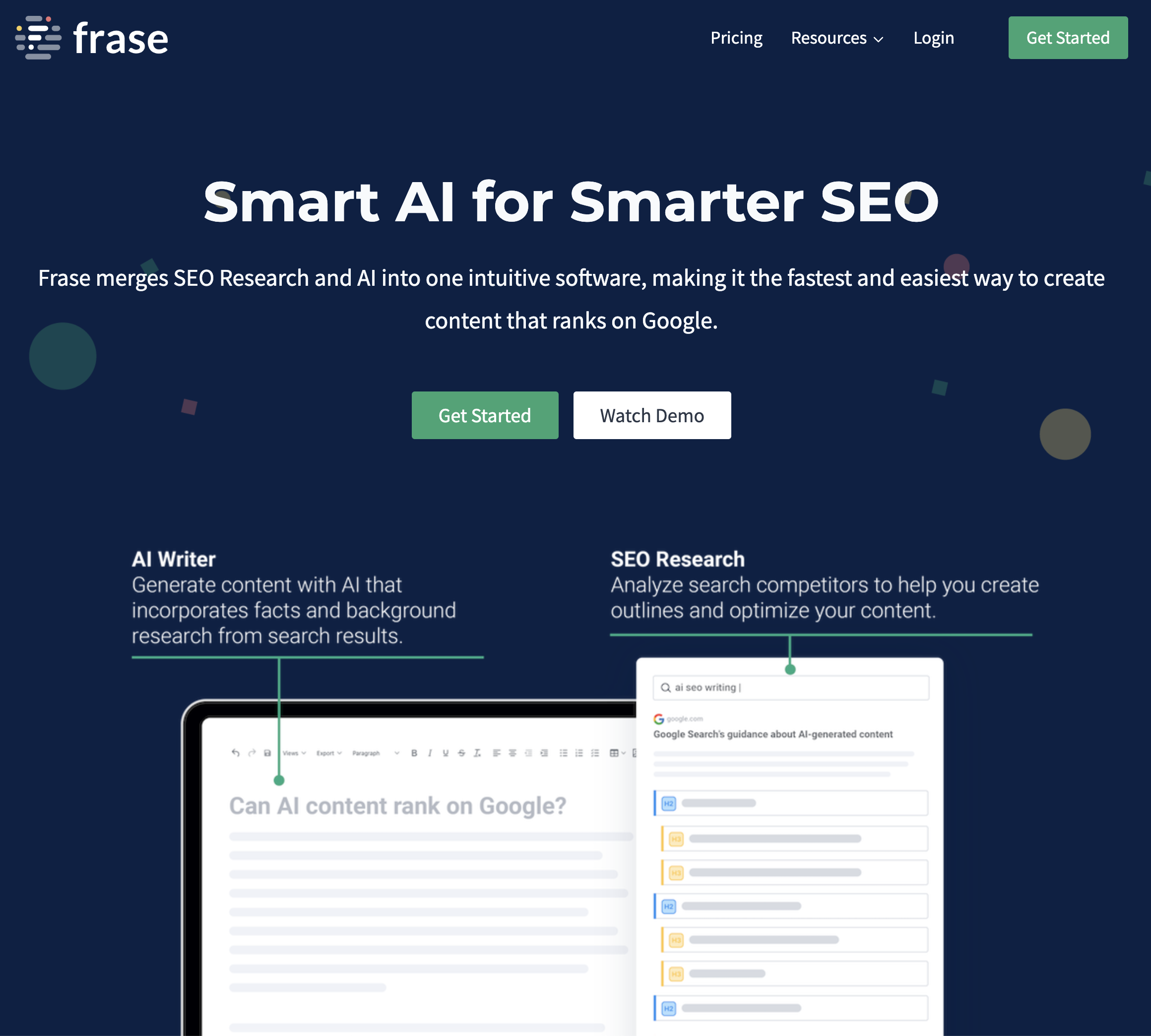 Frase is a content optimisation tool you can use to not only optimise your content but also make it better by including the right terms and, therefore, rank higher in the SERPs on Google.
This article you're reading right now is optimised by Frase, and it has helped me to include all the right terms and remember all subjects.
It's super important you cover the topic you're writing about from all angles, and that's what Frase helps you with.
On top of this, Frase has also developed an AI with OpenAI so that you can generate content, and I've tested that as well, even though it's not something I use daily.
Lastly, Frase answers help you ask your visitors the right questions and let them basically tell you what content you should write. It's super intriguing.
As we're in the year of AI, let's start by talking about Frase AI, how good it is, what you can expect of the long-form content generated, and what the process is.
As a bonus, Frase lets you write your own custom AI templates to let you tailor the AI to write your perfect piece of content.
Let's get into it.
Get Actionable SEO Tips Right In Your Inbox
Join 700+ to receive an SEO tool review from my YouTube channel weekly, which I'll share with you. And on top of that, an actionable SEO tip every week.
When you start your writing process with Frase, you enter your keyword, choose your target audience, and then create your document. Next up, you run the research on the target keyword, and then it's time to use AI.
Frase will automatically for you generate an outline that you can easily change and make into your own.
I'll recommend you describe each point in the outline and what you expect the AI to write about. You can see this as AI prompts.
Pro-tip: Be concise, describe the length of the section, and describe thoroughly what you what the content to be about. Include point of view and tone of voice as well in your prompt.
I've not had the best experience with these prompts, but if you're good at writing prompts to ChatGPT, you'll most certainly be good at describing prompts to Frase as well.
With the outline done, you can start generating some content.
This step is pretty simple, the content is generated, and you're now in the editor, where you can further optimise your content. This I'll come back to in the coming sections.
Be sure to read all your content through. Based on my experience, I've found that the content sometimes goes in a direction I don't want it to go.
And then add your own experience and touch to the content. Do not just generate and publish; it won't be a sustainable way to create blog posts.
Be aware you need the $35 SEO Add-on if you want unlimited AI content. Otherwise, you can maximum get 4000 AI words per month. I highly recommend investing in the SEO Add-on if you plan to use Frase for AI-generated content.
And then, you can top it up with their unlimited access plan, where you can optimise unlimited documents. It's worth it. I have unlimited documents as I analyse and write more than 30 articles per month
I've tested a couple of blog posts, and the quality is not super high overall. It's clear to see Frase is using GPT 3.5, as the text is collected in blocks.
There are no lists, tables or highlighted words to improve readability. These elements are crucial for a good experience regarding long-form content.
But that's it. That's how simple it is to create AI content with Frase. Before you generate the outline, you could create content briefs, but it's not a necessary step.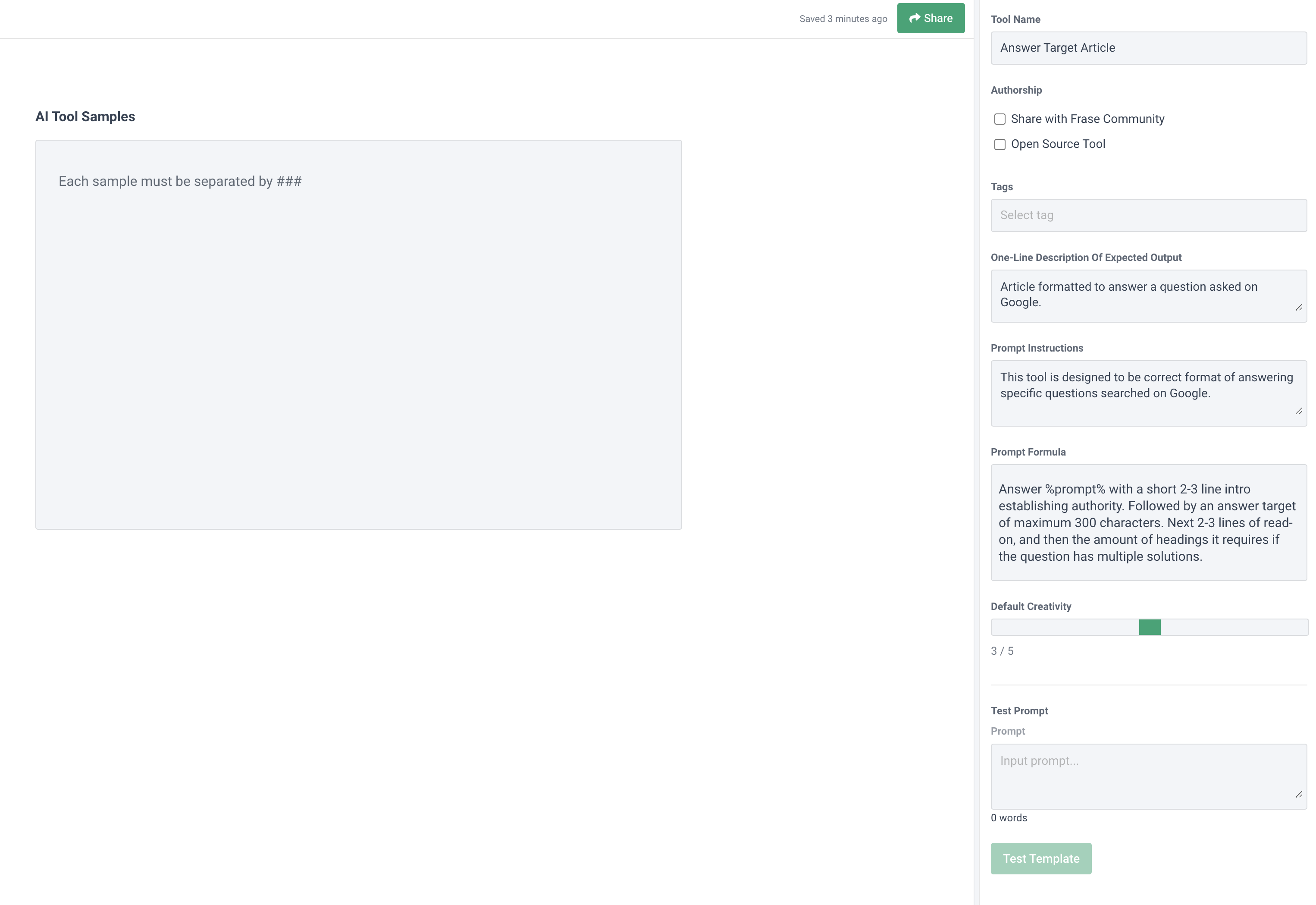 Frase has another fantastic and unique feature. You can build your own AI tools to help you create SEO-Optimized content.
It doesn't require any coding knowledge. All you have to do is write some samples of content you like. This the AI will use to train itself. And then you write instructions on the right.
You need to fill in the following:
Tool name
Tags
One-Line Description Of Expected Output
Prompt instructions
Creativity
With these elements, you can test your AI tool, and once you're satisfied with the result, you can start using it.
Bonus: If you don't want to create your own AI tool, you can utilise numerous community AI tools as part of your basic plan. It's simple, and some creative people in the community create great AI templates.
I made an AI tool for an answer target article in my testing, and it's fairly easy once you get the hang of it. I got decent results, and I recommend you go this route.
The fact you can train the AI on your own content is a game-changer.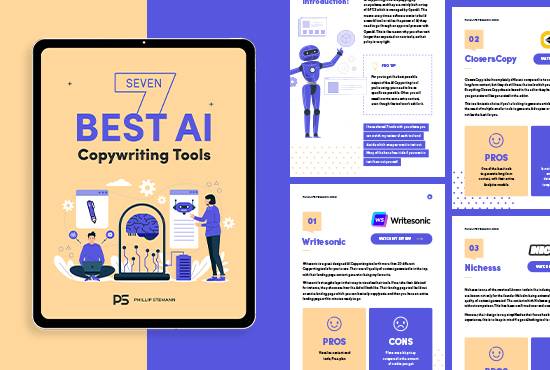 Find the best AI Copywriting tool
I've tested 50+ AI copywriting tools, and they all have unique use cases. I've collected my favourite 7 and made a beautiful e-book for you.
If you want unlimited AI-generation of content, you'll have to buy the SEO add-on.
It's only $35 a month, and then you can generate all the content you want.
Compared to KoalaWriter, then you'll just have to generate around 50,000 words, which is 25 articles of 2000 words, and then you've earned your investment.
But not only do you get unlimited AI, and content generation, but you also get more elaborate SEO content research and more:
Monthly Search Volume in Outline Builder & Topic Planner
Domain Data (Domain Authority and Backlink data)
Create documents for up to 4 queries
Create documents filtered by up to 5 domains
Frase Review Features For Content Research
Now to the part I use most within Frase, and I'm super excited to share my experience with you using Frase.
Frase didn't always have AI, so this is the part I've used the most since 2020. Their content research tool is one of the best, and I've tried Surfer SEO, Bramework, Scalenut and many more.
Frase is just the best. And it has a lot to do with the depth and quality of the research and how easily they show the data and keywords you need to use.
They make it so easy to create high-quality content, ensure you cover content gaps and focus on your target search query.
Content Editor For Better SEO Rankings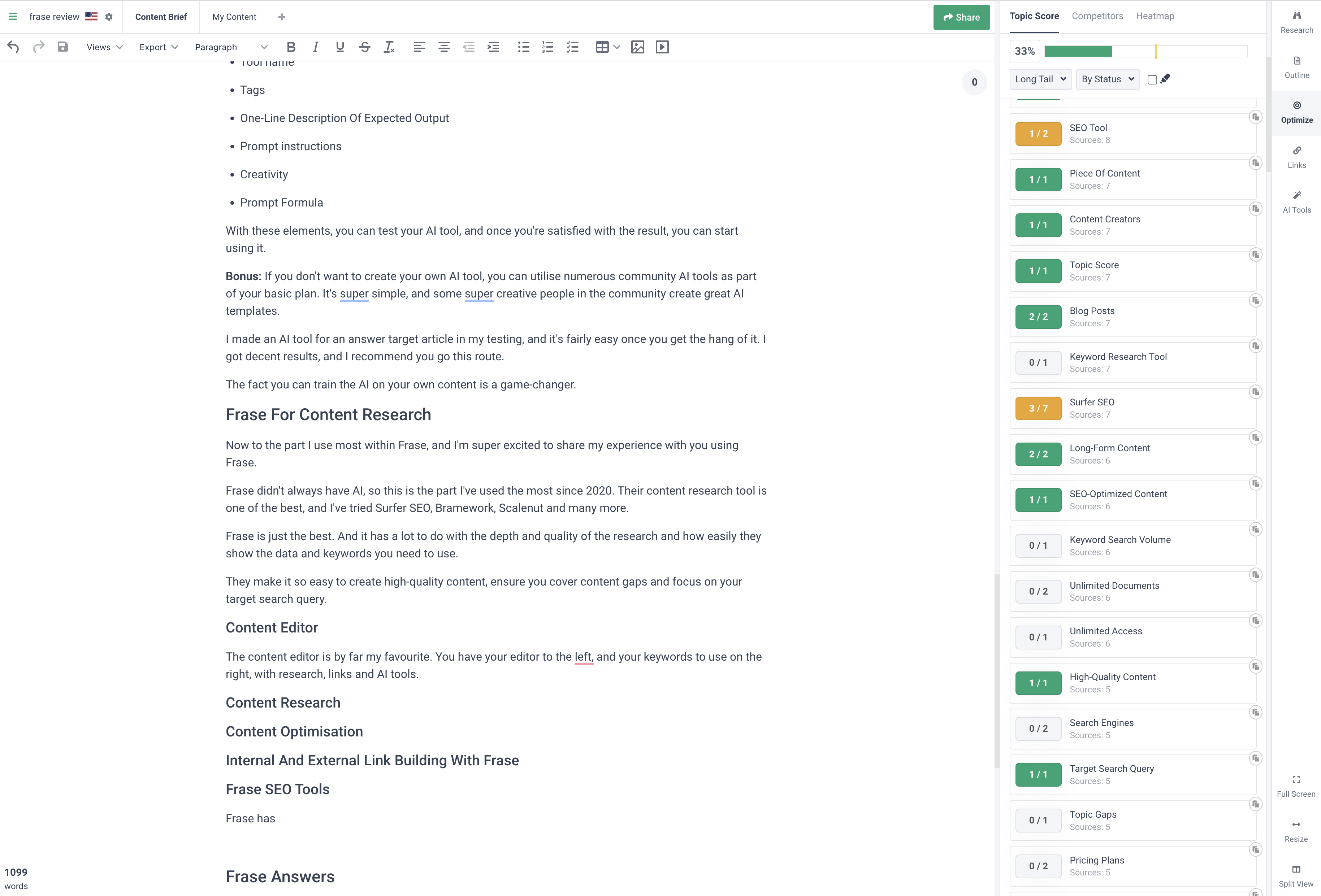 The content editor is by far my favourite. You have your editor to the left and keywords to use on the right, with research, links and AI tools.
The content editor is super easy to use. I really like to use shortcuts. If you write "/" on a new line, you can use an AI tool.
You can also click on the plus, which is visible to add an AI template, transition or insert SERP data. It works great.
I also like the toolbar, with options to change the view, export your article to PDF, HTML, excel or copy and paste it.
Using the content editor gives you a great sense that it works well. It's simple and intuitive. A great SEO tool that I enjoy using every day.
But now, let's move on to Frase's heavy lifting, and that's the content research.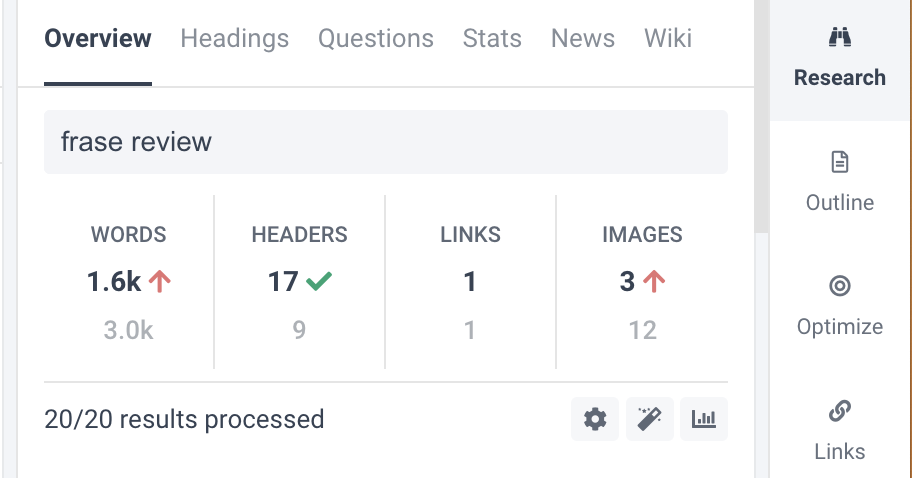 Another module I enjoy using with Frase.
When you run your content research, you get a ton of useful data.
Amount of words you should hit
Amount of headers
Amount of links
Amount of images
These aren't critical to hit, but they're a great guideline to get an idea of where your article should be to compete in the SERP.
Frase also shows you the top 20 websites ranking on your search phrase.
I like to look at their outline to ensure I have all sections covered in my article. And sometimes, when I write articles on topics with low traffic, I'll customise the websites only to show the relevant ones.
If you only want to see your competitors' headings, you can do that as well. This view I don't use much.
But a view I use much is the questions menu point. Here you get all questions about your target keyword in the SERP, People Also Ask, Quora and Reddit. It's great for question ideas.
This is such a powerful feature to ensure you're covering all questions. And sometimes, I even get ideas for new pieces of content just by seeing the questions.
The last 3 many points are:
These collect statistics from other blog posts about your target keyword, which is excellent to include in your article. This is great if I want to add some depth to my article.
It gives you an overview of the news articles covering your target keyword. I rarely use this, but seeing if something important is happening is great.
And if any information on Wikipedia is relevant to your target keyword, it also shows. The Wiki section I never really use. I feel the relevance is missing.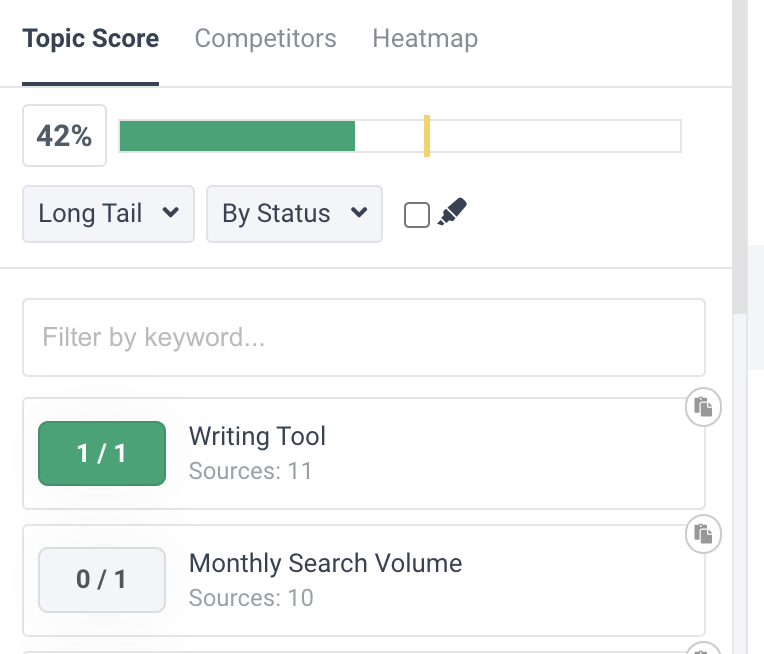 This is the tab I have open while I write because it helps me show what keywords are important to include in my phrases as I write the article.
Pro-tip: You want to use the NLP keywords at the beginning of your sentences. Google reads your sentences as the most important first, then the "importance" slowly disappears.
There is nothing new with the optimisation tab, it's seen with Surfer SEO, Bramework, Scalenut and many more, but with Frase, you get a much more in-depth analysis with topic gaps.
You have 3 menu points: Topic score, Competitors and heatmap.
They're all super powerful, and each has advantages for ranking higher in the search engines.
The Topic score is the one I used the most, containing essential keywords.
The Competitors tab compares your article to the competition based on your topic score. So Frase will analyse all your competitors' content and give it a content score.
The Heatmap tab is super interesting. This shows what content and essential keywords are being covered by your competitors and yourself. A great place to find content gaps in the search engines.
Internal And External Link Building With Frase
The links module is such an underrated module with Frase. I've only really started to use it recently, and it's such a great add-on.
It's for both external and internal linking. The external links are some ideas for you to use if you want to link to external resources.
But the internal link module is where the value lies. You integrate with Google Search Console and choose the website you're currently writing the article for.
Then Frase pulls in the content and looks for specific keywords in your other articles to find similarities on where you can create links.
It shows you the monthly search volume as well, so you can see whether it's worth linking to and from the articles or not.
If you see the keyword search volume is super low on a suggested article, then it might not be worth your time to create some links, but it's up to you and your gut feeling.

Frase has 5 different SEO tools you can use, some of which use artificial intelligence.
The GSC Content Analytics is a super neat tool that shows you the same statistics you see in Google Search Console but with a bonus. Frase tells you whether your content is decaying if there is an easy win, an opportunity or something else.
I really like this, but I've also learned you need to take it as guidelines. Because if I release a blog post today, Frase might display a status for it that's not correct.
So take the status and use it with your own gut feeling.
The outline builder is the same as within the content editor, and you can enter your target keywords, get some headings from competing results, build your headline and then create the document.
This doesn't use Frase's AI, and it's based purely on the SERP.
The Wikipedia Concept Map is where you can enter a Wikipedia topic and create a topic map around that topic. It's great if you're writing in a niche containing a Wikipedia page.
I tried it with the keyword WordPress, and it builds out silos you can then use to create content within. Take one silo at a time to achieve topical authority.
Often the results are off, so only take the topics that make sense for you.
The Topic Planner is a type of keyword research tool where you can enter your keyword and get topics from the top 20 on your target keyword.
You can get subtopics for each topic, and it works very well. It's on a high-level, so often, the topics suggested aren't anything surprising. But sometimes, you hit the jackpot.
The last tool is the Article rewriter. And this is another way to use Frase's AI. You can copy and paste an article and let Frase rewrite it entirely.
I have not used this feature much. Unfortunately, I could imagine some trying to copy others' content and rewrite it to publish to their own website. The results are decent. It stays on topic and rewrites the content.
Now to a part not many know of. But you can use Frase as a chatbot on your website to answer questions from your content. Whether it's AI-generated content or Frase content, then the chatbot will be able to understand it.
I've tested it over a time period of 30 days, and the results did not impress me. I tested it when I wrote questions to the chatbot, and even though the user experience was great, there were just too many times when the chatbot couldn't answer the question.
You can, however, train your assistants/chatbots, so over time, it will become more innovative, but today with GPT-4 and the way Gleap is doing it, you get much better results.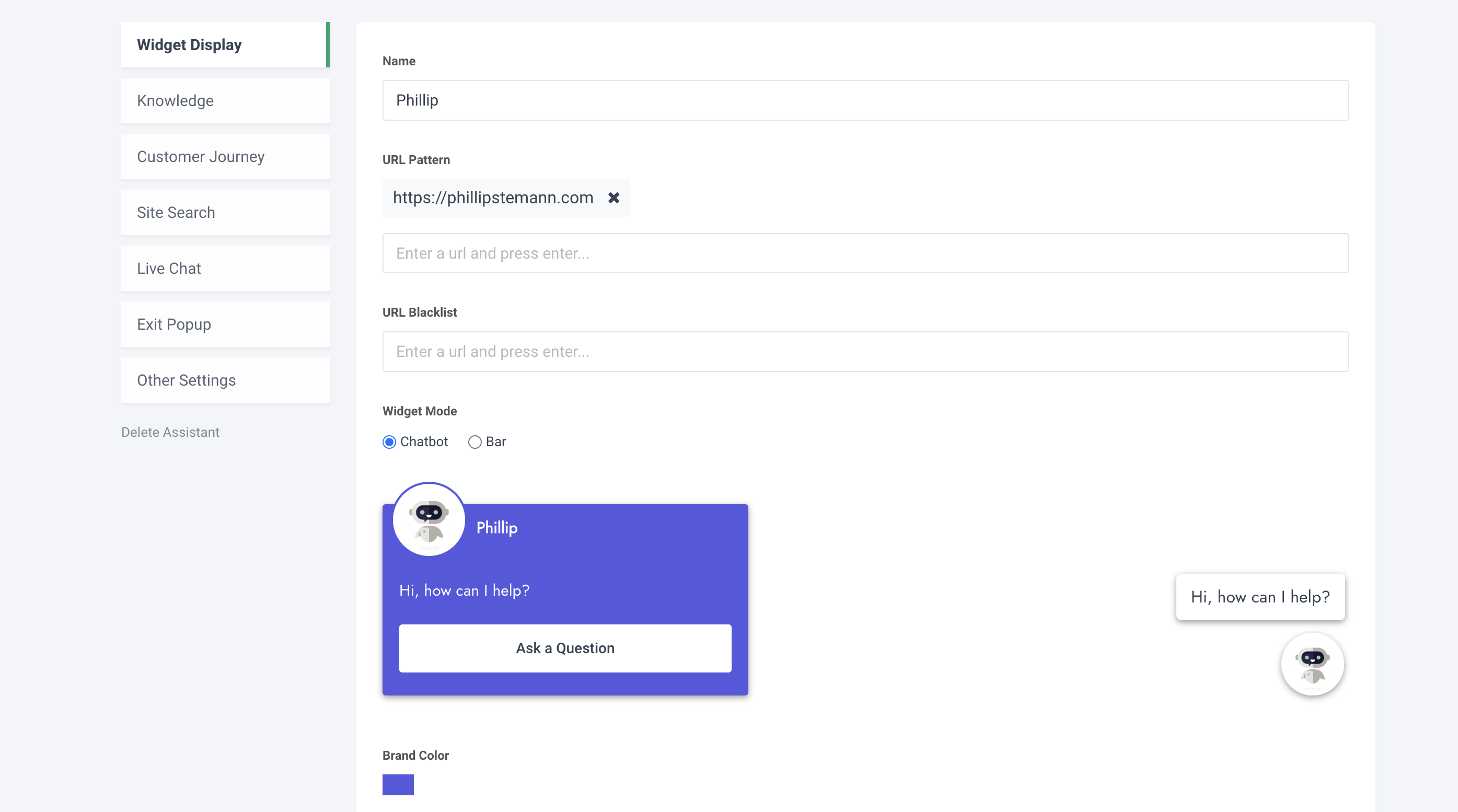 If you want to try it out, you need to create an assistant, which is super easy. And what I do like here is how much you can customise it. You can choose the look and feel of your chatbot, colours, fonts and much more.
You can change the following:
Widget display: How does the chat look like?
Knowledge: The dataset the chatbot is trained upon.
Customer Journey: Default chat messages and the option to build custom journeys.
Site Search: If you want to add specific links to the chatbot.
Live Chat: You can integrate into Tawk.to, Crisp, Drift, Intercom and many more to transfer the live chat.
Exit Popup: You can show the live chat on exit intent.
Other settings: Set specific messages, ensure GPDR, add CTA's and more.
So you can really customise the live chat to fit the design and feel of your website, but the most essential part of your live chat is the knowledge.
The dataset that your live chatbot is continuously trained upon. Let's get into that now.
Train Your Frase Assistant

The smarter your live chatbot is, the better of a user experience your visitors will get. And the first thing you'll do is to make Frase crawl your website.
There are 3 ways to crawl your website:
Enter your URL and let Frase find your content
Connect your Google Search Console
Import via Excel file
This is the first step in the training process so the Frase assistant can pull answers from your content. And no matter your content strategy, this is possible. The results, however, will vary.
But the good part is that every time the assistant gets a question it can't answer, it'll save that question, and you can then answer these questions manually and train the AI chatbot.
This will help it get smarter and be able to answer the question the next time.
What I did experience, though, is that I got new topic ideas based on the questions. These content ideas were plug-and-play and something I would've never considered in my content creation process.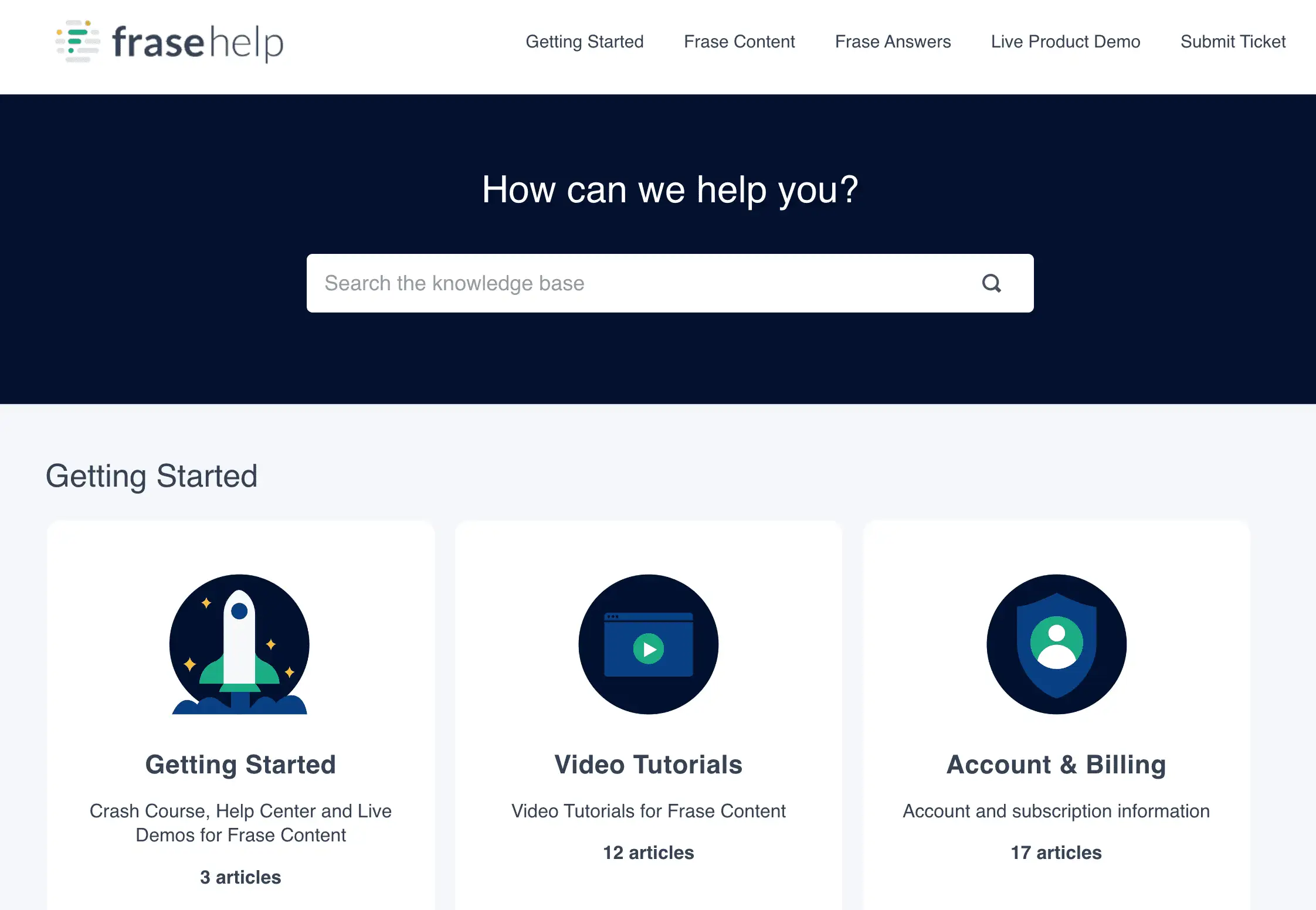 I find Frase's customer support to be decent, while they don't offer a live support, they have efficient alternatives including Email support and a great Facebook group in place to ensure you're supported in your journey.
In the dedicated Facebook Group, there is a great support team, and many users are always ready to help you. Alternatively, you can email them to get your questions answered by one of their dedicated team members.
Despite of fast response time writing to support becomes a last resort for impatient individuals like myself who prefer self-service solutions than writing to support and wait for a response, well frase offers a user-friendly help center for those seeking quick answers were you can find solutions for common problems, and it can be very useful at times.
While Frase is my go-to within content research, there are 2 other tools worth mentioning.
They're both great at content research and come close to Frase, and some of these tools might better fit your use case.
While Surfer SEO generates much better content using AI, I belive Frase has a much better content research module.
The combination of these tools are super powerful if you were to generate your content in Surfer SEO, and then move it to Frase to optimise it further, even though Surfer SEO has an NLP editor already.
Frase's content research is just much better.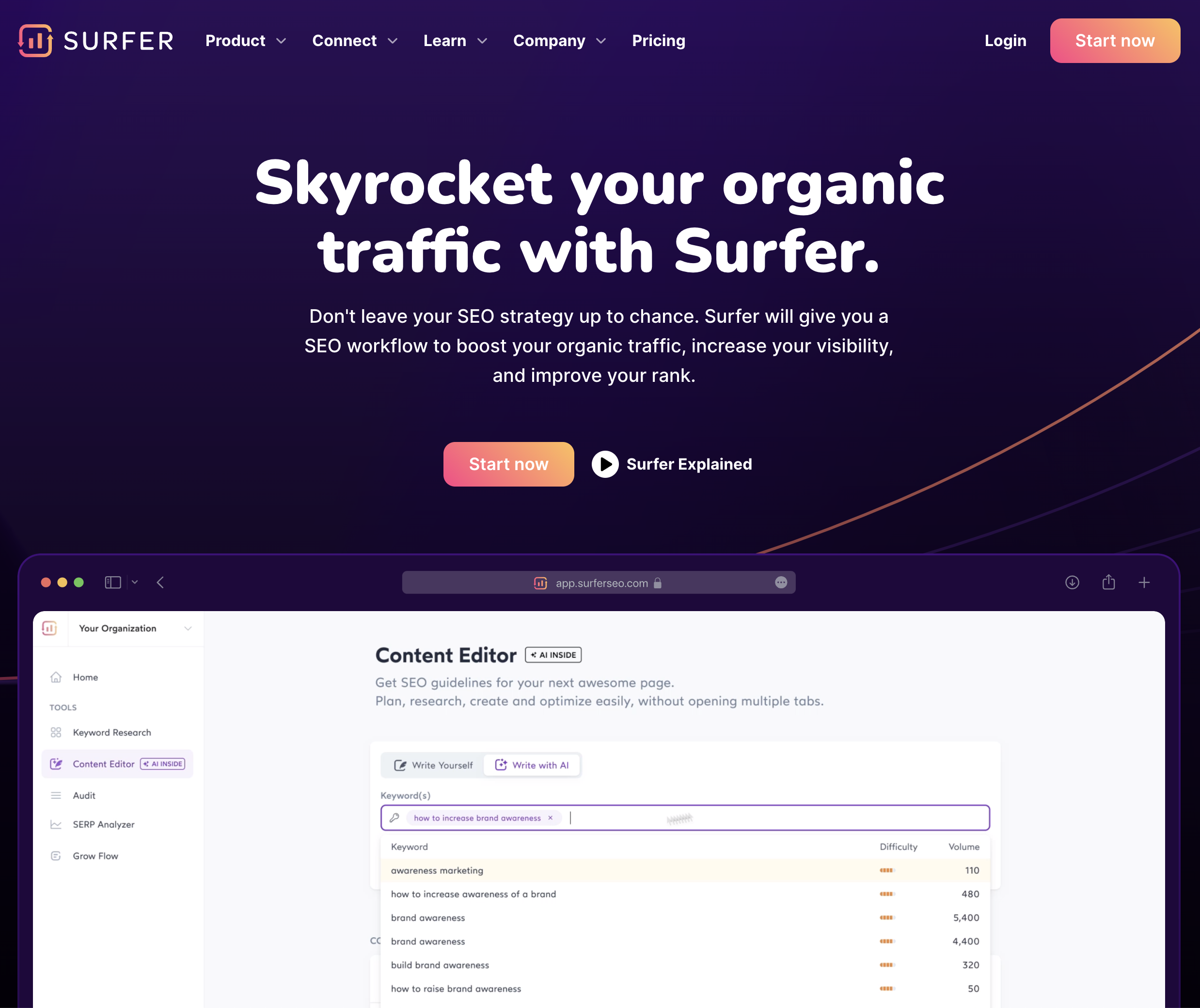 MarketMuse has no AI content generation, but they have a solid content research module, just like Frase.
I really enjoy using Marketmuse as a secondary content research tool to ensure I'm using all the right keywords and the right NLP keywords.
Marketmuse has an NLP-editor, just like Frase.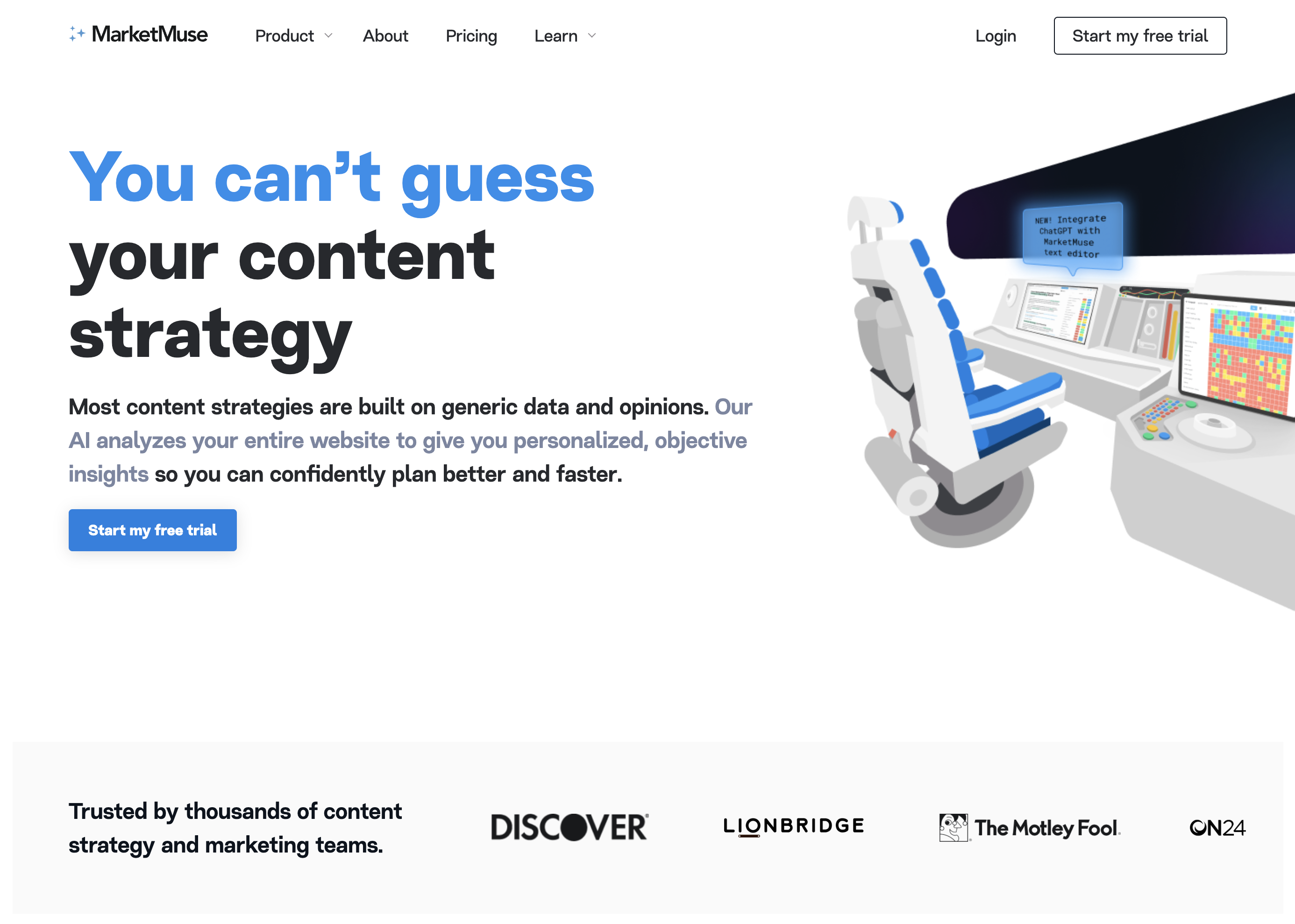 Wrap-Up: Is Frase Worth It?
Yes, Frase is worth it by miles.
I will, however, say their AI is not worth it at its current state compared to the alternatives.
The AI generates bland content, and you can get much better results with KoalaWriter or SurferSEO. If you want to watch a comparison video between Surfer SEO, KoalaWriter, and Frase AI, then you can do that here.
That said, their content research and content briefs are the best in class, and I continue to use Frase to this date.
I either write the content myself or generate it using KoalaWriter, and then I copy and paste it to Frase to optimize it further for the perfect topic score.
Frase is outstanding when it comes to thorough content research for a specific target keyword.
It covers all the areas from questions, SERP, competitor data, content gaps, and more. That's why I optimise my content with Frase.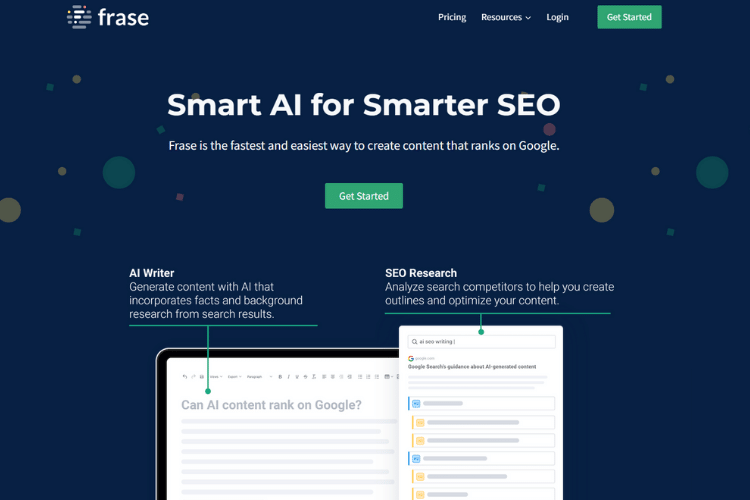 My favorite content research tool
Frase
Frase.io is my favourite SEO Content Analysis tool. The way they take so much data and boil it down to a beautiful visualistion is just outstanding.
Product Brand: Frase
Pros
Their content research is one of the best content optimization tools.
Their custom AI template builder is great for content creators.
Their content gap module helps you find ideas for content.
Their content editor is super easy to use and helps you write the right keywords.
Unlimited AI for $35 per month with the SEO Add-On.
Cons
The content generated from the AI is sometimes a bit bland.
They're using GPT 3.5 instead of GPT 4.