Keyword Tool is the best free keyword research tool I've tried. There, I said it.
Not only can you perform regular keyword research on Google, but you can do it on 13 different search engines in the same place. That was one of the big aha moments for me.
But enough teasing, let me show you how incredible Keywordtool is.
Key Takeaways Of Keyword Tool
Perform keyword research on 11 search engines at one time.
Get search volume for multiple keywords at once.
Get full keyword datasets if you sign up for the pro plan.
Pros And Cons Using Keyword Tool
After using Keyword Tool and testing it to find low-competition long-tail keywords, I want to share my pros and cons.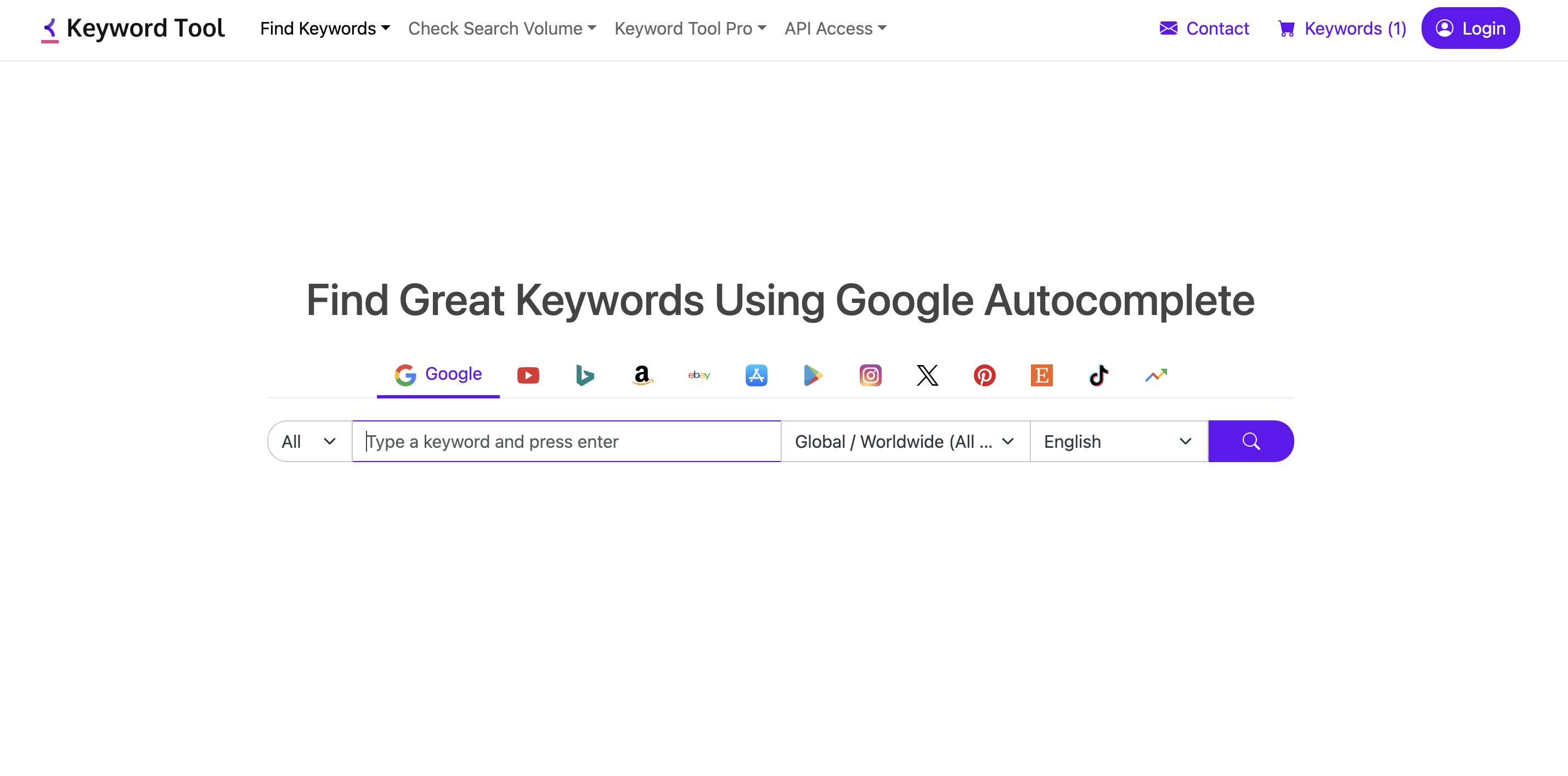 Keyword research completely free
Keyword Tool is incredible because of the value it offers entirely free, and you just have to use it.
If you like it, then you can always upgrade, but you get hundreds of keywords without even having to sign up.
Get actionable SEO tips in your inbox
Join 700+ other SEO enthusiasts to receive an SEO tool review from my YouTube channel weekly, which I'll share with you.
And on top of that, an actionable SEO tip every week.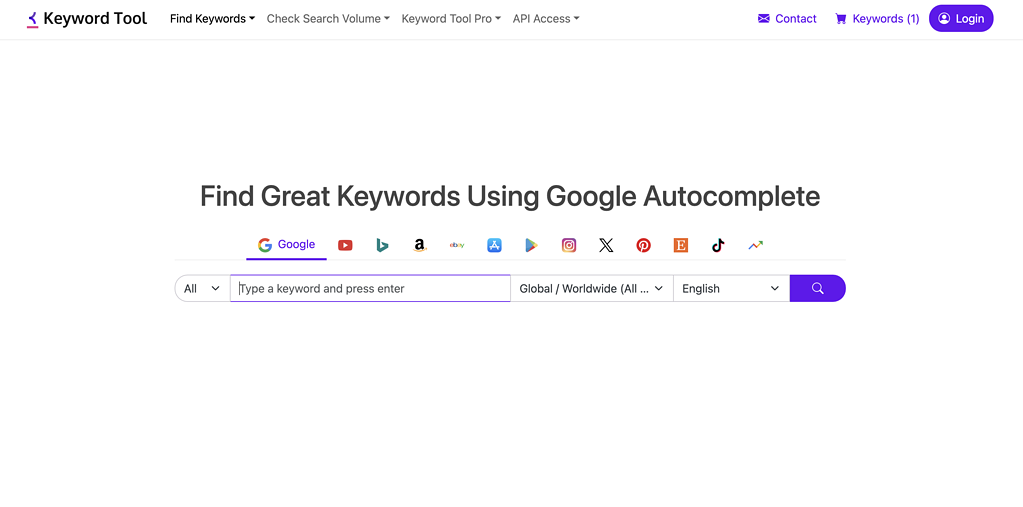 Keyword Tool is an entirely free keyword research tool to use, where you can find keywords in 11 different search engines.
It's quite incredible how much value they just give away, but of course, it does have some limitations.
You often only get full data on the first 5-10 keywords; it really depends on the keyword you're researching, but that doesn't stop Keyword Tool from giving you a bunch of keywords.
I've tried using it combined with another keyword research tool I'm already paying for, simply copying and pasting the keywords over to check search volume and so on.
It's a great ideation tool to find keyword ideas you would've never considered.
Keyword Tool Review Features
Now, to the exciting part: let's try and run keyword research on Google, YouTube and even Google Trends and see the results while I share my thoughts.
Keyword Research In 11+2 Search Engines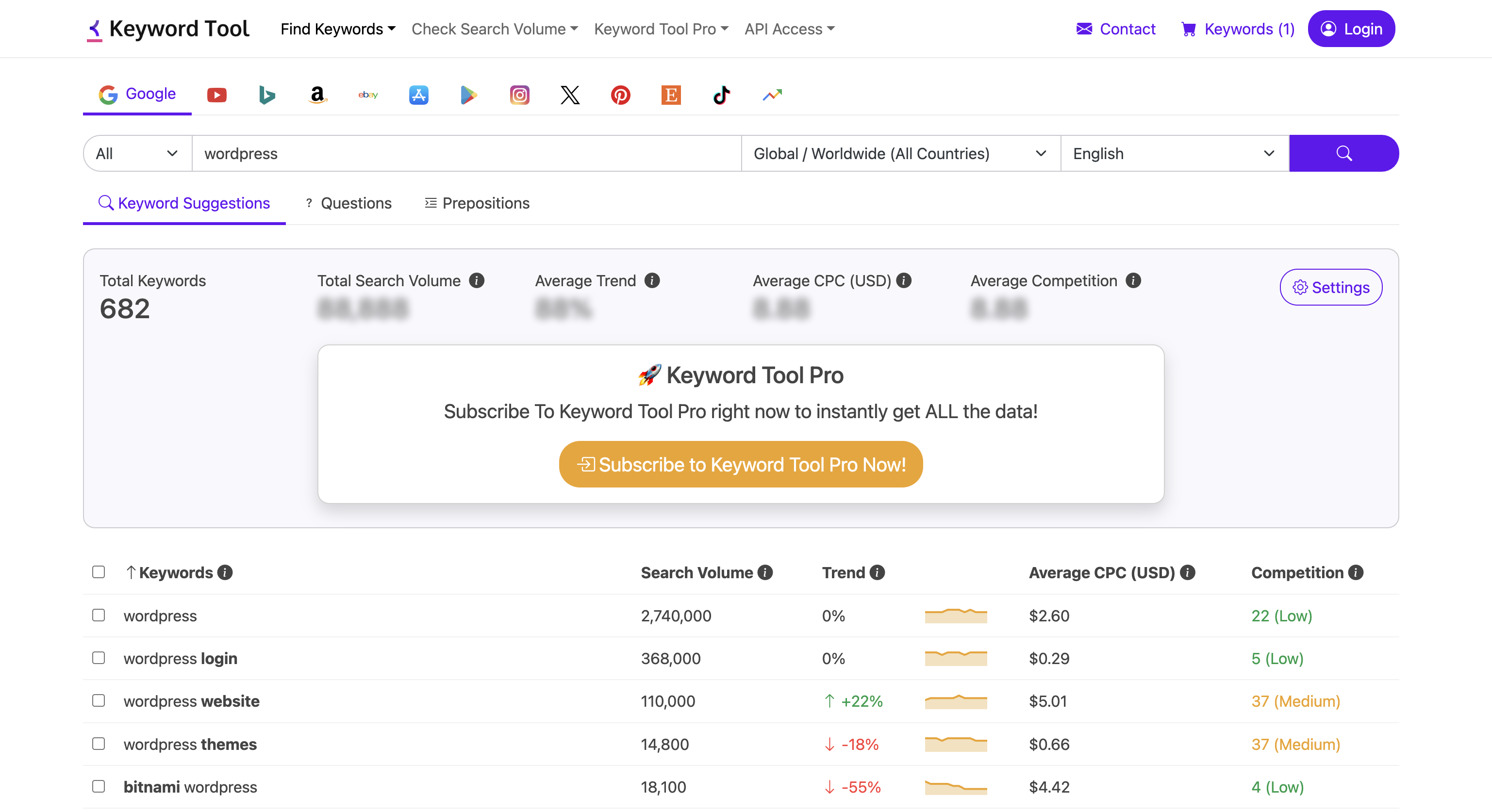 This is the feature you'll use most to find long-tail keywords at ease.
Even though you don't get a full dataset on all keywords, you still get many keywords which you can either choose to pursue or check the SERP to see whether it's worth pursuing or not.
By entering a seed keyword, you get a bunch of relevant keywords which are closely related to your seed keyword. All the keyword phrases can easily be exported by copying and pasting the data into Google Sheets.
I haven't seen there is a limit on the number of requests per day, so as far as I know, you can use it as much as you want to find relevant keywords, and I think it's incredible.
You get so many keywords entirely free, much better than using Google Keyword Planner, in my opinion.
Yes, I know Google Keyword Planner is also free, but Google Keyword Planner doesn't return nearly as many keywords as Keyword Tool.
And again, with Keyword Tool Pro, you just get even more data, so overall, it's really an incredible amount of value you get.
That's only for using Google to find keyword suggestions, and they have a total of 11 search engines.
They support the following search engines and social media:
Google
YouTube
Bing
Amazon
eBay
Apple App Store
Google Play Store
Instagram
X (Twitter)
Pinterest
Etsy
TikTok
Google Trends
Yes, on the list, there are 13, but I don't consider X(Twitter) and TikTok as search engines, even though TikTok is slowly turning into a search engine.
Overall, the Keyword Tool returns so much great data on all sources.
X(Twitter) is primarily hashtags and the same for Instagram.
What I really like about Google Trends is that it offers you the ability to get more results than if you used it directly; you just get more data.
Check Search Volume On Keywords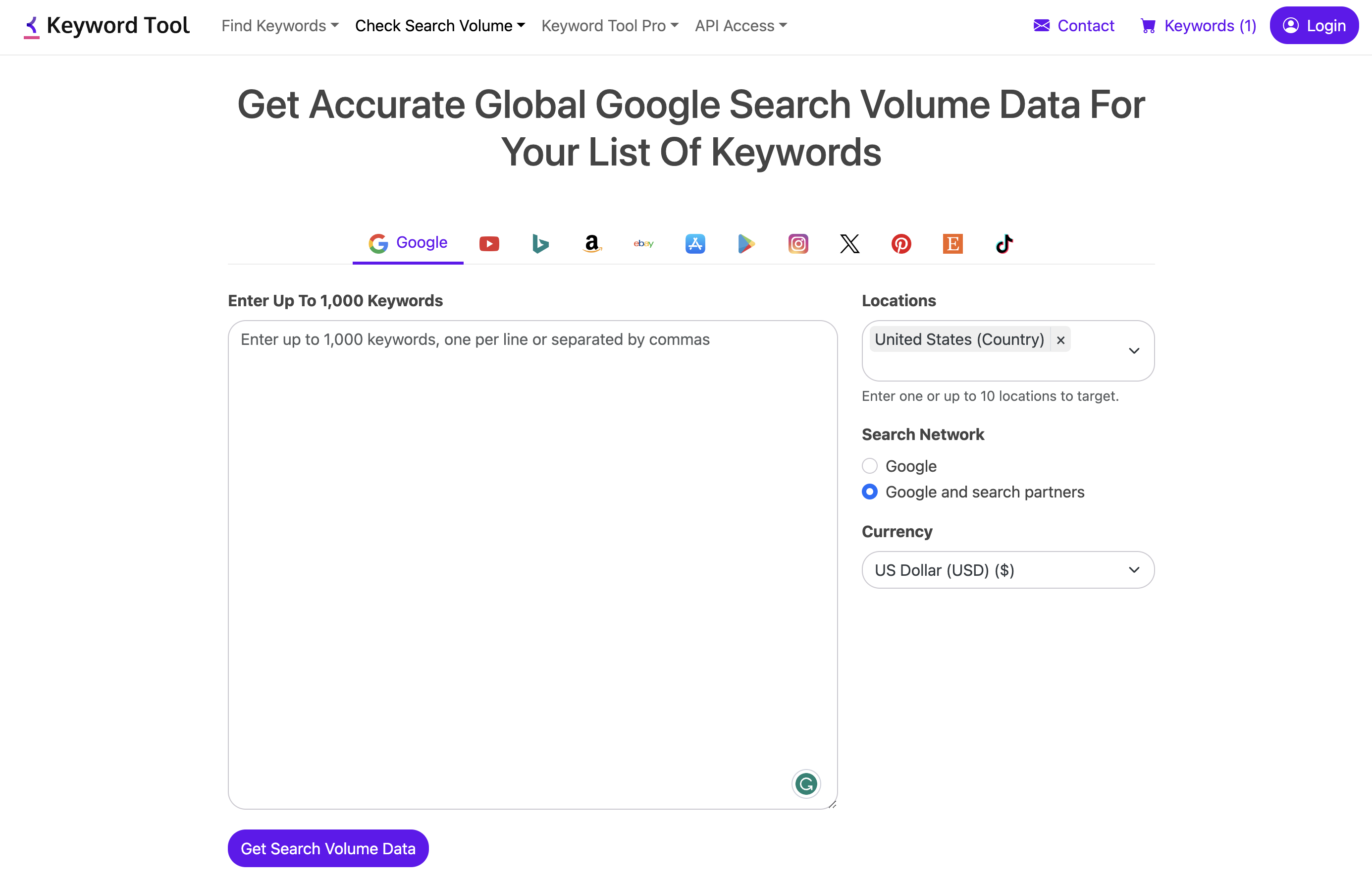 With Keyword Tool, you can check search volume on up to 1000 keywords, but it does require the pro plan.
With the basic plan within the pro-environment, you get access to accurate search volume data and twice as many keywords when you use the tool for keyword research to find long-tail keywords.
You can see individual search volume for the keywords when you run normal keyword research, but you can also run a bulk search volume analysis, as shown in the image.
So overall, with Keyword Tool Pro, you get what you get with the free plan. You just get access to more data, more keywords, 1 user account and the ability to save your searches.
Alternatives To Keyword Tool
There isn't a keyword research tool that comes close to offering all this value for free in the SEO industry, but I've found 2 anyway.
LowFruits does actually offer you a couple of keyword research reports for free per month, and they're good.
It's no secret that LowFruits is one of my favourite keyword research tools as it finds so many keywords using Google Autosuggest.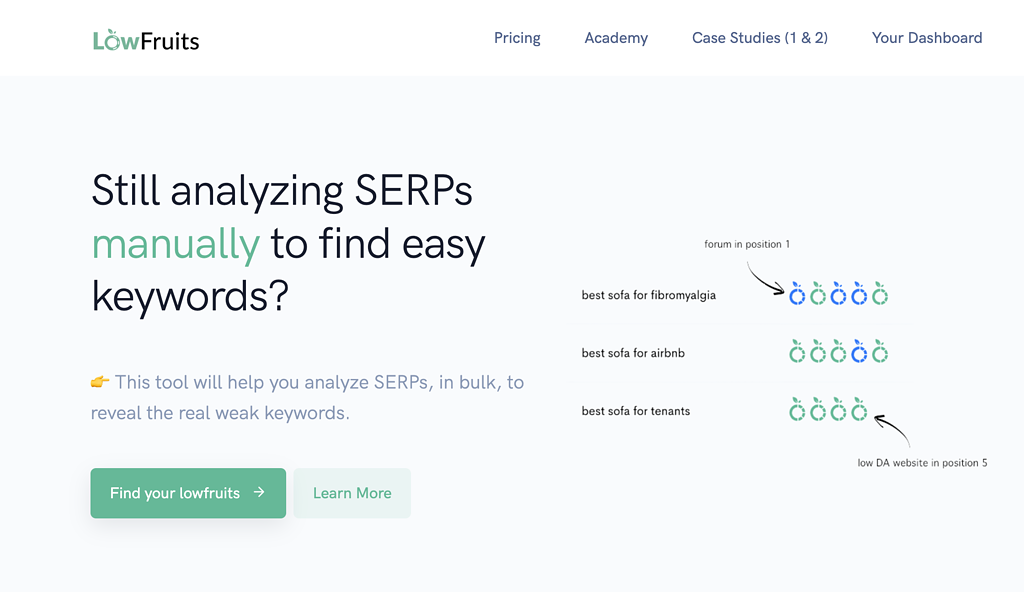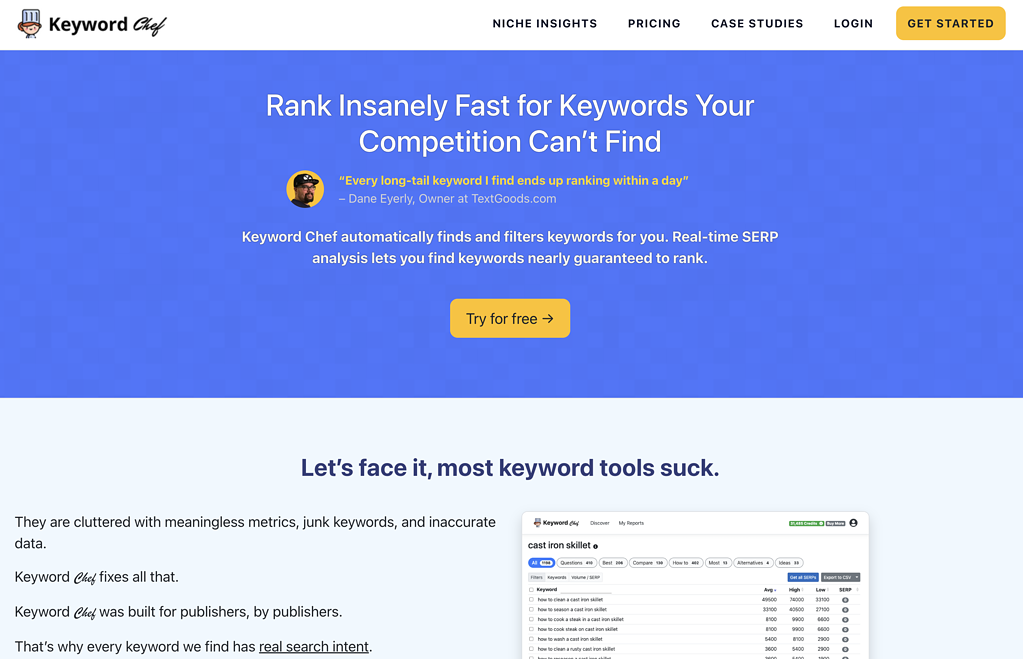 Keyword Chef is just like LowFruits, and you get a couple of reports per month entirely free.
I did find my case that I found more keywords using LowFruits, but Keyword Chef has a collection of niches to help you pursue the right niche.
Who Is Keyword Tool Made For?
Keyword Tool is made for people who create content and want it to rank on Google. The reason is that you get so many keywords you can easily rank for. You just have to pursue them.
And everything starts with a keyword, so that's why it's great to start with Keyword Tool.
Find many keywords, crosscheck them to ensure they're worth pursuing and then write your content.
It's that simple: you just need to set time aside to get it done, and you'll see the results in the end.
Wrap-Up: Is Keyword Tool Worth It?
Yes, Keyword Tool is worth it, both the free version and the paid version.
With the free version, you can easily get hundreds of keyword ideas, and then you can manually Google them to see whether they're worth pursuing or not.
With the pro plan, you get a full dataset on every single keyword, and you can run bulk searches and much more.
My absolute favourite thing with Keyword Tool is that I can perform keyword research in 11+2 different search engines in one place. How amazing is that?
So, to sum up, I strongly recommend you try Keyword Tool. It's incredible.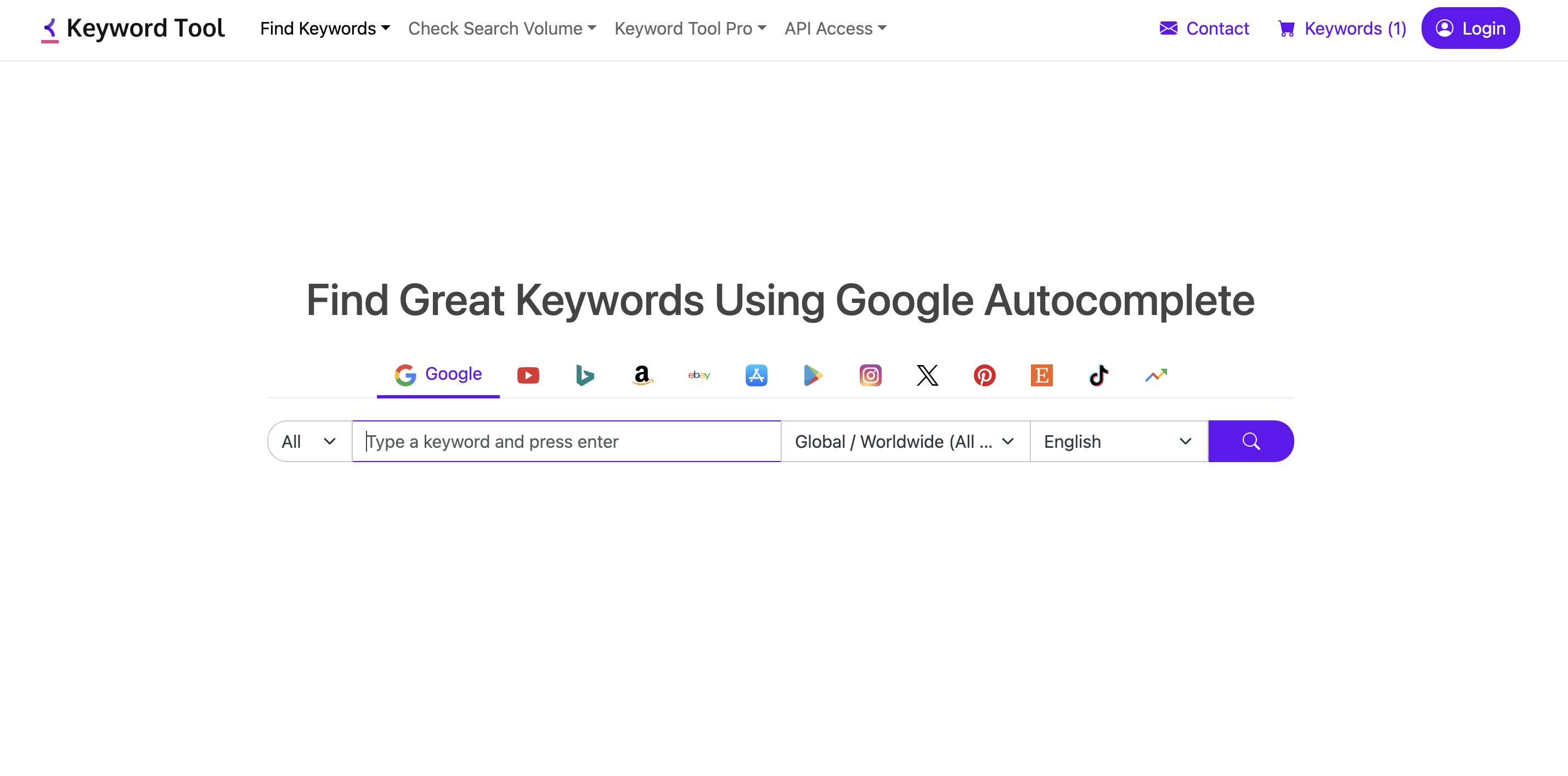 For me, Keyword Tool is worth every penny of upgrading as you can perform keyword research in so many search engines in one place.
You not only save money, but you also save time as well, and you get a much better output to pursue your content strategy.
Keyword Tool Review: Best Free SEO Keyword Research Tool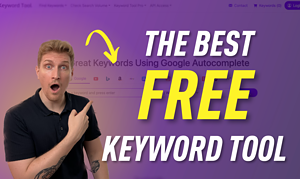 Keyword Tool is an entirely free keyword research tool you can use to research keywords in 11+2 search engines in one place, it's incredible.
Application Category: Marketing
Pros
Getting hundreds of keywords are entirely free.
11+2 search engines with one tool.
Changing between the search engines keeps your search and gives you results fast.
Cons
You only get full information on a few keywords, which makes sense as they don't earn anything from that.
You can't export the keywords only by marking them all, copying and pasting.