Bramework is an AI Copywriting tool made for bloggers, but as long as you're looking for a tool to create content for your website blog, then Bramework is the perfect tool.
You start with a keyword, generate a title, an outline and then the entire blog post in less than 2 minutes, and from there, you improve it.
They have a lot of interesting aspects, so let's get into it.
Generate an entire blog post based on research in less than 2 minutes.
Use the AI Chat for ideation for blog post titles, introductions or how to improve your blog post further.
Run the plagiarism checker to ensure your long-form content is unique and ready to rank in the search engines.
Pros And Cons Using Bramework
I used Bramework for the first time back at the beginning of 2022, and a lot has happened since then, so let me share my pros and cons of using Bramework.
Generate an entire blog post in one click
Bramework is the AI copywriting tool for bloggers, and it has been customised for your needs.
Whether you're a blogger or creating content for the blog on your website, you can benefit from Bramework's AI features.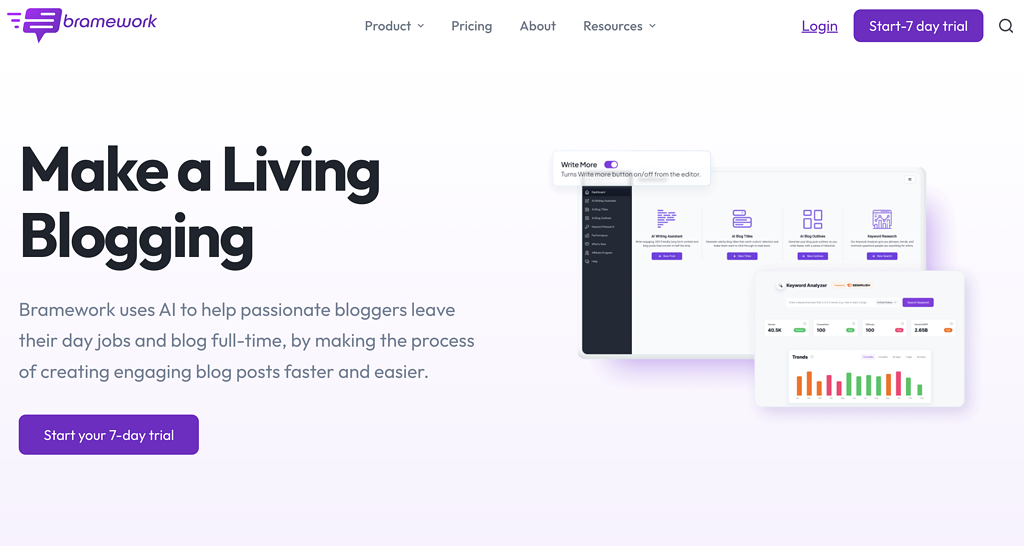 Bramework is, to put it simply, an AI copywriting tool made for bloggers or for people who create content for the blog on their website.
Bramework uses artificial intelligence to generate high-quality content for your articles but also for the chat, which works perfectly for ideation.
With Bramework you can start with a keyword, run it through the keyword research tool, which is powered by Semrush, then generate a title and an outline, and lastly, the content for your blog post.
That's what Bramework is all about, and when your content piece is ready, and you have optimised the SEO score, then you can run the plagiarism checker and publish it directly to your WordPress website.
Get actionable SEO tips in your inbox
Join 700+ other SEO enthusiasts to receive an SEO tool review from my YouTube channel weekly, which I'll share with you.
And on top of that, an actionable SEO tip every week.
Bramework Review Features
Now let's get into how Bramework uses artificial intelligence and how you can utilise it to generate high-quality content and ensure the content is unique.
Let's start with the most exciting feature, the 1-click blog post generator.
Writing Assistant: Where You Write Blog Posts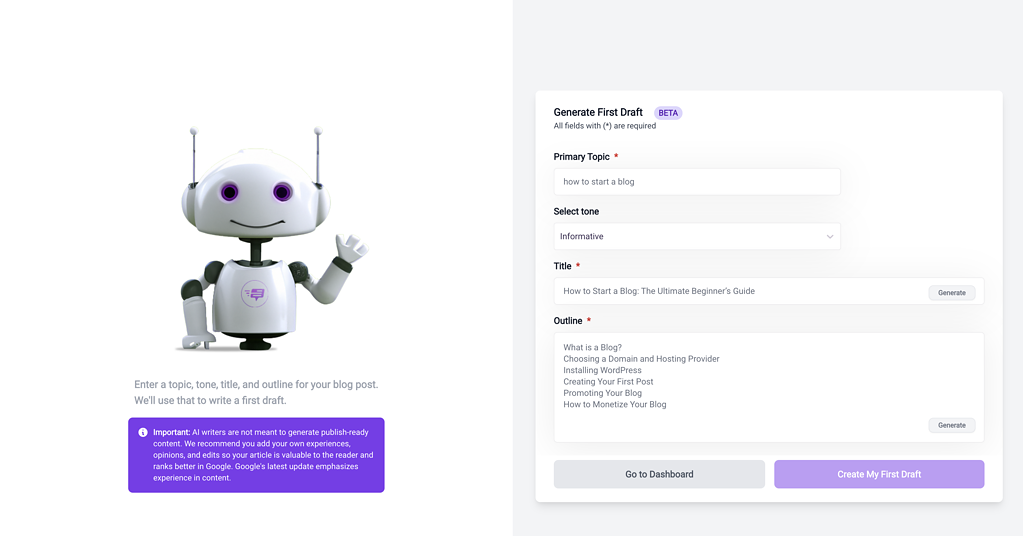 When you want to generate an article, all you have to do is to add your target keyword, and then you can, in theory, use AI tools to generate your title and your outline.
But before we move on to my test, then I just want to give them some positive points for mentioning that AI content is never just clicked and published. You always have to add your own experience and touch to the article.
I tried the keyword: best SEO tools. I then wrote my own heading and generated an outline using AI.
I was fairly satisfied with the results. It did add 8 tools and a conclusion, but not more than that.
I would add at least a section with key takeaways and a "buyer's guide" to highlight what's important when choosing an SEO tool.
I did, however, wish that it used more data from the SERP, such as word count and what headings to include, but it was still decent.
So based on my testing, we were off to a decent start.
When your high-quality content is generated, you'll enter the editor where you can enrich your content.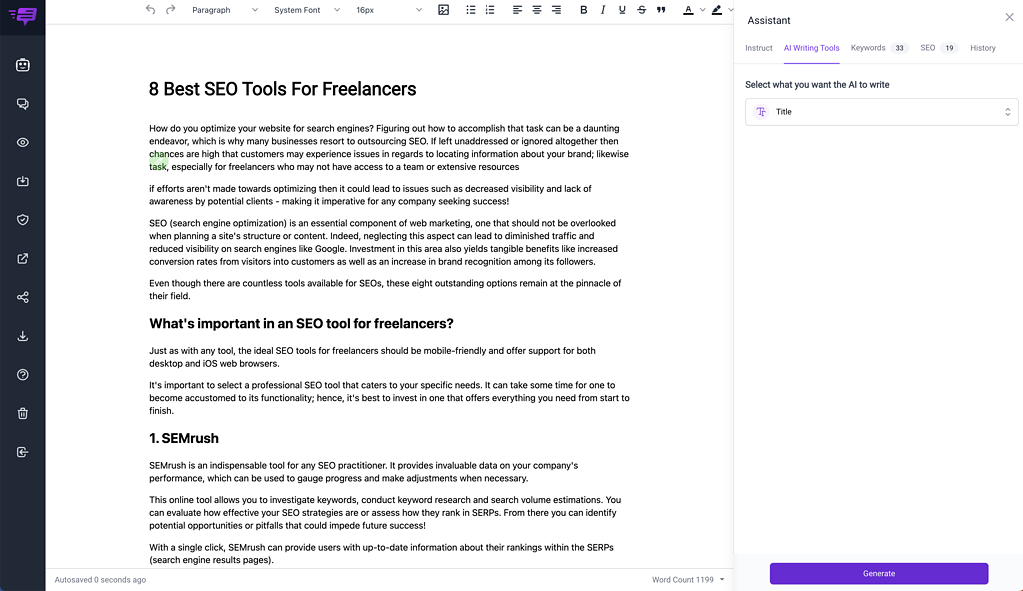 So just to comment on the content itself, it's okay. It's not the best I've seen, but not the worst either.
It would be so awesome if it could add images below the suggestions, and then the introduction is just way too long.
I usually keep the introduction to a maximum of 3 short paragraphs, which needs to be engaging.
But in the editor, you have many great options to improve your content by using the AI assistant.
You can use the Bramework AI chat for ideation, whether it's to create new content or to improve your existing content.
You can also run a plagiarism check on your content to ensure it's unique.
You have the option to share your blog post for others to give feedback or publish it directly on your WordPress website using the WordPress plugin.
But let's dive into the 3 major modules, the AI assistant, AT chat and plagiarism feature.
AI Assistant: Improve Your Blog Post
The AI Assistant is what you see in the image above on the right. Here, you have multiple options to improve your content.
You can see your target keyword, set the content output length, set the tone and set additional keywords. You can also instruct the AI to include specific paragraphs.
On the next tab, you have some Bramework AI writing tools to enhance your content.
You can work with the following tools:
Title generator
Intro & Outline generator
Paragraph
Command
Rephrase
Summarise
Steps
Listicle
So all these give you the option to add more content to your content piece, basically like using a writing assistant.
In the keywords tab, you get an overview of your related keywords, secondary keywords, questions to include, and the top-ranking posts.
This is like a minor research overview, and it works great if you want to ensure you answer questions people actually ask in the SERP.
Sometimes the questions also work as content ideas for completely new pieces of content. So it becomes a powerful tool to use.
In the SEO tab, you get many great suggestions on how to improve your content technically.
You're measured on 8 points on how to improve and given a score on how well you're doing.
And this is everything from remembering internal links and external links to adding your keyword in the title and in the introduction.
Lastly, the history tab is to see your historical changes, and here you have the option to always go back in time to a previous option. It's a minor feature but important as well.
AI Chat: Research Your Topic
The AI Chat is on the right as well, and I won't go too in-depth with this, as I'll elaborate on it later.
But this you can use for keyword ideas and even content generation. The only problem is that it's not based on your content.
So when you ask it questions, then it's generic answers you get.
If you want the answers to be related to your article, then you have to include your article in the question you ask by copying and pasting your content.
Plagiarism Check: Ensure the AI Content Isn't Duplicate
The plagiarism checker works super simple, and it works well.
You just mark the text you want to check, and then you run the plagiarism.
The only minor issue I have is that the plagiarism checker only covers 10% of the words I can generate with my plan.
AI Chat: Perfect For Content Ideation And Analysis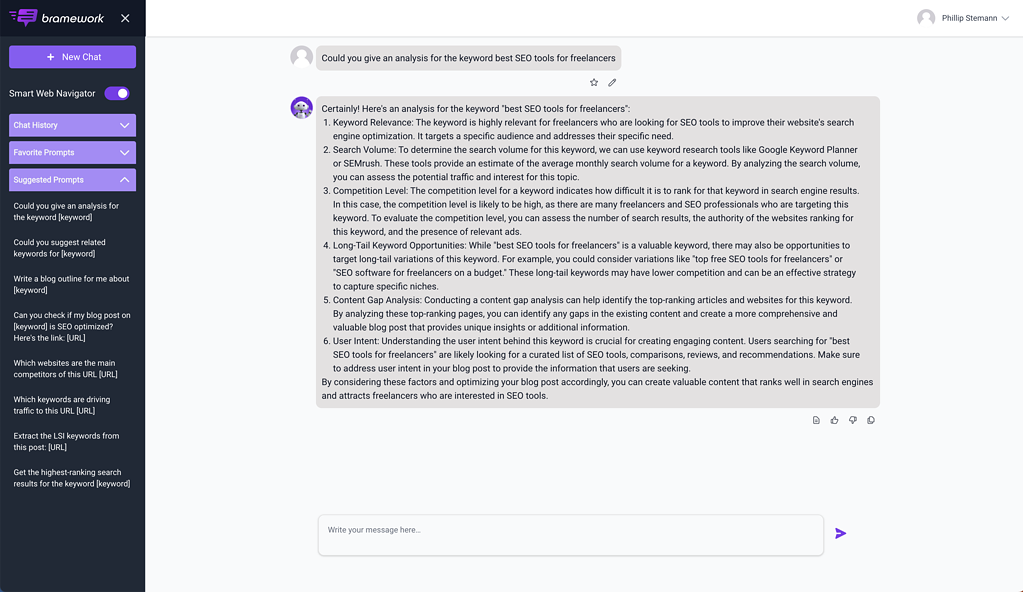 When I first saw the AI chat, I thought it was closely connected to ChatGPT, and it has a lot of the same features but also offers a bit more.
First off, you can ask it anything you need, whether it's for content marketing or you need content for content writers.
You can also use it for keyword research to find relevant keywords for your niche. The options are endless. And by default, you only have data up until 2021.
However, you can enable the smart web navigator to get real-time data from the web, analyse keywords and much more.
This is definitely a unique feature, and it's awesome for keyword research as well.
On top of this, then, you have a wide range of pre-built templates underneath in the sidebar that you can click and use.
It works very well, and you just have to be specific. Otherwise, it'll offer you a wide range of answers that you can't use for much.
Lastly, you can also use it for any type of content generation, whether you want blog post title ideas, sections of content or even outlines.
However, they do also have dedicated tools for this, so let's test those.
Blog Titles: Generate Engaging Titles For Your Blog Posts
The blog title generator is great because it's trained only to output the best possible blog titles.
This means it knows these titles will perform well in the SERP and increase your CTR.
You can also try to take some of your current blog posts and optimise the titles using this plugin.
Overall, then I like this. It works well and outputs decent titles.
Sometimes I wish to have more control, and it would be great to be able to tell whether the content is a listicle, informational article or something third to point the title in the right direction.
Another thing is that if you're producing content at scale, then having to generate blog titles one by one is a bit time-consuming.
Blog Outlines: Get A Researched Outline For Your Blog Post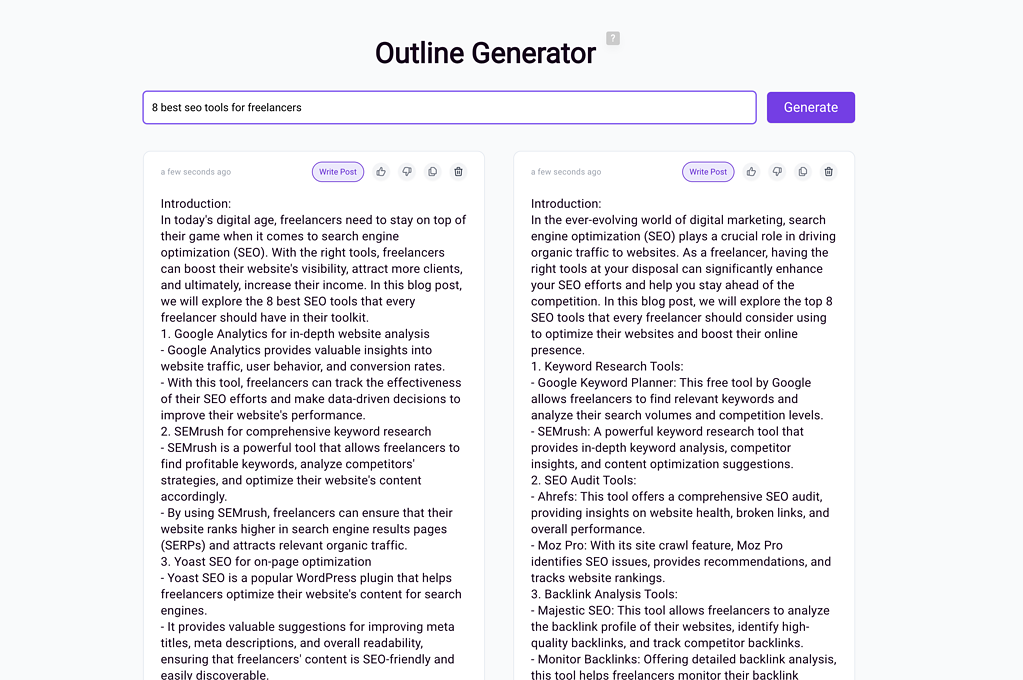 The outline generator is to generate outlines based on your keyword. So I tested with the keyword: 8 best SEO tools for freelancers.
And I didn't expect this output, but it's still usable.
I expected the same output as in the 1-click first draft function where you just get the headlines, but here you get headlines, including writing points.
And it's actually great with writing points, and the only thing is that it's a bit messy the way it's presented, so that could be done better.
Other than that, then, it's a great start. From here, you can start writing your blog post.
Keyword Research: Analyse Your Keyword Before Start Writing
The keyword research module is more about analysing a single keyword than finding low-competition keywords to write long-form blog posts for.
So the best you can do is to use a tool like LowFruits. You can watch my LowFruits review and then find interesting keywords, and as soon as you have a keyword, then run it through the Bramework keyword analyser and start writing a blog post.
The keyword analyser is powered by Semrush, where they've built an integration that works decently.
For each keyword you analyse, you get the following data points:
Search volume
Competition
Difficulty
Results/SERP
Trends
Keyword Ideas
Top Questions People Ask
Top 10 Ranking Posts
I did find that sometimes when you go very niche, then you don't get a lot of data, but nevertheless, it's still a great starting point.
Bramework WordPress Integration: Publish To WordPress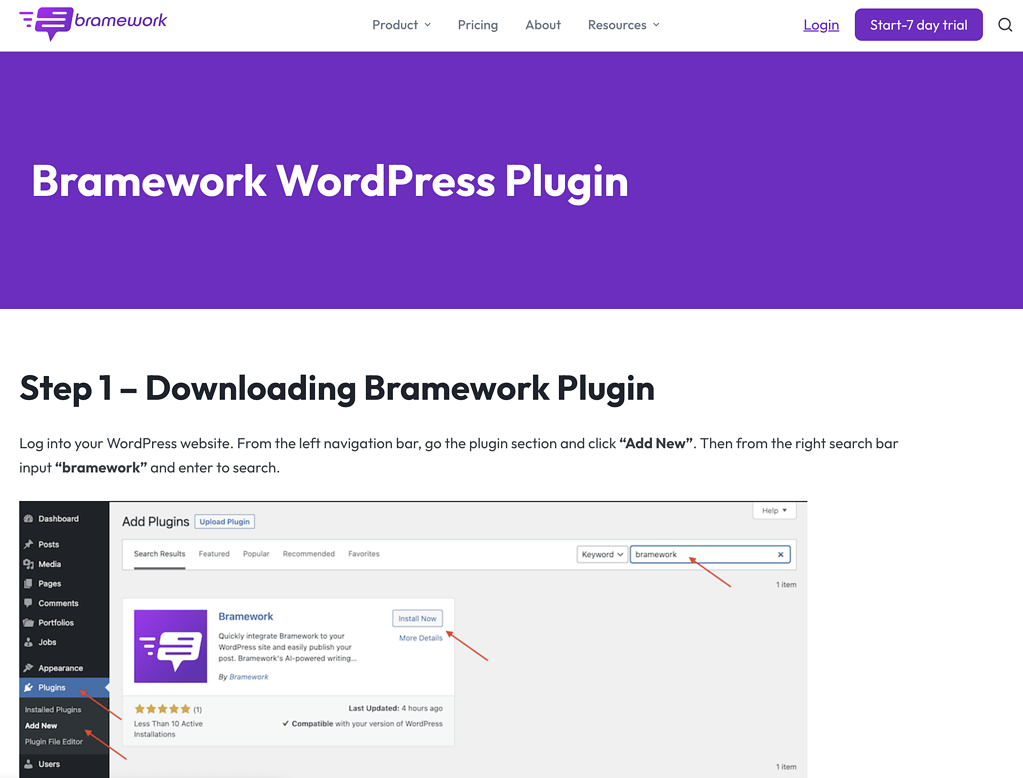 Yes, Bramework has developed a WordPress plugin as well, but it's super simple and only serves one purpose.
You integrate your Bramework account with your WordPress website, and then you can publish from the editor in Bramework directly to Bramework.
For each article, you can choose:
Author
Category
Publish status
WordPress website
You can easily connect to multiple WordPress websites. But what would make this plugin better was to have the functionality in WordPress.
Imagine a scenario where you want to optimise an old blog post, and then you could run the Bramework plugin in WordPress, run keyword research, generate content and much more.
Alternatives To Bramework
Bramework is solely made for bloggers who in some sense, are also content creators. If you're creating blog posts, then Bramework is the perfect AI Copywriting tool for you.
But there are different tools as well.
Frase is my favourite content research module, and I usually write my content here before I take it to another SEO tool to optimise it further.
Frase does not have an AI chat and doesn't offer keyword research as well in the same sense as Bramework.
That said, the content research Frase offers is the best I've seen and continue to be so.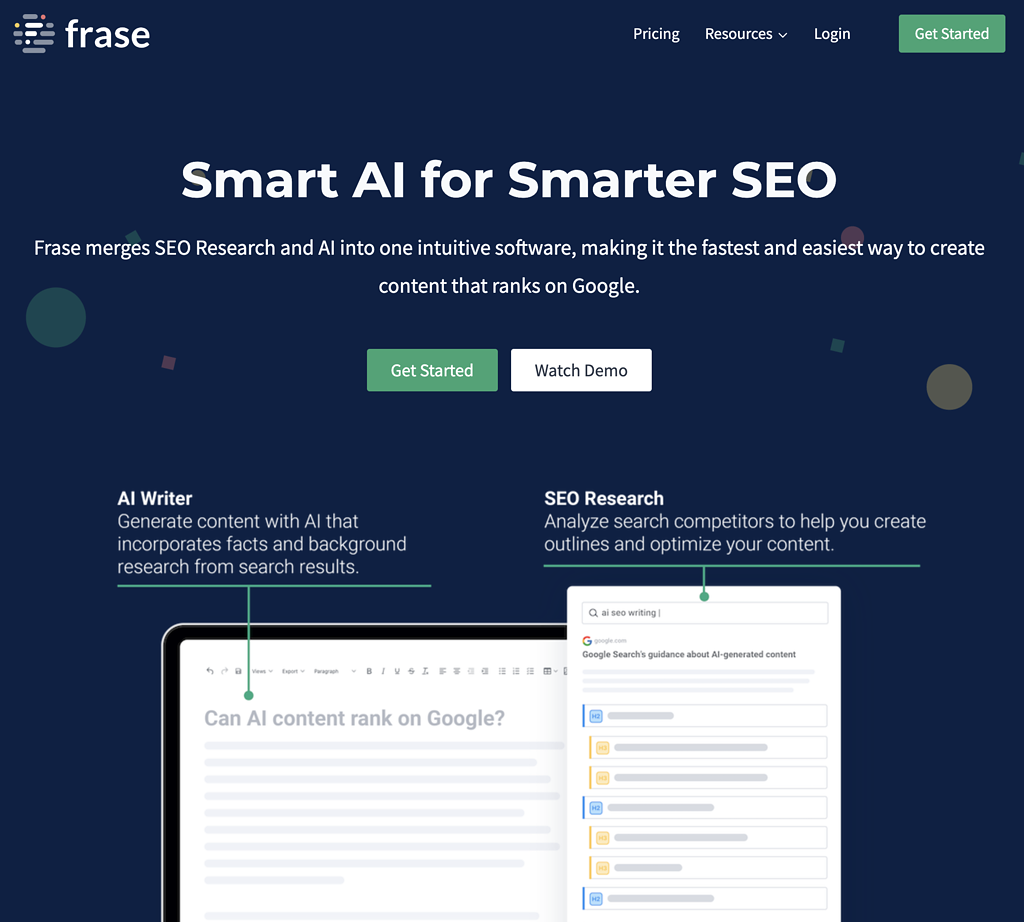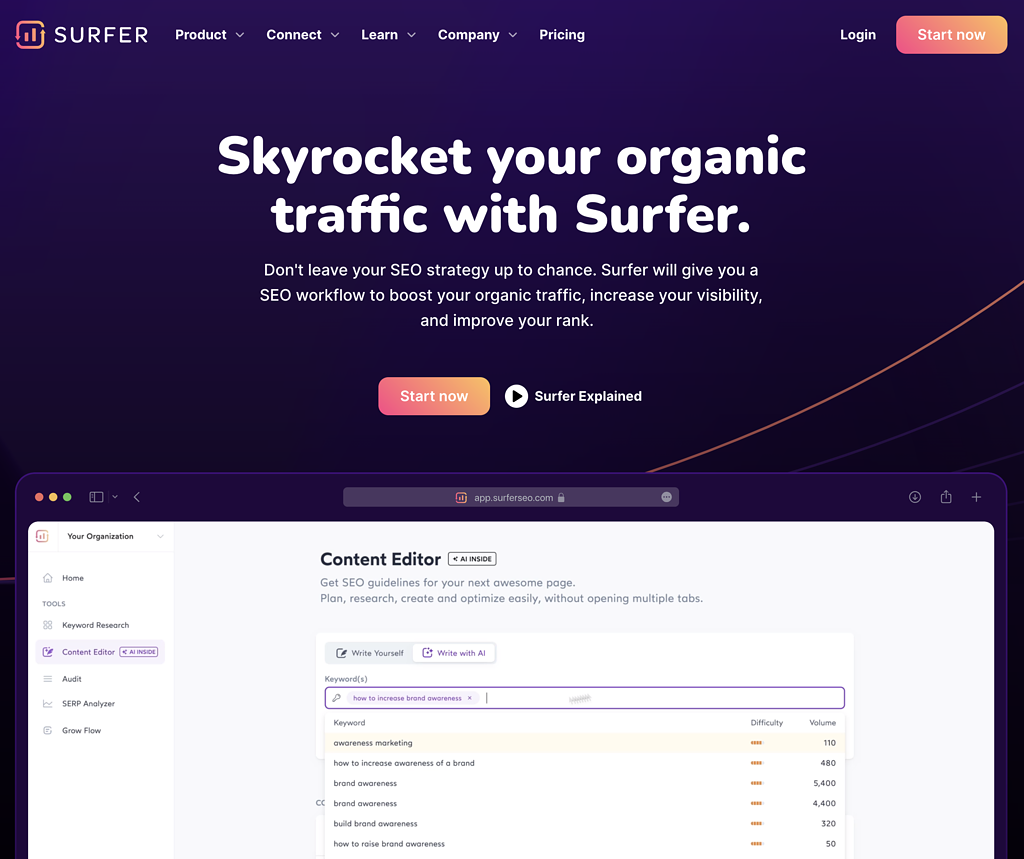 Surfer SEO has released their AI as well, built on top of GPT-4, and it works great for informational articles.
Surfer SEO does not have an AI chat you can use for ideation, but they do have more SEO modules for research.
The keyword research within Surfer SEO is much broader than with Bramework.
MarketMuse is a super premium content research tool perfect for content creators.
They have many of the same features as Bramework, and I'll say that the content research is a bit better.
However, MarketMuse doesn't have an AI chat, which you can use for research and ideation.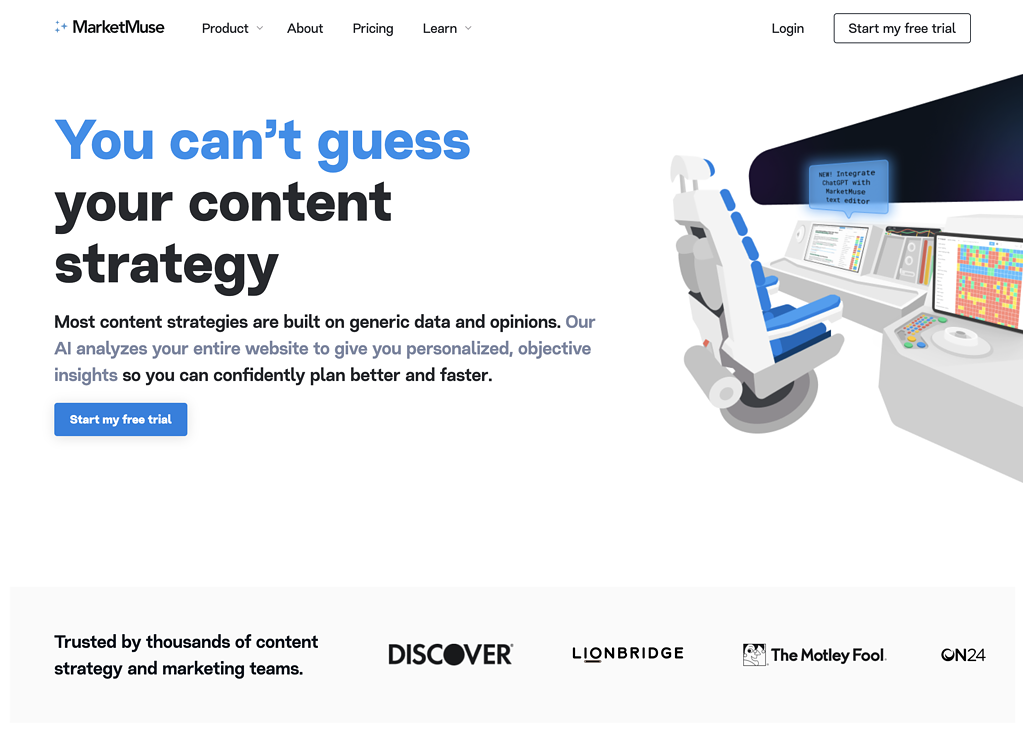 Who Is Bramework Made For?
Bramework is made for bloggers and content creators who wants to create content for their blog on their websites.
If you work in a team, then Bramework also supports multiple user seats, and your billing plan defines the user seats.
Bramework lets you up your blogging game with the Bramework AI to ensure your content is fully optimised for additional keywords and the right keyword density.
With each article you write, you get an analysis from the SEO assistant module, where you can see your primary keyword and what you need to do in order to optimise your article to its fullest potential.
It's like having an SEO assistant sitting with you while you write your content. It works very well.
Wrap-Up: Is Bramework Worth It?
Yes, Bramework is worth it if you're churning out a lot of content.
Starting at $29 per month, you can generate content with 100.000 words and check the plagiarism on 10.000 words. You get 2 user seats and access to the AI chat as well.
Bramework uses artificial intelligence in many aspects, and this helps you save time when you're working on content for your website, and this is what you need to compare it to.
If you believe Bramework will save you more time, worth $29, then Bramework is worth it for you.
However, if you believe you'll end up spending more time or not save that much time, then don't go with Bramework. You can look into some of the alternatives mentioned above.
Optimise your content with Bramework
Bramework offers many great AI modules, but they also have an SEO optimisation module that tells you what keywords to include and basic SEO knowledge.
If you're writing content for your blog and you're looking to speed up the process, then try out Bramework.
Bramework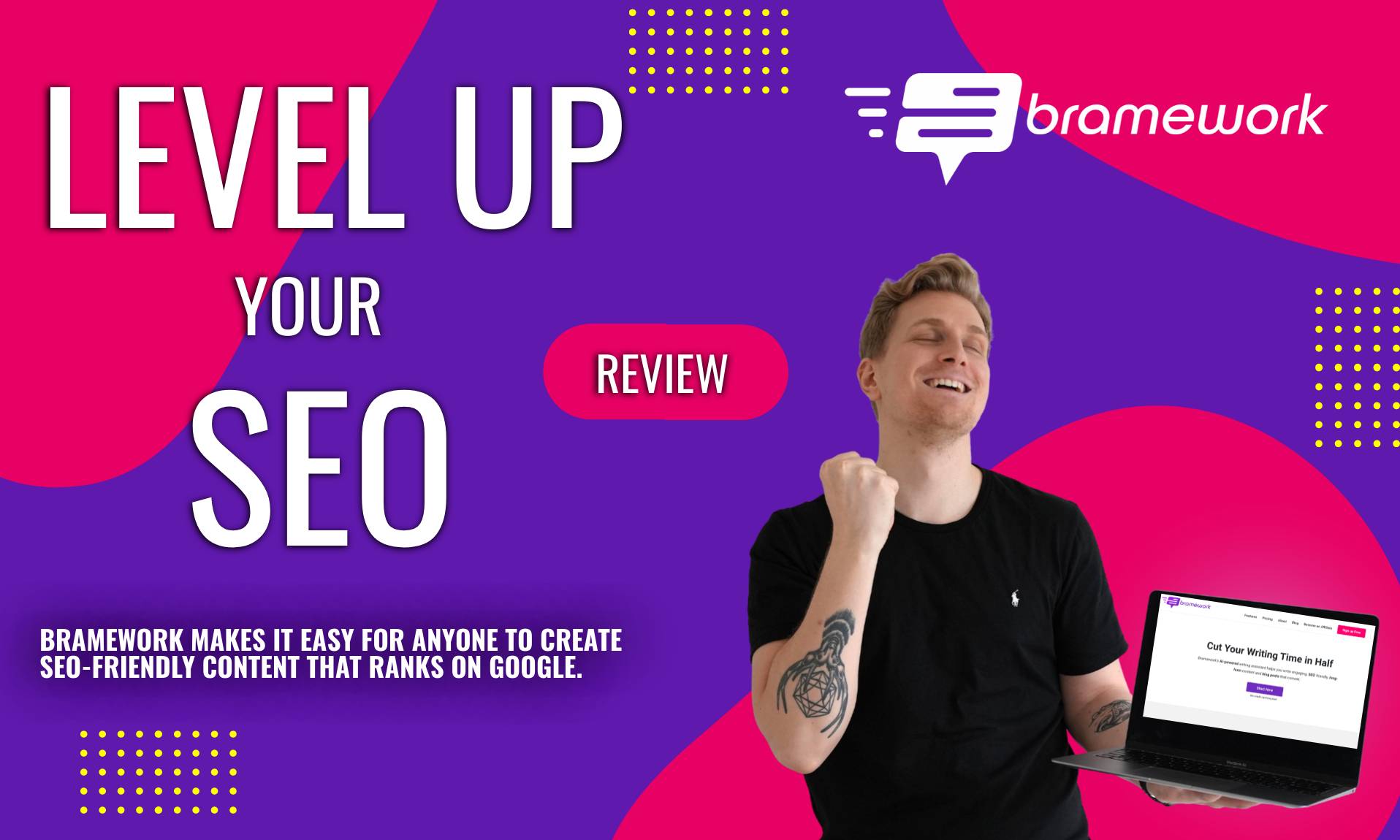 With Bramework you can turn a search phrase into an article without writing a single word. Check out my Bramework review.
Pros
You can easily generate an article based on thorough research in less than 2 minutes.
The AI Chat works perfectly for content ideation.
The WordPress plugin and plagiarism checker makes it easy to publish unique content to your WordPress website.
Cons
The AI chat within an article is not related to the article but is just a generic chat.
The content generated in the article needs some extra work with the AI tools included in Bramework.