When I first started testing Keyword Insights, it was fairly simple with a keyword research module, the ability to cluster my keywords for a topical map and some supporting tools.
But now, they also have a content brief module and an AI writer, which, combined with the content brief, is quite interesting.
Let's dive in, and let me show you how my tests went.
Excellent for clustering many keywords at once.
The SERP Similarity tool helps you make the right decisions when writing content.
The content brief is great to avoid the "scary" blank page we all start with before writing.
Pros And Cons Using Keyword Insights
While I was testing Keyword Insights, they released their writer assistant, which is why it's not part of the video, but I'll definitely include it in my written tests.
Here are my pros and cons of using Keyword Insights.
Keyword Insights is a great SEO tool for any content marketer. You get a lot of useful SEO tools, from keyword research to keyword clustering, content briefs, AI copywriting and much more.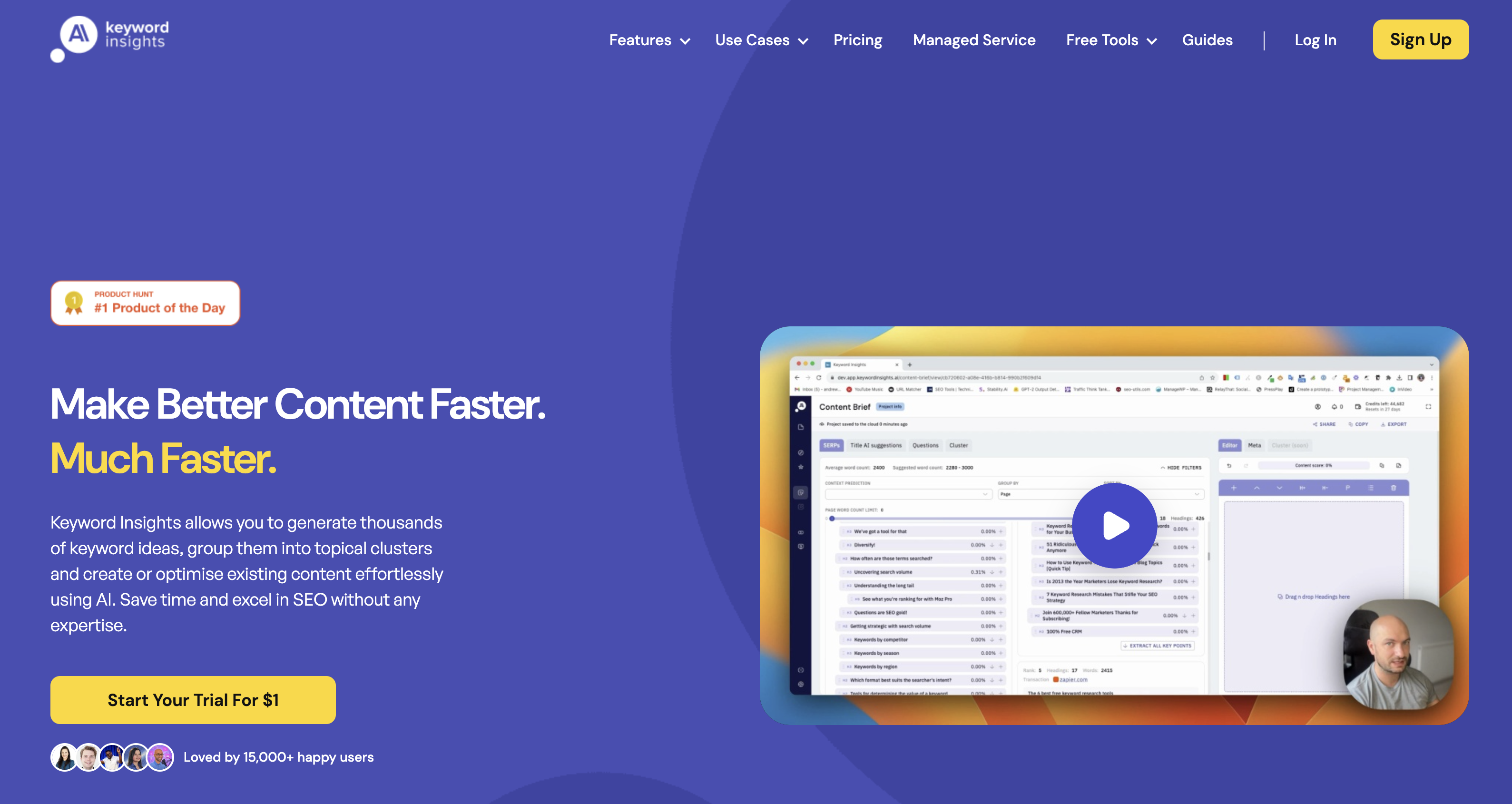 One of the best keyword clustering tools
What Is Keyword Insights?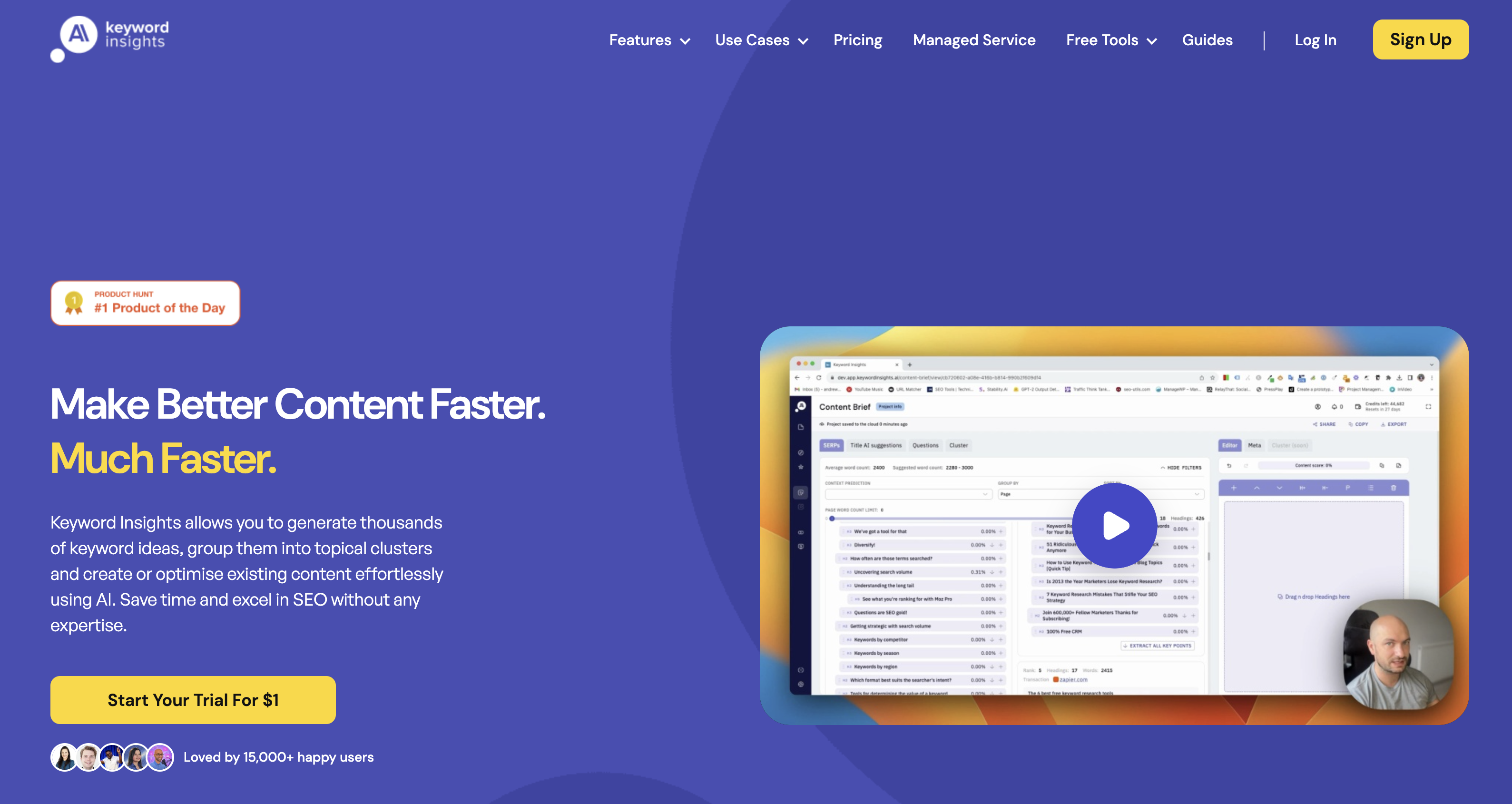 Keyword Insights is an SEO tool perfect for SEOs looking for a full-circle SEO tool with a keyword discovery module, the ability to cluster keywords, create content briefs and even write the content using AI.
On top of this, they also offer 2 minor tools. A SERP similarity tool which can help you decide whether your content should target more than 1 keyword.
The last tool is a SERP explorer, where you can run a Google search from different locations in the world. This is perfect if you're focused on local SEO.
Get Actionable SEO Tips Right In Your Inbox
Join 700+ to receive an SEO tool review from my YouTube channel weekly, which I'll share with you. And on top of that, an actionable SEO tip every week.
Keyword Insights Review Features
It's time to go through the features, and I'll start with the keyword discovery module, which is perfect if you need a list of keywords for your industry.
Let's get into it.
Keyword Discovery: 5000 Keywords Per Search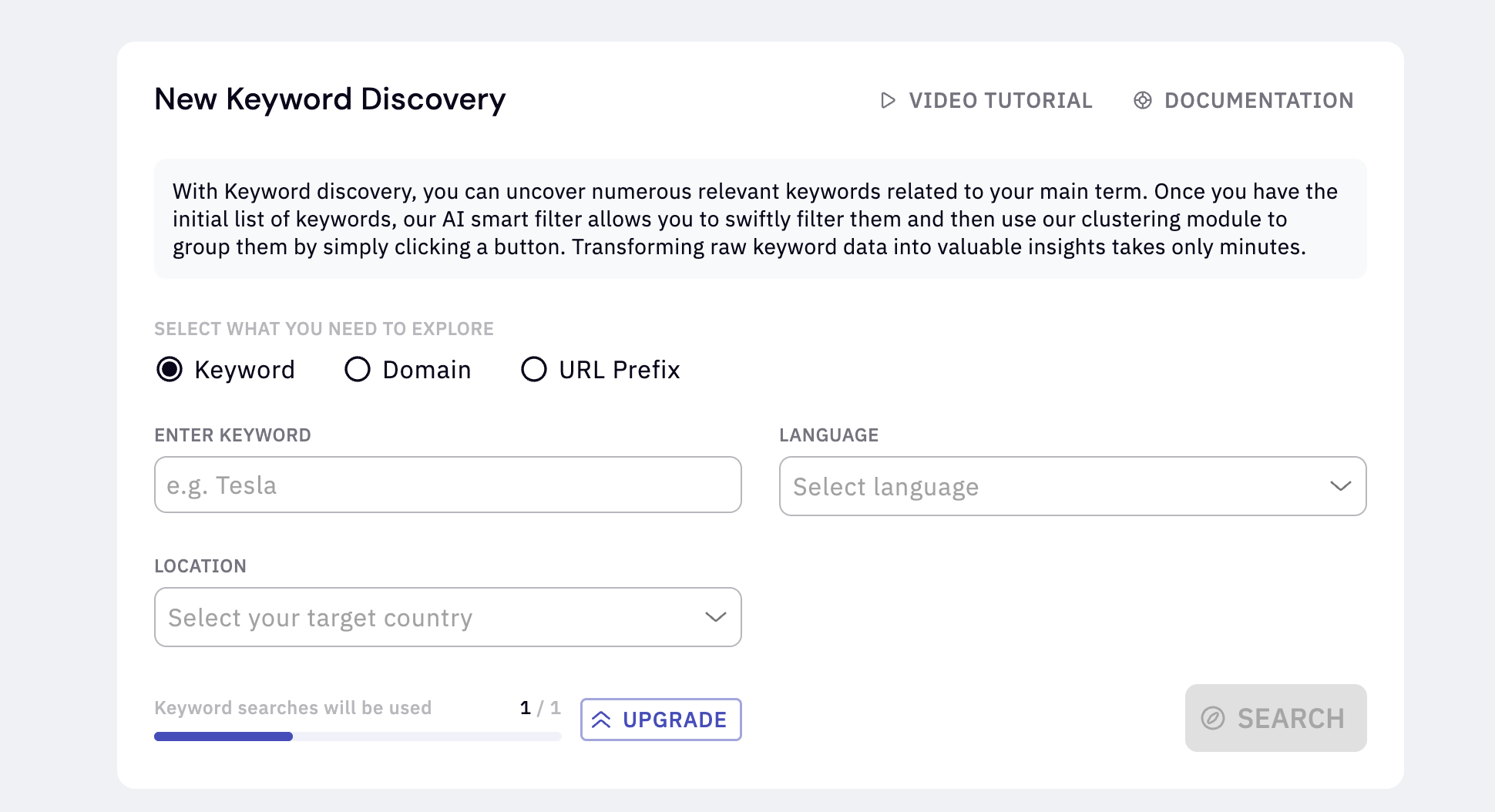 The keyword discovery module is where it often starts before you cluster words or write content. What I really like here is that you can run your keyword discovery using 3 different methods.
You can enter a seed keyword to get related keywords.
You can enter your domain to get relevant keywords based on your domain.
You can enter your URL to get relevant keywords.
I've tested each method, and they work very well. Based on my testing, I'll continue this article from testing with the domain you're reading this article on right now.
I ran a keyword research report, and I got a report with thousands of keywords, 5,000 keywords to be precise. And for every time you run a keyword discovery report, you get 5000 keywords.
Depending on your plan, you can run a limited amount of keyword discovery reports per month. It's worth taking into account.
For each keyword, you can see the following:
The keyword
Avg. search volume
Competition
CPC
You can see some of the results from my report below.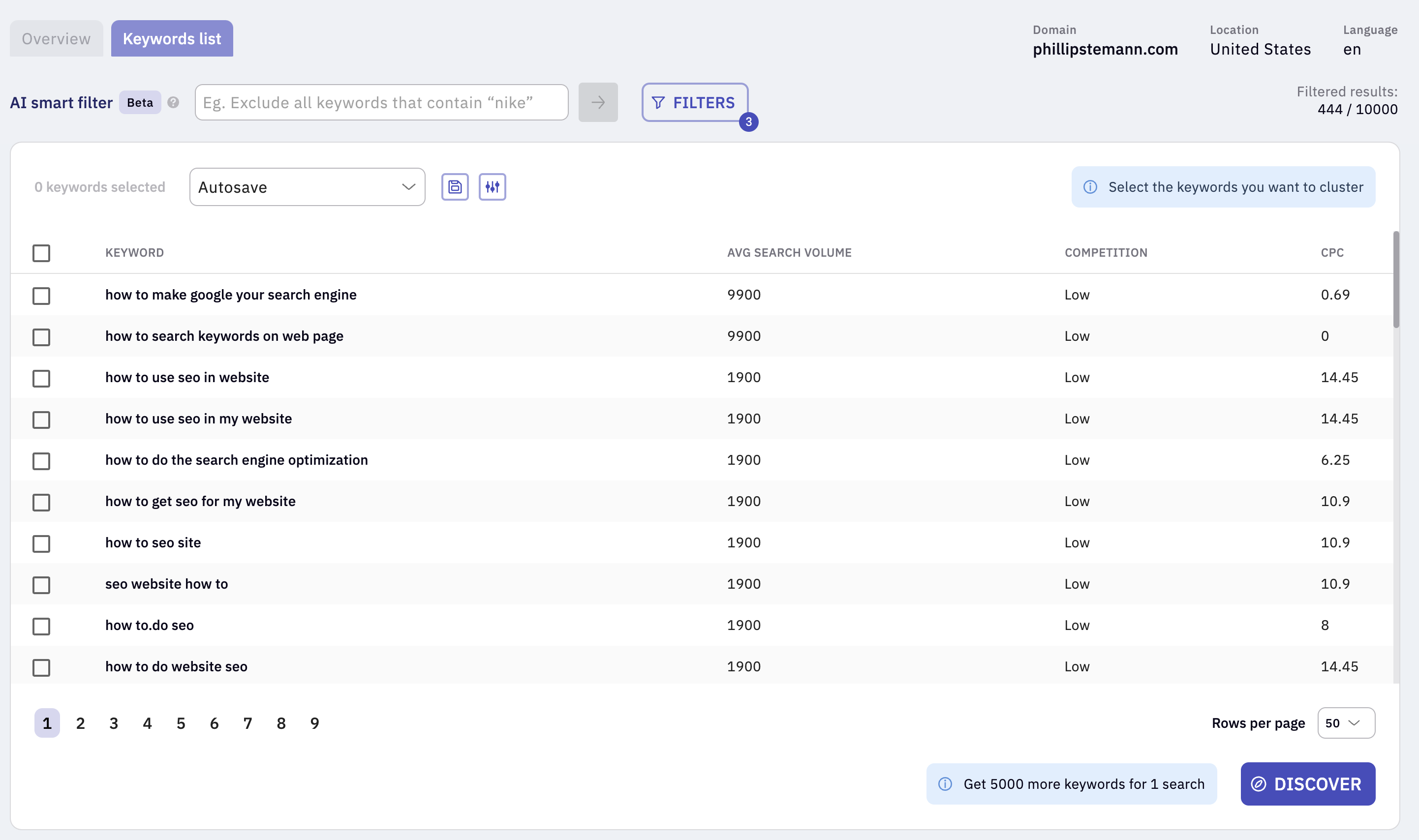 While Keyword Insights is one of the better keyword research tools I've tried, there is one thing you need to be aware of: The competition score is based on CPC.
When we write content to rank organically in the SERP, we don't focus on CPC, we focus more on domain authority and how well the competition covers the subject. That's what defines an SEO competition score.
So don't rely on the competition score, which is a bit of a bummer since we don't have much to filter on then.
For the filters you have 2 ways of filtering: You can use the standard filters or the AI smart filter.
The standard filters include:
Include/Exclude word in keyword
Search volume range
Competition
CPC
So basically, the same attributes you can see on the image, and it's a start, but I would like to see more data on the keywords, which would bring more filtering options.
I would love to see search intent and categories on each keyword. Is it a question, a comparison keyword, or what is it?
These elements are definitely missing. They could take some inspiration from LowFruits, which is a product excelling at giving a lot of information per keyword.
The AI smart filter is a brilliant idea, but it's still super simple. I tried to test it and write: Show me all the questions, but it didn't work, unfortunately. You can only use the AI smart filter for the same standard categories.
But from here, it's super logical to start clustering your keywords.
Pro-tip:
Before you cluster your keywords, ensure to exclude all irrelevant keywords as you spend a credit per keyword you want to cluster. You can use the filters for this.
To get started with topical clusters, all you have to do is either mark the keywords you want to cluster or go to the keyword clustering module and create a report based on your keyword discovery report.
Keyword Clustering: The More Keywords, The Better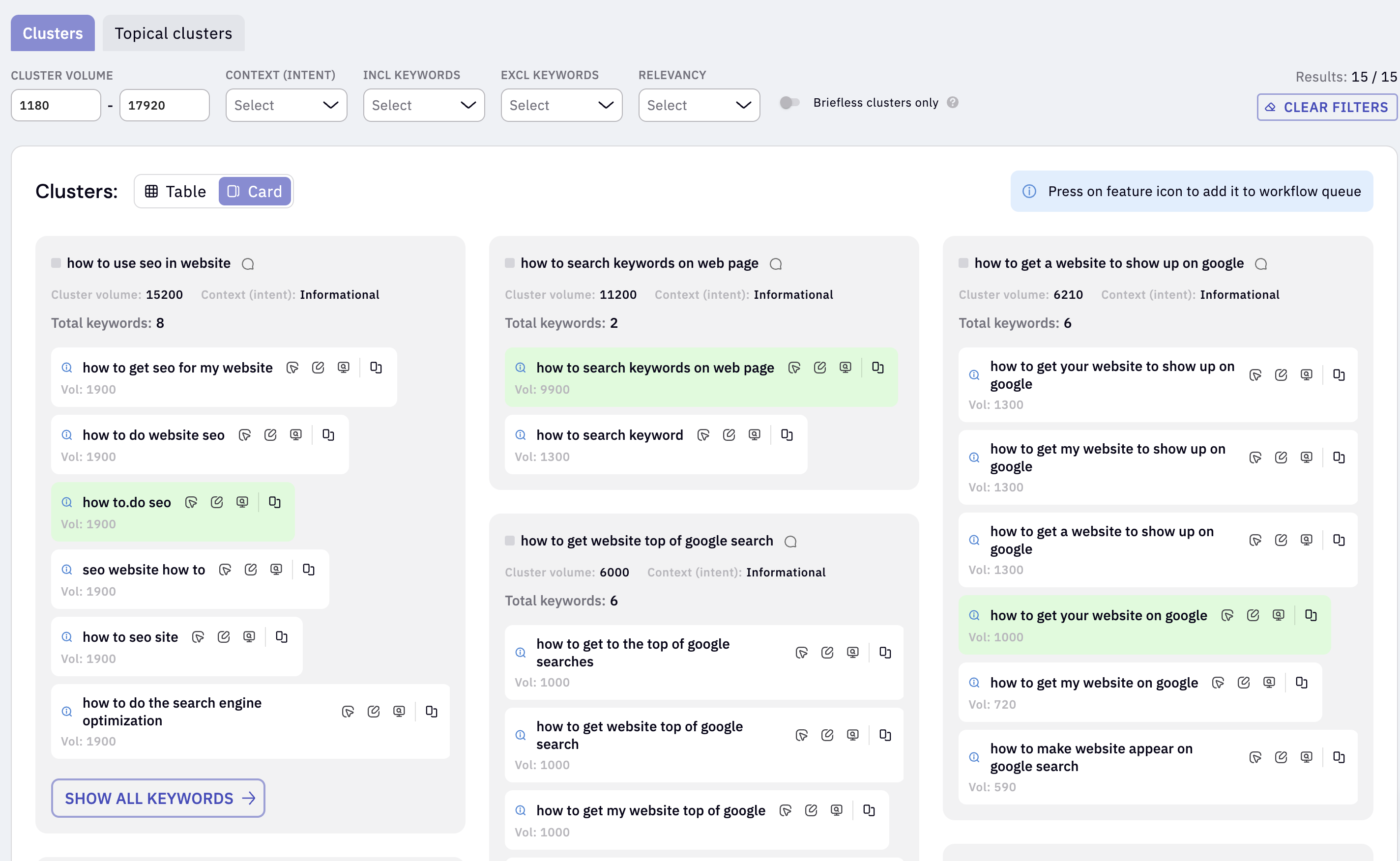 This is where your journey with Keyword Insights starts to achieve topical authority. Creating keyword clusters is a huge part of your content strategy as it shows you what you should focus on first.
Pro-tip:
When you have your keywords clustered, write content for an entire cluster before you move on to another cluster of keywords.
I've found many content gaps using this method, and at the same time, I found content opportunities that I could write right away. It's so rewarding to take your time to create keyword clusters.
One thing I found with the keyword clusters is that you can't edit them. I really hope Keyword Insights will implement some drag and drop between them.
The reason is that you always have some keywords which couldn't be clustered, and with your knowledge of your niche, you would be able to cluster them by simply dragging them to the right cluster, but it's not possible.
You also have access to 2 views: A table view and a card view. I like the card view as a get a keyword list for each cluster, a little sneak peek.
You also get a keyword list with the table view, but you must expand each cluster.
From here, you can either filter your clusters to find the cluster with a keyword list that makes the most sense for you to start with, or you can create detailed content briefs.
Content Brief: Simple And Powerful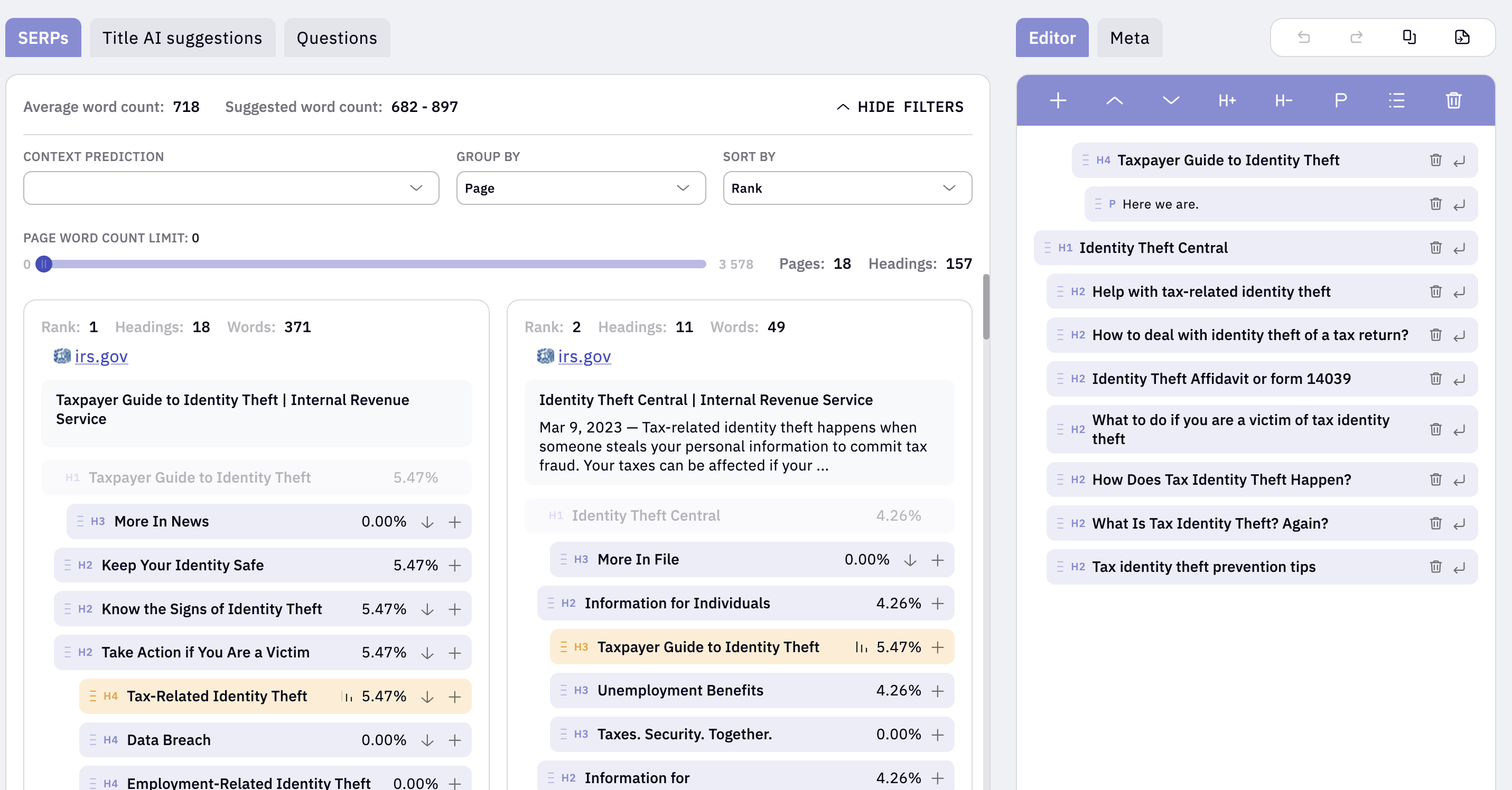 When you run your content brief, you do it for your target keywords, country and language as well. Keyword Insights then pulls data from the SERP so you can analyse the competition on your target keywords.
It's super simple, and it's a way for you to create a content brief before you use artificial intelligence to write the content or if you write it yourself.
I'll say Keyword Insights has done a great job, but I'm missing seeing domain authority on each website. It would help a lot.
But it's super simple to use. Either you click on the plus icon on the left of the headline you want in your brief, or you can add your own manually.
On top of this, you can get title suggestions based on AI, and you can see questions from the following forums:
Quora
Reddit
People Also Asked
You can also get Keyword Insight's AI to generate your meta tags. But their AI can do much more to help you build your online presence. Let's move on.
Writer Assistant: AI-Generate Your Blog Posts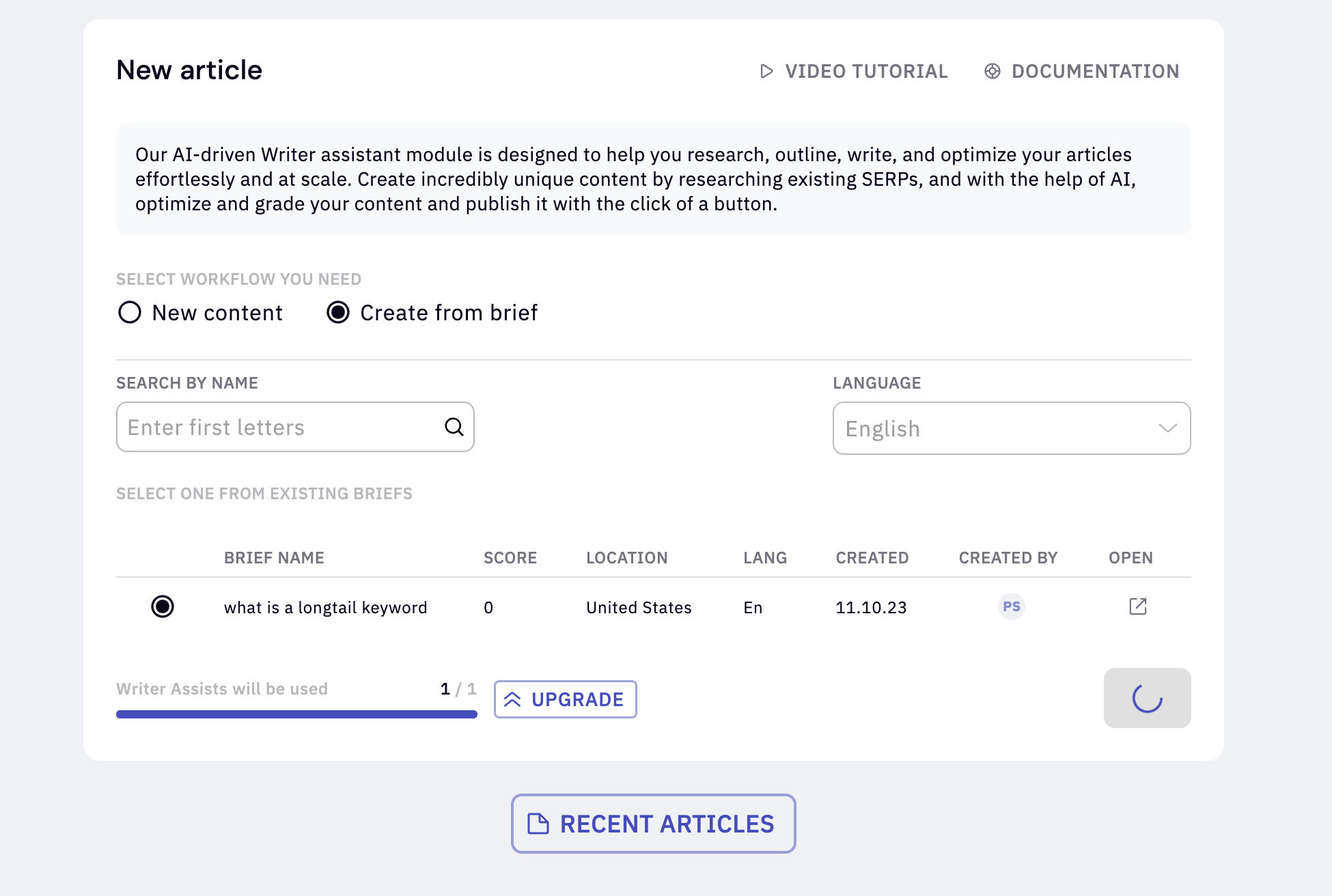 Now you're done clustering keywords, and you've made your content brief, so now it's time to write, and here you can use AI.
It's super simple to use. Either you can start from scratch, or you can use a content brief you've built, as I did in my test.
When you generate your article, you don't get a 1-click AI article; you get a blank page, and then you need to use tools to generate your content.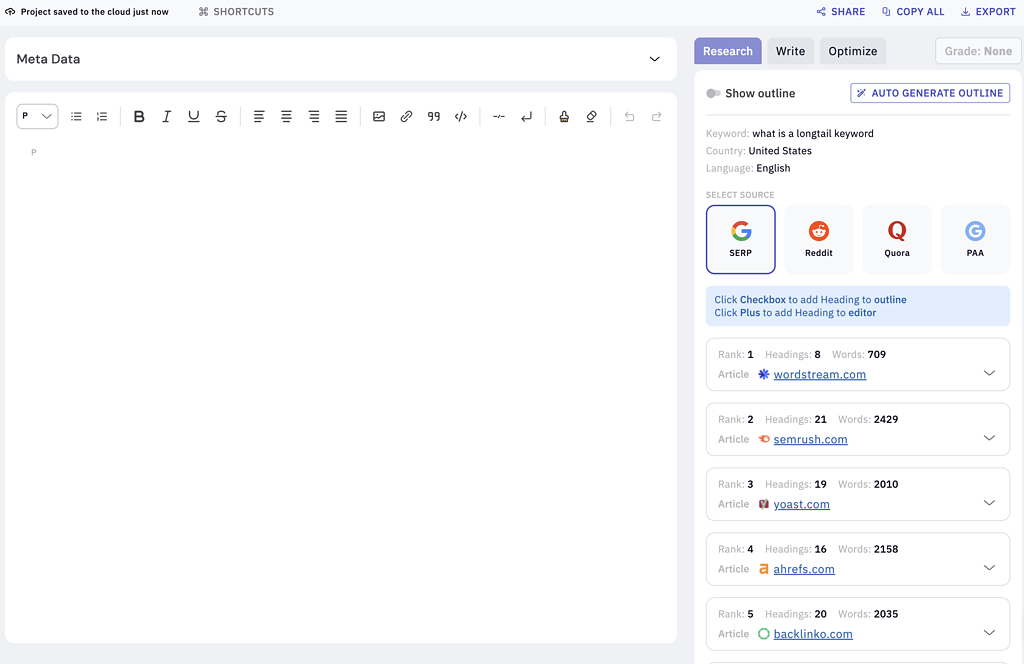 On the left side, you have the editor, and on the right side, you have your research, writing tools and how you can optimise your content further.
You can use AI to generate meta tags here as well, and in the write tab, you have 2 options: Either you can use the pre-built AI tools or the AI chat.
Be aware that each time you generate content, it costs the words you have on your plan. And it also costs "words" when you chat with the AI chat.
When I started writing my test article, I had 5000 words, which I found to be a lot. But once you use the tools and the AI chat, they quickly run out. And if you don't like the text generated by the AI, you don't get those words back.
The pre-built AI tools you can use to generate content are:
Introduction

Definition

Explain why

Paragraph continuation

CTA

Bullet point answers

Feature – Benefit

Paragraph answer

Paragraph compression

Pros and Cons
I found the tool to be a bit difficult to use, and the content it generated was decent but not the best I've seen. The best AI copywriting tool I've tried is KoalaWriter, and Keywords Insights could learn a lot from them.
When I generated content, the paragraphs were often too long, and they contained a lot of fluff. It's important to note that the tool is in beta, which is hopefully the reason behind it.
I personally prefer that they would generate an entire article based on my outline from the content brief, and then I could change it based on that. The current method is a bit complicated.
The optimise tab is good, though. It measures your content on 8(Soon 9) parameters compared to the competition on your target keyword:
Word count
Topic score
Headings
Keywords
Spelling (Coming soon)
Readability
Cluster terms (Coming soon)
Images
Links
It's the same elements I see when I write my content using Frase, so it's good to see. However, I'm so curious to see how they'll measure cluster terms. That's such an interesting measurement point.
But this AI copywriter opens up the opportunity to write content at scale for all content marketers. It just needs a little tweaking and using the comprehensive content briefs better.
Find the best AI Copywriting tool
I've tested 50+ AI copywriting tools, and they all have unique use cases. I've collected my favourite 7 and made a beautiful e-book for you.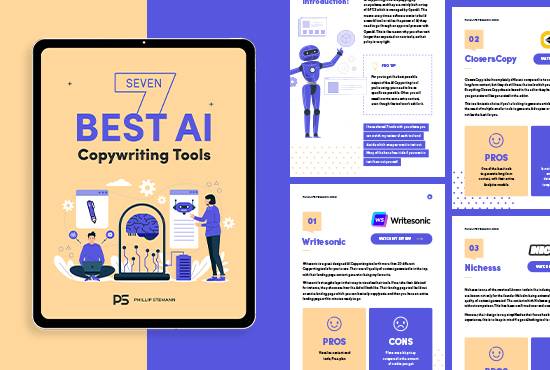 Title AI: Great For Generating Blog Post Titles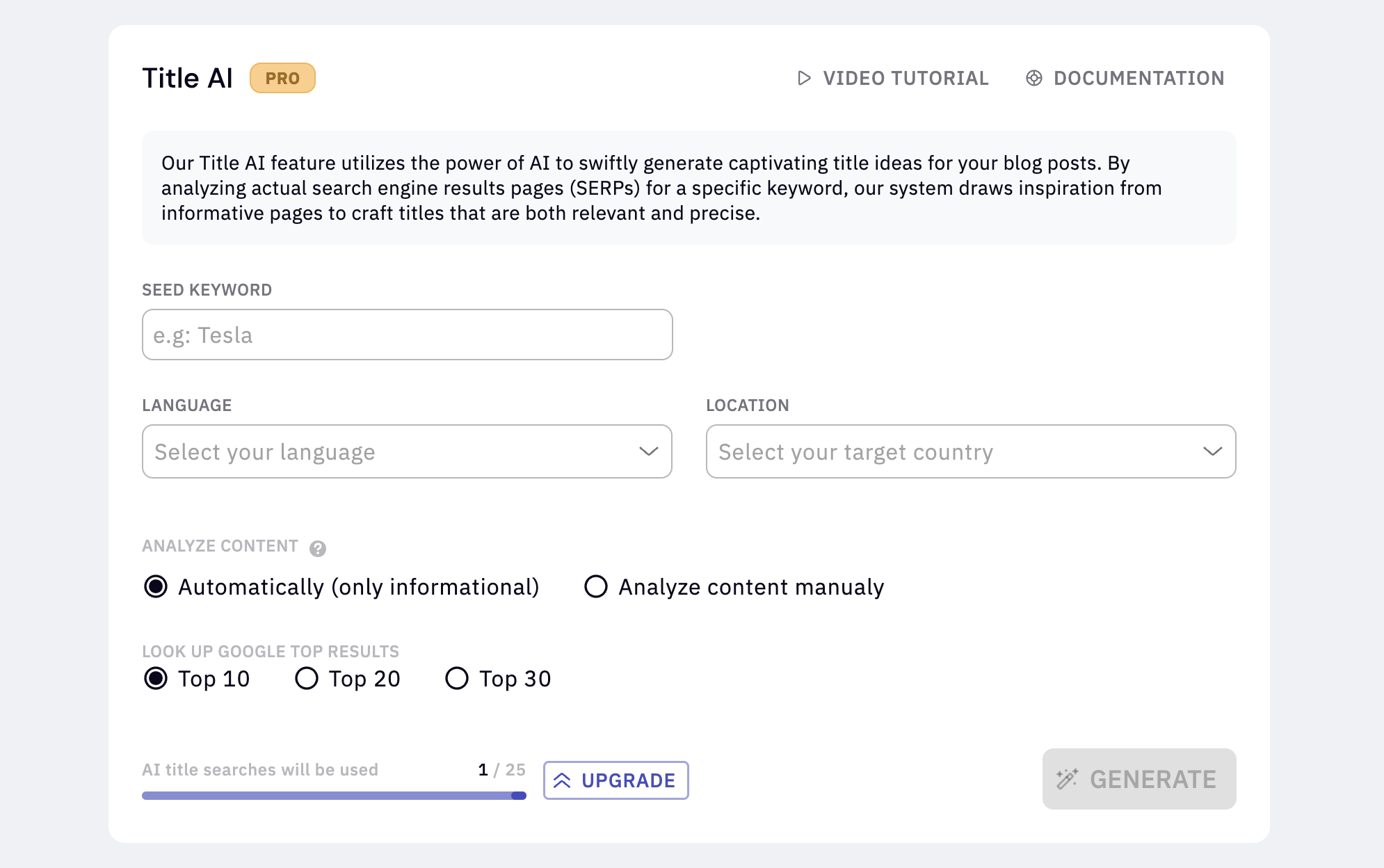 This is a minor tool but useful as well. I wouldn't be surprised if Keyword Insights combined this tool with the smart writer in the future.
But you simply enter your keyword, language and location and let the title AI tool do its thing.
It then comes back with 10-15 title ideas for your blog post based on the SERP.
I ran it for the keyword: keyword research, and this is what it came back with: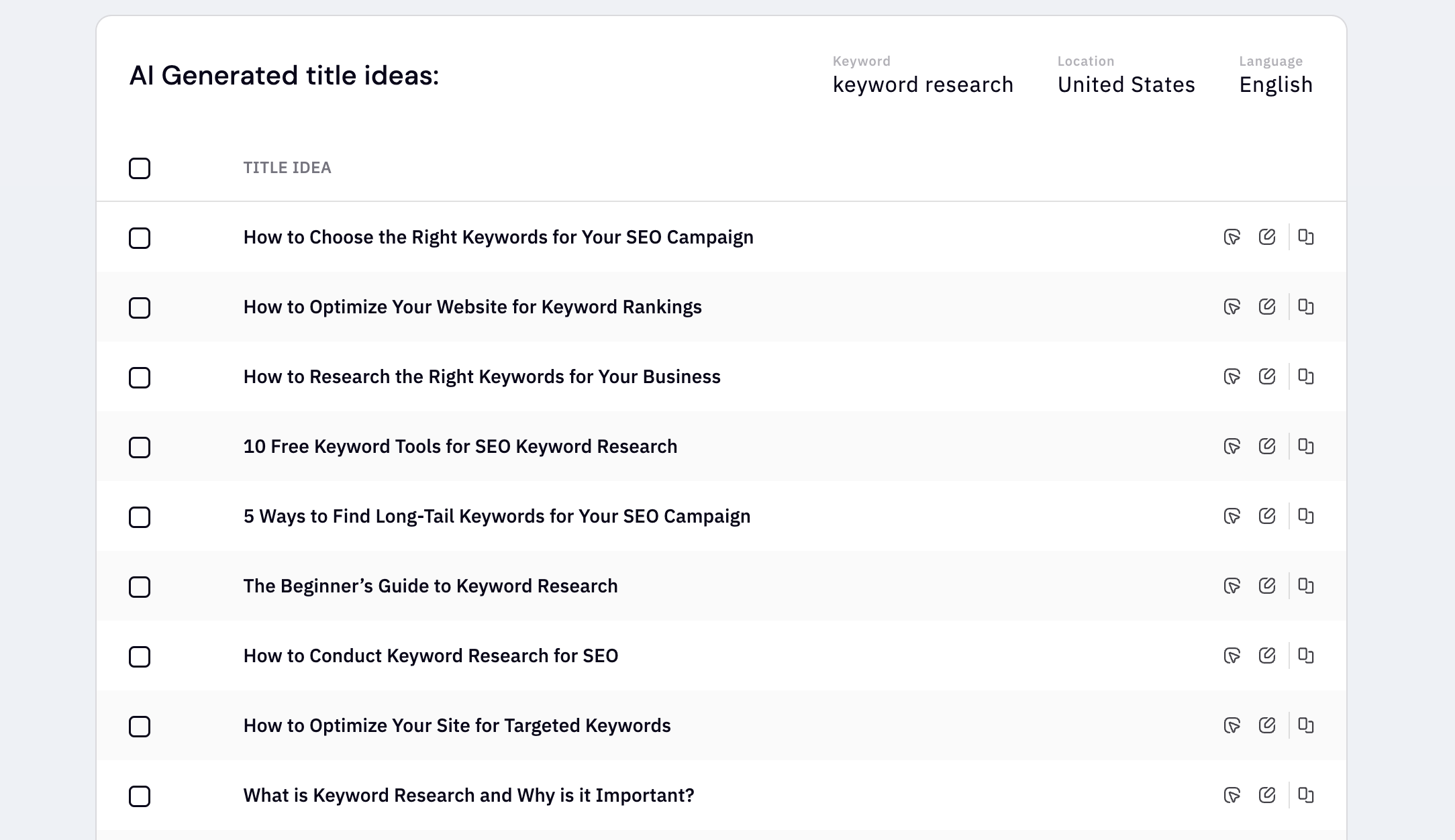 Overall good. Some of them are off, but the majority are great for inspiration. We can always take them a step further and improve them.
SERP Similarity: Determine The Right Decision For Your Keywords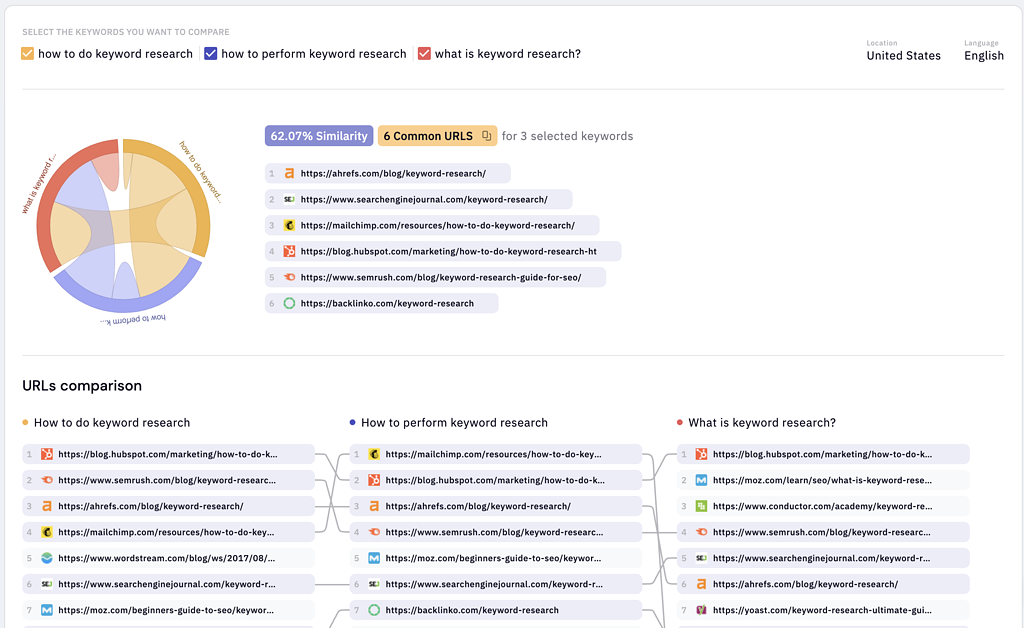 This was one of those "external tools" that really surprised me with the value it brought.
If you are ever in a situation where you sit with a couple of keywords, the keyword intents are the same, but you don't know whether to cover them all in one article or split them up into individual articles, then this tool is perfect for you.
You enter a bunch of keywords, and then Keyword Insights analyses the SERP for all your keywords so you can compare the SERPs.
In the picture above, you can then see that for the 3 keywords, I ran it for, I should cover them all in one article, as my competition is doing the same.
Even though I know my niche, and I did know this before I ran the report, it's great to confirm your decision with data.
SERP Explorer: See The SERP From Other Countries
This is a super simple tool where you can run a Google search from a specific location. And it's great for local SEO as you can do it from cities as well.
Other than that, you get the same from doing a Google search yourself.
I wish they would add more information to this. Maybe domain authority, headings, images and so on. All the information they can pull saves me time.
If I do a search and decide to target a keyword, then I first have to find the intent behind keywords, analyse all competitors and then start to write my content.
All content marketers know this is a tedious process, and we love to use tools for this. Keyword Insights has an opportunity here to make a better tool.
Who Is Keyword Insights Made For?
There is no doubt Keyword Insights are made for SEOs and content creators. Anyone who wants a more efficient content creation process can build a keyword strategy by using a keyword clustering tool.
Keyword Insights is packed with SEO tools, and they're getting better by the day.
So, if you're looking for these tools to help you as a content writer, then I can only recommend you try a $1 trial for 4 days and decide whether it's for you or not.
Alternatives To Keyword Insights
I've tried many SEO tools, after all, and Keyword Insights is a great SEO tool for content marketers, but other tools do the same, which might fit you better.
Here are 2 alternatives close to Keyword Insights as I see it.
LowFruits is my preferred keyword research and keyword clustering tool because of the results and how easy it is to use.
On top of this, it's a bit cheaper than Keyword Insights, but they both have different features to consider.
While MarketMuse is at a different price point, it also shows to tell: It's a much more premium SEO tool with more premium features.
MarketMuse is not a tool I use on a daily basis, but it's a solid tool I use to confirm my content once in a while. You get a lot of unique features with MarketMuse.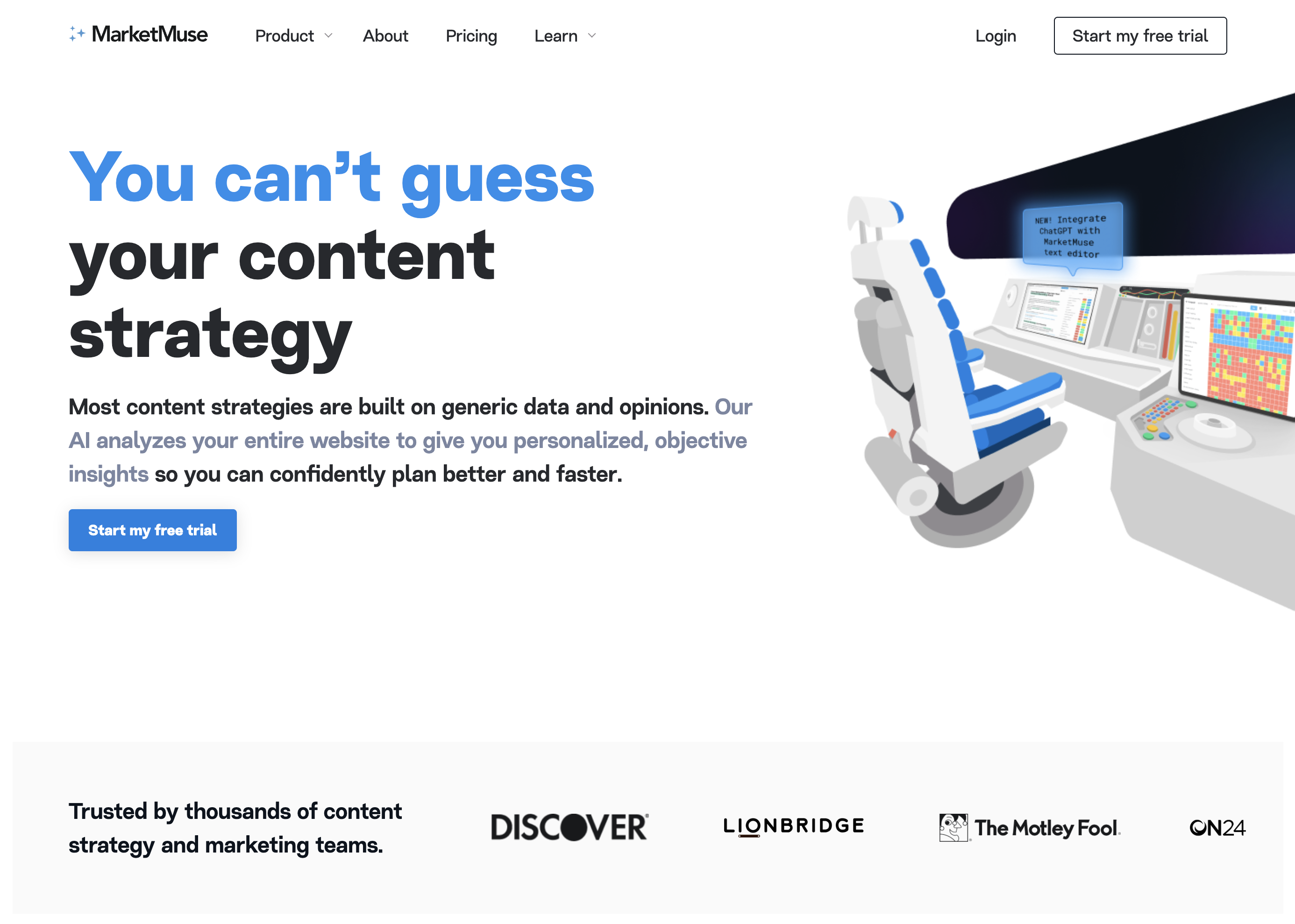 Keyword Insights Pricing Plans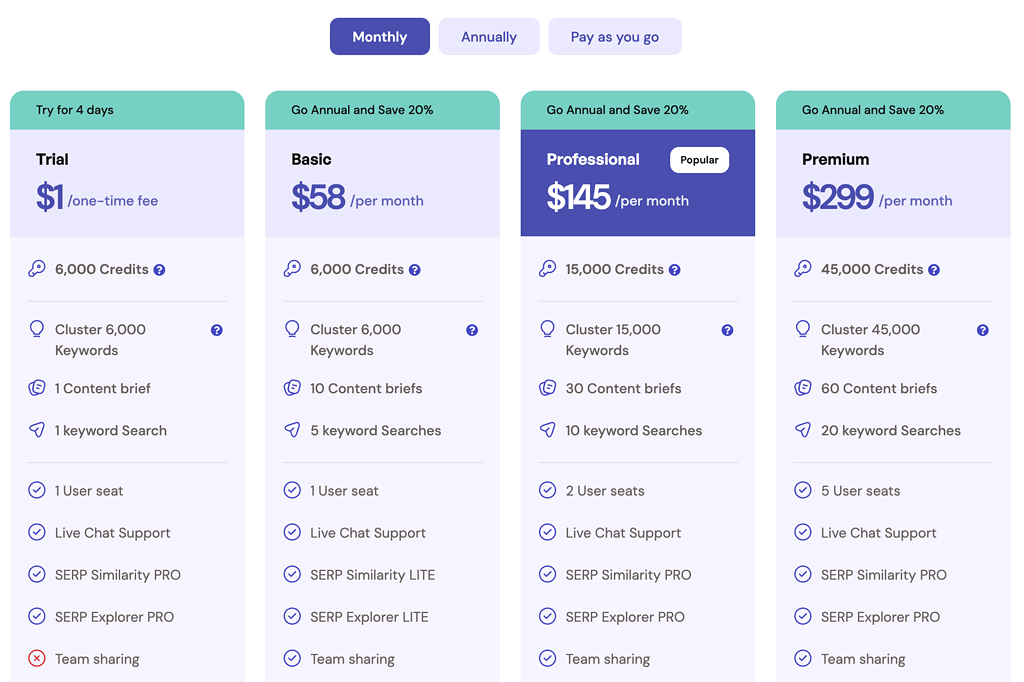 Their pricing is super simple, and depending on what you need, the higher plan you should choose.
You can save 20% by switching to an annual payment.
You can also go with the pay-as-you-go plan. However, you must combine this with a plan, as they only work for the keyword cluster plan. With the free plan, you can only cluster your own keywords.
With the free plan, you also get limited access to the SERP similarity tool and the SERP explorer.
Wrap-Up: Is Keyword Insights Worth It?
Yes, Keyword Insights is worth it, even though it's a bit pricey compared to the alternatives.
Keyword Insights offers some unique SEO tools you don't see every day, and they keep on improving the tool every single day.
Just while I was doing this review, they released the new AI writer and the AI title generator.
The keyword cluster tool surprised me; it was awesome, and the keyword discovery module helped me find keyword opportunities.
Keyword Insights surprised me overall. It's a solid SEO tool which can help you make data-driven decisions, build your topical map and generate content using their AI.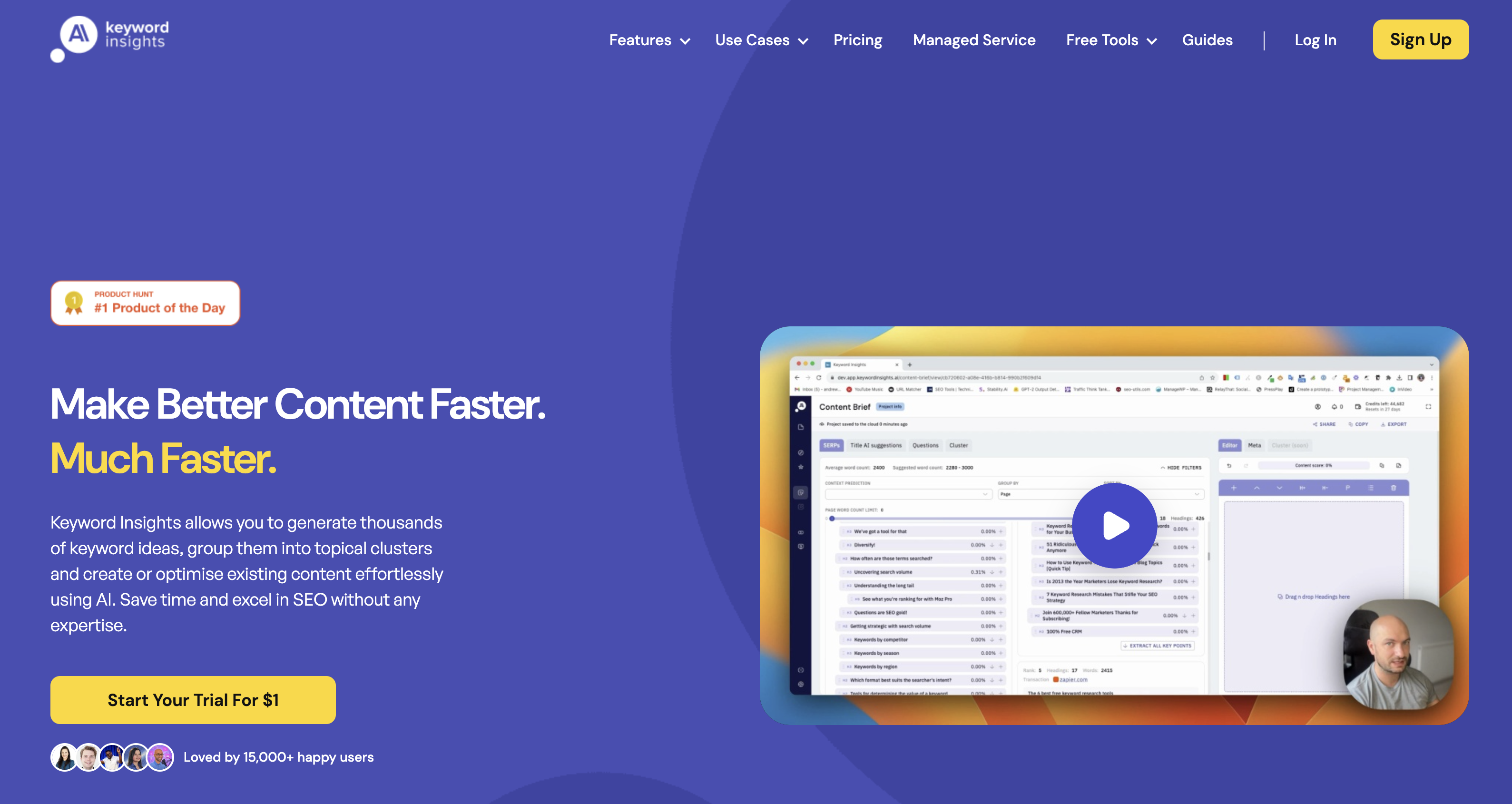 5,000 keywords per keyword discovery
Keyword Insights Review: The Full SEO-Flow (Impressive)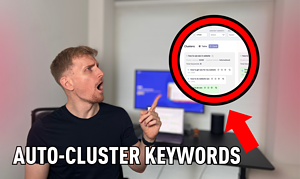 Keyword Insights is an SEO tool with 6 incredible SEO tools that help you with keyword research, clustering keywords, generating content and more.
Operating System: Web
Application Category: SEO
Pros
The keyword discovery module surprised me by finding endless great keywords.
The keyword clustering module is among the best I've tried.
The flow from keyword to content brief and then the smart writer is brilliant.
Cons
The navigation has a slight learning curve.
If you only want to cluster a few keywords, the tool falls short.