I stumbled upon Keyword Revealer while looking for tools to help me create a topical map. Keyword Revealer was supposedly able to do this, so I wanted to put it to the test.
I tested out all modules, and while there are some interesting modules, like the backlink analysis module, I still feel they're missing out, but let's get into it.
Pros And Cons Using Keyword Revealer
Keyword Revealer has potential, and the backlink analysis is my favourite module. It allows you to track and find all backlinks for your website. But here is a quick overview of my pros and cons after using Keyword Revealer for some days.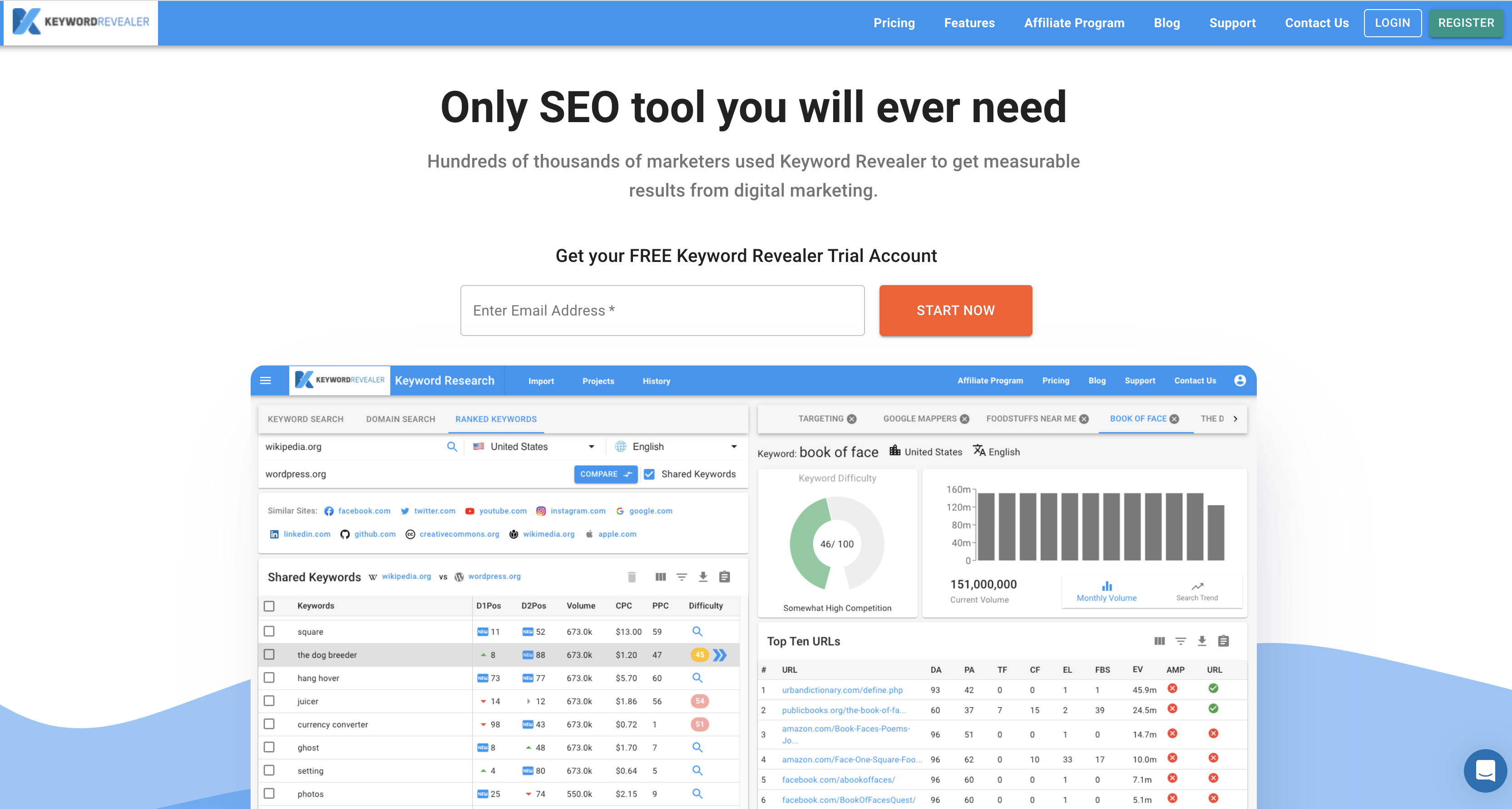 Get inspired for your SEO topical map
Don't let my ranking keep you from trying Keyword Revealer. It still has great potential.
The backlink analysis module alone is super interesting and helps you find new backlinks to pursue.
What Is Keyword Revealer?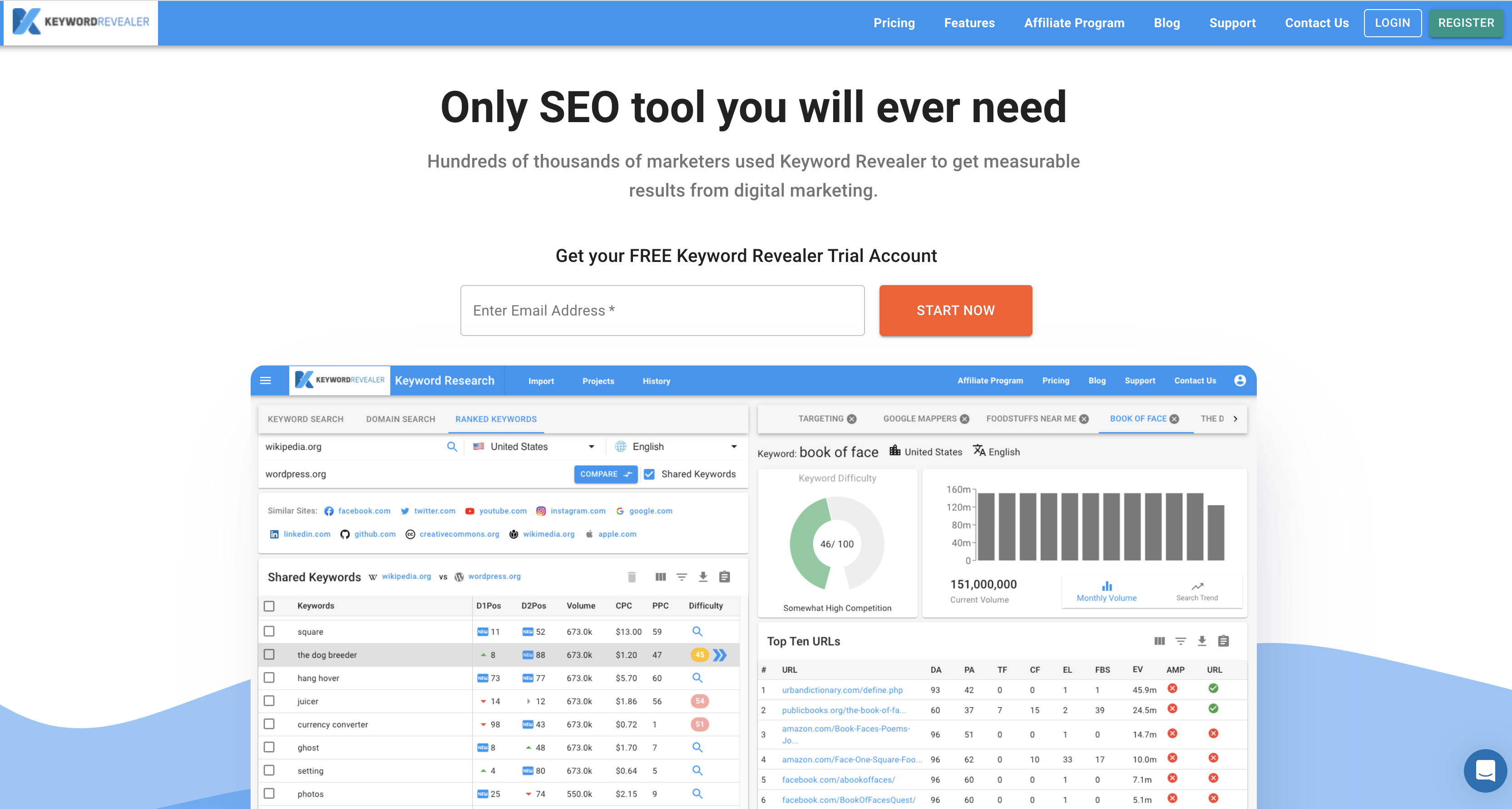 Keyword Revealer is an SEO tool to help you run keyword research, monitor your keywords by tracking their position in the SERPs, and monitor your backlinks as well.
It's a tool which has been around since 2013, so they have a lot of years in the industry, and I believe that's why their backlink analysis module is so good.
Based on my experience, I found it super easy to use. It's a very simple SEO tool with only 5 modules, and they all work decently.
It's great for anyone focused on SEO for your website who is looking to monitor their backlinks and find new backlink opportunities.
Get actionable SEO tips in your inbox
Join 700+ other SEO enthusiasts to receive an SEO tool review from my YouTube channel weekly, which I'll share with you.
And on top of that, an actionable SEO tip every week.
Keyword Revealer Review Features
Keyword Revealer consists of 5 main modules, where the keyword research and keyword brainstorming modules are connected to help you find relevant keywords.
But let's get into it and start with the keyword research module.
Keyword Research: Find Potential Keywords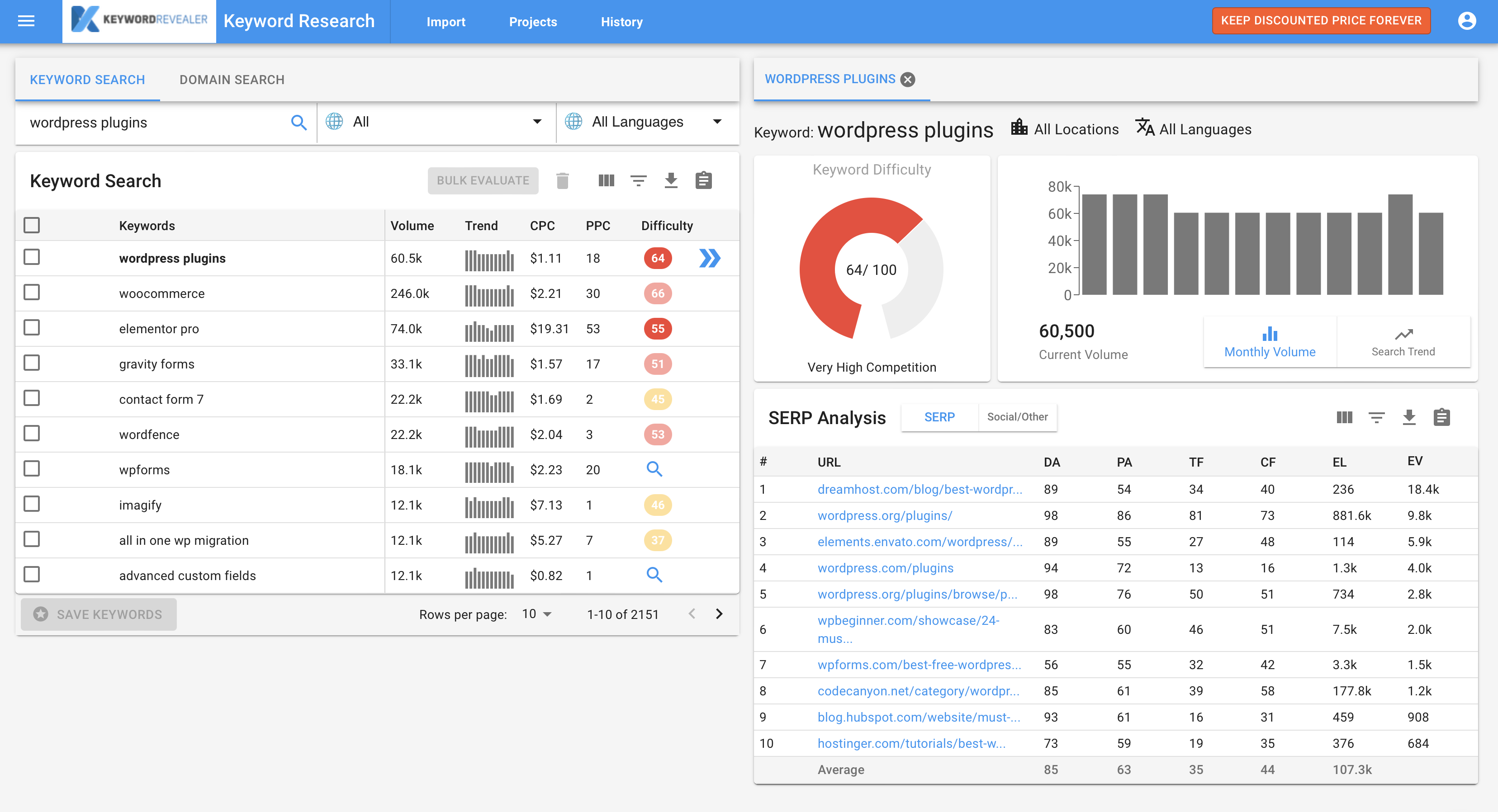 Now, for the keyword research tool, I was interested in seeing how well it would perform by finding long-tail keywords based on my seed keyword.
And let me just break it to you now: the keyword research tool from Keyword Revealer has a long way to go.
But to break it down, there are primarily 2 things missing for it to be much better. More data and more filtering options.
The filter option I use most in keyword research tools is to see questions only, and it's not possible with Keyword Revealer's keyword research module.
You can see all the general data, such as keyword searches and keyword difficulty scores, which are also great. But if I want to improve my keyword rankings in the search engines, I need long-tail keywords with little to no competition.
I think the lowest keyword difficulty I stumbled upon was 21 after using the tool more, and that's not where I want to be when my domain rating is 13.
I know we can't compare them, but by using Ahrefs, I can find keywords with 0 competition and 0 keyword difficulty scores. So they have a long way to go, but it's a decent start.
Domain search is something you can also do with the keyword research tool from Keyword Revealer, and this works very well.
One thing is that you can enter your own domain and see how you're ranking in the search engines, but what I really like is that you can enter your competitor's domain and see what keywords they're ranking for in the search engines.
This allows you to go beyond your seed keyword and find new keywords you're not already focused on with your SEO efforts.
Write an article targeting that keyword, and then start the rank tracking for the keyword. Then, you're well on the way to expanding your brand and generating more traffic.
Simply just repeat the process for all your competitors. If you haven't performed a competitor analysis, I really recommend you watch my Serpple review.
Keyword Brainstorm: Start Your Topical Map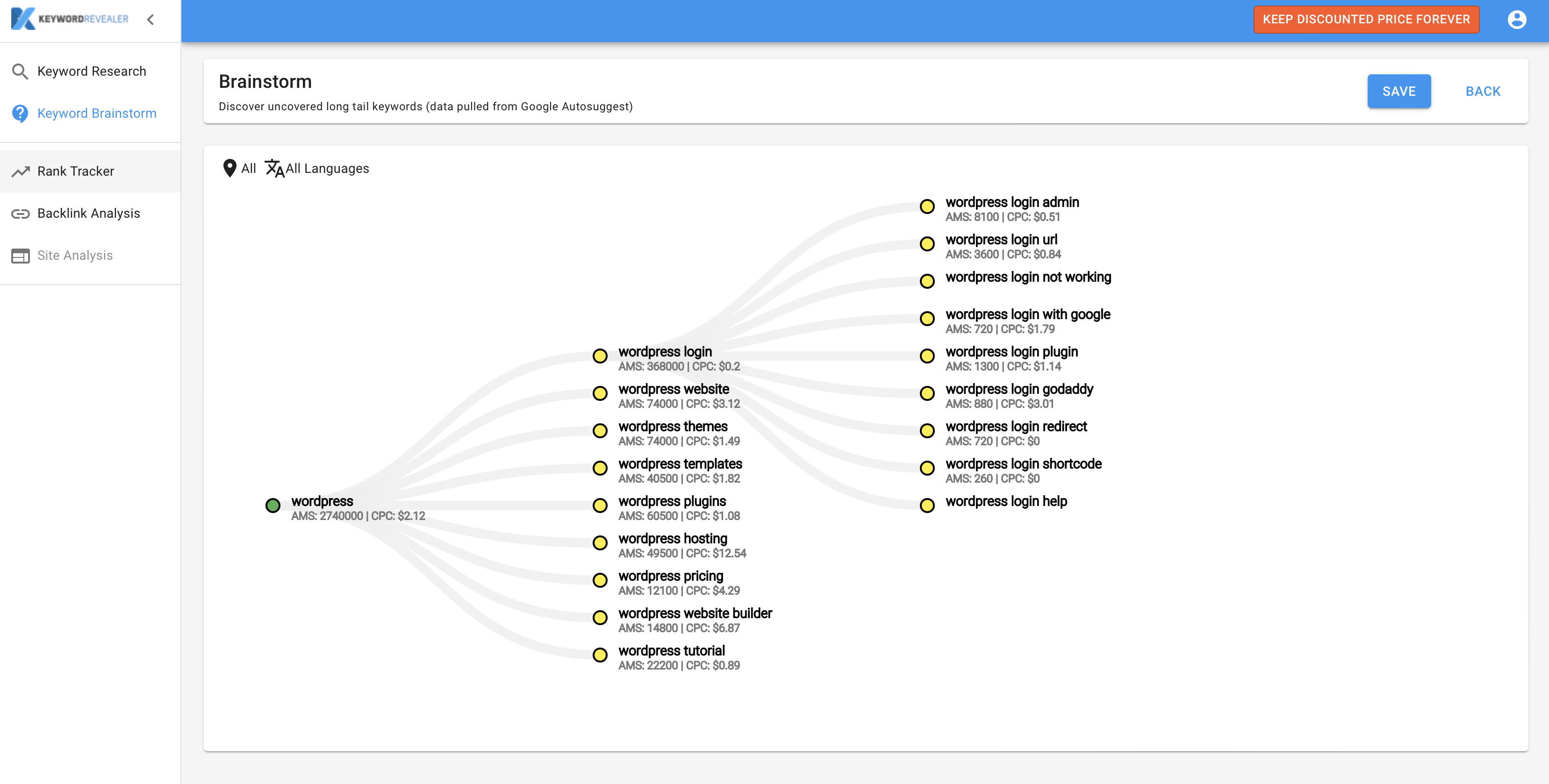 In the keyword brainstorming tool, when I first saw this, I was excited. This was an opportunity to start creating a topical map, so I had to give it a go.
I tested by entering a seed keyword, like WordPress. And out it gave me a couple of categories, and that's how it works. It gives you high-level categories.
The categories were decent, but I wasn't blown away. I've seen the same categories using TopicMojo and even WriterZen. But at the same time, it also tells me what it suggests is like the other tools.
When I then wanted to get some subcategories, it just referred me to the keyword research tool, and it would be great if it would run another brainstorm on the category to get subcategories.
I found out later on that if you click on the yellow circle, then you actually get subcategories. They're definitely, again, great for inspiration, but I still don't feel I have an overview, as I can only see one subcategory at a time.
So, it's not a tool I would use for creating a topical map, but it's decent for researching and inspiration for when you create your topical map.
The more keyword research tools you use, the more keywords you end up with, whether it's long-tail keywords or categories for your topical map.
Rank Tracker: Monitor And Track Your Keywords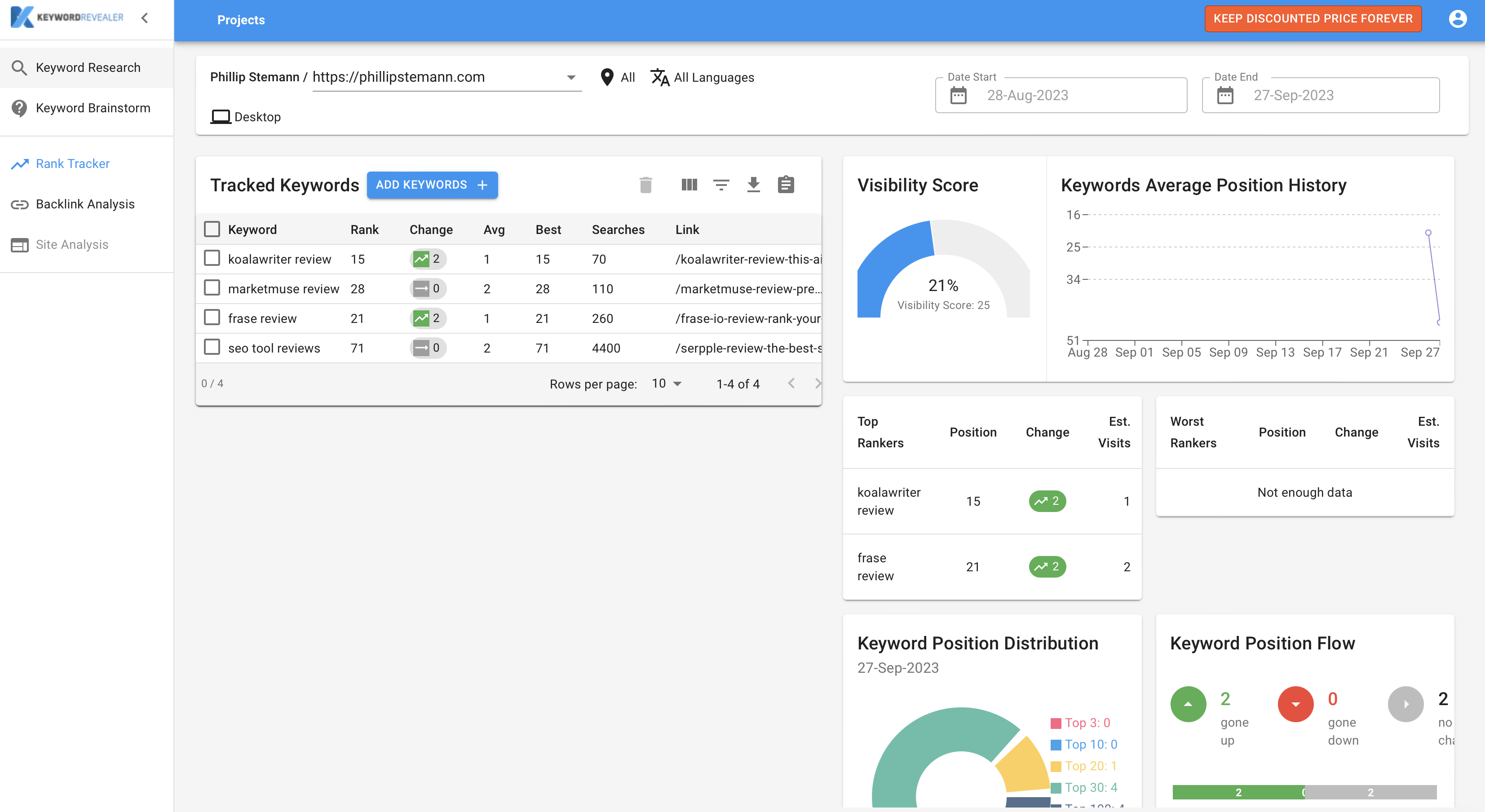 The rank tracker is super simple; you can enter your keywords, and then Keyword Revealer will ensure you check your keyword rankings daily.
One thing I found was when you enter your keywords the first time, you don't get your ranking immediately. You have to wait up to 24 hours to see your keyword rankings.
On a daily basis, it totally makes sense, but as I'm adding my keyword, I want to see my keyword rankings immediately, just like any other rank-tracking tool.
That said, then you can see your historical ranking, and that's more or less it. You don't get any functionality you don't get with Google Search Console. It's simple, and it works.
Backlink Analysis: Monitor And Find New Backlinks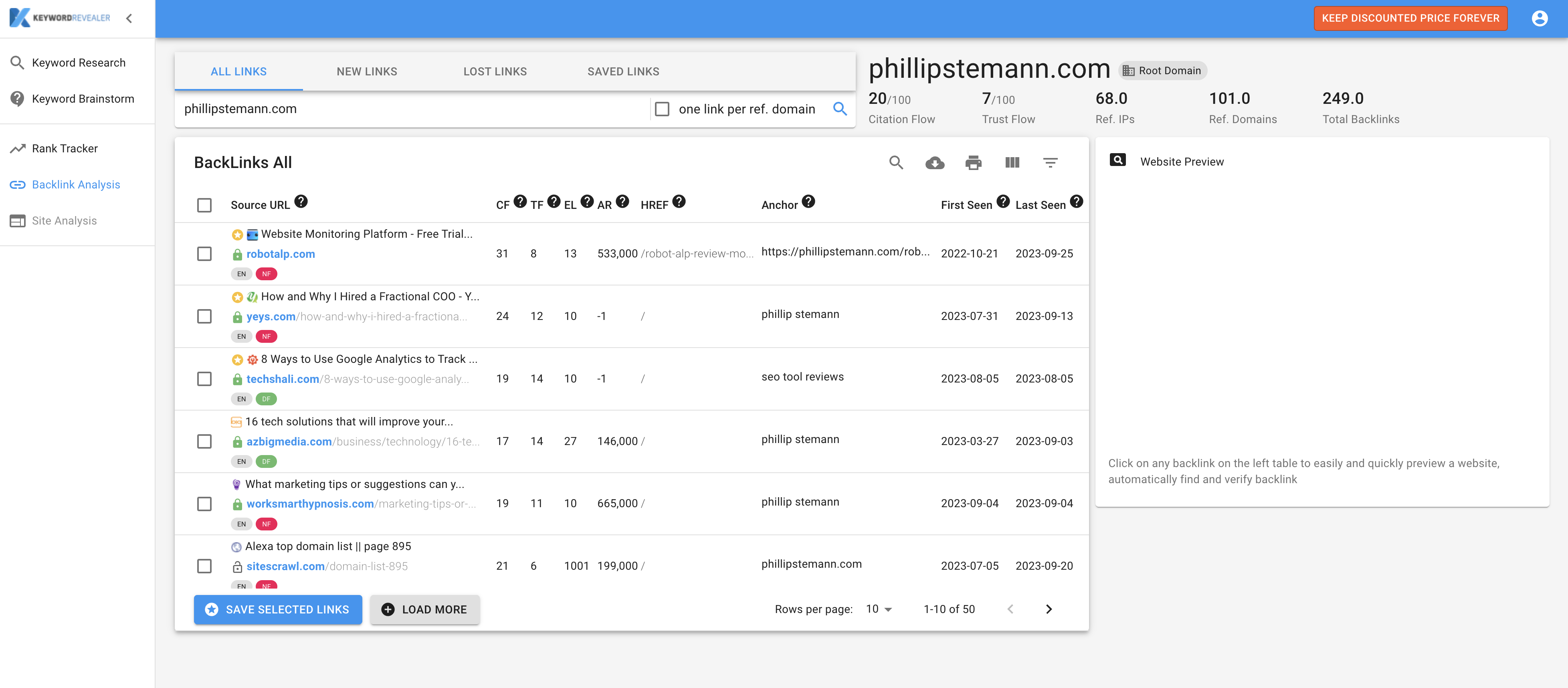 The backlinks analysis is my favourite module with Keyword Revealer. It's such a solid module, and you have many options.
First off, you can enter your own domain to monitor your own backlinks. Simply checkmark them and save them to your list; in the saved links section, you can monitor them.
This is super useful if you want to ensure a guest post you made on another website doesn't lose the link to your website, for example. Or if you just want to monitor a specific backlink.
Pro-tip: You can enter your competitor's domain and see all their backlinks. This you can use for inspiration, reach out to the domains and give them a proposition to link to your website.
Site Analysis: Get An Overview Of Your Domain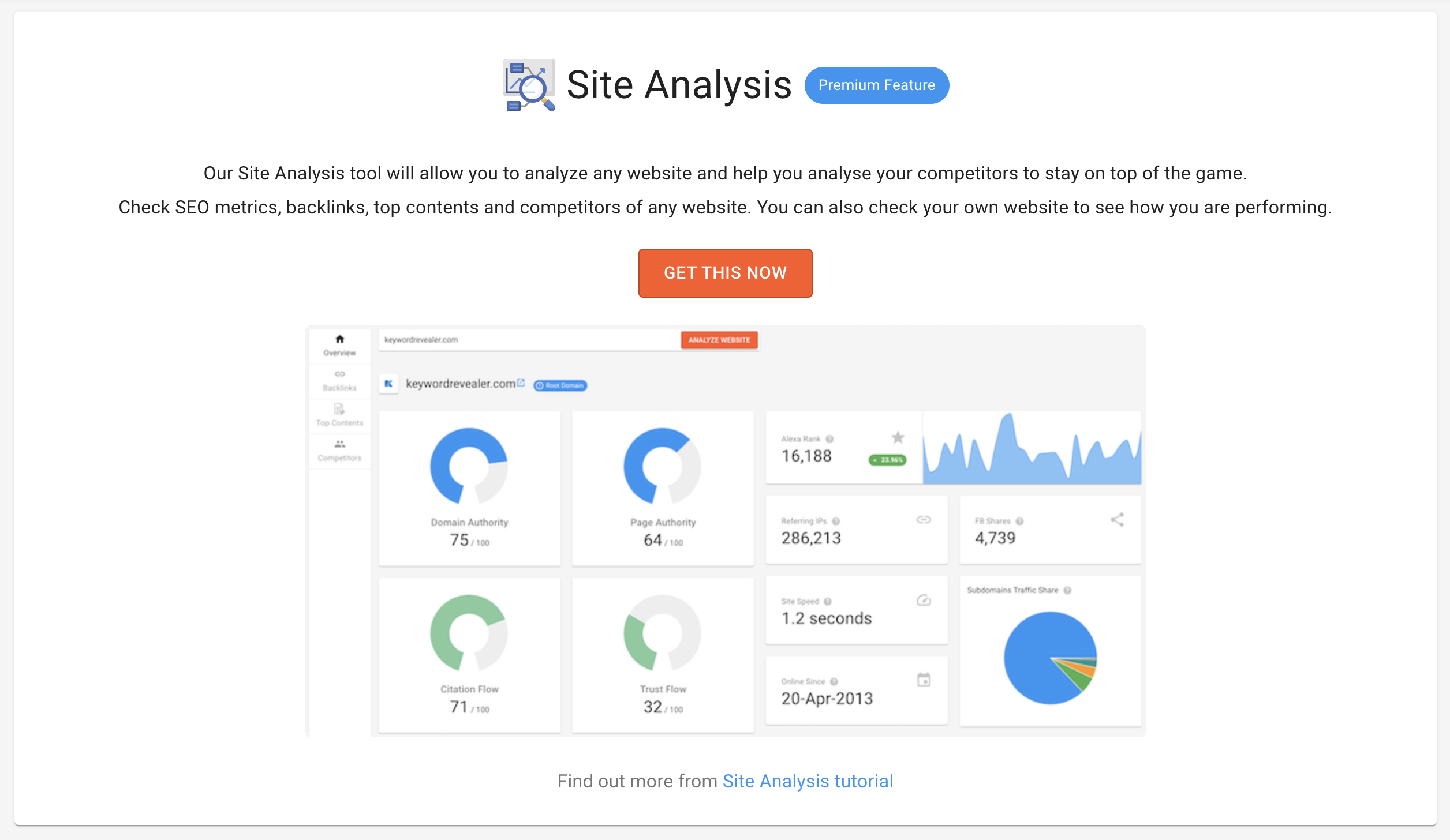 The site analysis from Keyword Revealer requires at least the pro plan at $17.5, so I didn't get to test that as I was on the basic plan, but I read about it, so let me share my thoughts.
It's a decent way to get an overview of your website, where you can see your website authority, graphs of your backlinks, Alexa rank and much more.
It's not something I haven't seen before, but it's always great to get insights about your website. If you want to see one of my favourite site audit tools for insights, then watch my SiteGuru review.
Alternatives to Keyword Revealer
Keyword Revealer has a lot of alternatives, but I've tried to pick 2 which are closely related with a focus on backlinks and building a topical map.
WriterZen is, to this date, the best tool I've tried for building a topical map on autopilot.
It's so good at finding large datasets within your seed keyword and building out the categories.
On top of this, WriterZen offers great modules for keyword research and content optimisation.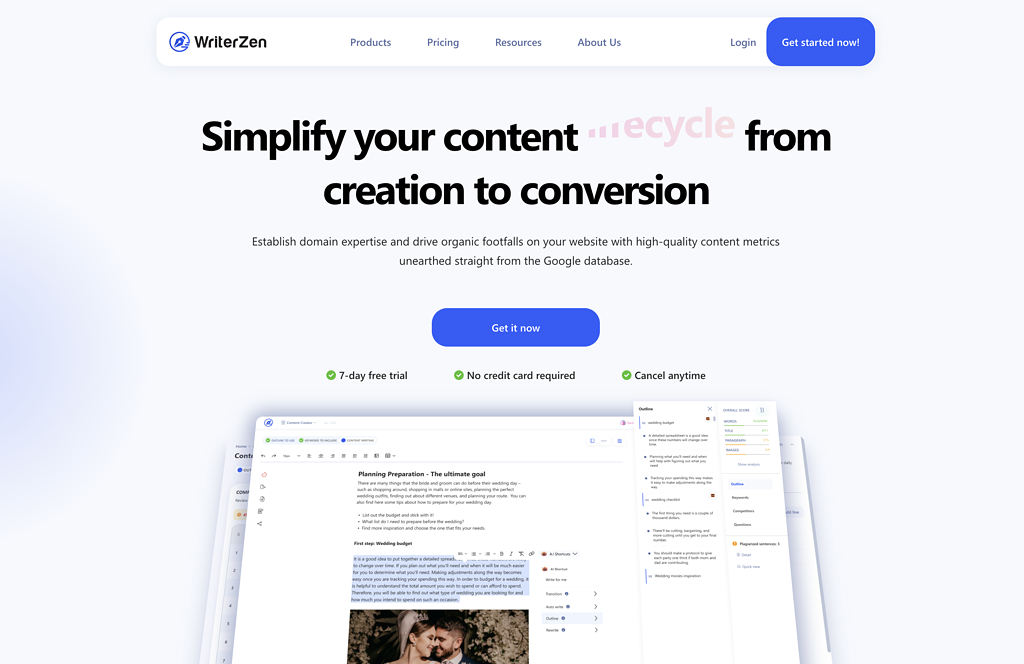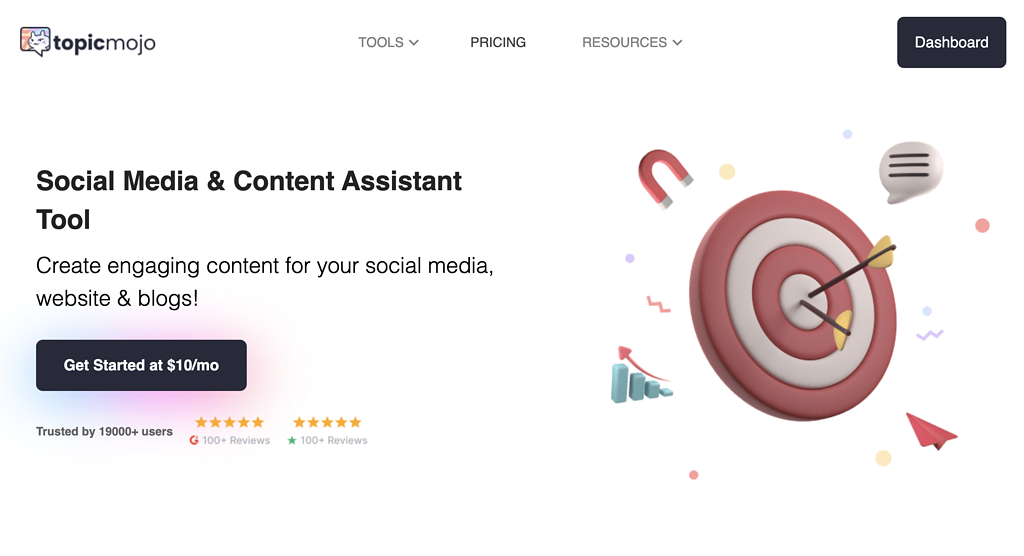 TopicMojo is purely for getting data and keywords and helping you get data from multiple sources, not only Google.
It does it so well, and it's one of my favourite tools to start with when I need a spark of inspiration.
Who Is Keyword Revealer Made For?
If you're looking to up your SEO game and start to pursue more backlinks, then Keyword Revealer is perfect for you.
You can combine this with the backlink analysis module to ensure you keep the backlinks you pursue.
Lastly, if you're looking to build a topical map for your website, which I'll strongly recommend to you, then Keyword Revealer can help with this as well.
It's not going to generate it fully, but you'll get a ton of inspiration for your topical map, and Keyword Revealer makes it quite easy.
Wrap-Up: Is Keyword Revealer Worth It?
Yes, Keyword Revealer is worth it purely because of the backlink analysis module. It's also clear to me that their pricing reflects the product. It's a super cheap product because they know they're still missing some elements to be able to compare themselves to WriterZen, for example.
The keyword research module is super basic and is missing data. And the brainstorming module doesn't bring depth to make it possible to create a topical map.
For the keyword research module, I did find it difficult to find long-tail keywords, and sometimes, when I used a seed keyword, it didn't bring any results.
So, if you're looking for an SEO tool in development but with a focus on monitoring your backlinks and finding new backlinks, then I think Keyword Revealer is for you.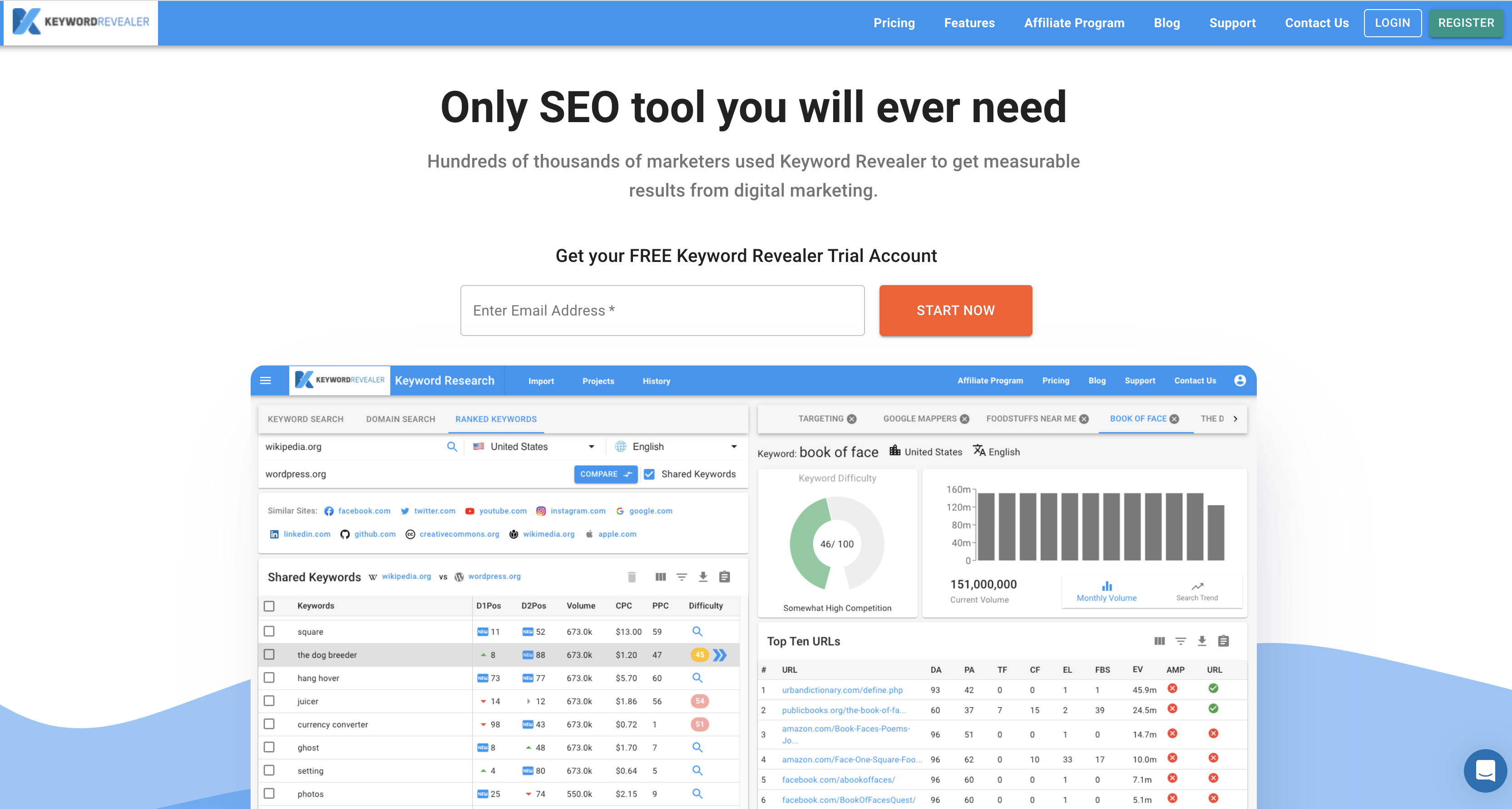 If you're looking to find new backlinks to pursue for your website, then give Keyword Revealer a try.
Afterwards, you can start your topical map as well using the brainstorming module using Keyword Revealer.
Keyword Revealer Review: Find New Interesting Backlinks
Keyword Revealer is great for backlink analysis and finding new backlinks. Combine this with the keyword brainstorming module and then you're set.
Pros
The backlink analysis module is perfect for monitoring and finding new backlinks you weren't aware of.
The rank tracker is minimalistic, which is great if that's what you're looking for.
The site analysis gives you a basic overview of your domain, including backlinks and graphs.
Cons
The keyword research module lacks data, and it's difficult to find low-competition keywords.
The keyword brainstorm module is missing steps to find subcategories.