WriterZen is an advanced SEO tool to help you with the entire content creation phase. From finding the right keyword through the keyword planner to using their content creator to write and optimise your content.
WriterZen has a lot to offer to any SEOs and content creators, and I've been using it for a while now, so let's get into it.
WriterZen covers the entire content creation journey, from finding a keyword to writing an SEO-optimised article for that target keyword.
Their content editor has AI and plagiarism built-in.
Their topic discovery module is made to help you achieve topical authority in your niche.
Pros And Cons Using WriterZen
Now, after using WriterZen for some time, I've been primarily impressed with the level of depth in each analysis, but there are some drawbacks.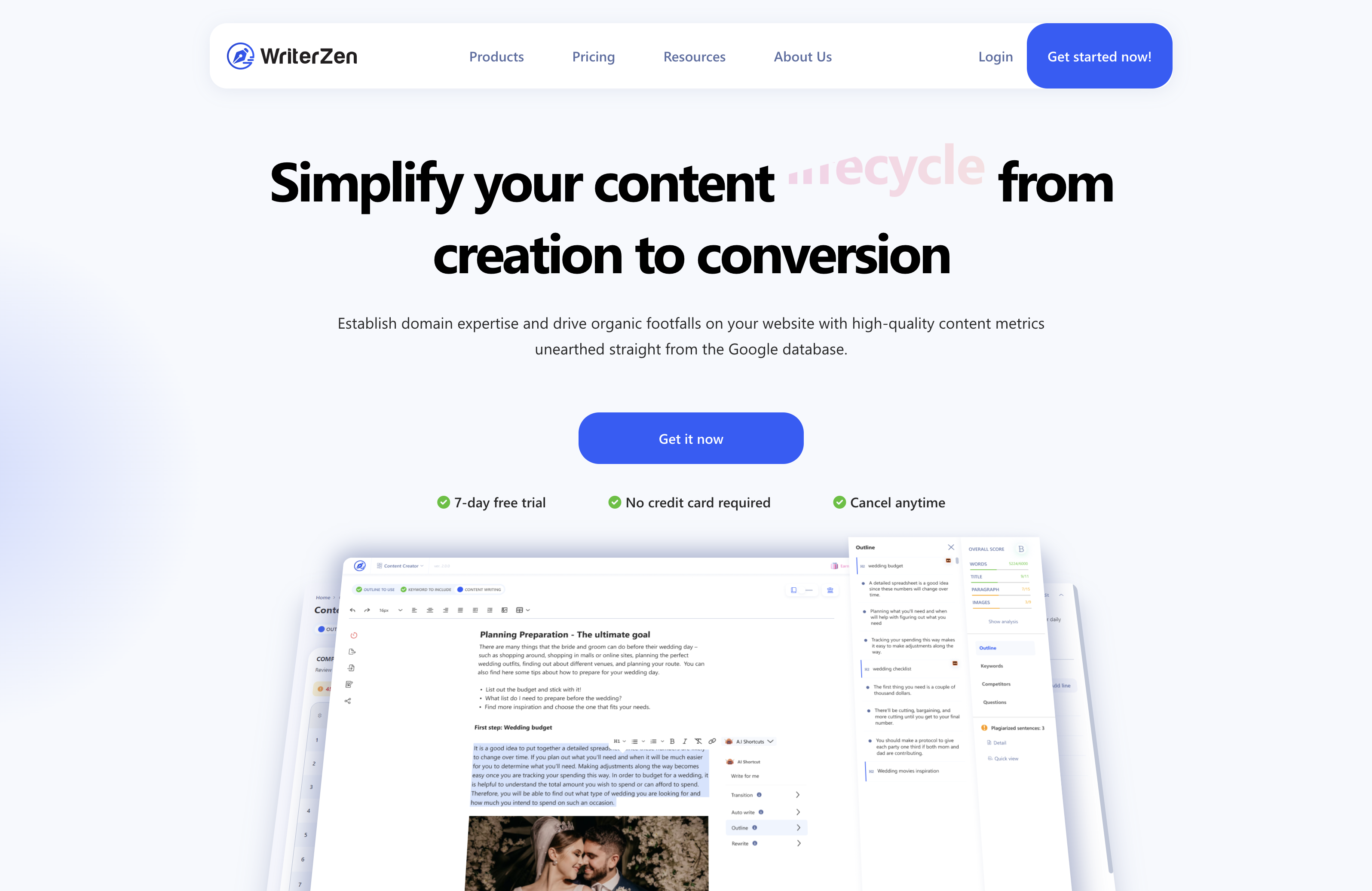 One of the most complete SEO tools
WriterZen has developed a lot recently, and it's slowly becoming one of the most complete SEO tools.
The most recent keyword planner module takes topical authority to a new level.
WriterZen is, for some, the ultimate SEO tool to help you with anything from finding relevant keywords with some search volume to writing your blog post, helping you with your content outline and much more.
WriterZen is known for being with you on the entire journey of finding keyword ideas through the keyword explorer or topic discovery, all the way to writing your content with the content writer.
With WriterZen, achieving topical authority with their topic discovery module is easier than ever. However, I did find that you still need to use common sense, as some of the suggestions are a little off.
So in its essence, WriterZen is a keyword research tool that analyses the search engines to help you write high-quality content which will rank on Google.
But let's jump right into the first module, the topic discovery module.
Get actionable SEO tips in your inbox
Join 700+ other SEO enthusiasts to receive an SEO tool review from my YouTube channel weekly, which I'll share with you.
And on top of that, an actionable SEO tip every week.
Achieve Topical Authority With WriterZen Topic Discovery
I ran the topic discovery module on the seed keyword: freelancing.
And overall, I'm quite impressed with the output. I chose to go narrow on my search to ensure it was as related as possible.
You can choose to go:
The more wide you go, the less relevant the queries get.

But what I really like is when you expand a section, you get how relevant each headline is to your topical authority in that topic and how related it is to your seed keyword.
When I ran it on freelancing, I didn't get any related Google searches on any of the topics, so that was a downside.
I still got headlines to consider and Google Suggest Insights, which were great to pursue.
The headlines are taken directly from the SERP, so if you click to open it up, it'll show the blog post where the headline is from.
My favourite feature about this is the relevance, and you want to focus on those with high relevance first and then work your way down.
I also really like how I can filter the Google Suggest Insights on:
Questions
Prepositions
Comparisons
It just quickly gives you an overview, and it works well.
Overall, I'm quite pleased with the results, and I got a mix of keywords and search queries I haven't seen before and, of course, some I've seen before.
Do Keyword Research With WriterZen Keyword Explorer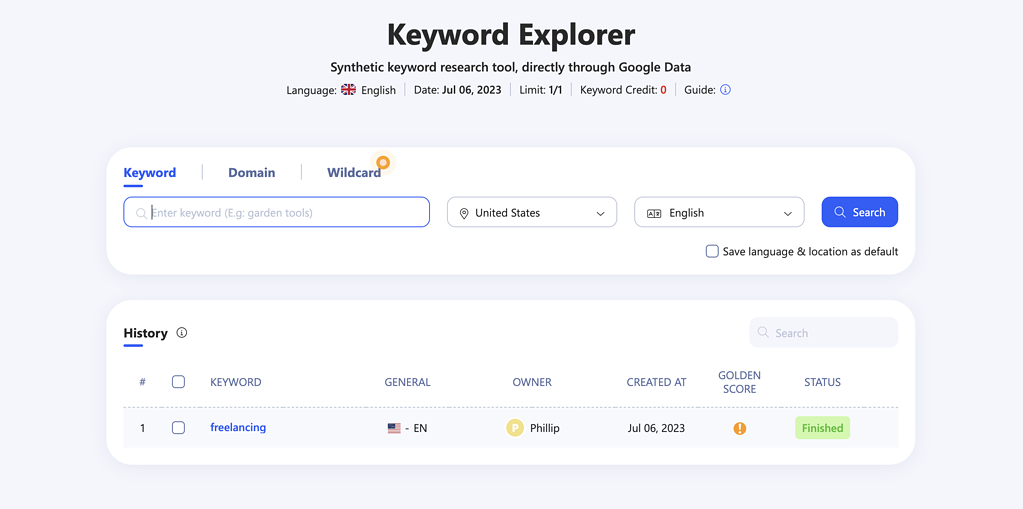 With the keyword explorer, you can do one of the following 3 methods:
Search by keyword
Search by domain
Search wildcard
Search by keyword with WriterZen
Again I tried with the keyword freelancing, and when you search for a keyword, you get specific data on that keyword, but you also get keyword data showing related keywords.
This is where you want to focus unless you searched for the specific keyword to see search volume and other data on only that keyword.
Now this is what I really like about a keyword research tool. Not only do we get so much data, but we also get super innovative filtering options.
And when you start out, and you're not a website with authority, the filters are your best friends, as they'll help you to find those low-competition keywords.
WriterZen's keyword research tool is one of those keyword tools that have unique features, where you have top-level filtering and in-depth filtering.
First, you can filter on:
All Keywords
Phrase match
Having same terms
Also, search for
And based on your choices here then, you can filter for:
Include a keyword
Exclude a keyword
Search volume
CPC
Word count
Trending Keywords
The top-level filters and the trending keywords features are some unique filtering options that I like to use. Because I want to write content about keywords that are on the rise, so when they peak, my content is already out there.
And you also want to do the same, whether you're a domain with authority or not.
Now they do have one more filter option, and that's the golden filter. It'll use the Allintitle data to find keywords with low Allintitle data but high search volume. According to WriterZen, this is one of the fastest ways to create organic traffic.
I tried it, and it does show some interesting keywords and highlights it. But sometimes, it's also a bit off.
The cluster feature basically takes all the keywords and puts them in clusters to get you an idea of keywords you're missing to cover in specific clusters to achieve topical authority.
Yes, it works well, but remember sometimes the naming of the cluster can be a cluster you've already built, so use common sense when using Keyword Clusters.
If you wish, you can also export the entire keyword list, but I'm really missing a filter to show me all the long-tail keywords.
The only way I can do this is to look for them manually. Maybe export them to Google Sheets and sort the entire list of keywords by longest, but it's inefficient.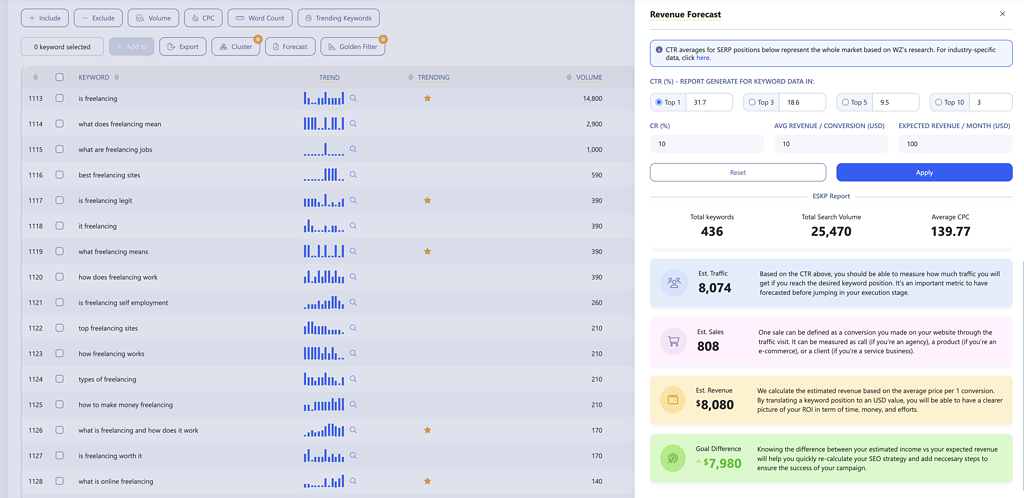 The last feature is the revenue forecast feature. I didn't find it useful, but maybe you will.
It's a tool where you can enter your CR, average revenue per conversion and expected revenue. And then, based on the traffic numbers, CTR and your data, you'll get an estimated sales, revenue and goal difference.
So overall, the keyword research tool is an amazing feature to help you find the right keywords to target to climb the SEO rankings hopefully.
Cluster Your Keywords With WriterZen Keyword Planner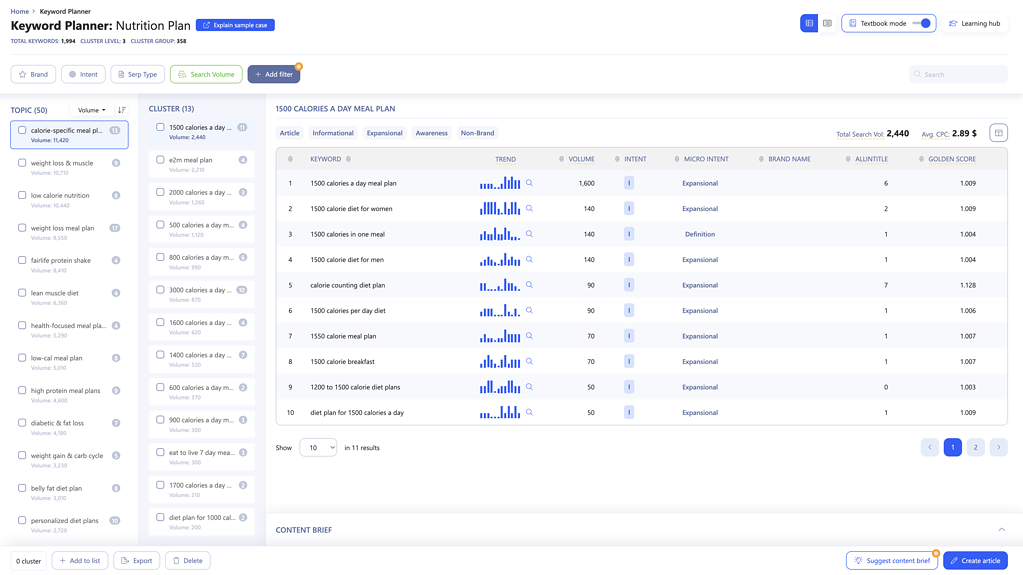 The keyword planner is their newest module, and it's an awesome module.
It starts by using the keyword importer, where you essential a bunch of keywords. You can either use a tool like the LowFruits keyword tool, or you can use WriterZen as well.
After uploading your keywords, WriterZen will automatically cluster all of your keywords, and it does it very well.
So in these days where topical authority is more important than ever, this tool is perfect for your content creation process.
It saves you so much time to filter out irrelevant keywords and competitive keywords. And then, focus on the low-competition keywords within your topic map.
The entire report is divided into three levels:
And for each keyword, you get 8 data points which makes it easy for you to figure out what keywords you should focus on first:
The keyword
Trend
Volume
Intent
Micro intent
Brand name
Allintitile
Golden score
Pro-tip: Sort by golden score. Start from the top and work your way down. Do one cluster at a time, and then your entire content efforts pay off.
This is an excellent Keyword Clustering feature, and they nailed it with this one.
Create Content That Will Rank With WriterZen Content Creator

The content creator module is super interesting, and there are some similarities to PageOptimizer Pro, which I reviewed.
Both of these tools use Google's NLP engine to help you write content for both the reader and the search engines.
For this WriterZen review, I tested out a query I found via the keyword explorer: freelancing myths.
For every content report you create, you do the following:
Enter your seed keyword
Enable Google NLP for best results (Cost 3 credits)
Either manually add keywords or enable WriterZen to add relevant keywords for you.
Choose if the AI assistant should write it or if you will write it manually.
Fill out the content brief (Content format, writing tone, target audience, author perspective and content angle).
Choose if you want to share access to the article with anyone.
Usually, only the first 3 steps are essential, I usually enter my seed keyword and let WriterZen take care of the keywords, and then I start writing.
When you run your report, WriterZen will collect data on your target keyword, and then once it's ready, you'll have the content editor with all the content writing tools you need.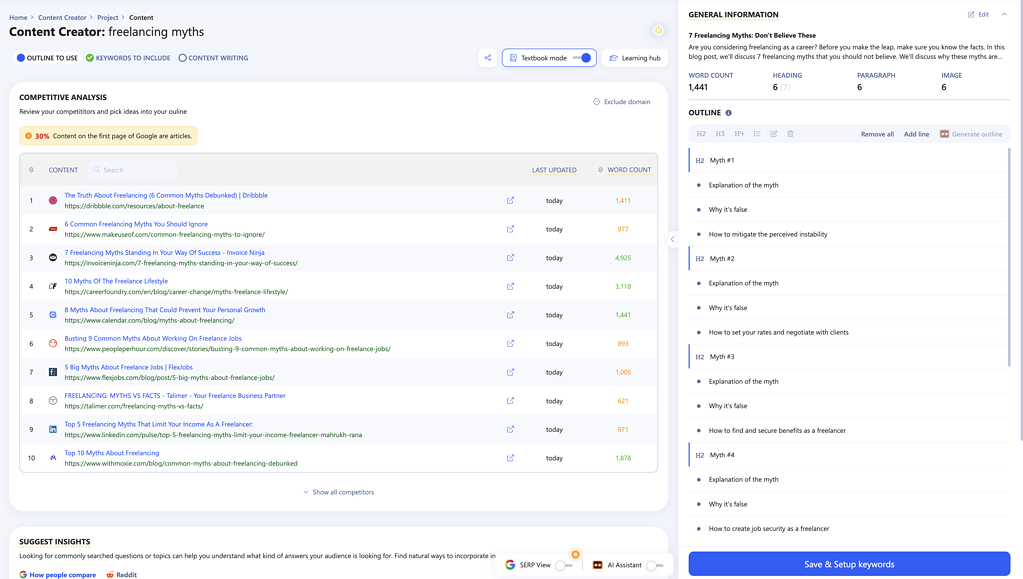 When your report is ready, you get the first glimpse of it, and I really like this view.
You can see your competitors and suggest insights.
You can use AI to create your title, description and outline on the right.
I found that it generated the description a bit too long, and the outline didn't match my title.
My title was: 7 Freelancing Myths, but the outline only shows 6 Freelancing myths.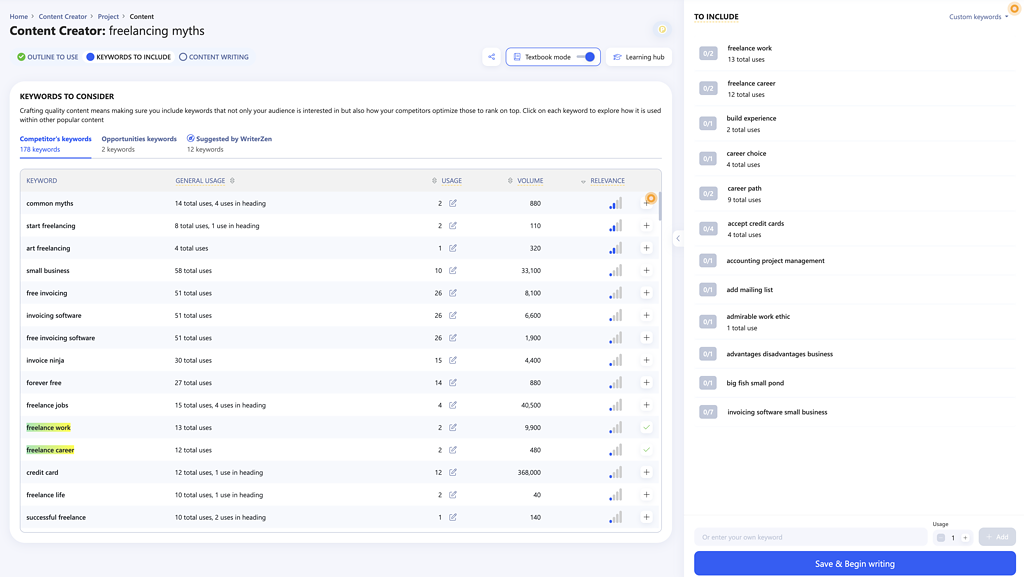 This view, I feel, is a little unnecessary, but it's a way for you to decide what keywords to include.
The user interface is intuitive, but my issue is that other tools, like Frase and MarketMuse, do this automatically.
Here you can decide if you want to include specific keywords yourself or add your custom keywords, and this is used for your content when you need to start writing them, where WriterZen will check if you include the keywords in your amazing content.
What I found using the content editor is that on the right side, you have your entire analysis with:
Your outline
Keywords to use
Competitors
Questions
Comments
I found the editor difficult to use initially, but you get used to it.
In the top right, you get an overall score ranging from A to E, it's a little bit difficult to identify, but it's there. And it measures your content on multiple parameters.
The keywords tab only has the keywords you've chosen in the previous step, and I didn't like it much. I much rather want all keywords available but sorted by the most important keywords at the top.
In this WriterZen review, I need to mix it with my experience and facts from WriterZen, so just be aware of these things.
In the competitors tab, you can click on a competitor and see their outline and FAQ if they have one. This works brilliantly, and nothing is missing in this view.
The questions tab is missing data. Often I found that it didn't find any data from Google, and one of the key features should be to show questions from Google as we want to answer them in our content.
But they pull keywords from Reddit, which is a great help. Hopefully, they'll add Quora in the beginning so we can create a content plan that covers all areas.
Overall I think it's a solid content creator tool, but with more data and the keywords repurposed, it'll become a brilliant tool for all content marketers.
Check Your Content With WriterZen Plagiarism
The Plagiarism module is super easy to use. Once you're done writing your content, all you have to do is click on Plagiarism on the right, and then it checks your content.
As you can see on my test, it was 0% plagiarised, and you get an entire report where they tell you if parts of your content are copied from somewhere else.
Even though you're writing your content yourself, running it through the plagiarism check is a great idea.
If you're using AI to generate your content, you must run the plagiarism check to ensure your content is unique. This is so important.
WriterZen is for content creators and SEO experts.
Combining the keyword explorer tool, keyword planner and content editor makes this an all-in-one tool.
You get the complete package to be able to research and write high-quality content based on keywords with high monthly search volume and low keyword difficulty.
So if you're a niche site owner, or a company focusing on SEO, WriterZen is for you. The keyword planner alone makes this tool worth it. It's awesome.
Alternatives To WriterZen
WriterZen is one of the more complete SEO tools, and they're huge within the topical authority.
I haven't seen any tools come close, but with content optimisation and keyword research, there are some tools out there.
Frase is my go-to for content creation and content optimisation.
They offer the most in-depth analysis of the SERP on specific keywords.
They also offer some keyword research tools, but nothing compared to WriterZen.
So the perfect setup would be to use WriterZen for keyword research and then write your content using Frase.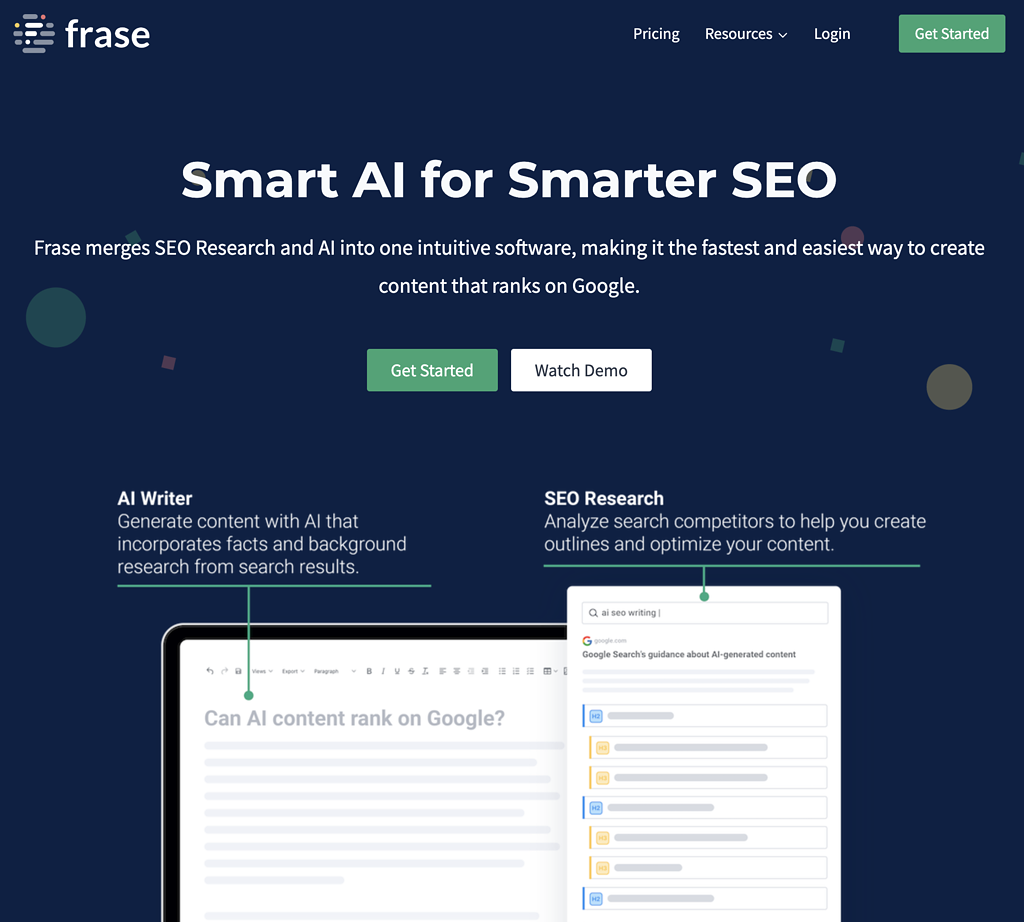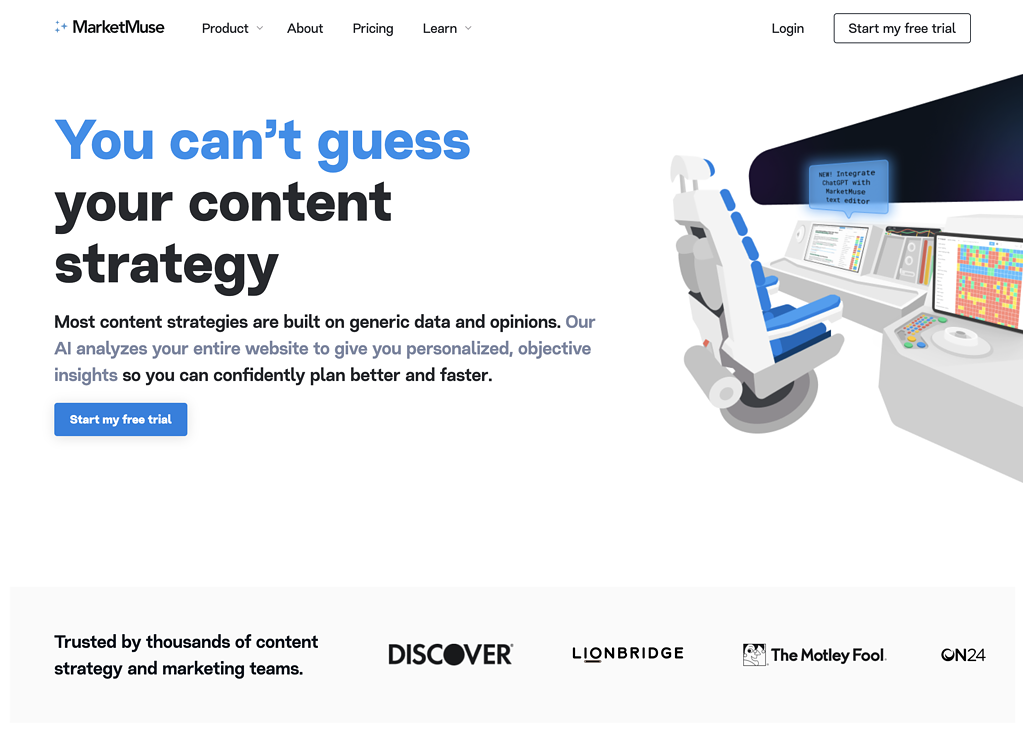 MarketMuse is an awesome SEO tool for creating well-researched and optimised content.
They also have a keyword research tool, but it's not as good as WriterZen.
However, the in-depth analysis of content research is much better than WriterZen.
Semrush and Ahrefs are fighting for the number 1 spot within SEO tools, and recently I've been leaning towards Semrush.
They've built an awesome library of keywords to do keyword research.
Their content gap module works brilliantly as well, but it is a bit steep in price compared to WriterZen.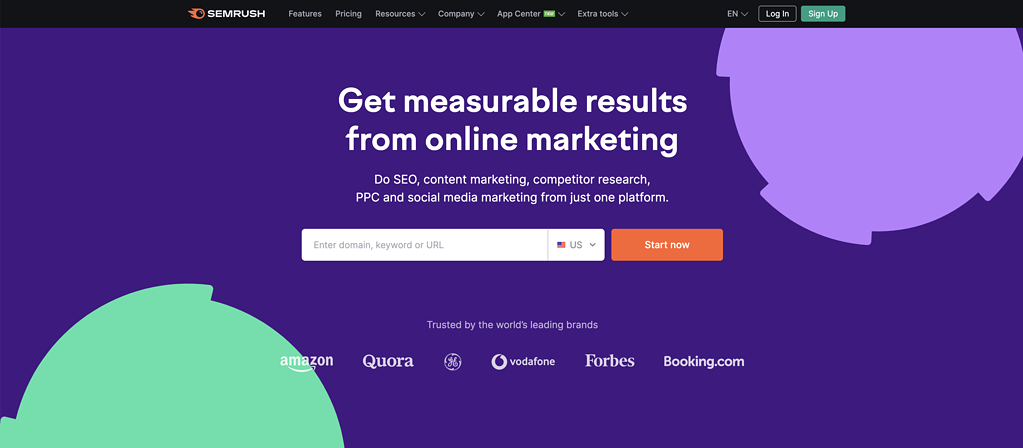 Wrap-Up: Is WriterZen Worth It?
WriterZen is worth it, yes. It's an awesome SEO tool with so many great tools that work well.
You must still use common sense when researching keywords and finding relevant topics.
But there are so many exciting features, and they're so good at building a platform which is easy to use and finds all the research you need to write well-researched content for your exact keyword.
So if you're looking for an SEO tool with a wide range of features, then WriterZen is the tool you need. It's one of the more complete SEO tools next to Ahrefs and Semrush.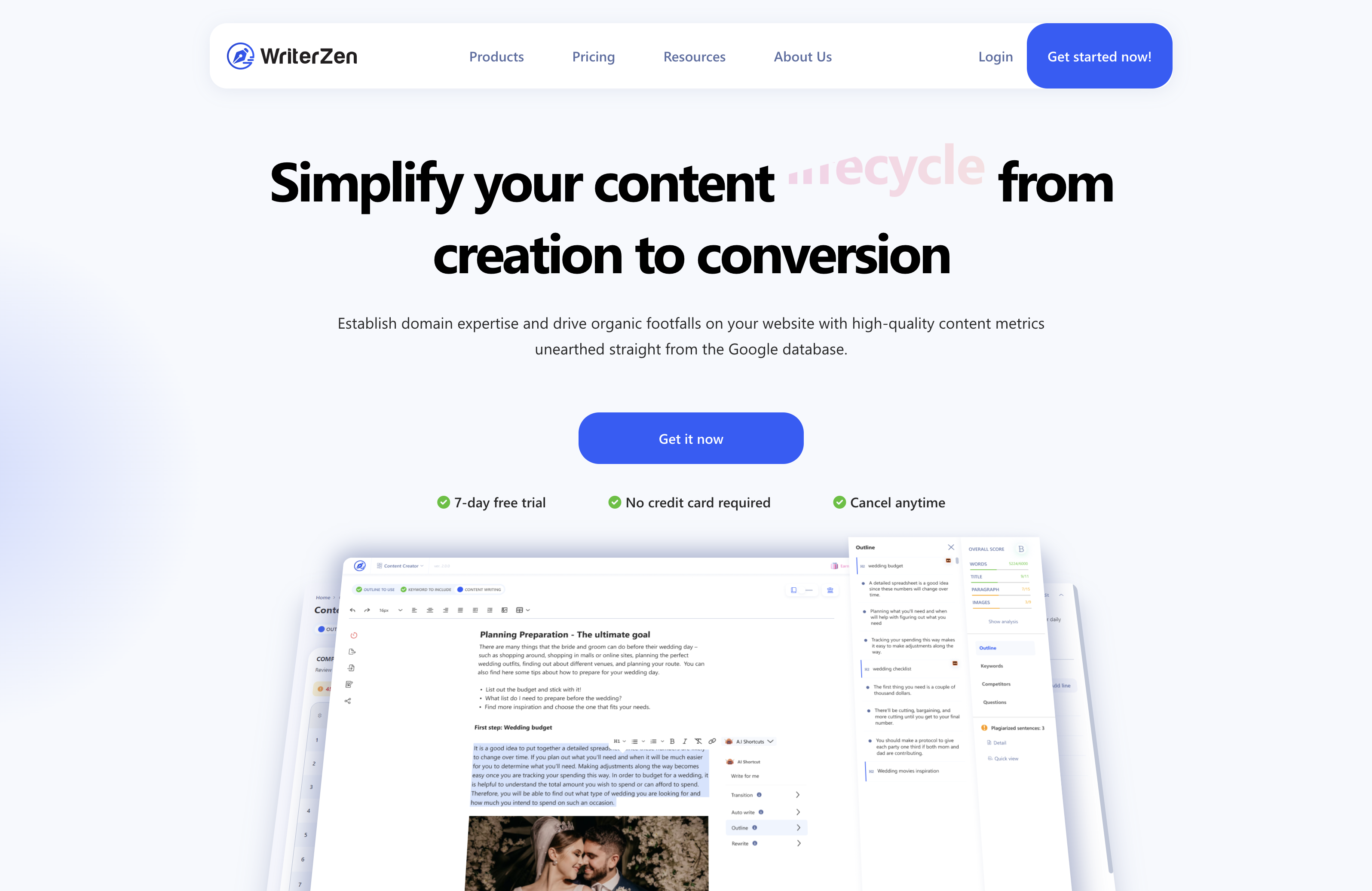 Achieve topical authority with WriterZen
I just want to summarise if you're looking for an SEO tool to help you achieve topical authority in your niche.
Then look no further than WriterZen. They have multiple modules built with the purpose of helping you with topical authority.
WriterZen
In this WriterZen review I go over every single feature after using WriterZen, and this must be the full package within SEO tools.
Pros
The topic discovery is super in-depth and allows you to control if you want to analyse closely, medium or wide.
The keyword explorer allows for both keyword search and search by domain and wildcard.
The content editor is super easy to use, and your in-depth analysis is on the right side.
Cons
The topic discovery module sometimes shows topics which are far from relevant to the keyword.
The topic discovery module rarely finds any Google-related searches.