Is Surfer SEO worth all the hype? As a seasoned content writer who loves everything SEO, my Surfer SEO review answers all these questions and more.
I recently used it to check out the Surfer AI section, but a bit more later.
But when you look at the price, can Surfer SEO outperform other SEO tools when optimizing content to rank first on the SERPs?
Let's find out to see if Surfer SEO is worth the while.
It has a SERP Analyzer helping you explore a specific niche compared to competitor's pages.

The analysis before creating content using the AI is impressive, but using the Surfer AI is expensive. It costs $10 per article you generate.

Another highlight is the Surfer AI, a content generator that helps create content with one click.
Pros And Cons Using Surfer SEO
After using Surfer SEO, I loved the ease of use and intuitive interface. Here, I have a short list of all the things I like and don't like.
Surfer SEO is a top 3 AI copywriting tool powered by tons of data in its research.
It's one of the most used SEO tools in the industry, and for good reason.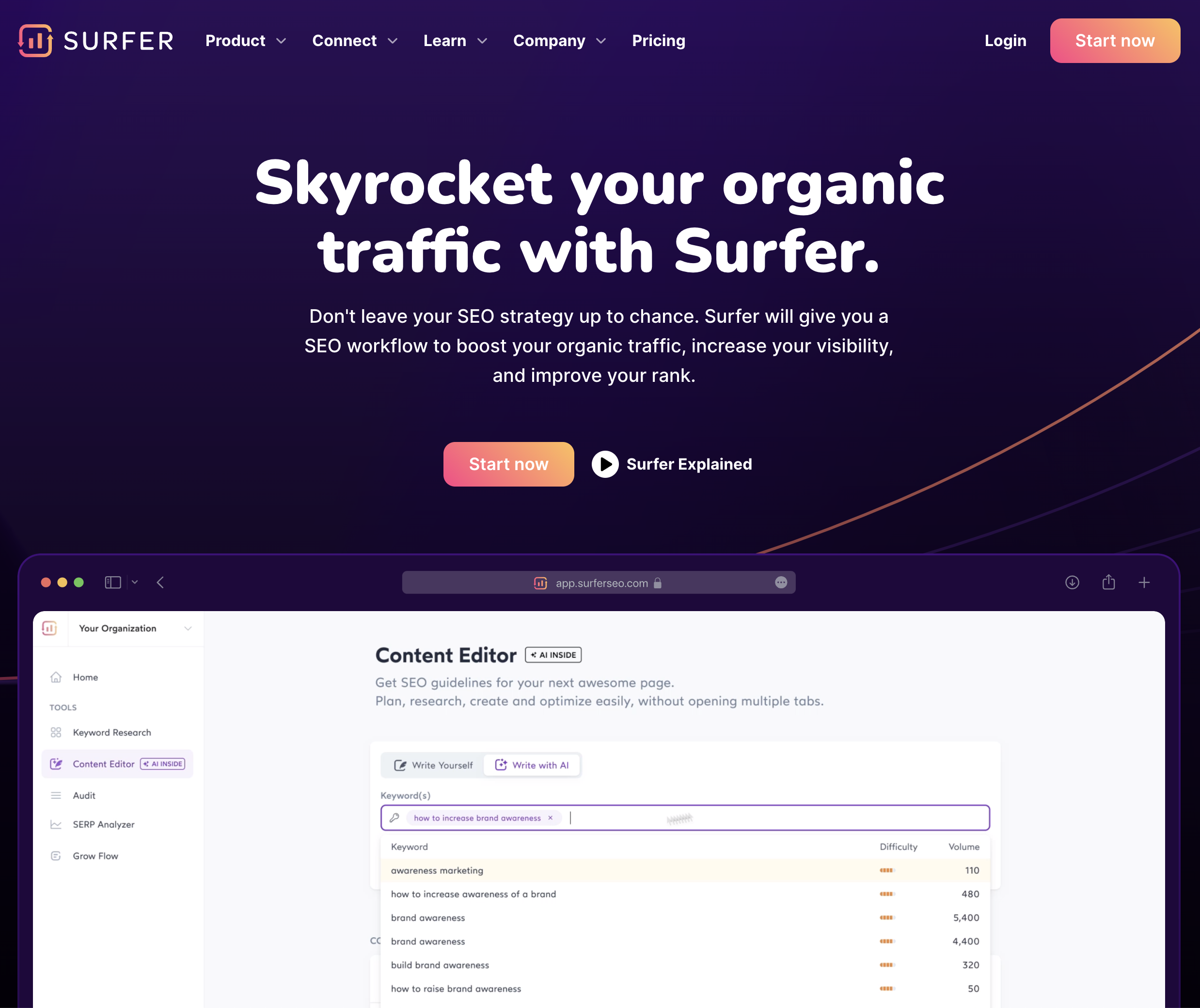 Solid AI Copywriting tool with tons of research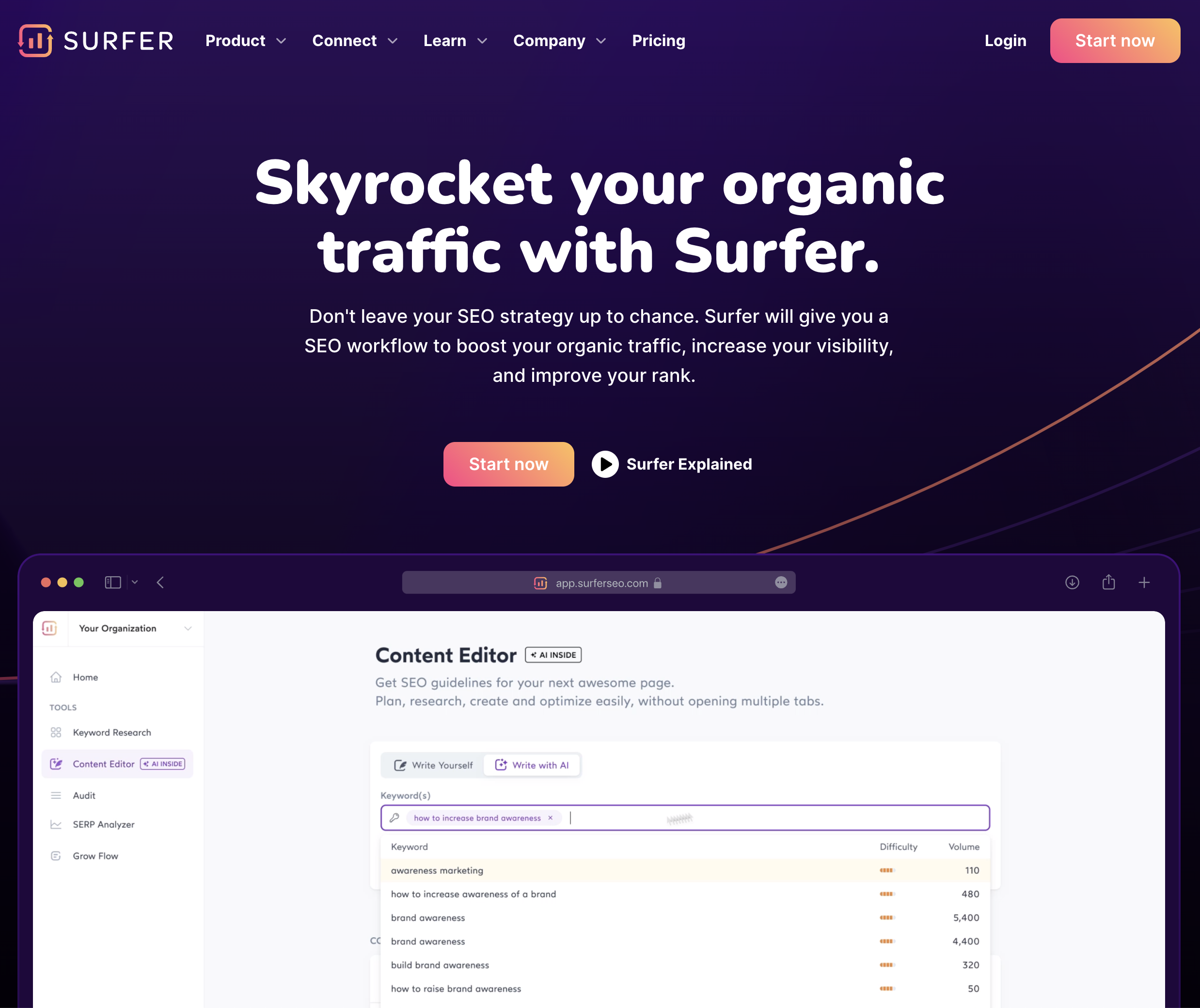 With Surfer SEO, you get a cloud-based on-page optimization tool to analyze and compare your pages against top-ranking pages on search engines.
So, Surfer SERO removes all the guesswork to give you data-driven analysis tools to show what is missing in your content, page, site, and more.
Thus, Surfer SEO studies the top search volume of ranking pages on the SERPS to identify the on-page SEO metrics like the main/sub-keywords, LSI/NLP/TF-IDF keywords, meta tags, and more.
With the metrics available, you have a valuable tool to research keywords, optimize your site, and analyze the SERPs.
Get Actionable SEO Tips Right In Your Inbox
Join 700+ to receive an SEO tool review from my YouTube channel weekly, which I'll share with you. And on top of that, an actionable SEO tip every week.
Surfer SEO Review Features
The crown jewel of Surfer SEO is the content editor that works wonders on on-page optimization and provides an advanced analysis. 
If your page struggles on the 17th spot, it can take your content to the top 3 by editing it instead of building backlinks.
But this is only some of the cloud-based software has to offer. There are more key features.
Keyword Research: Find Low-Competition Keywords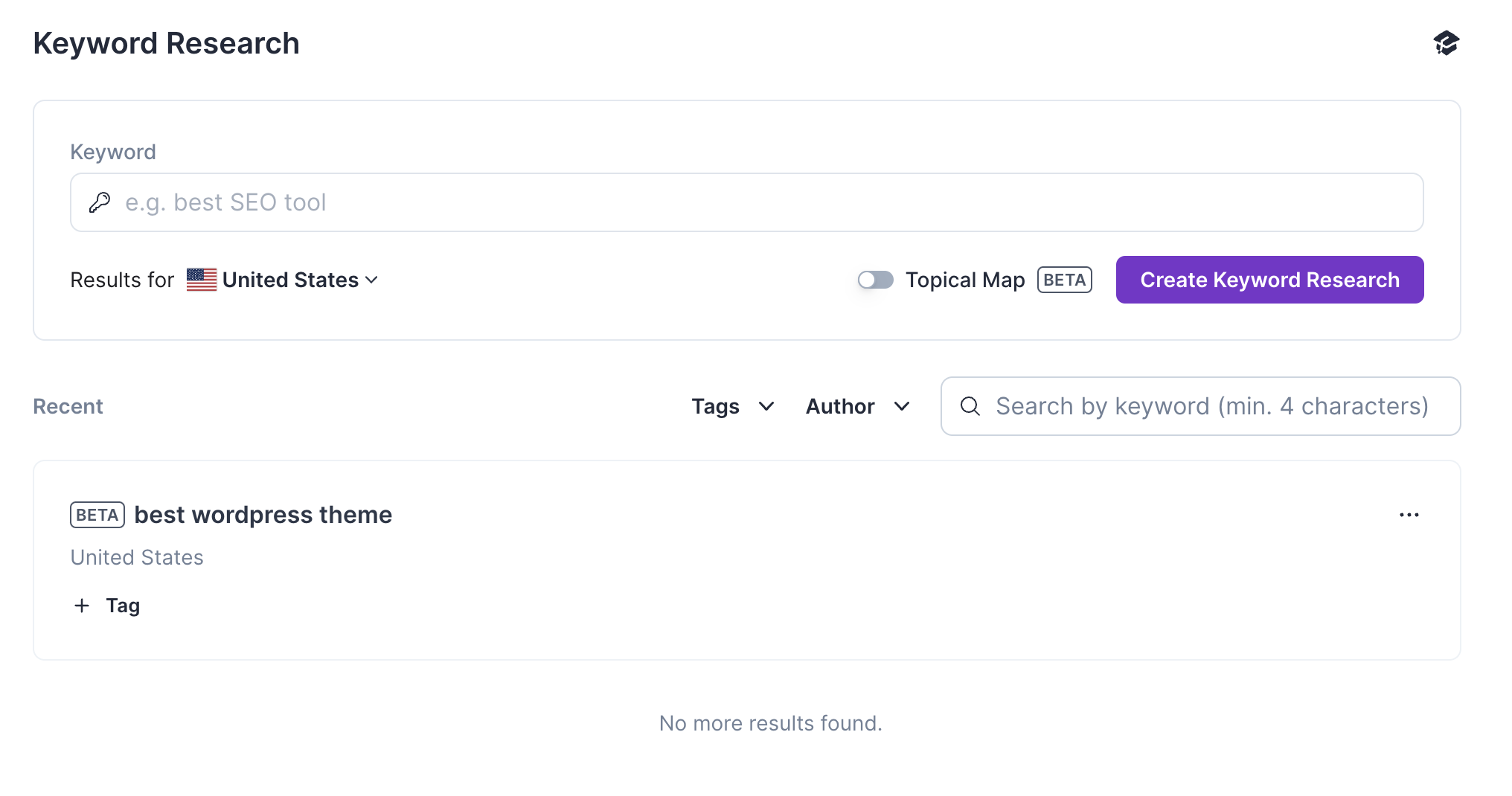 Here is where Surfer SEO can drop the ball fast—an example of how the ball drops is the keyword research tool.
It is okay but does not compare well with other keyword research apps. The main concern is the low-volume keywords, which are the bread and butter of many sites when starting.
The truth is that Surfer SEO does not shine in this category as it needs more data.
Where the software shines is on the high-traffic keywords, but the keyword research tool still needs a lot of work to be first-class.
When writing content, you get tons of keyword ideas throughout the article. 
What is helpful is that you can install the Surfer SEO Chrome extension to display metrics for anything found on Google.
I liked using it to research on the go as you need not open complex tools but can find available alternatives, providing better data.
Content Editor Tool: Write SEO-Optimized Content With AI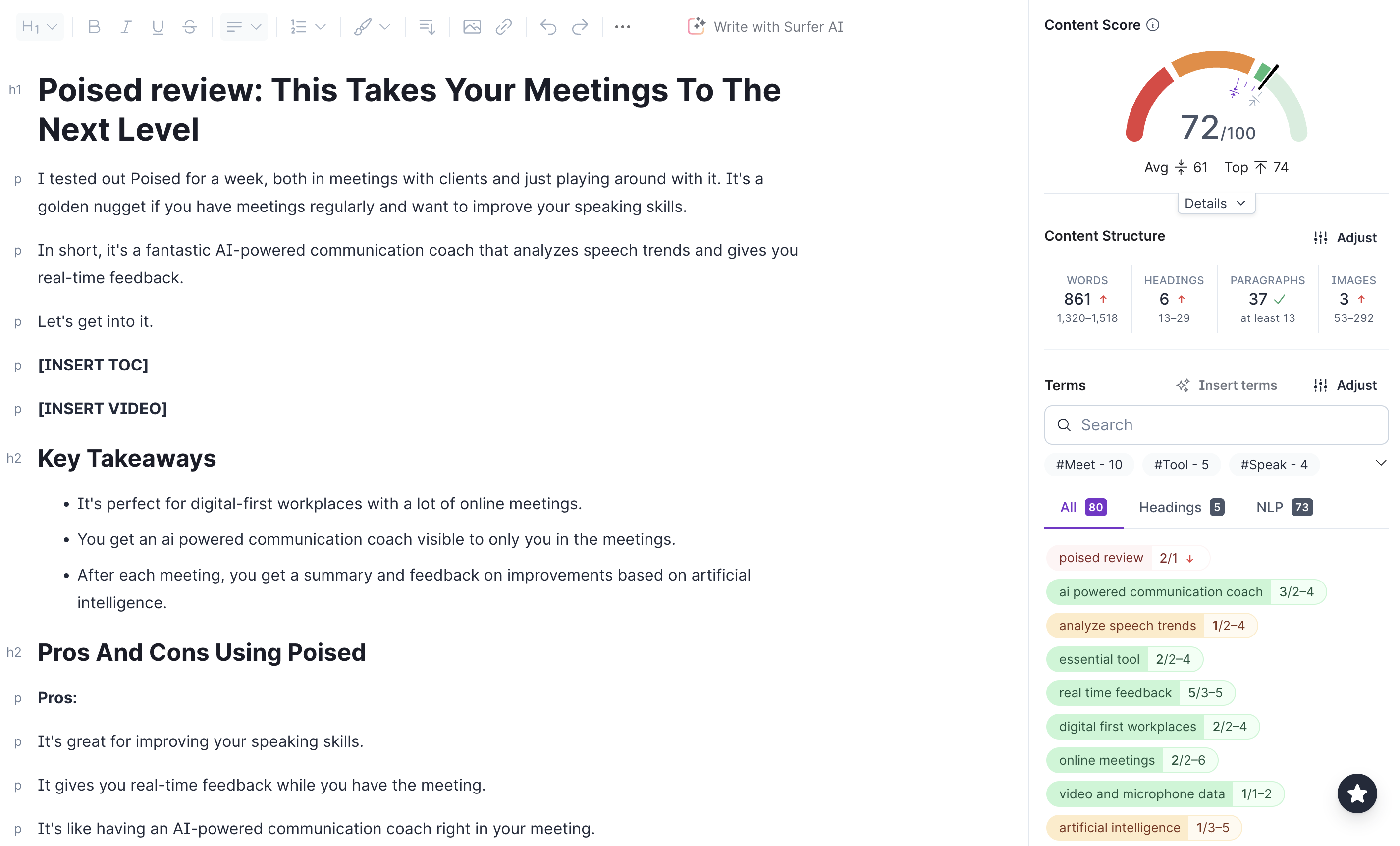 The latest edition to Surfer SEO is Surfer AI, which allows you to research a keyword, write, and optimize your article with top-ranking articles by clicking a button.
I signed up for the light plan at $29 per month, getting keyword research and 3 content edits per month. It's super limited, and SurferSEO works from the principle that everything costs extra.
Unless you're on the max plan at $299 monthly, you only pay for grow flow and Surfer AI.
If I want an SEO audit, it's $49 extra per month. SERP Analyzer, $29 extra per month and Grow Flow, $9 per site per month.
So yes, as they say, SurferSEO isn't for everyone, but I wanted to test their AI, which has been so hyped.
I started with the long tail keyword: How to export from Figma to Webflow
Getting from keyword to outline took 4 minutes. While this is not fast, I believe they can improve this, as the alternative tools do the same steps but much faster.
What SurferSEO does in these 4 minutes is scrape Google for the ranking websites and then give each website a content score based on its own NLP parameters.
Based on the content score Surfer SEO then chooses the websites it wants to compare itself against and get inspired by. This is a neat way.
My outline would be:
Short intro
Key takeaways
Export Your Figma Project To Webflow Using A Plugin
Export Your Figma Project To Webflow Manually
Define your global styles
Export Figma Assets
Div-framing your Webflow website
Styling your content
Define interactions
Test desktop and mobile
Wrap up
SurferSEO's outline:
Understanding Figma and Webflow
Figma Overview
Webflow Overview
Preparing Your Figma Design for Webflow
Layout Structure
Components and Symbols
Color Management
Setting Up Your Webflow Project
New Project Creation
Style Guide Implementation
Customizing Colors
Exporting Assets from Figma
Designating Assets for Export
Export Commands
Uploading to Webflow
Building Your Webflow Site
Replacing Frames with Divs
Styling Content
Creating Interactions
Testing and Refining Your Webflow Site
Publishing Your Site
Cross-Platform Testing
Tweaking and Finalizing
I'm not changing anything, I'm going with the flow of Surfer SEO AI creates articles in one click. I could maybe have changed the outline and got a better result, but I wanted to let Surfer SEO do the work as it think it should be done.
Surfer SEO AI uses the newest version GPT 4 in 32k, which means it supports 32,000 token context-length.
GPT-4 is much more expensive than GPT 3.5, up to 5x the price, so that's some of the reason to why the price tag is at $29 per article, but is the output worth it?
It took 8 minutes to get the article generated, so overall it's not a fast article generator, but GPT-4 is a lot slower than GPT-3, so that's part of the answer. However, I generated the same article using KoalaWriter in less than 2 minutes.
I'll share a link to the article from Surfer SEO AI in the description. So you can check it out.
For the intro, I'm in-between, it has some great elements, but I would change it to contain more of the content in the article, right now it's a little too generic.
Now the thing about AI Copywriting tools is that they often work for different use cases. Surfer SEO is great for info articles but terrible at comparison articles and best x for y—for example, the best noise-cancelling headsets for freelance copywriters.
But with the article done, you can easily export it to WordPress if that's part of your plan. It's not for my sake.
But now, is SurferSEO AI worth $29 per article? No, it's not.
Surfer SEO is comparing their AI to human writers to justify their price point, but I'm comparing it to their alternatives, Frase and KoalaWriter.
Now Frase doesn't run on GPT 4, so it's not a 100% fair comparison, but they do a decent job at generating the content, and I can generate articles down to below $1.
However, I would readily use KoalaWriter for most of my articles if I used AI. With KoalaWriter, I also get outbound links to sources and formatted tables.
They run on GPT 4, and I generated an article of 2000 words for a little less than $5. But the thing about KoalaWriter is that you don't get the NLP editor you get with Surfer and Frase.
By the way, I'm working on a comparison video between these 3 tools where I'll go in dept, so remember to subscribe so that you won't miss that video.
So, in the end, Surfer SEO is for people and companies with a large budget who create many info articles and want to speed up their content creation flow.
I haven't been able to generate an article I could easily copy, paste and publish. All the articles are missing internal links, my own experience and sometimes, they're a bit off.
But, if you want to step up your SEO game, you'll need to run competitor research. Watch my video on how to do so, and it's super easy and very lucrative for your SEO strategy.
Surfer SEO Content Audit Tool: Find SEO Opportunities
Now, not all tools in Surfer SEO are bad; don't get me wrong, where it is helpful is the content audit tool to help you optimize your existing pages.
The tool is simple: enter your URL to optimize and add your competitive keyword. You must also choose your country and click the "Create Audit" button.
Now, all you do is sit back and let the magic happen. You will see a detailed analysis of your page entered and provide you with valuable data as follows:
Missing LSI keywords and phrases

SEO Scores

The overall content word count, headings, and suggested changes

Suggestions if you have enough images to headings

The page load time

Tips for meta titles and descriptions

Internal link suggestions to backlink profiles
Still, I do not suggest following everything and instead serving people first, then concentrating on search engine ranking.
The audit tool is unique because I could use it to cover gaps from missing backlinks, page load time, meta titles/descriptions, LSI keywords, and missing data points.
SERP Analyzer: Analyze the SERP For Opportunities
The core tool is the Surfer SEO SERP analyzer, which thoroughly breaks down a keyword.
The module provides you with actionable guidance to make a correlation between your on-page aspects and the SERP results.
As with most other tools inside Surfer, you need to give an exact keyword to analyze.
For example, Frase.io review. Once the analyzer fetches the data, you will see the average word count of your competitors.
You see the keyword density and frequency you need to use the term compared to top-ranking competitors.
There is a partial match to the long tail keyword, the number of images on a page, and if the target keyword is used in the image as an alt text.
Other factors are the speed of the page, hidden content, structured data, no links that point to the competitors, and more.
But when you harness the information correctly, it can help you rank higher on the SERPs.
Who Is Surfer SEO Made For?
Surfer SEO is costly, and they do present you with plan options. The Essential plan's monthly pricing starts at $89 or $69 monthly with a yearly subscription.
If you want to include the AI in your Surfer SEO subscription, it'll add an extra cost of $50 per month, allowing you to generate 5 articles.
The highest-paying option of $249 includes premium features, while the other plans have limited features.
The application suits Freelance SEO, bloggers, website owners, and SEO agencies.
Still, it remains pricey compared to other applications that provide similar information.
Another benefit is that you get a 7-day Money-Back Guarantee.
When it comes to Surfer SEO, there are other alternatives available to choose from.
As Sufer SEO, Frase offers AI writing and is a content optimization tool. I use Frase for all my content and love it.
You get on-page keyword suggestions from the first 20 results on the SERPs, and it also stands out as an AI writing tool, but it uses GPT-3, so it's not my favorite for generating the content if it comes to that.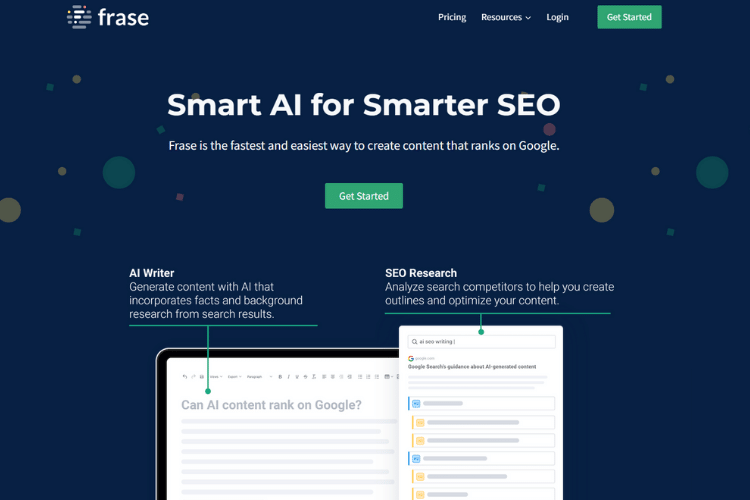 MarketMuse is another alternative to Surfer SEO, and while MarketMuse doesn't have a full AI generator to generate an entire article, it offers in-depth analysis.
I love comparing multiple tools when I write content to ensure I'm covering my target keyword from all angles and my content score is high across the board.
MarketMuse is perfect for this, as it offers all these features and much more.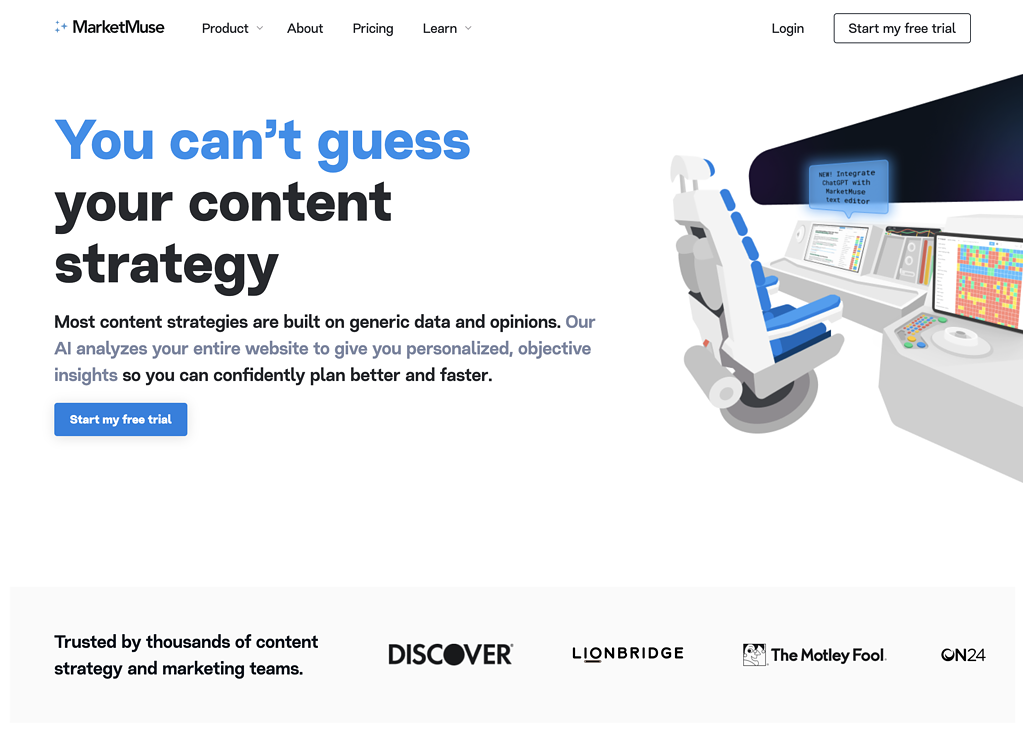 Wrap-Up: Is Surfer SEO Worth It?
Surfer SEO is not perfect, as you can find some amazing Surfer SEO competitors. 
I wouldn't say I like the keyword research, nor am I a fan of the new app releases.
The Surfer SEO pricing point is the main barrier if you are starting, but if you want organic traffic that ranks, it is a big help.
The data and content editors are good, but the Surfer AI could be better. But if you have the money to spend and want to enhance your on-page SEO, try it.
If you're looking for a premium SEO tool that generates great content for your website, then Surfer SEO is a great tool.
You also get a site audit keyword research and much more on top of the pile.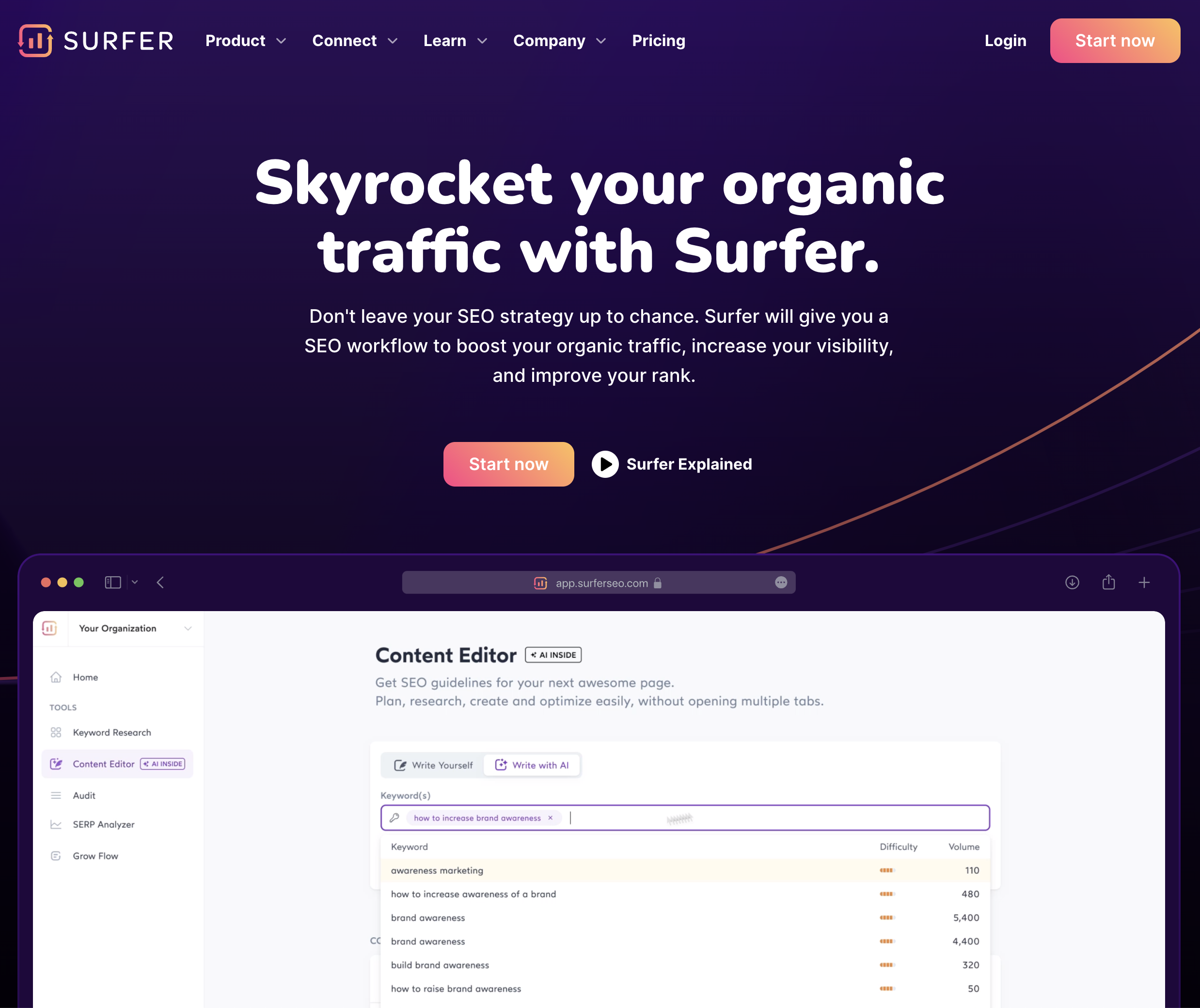 Premium SEO tool for content creators
Surfer SEO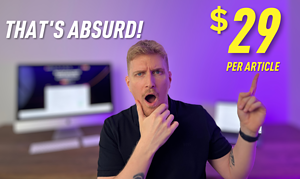 Unlock the power of SEO with our Surfer SEO review. Is this tool worth the price? Dive into features and benefits to make an informed decision.
Price: 89
Price Currency: $
Operating System: Web
Application Category: SEO
Pros
Surfer SEO provides more than 500 ranking metrics to help analyze content.
You can get relevant keyword suggestions to use in your content
You can use the SERP analyzer tool to see what your competitors are doing
You can write SEO-optimized content using the Google Docs integration
You can audit content in minutes
Excellent Surfer SEO customer support with step by step process on everything available
Cons
With WordPress, it has a buggy extension but is not a permanent problem, only once in a while.
The keyword research tool could be better.
Surfer SEO is great for optimizing content, but it would be great if it focussed on more.