If you're tired of shuffling around between multiple SEO tools and you just want everything collected in one tool, then Serpstat might be for you.
They've collected 15 SEO tools in one tool, all of high quality, and it works very well. I used it for some time, made a video and here is my written review.
Let's dive into my Serpstat review.
Find golden ratio keywords you can write content for and rank.
Monitor your keywords and content to see how it's performing.
Run a competitor analysis to find even more keywords and content gaps for your website.
Pros And Cons Using Serpstat
Serpstat is an all-in-one SEO tool, and it's great as you can plan your entire SEO strategy in one place.
However, it has both its pros and cons. Let's get into it.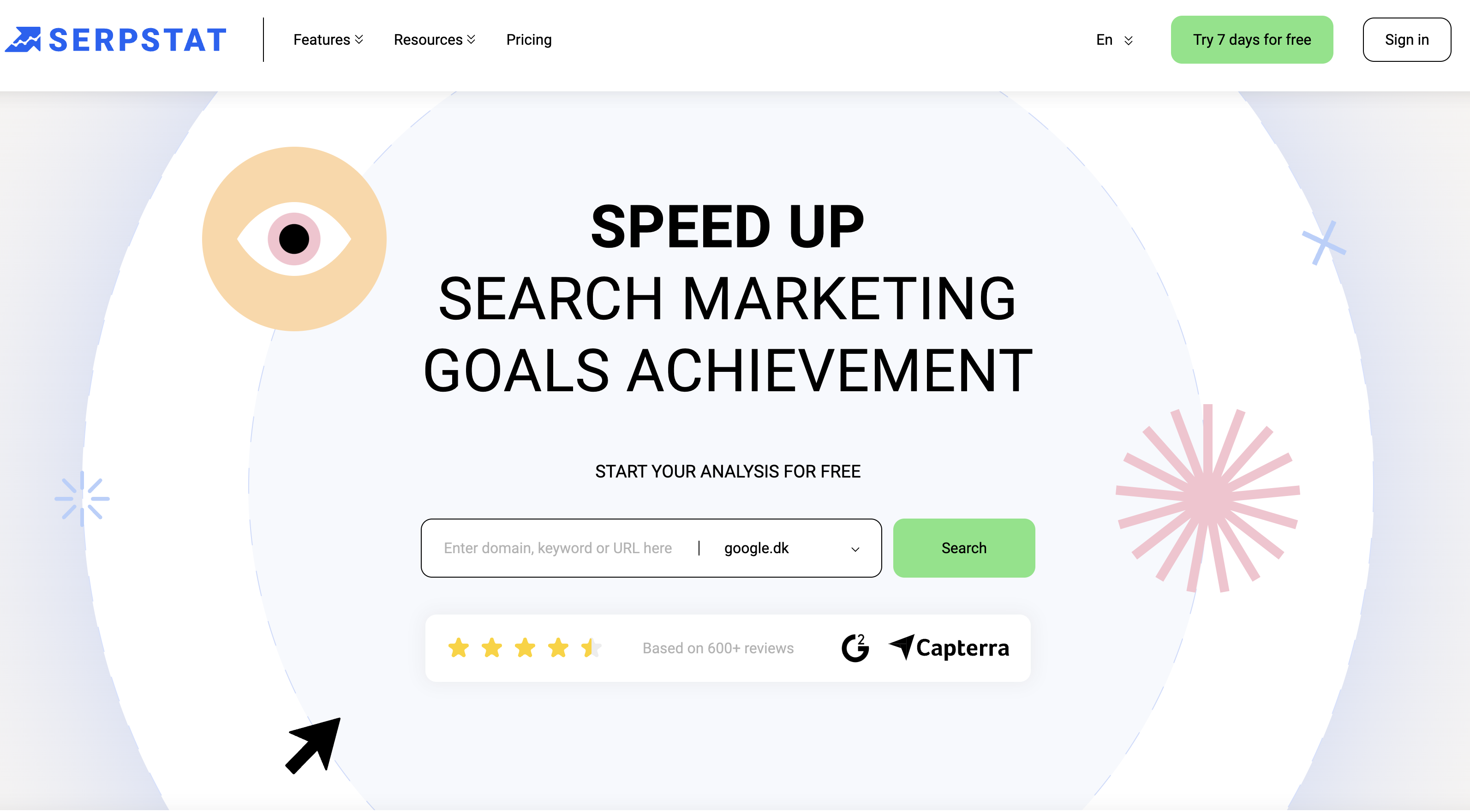 Most advanced SEO on-page analysis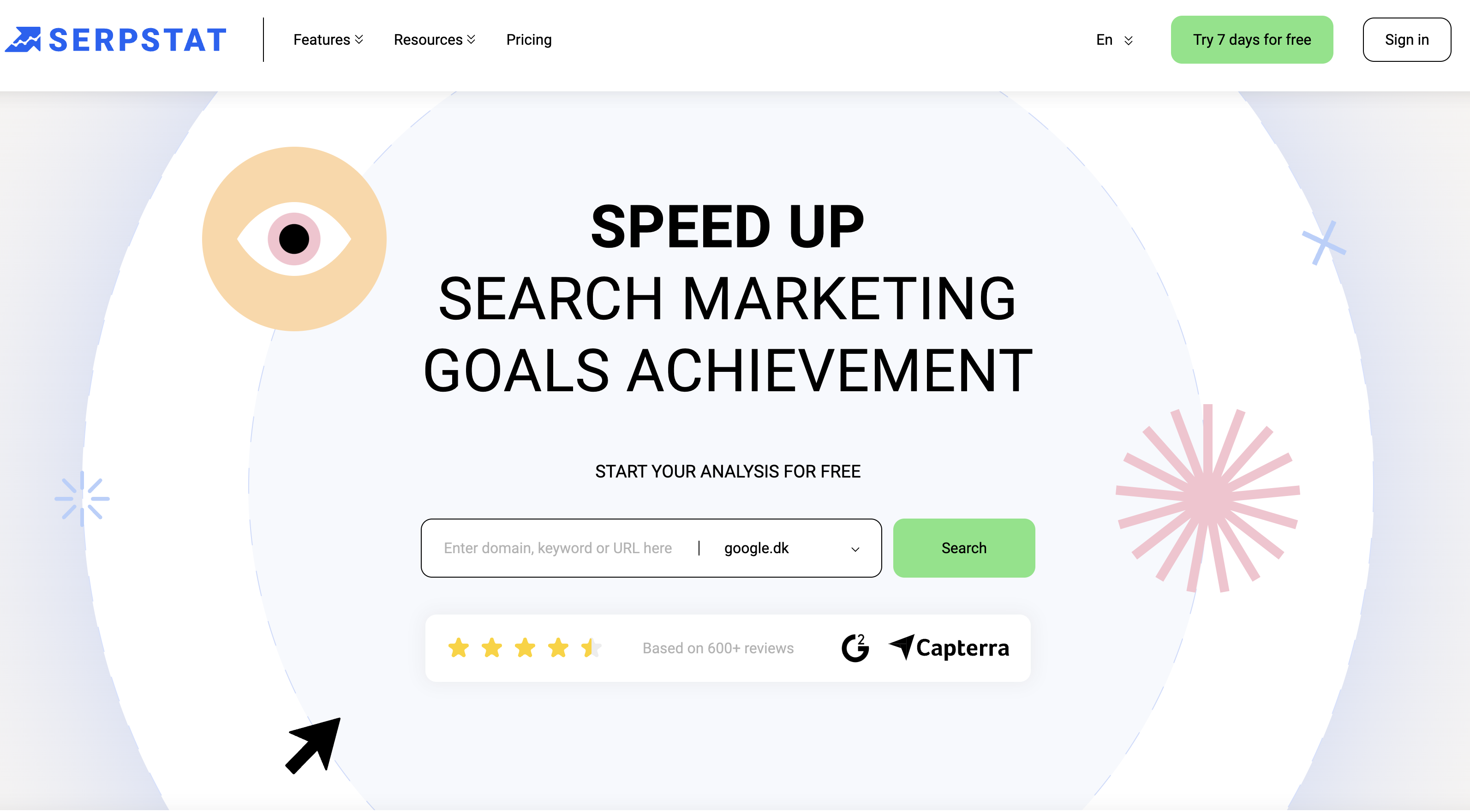 Serpstat is a premium SEO tool with 15+ SEO tools, where each SEO tool expands into smaller tools.
Let me just say it like this: I was a bit overwhelmed using Serpstat. You get so many tools, everything from a simple keyword research tool to an extensive backlink analysis tool, an audit tool, and so much more.
I'll do my best in this Serpstat review to simplify the use of Serpstat and create an understanding of what it's capable of.
It's no secret that Serpstat is a one-stop SEO tool where you have everything you need within SEO.
So let's get into it.
Get Actionable SEO Tips Right In Your Inbox
Join 700+ to receive an SEO tool review from my YouTube channel weekly, which I'll share with you. And on top of that, an actionable SEO tip every week.
Now, let's dive into it, and don't get overwhelmed like me. This is an incredible SEO tool that takes your website from A-Z in the SEO universe.
Let's start with the domain analysis, which is the first feature I'll recommend you run for your website.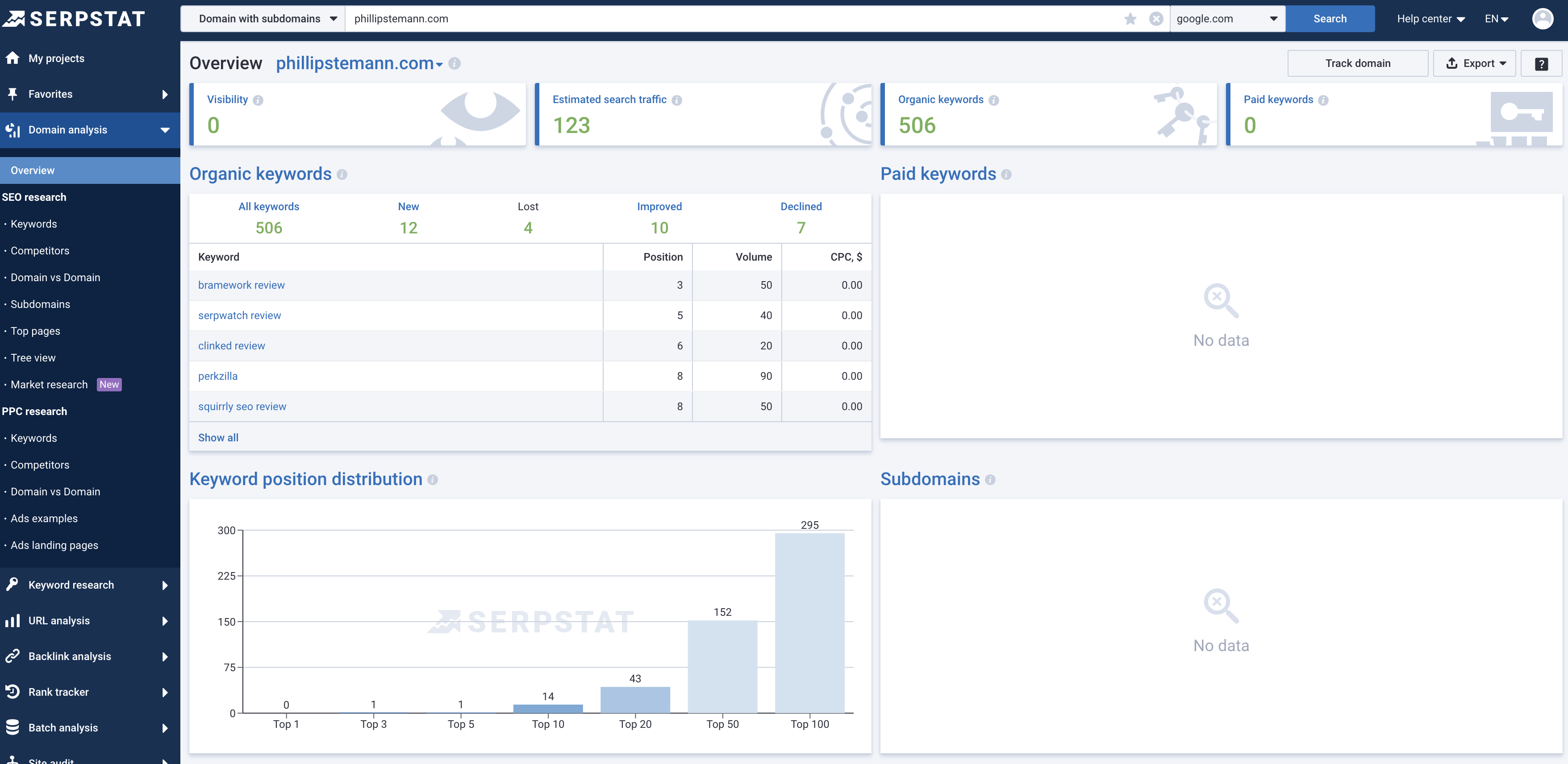 The domain analysis is what gives you an overview of your entire domain and everything related to SEO. You get a quick overview of your visibility, traffic, backlinks, keywords and much more.
You can then dive into each of these elements to get a deeper understanding of where you need to improve or maybe where you're doing well.
I really like the search engine visibility, as it shows me how I'm doing, how visible I am in the SERP, and where I need to improve.
The elements in the domain analysis contain the following:
Keywords
Competitors
Domain vs Domain
Subdomains
Top pages
Tree view
Market research
PPC research
Keywords give you an overview of all the organic keywords you organically ranking for in the search engines. All the keywords which bring you organic traffic.
Competitors show you an overview of all your competitors in the SERP. Basically, the websites that are writing about the same as you. Each competitor gets a score, and the higher the competitor's score is, the closer a competitor they are to you.
Domain vs Domain is a nice little feature to compare yourself to a close competitor. You can compare up to 2 competitors, and it's brilliant for comparing rankings in the SERP. I wish we could use it to find content/keyword gaps.
Subdomains give you an overview of your subdomains and how they're doing. It's not something I use, but it might be a feature you need if you have your blog or an application on a subdomain.
Top pages show your best-performing pages. This one is also great for reverse engineering and running reports on your competitors to see their top-performing pages for inspiration.
The tree view shows what keywords your specific pages are ranking for. I didn't find this interesting at first, but now I get it. It's quite good to ensure your content is targeting the right keywords. It's also easy to see that an article easily ranks for multiple keywords.
Market research shows a lot of domains. I didn't see the use of this tool, but it's also new. It might change in the future.
PPC research consists of 5 submodules where you can get keywords, competitors, ads examples and landing pages based on a landing page. So it's the same as organic research, just based on PPC purely.

Now, to the keyword research module to find organic keywords and search volume, plus much more, let's get into it.
It's super simple to start; you enter the keyword you want to analyse, and then you can look at it from multiple angles.
I tried with a seed keyword, WordPress, and from here, I can see search volume, keyword difficulty score, CPC, PPC competition and how it's trending.
The keyword research module consists of the following submodules:
Overview
Keywords selection
Related keywords
Search suggestions
Search Questions
Top pages
Competitors
PPC research
The overview gives you, funny enough, an overview of your organic keyword, where you can see search volume, PPC competition, CPC, keyword difficulty scores, related keywords, paid keywords, keyword trends and competitors in organic search.
It's super well-designed, and you get a lot of information, all of it helpful for you to make the right decisions for your target keyword.
Keyword selection is a long list of relevant keywords for your target keyword. This is where you really do your keyword research to find keywords with the right amount of search traffic and keyword difficulty.
You can also see the SERP features for each keyword: Video, featured snippet, People also ask and so on.
Related keywords are where I often start my journey, and it's super similar to keyword selection, but here, you get a connection strength as well per keyword where you can see how closely related the keyword is to your main keyword.
Search Suggestions is a brilliant module, but you need to prepare yourself for some filtering. It shows you every search related to your keyword and to keywords related to your keyword. It's brilliant for long-tail keywords, and it's here that Serpstat shows that they're a solid SEO tool.
Search questions are super easy keywords to target, as they're often long-tail don't have a ton of traffic or competition, and you find them all in here. I found a lot of great questions related to WordPress, so I can strongly recommend this module.
Top pages show you what domains are ranking in the top 10 for your target keyword right now. It's a great indication of whether a keyword is worth pursuing or not. I just wish they would add DA as a data point. Right now, you can "only" see traffic and organic keywords in total for the domain.
Competitors show you the competitors in general for your keyword. It doesn't have to be your exact keyword, but the industry related to your keyword. It's awesome for quickly seeing who you're competing against.
So, overall, this is a solid SEO tool for keyword research. you can analyse a single keyword from so many angles, and that's what I tried in my Serpstat review.
The search questions were my favourite module, and I found a lot of interesting questions to pursue.
Pro-tip
When you find a keyword or question you want to target, then check the SERP manually and see if the domains already ranking are high-authority domains or if you have a chance to swoop in.
The competitor analysis is great, too, because I know what I'm up against, both in general but also on the specific keyword I'm targeting.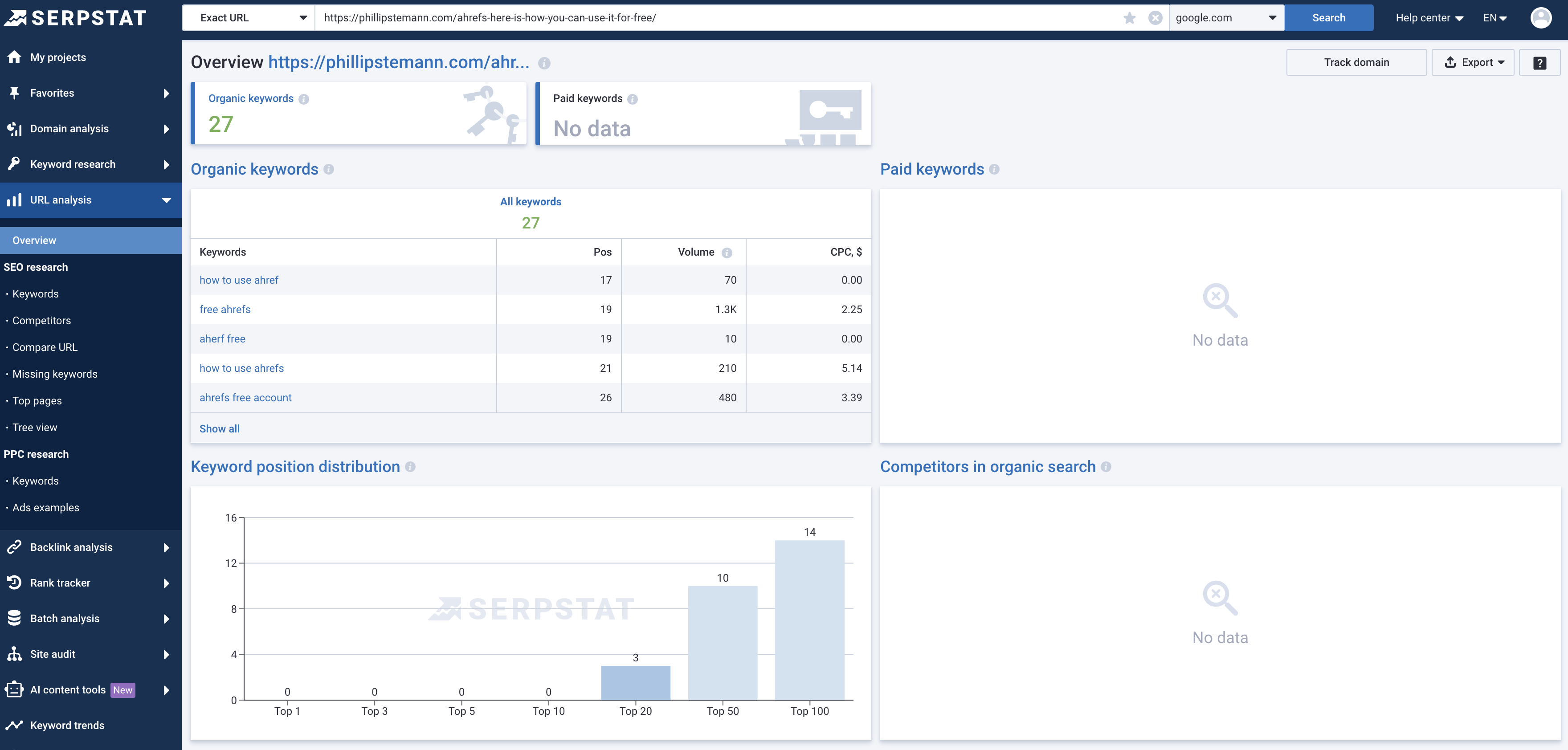 The URL analysis is a way of reverse engineering your keyword research method. Here, you get an audit report on a URL you enter. You can enter your own URL or a competitor's URL.
Then, you can see all the keywords that the URL is ranking for, how the position of the blog post has been going up and down recently and much more.
This is great to ensure you're covering the subject from all angles because maybe there are some keywords you're forgetting, then this tool will tell you so you can cover them.
The tool consists of 8 submodules:
Overview
Keywords
Competitors
Compare URL
Missing keywords
Top pages
Tree view
PPC research
The overview is where you can see the amount of organic keywords and paid keywords the URL is ranking for. This combines seamlessly with a trending graph and ad examples.
In the keywords tab, you get an overview of all the keywords, your position you're ranking, search volume, competition score and much more. This is an awesome view.
In competitors, you can see your competitors related to the URL, and it's the same as you get in the compare URL submodule. Here, you can just compare 1:1 to find keyword gaps.
In missing keywords, you get a chance to optimise your content by seeing the keywords you need to cover better.
I found the top pages and the tree view I didn't find interesting as they only showed the same as the other modules and only for my own URL.
Overall, a great search analytics report to ensure your content covers all relevant keywords with decent search traffic.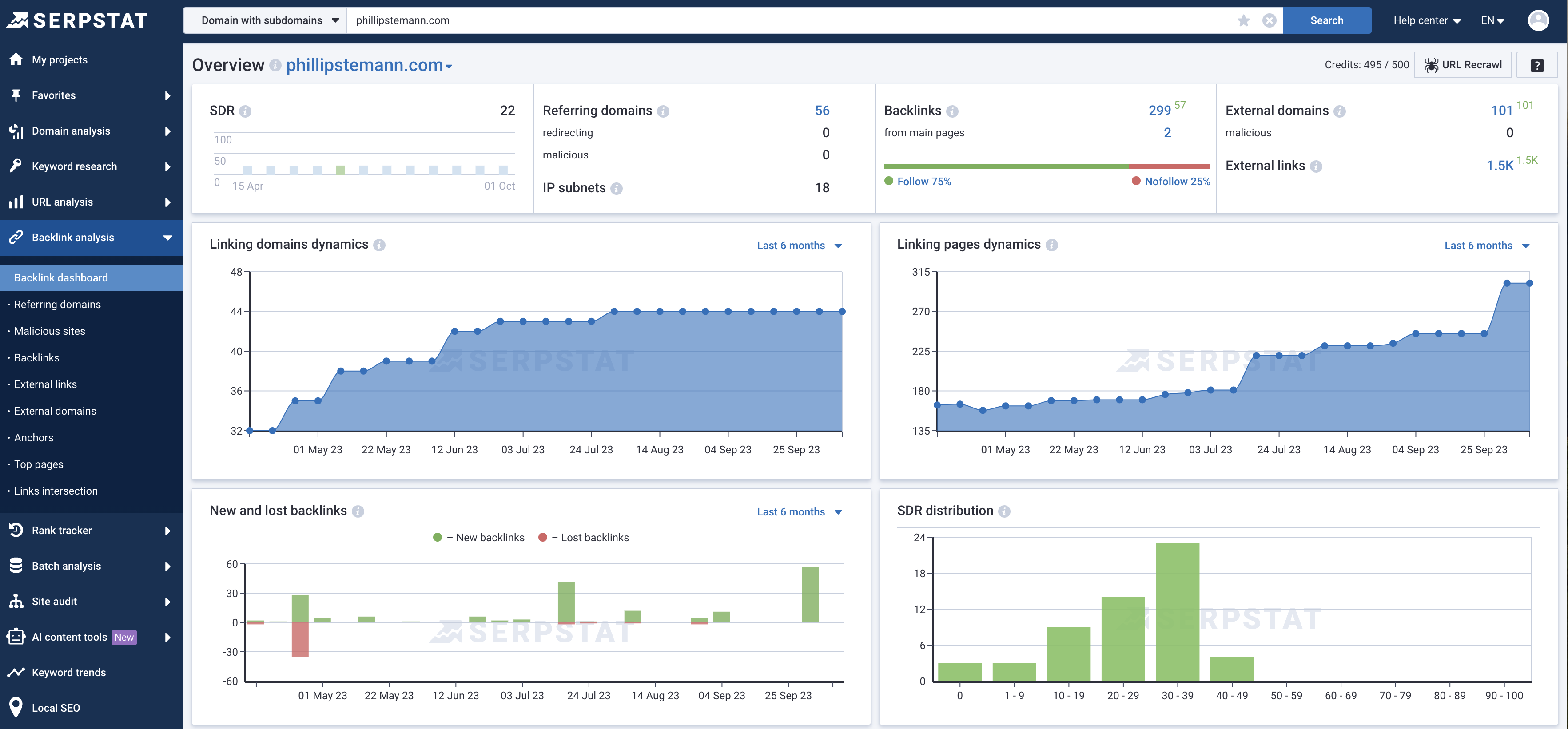 The backlink analysis is awesome to analyse your backlink profile. I always love to dive into this and see what domains are linking to me, but with Serpstat, you can do much more than just this.
In this backlink module, you get the amount of pages and domains linking to you. You can see what countries the domains are from, your SDR distribution and much more.
It's a solid view you get, and this really inspires you to work on your backlink profile.
From here, you can dive into some of the submodules:
Referring domains
Malicious Sites
Backlinks
External links
External domains
Anchors
Top pages
Links intersection
The referring domains module is a simple list of all the domains linking to you, which you can sort by amount of pages or their domain rank.
The malicious sites module is great to see if you need to disavow any domains linking to you. I don't have any, but if you find any domains on this list, hurry up and add them to your disavow.txt file.
Under backlinks, you can see all your specific backlinks, including whether it's a follow-link or nofollow-link, what type of link it is, and the target page, of course.
External links show all the links your website links to. I did find this a bit irrelevant as it was filled with duplicate social media links. They should add a filtering option here.
External domains are the same as previously mentioned, but instead of links, it's all grouped by domains, so you get an overview of the domains you're linking to.
The anchors module is super interesting because here, you can see all the backlinks anchor texts and how they vary. You want these to vary so it's as natural as possible for Google.
Top pages show the pages with the most backlinks, and this will 9/10 times be your front page.
Links intersection shows backlinks compared to your competitors, and this is a chance for you to find new backlinks you can pursue.

Now, to the rank tracking module, which simply tracks the rankings of your keywords. And if you're within content marketing, you know how to import it to rank on the right keywords.
It's a super simple rank-tracking tool to use. While you set up your project, you enter your keywords and let Serpstat start tracking them.
Pro-tip
Do a little competitor analysis before you enter your keywords, as you need to enter them at the same time for better results in rank tracking and comparison. You can even use Serpstat to do your competitor analysis.
But the rank tracking consists of an overview where you can see all your common keywords, your visibility, and overall how you're ranking.
From there, you can dive into the following submodules:
Positions history
SERP History
Competitors
URLs
The positions history module shows your ranking over time, where you can see it for your common keywords, but you can also dive into each of your keywords.
SERP history is an awesome submodule that shows you how the rankings for your target keywords have changed over time. It's surprisingly good.
Competitors are where you can compare yourself with your competitors on the keywords you're ranking, and that's why it's so important to find your competitors while tracking your keywords.
URLs is an overview of your ranking URLs, and it's super simple.

The batch analysis module is if you want to analyse a bunch of domains or keywords at the same time and compare them next to each other.
I tried to run a domain batch analysis where I could then compare myself to the mastodonts in my industry.
This module gives you a brief overview where you can compare yourself with your competitors on 20 data points. So, even though it's an overview, it's still impressive.
Some of the things you can compare are referring backlinks, text links, referring pages, keywords and so on.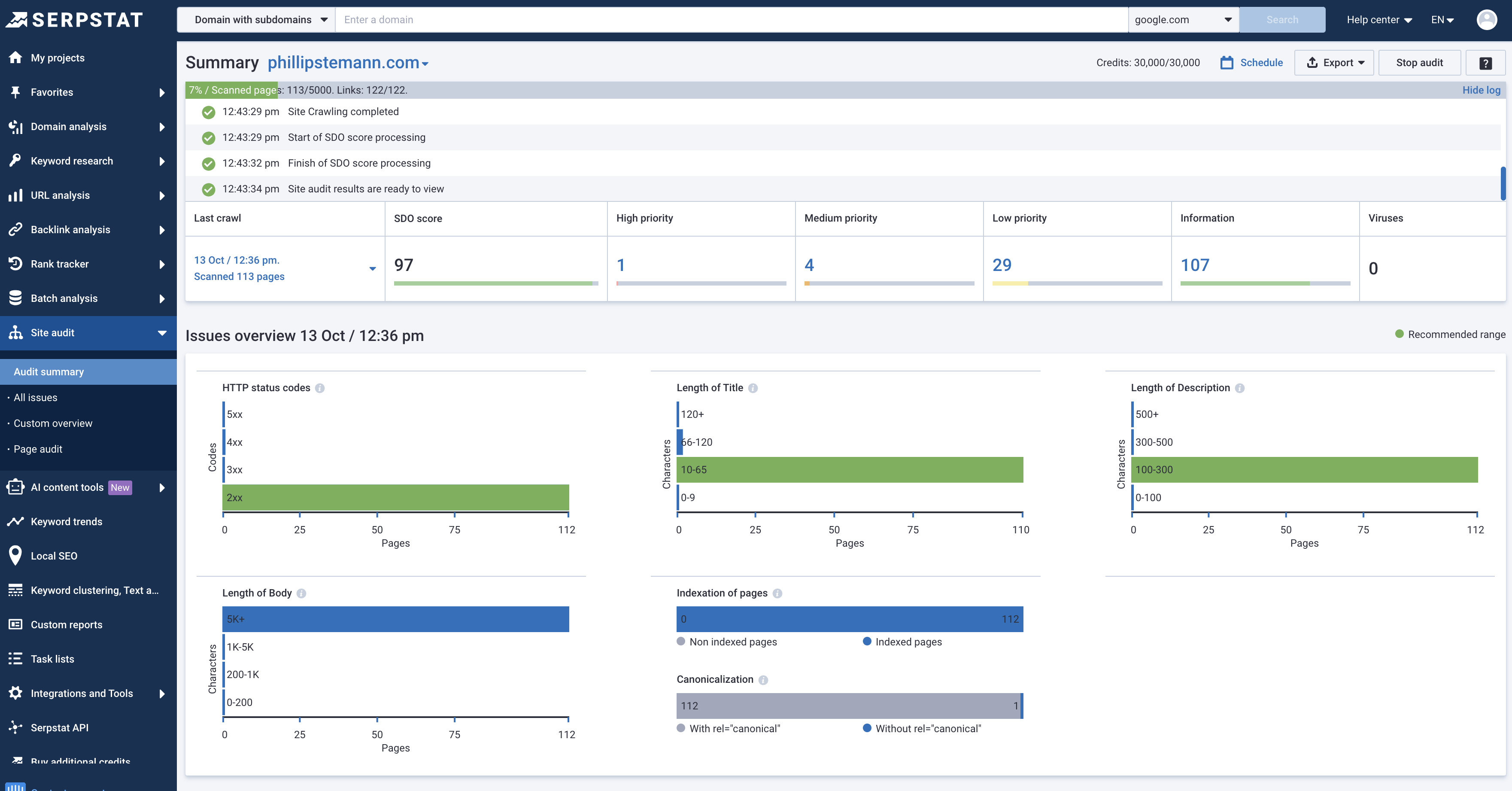 Now for the site audit tool where you can analyse your entire website get a site audit report of things you need to fix to make your website technical better.
I ran it for my website, and the scanning took some time, but once it finished, I had a list of high-priority, medium priority and low-priority tasks I had to go through.
You get an overall SEO score as well, based on how well your website is technically optimised.
Some of the issues were incorrect, though. I got a report with 23 duplicate H1 tags, which was completely incorrect.
So when you scan through the site audit, ensure the issues are actually issues.
The key features in the report are divided into 3 submodules:
All issues
Custom overview
Page audit
All issues are self-explanatory, but it shows all your technical issues, from server errors to missing H1, page speed and much more. It's great.
The custom overview shows all your URLs which has been scanned and then all the checkpoints horizontally in a table. I like this view more as it's easier to keep the overview.
Lastly, the page audit is if you want to quickly analyse one page and get the issues on that page. This audit goes a step deeper and focuses more on SEO than general technical issues.
Overall, it's a great site audit tool, but my favourite at the moment is still SiteGuru.
The AI content tools are the newest tools they've added, and they are starting with 15 AI tools. Everything from an article generator to an AI detector and simple title generations.
I tried to generate an article, and this does require an API token, which you can find in your profile.
You have very little control over what the AI generates; all you can control is the language and the title, and based on that, the tool will generate your content.
1 request costs 1000 credits, and 1500 credits in a foreign language.
But let me say it already now: the result was not good. I tested with the phrase: How to do keyword research.
It returned a small article with 6 sections of content. It didn't wrap up the article, and the intro wasn't really that good. They have a lot of work to do with these AI tools.
I have a collection of 7 AI copywriting tools, which are much better than this. You can get it just below.
Find the best AI Copywriting tool
I've tested 50+ AI copywriting tools, and they all have unique use cases. I've collected my favourite 7 and made a beautiful e-book for you.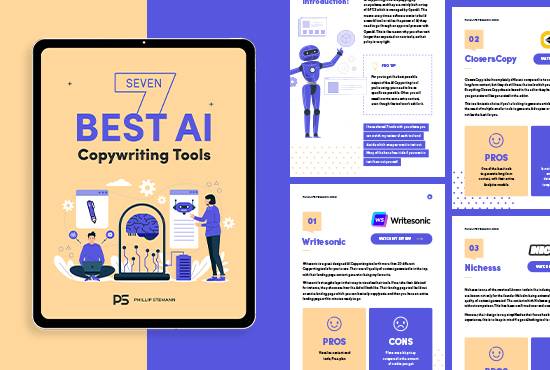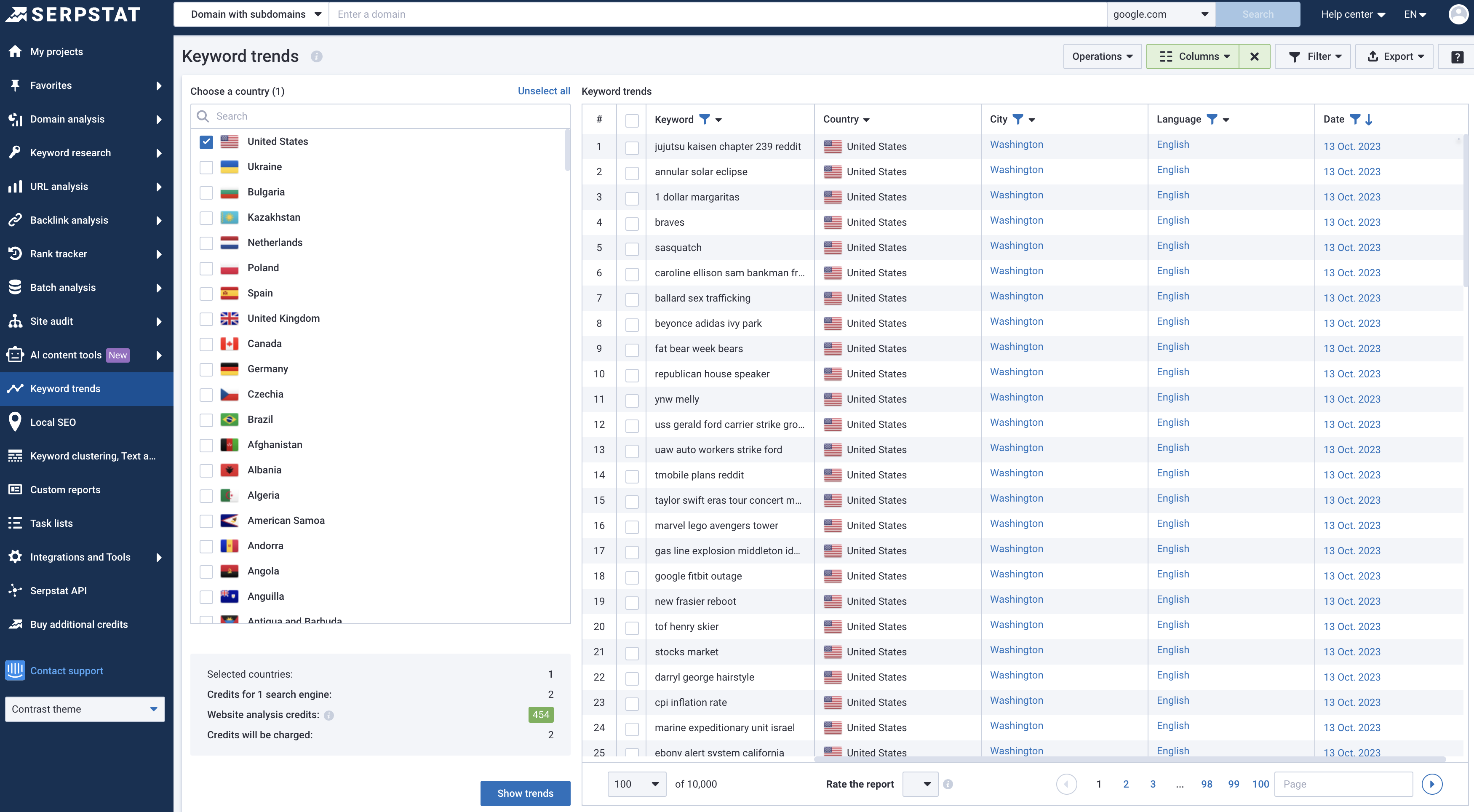 The keyword trends module is so interesting.
Often, when we use a keyword research tool, the data is a bit outdated, and it's not showing real-time data. But with this tool, you almost get that.
You don't get to see search volume, but by choosing your target country, you get thousands of trending keywords up to today you can sort through.
One big hurdle, though, is that they don't have a search bar to search for your industry keywords. I'm really missing that.
A search bar would make it so much easier to find the relevant keywords for my industry quickly.
They do have an entire module for local SEO, but I didn't get to test it, so I can't really include it in my Serpstat review or tell whether it's good or not.
But I wanted to highlight it to make you aware of it, and it seems to have everything you need to succeed by ranking locally by improving your local SEO.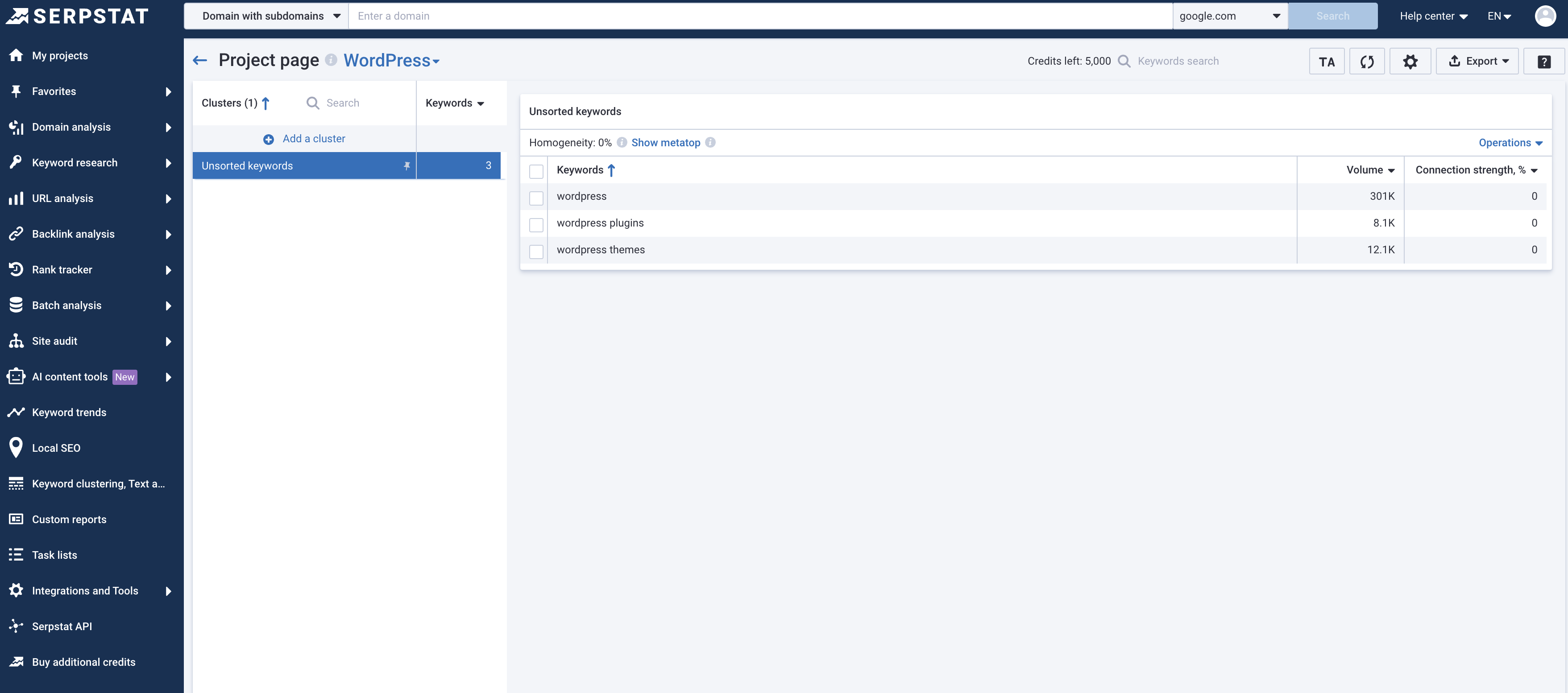 The keyword clustering works fine. When you create a new cluster, remember to add all your keywords to the list, and the more you add, the better.
The more keywords, the easier it is for the classifier to sort the keywords in different clusters and be aware there will always be some keywords it simply can't categorise.
I like that you can export to Excel, as that's what you often want to do to have more control of your topical map in the end.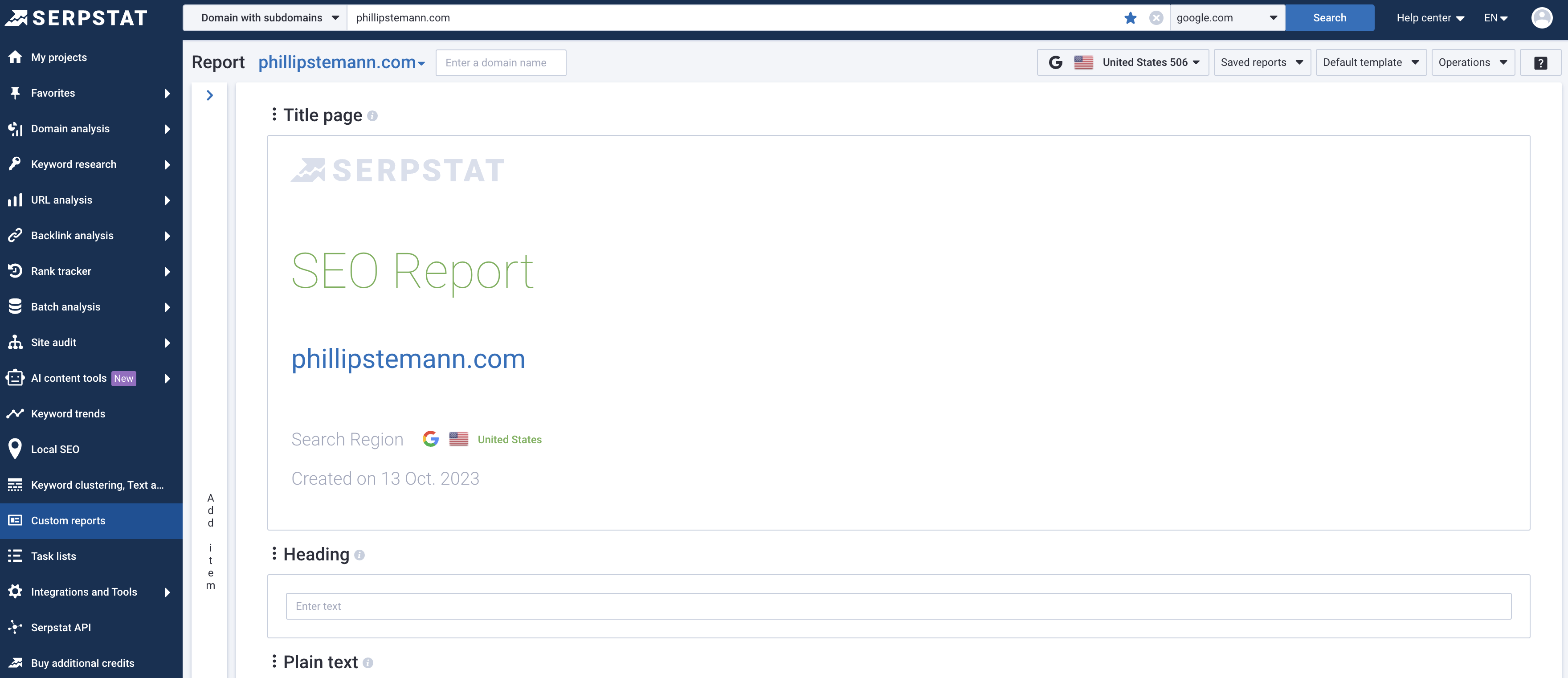 This is perfect if you're an agency and you need to report to your client or if you just want to see different elements than Serpstat shows you per default.
You can add and remove elements and customise the report to your liking, add your own heading and description if there are some elements your clients need to be aware of, for instance.
I do wonder one thing: You can't connect your Google Analytics to pull in further data to your reports. It might change in the future, but at the moment, you can't.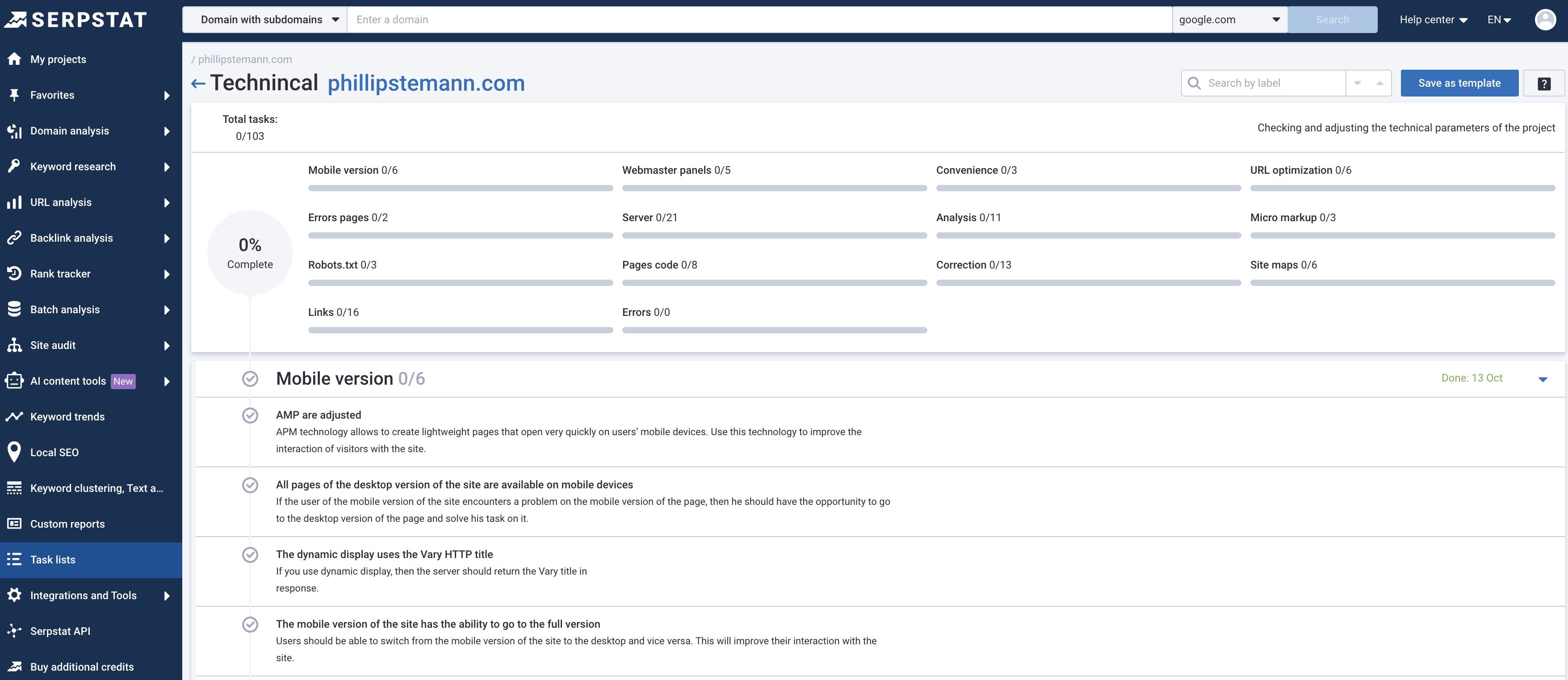 You can also use Serpstat as your task management system for your own custom tasks based on your reports.
But what I really like is that they have a set of task templates if you want to optimise a specific part of your website.
It could be you wanted to optimise the technical part, on-page SEO, or a specific page on multiple parameters.
Serpstat has 14 different task lists, and they're super thorough. I really like that.
On top of this, you can create your own task templates if you have a specific way of doing it. This is perfect if you're working with SOPs.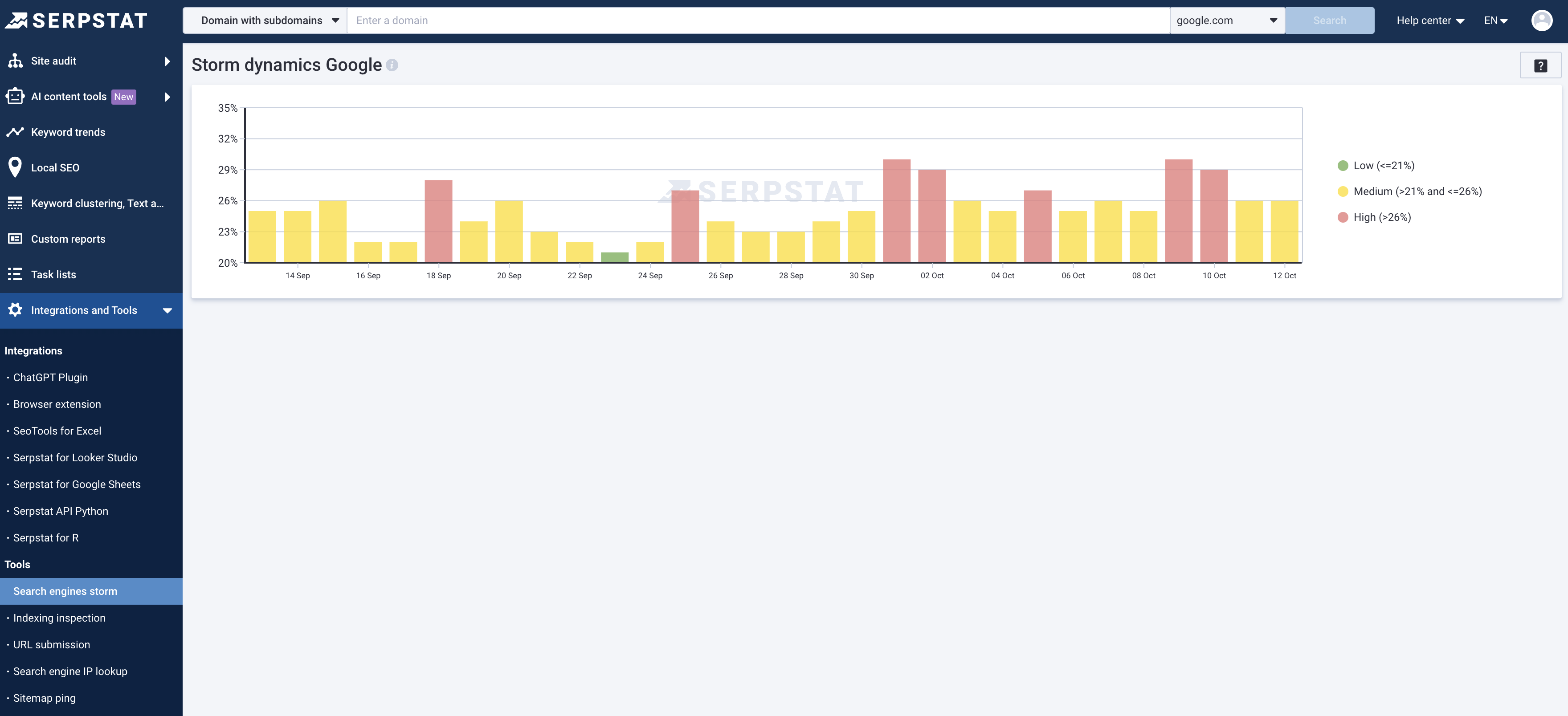 Serpstat offers 6 integrations and 5 extra small tools for you to use.
For integrations, they offer:
ChatGPT plugin
Browser extension for Chrome, Firefox, Edge and Opera.
Looker Studio
Google Sheets
Python API
And for tools they offer:
Search engines storm(Perfect to predict core updates)
Indexing inspection (Connect with Google Search Console to get even more data)
URL submission to Bing
Search engine IP lookup
Sitemap ping
Overall, this is incredible. You get so many tools, some bigger than others, but they all serve the same purpose: To help you improve your SEO game.
Throughout my Serpstat review, I've been impressed over and over again, from their core features to simply running a keyword research report to get a list of keywords.
And this section follows the same principle: To bring value.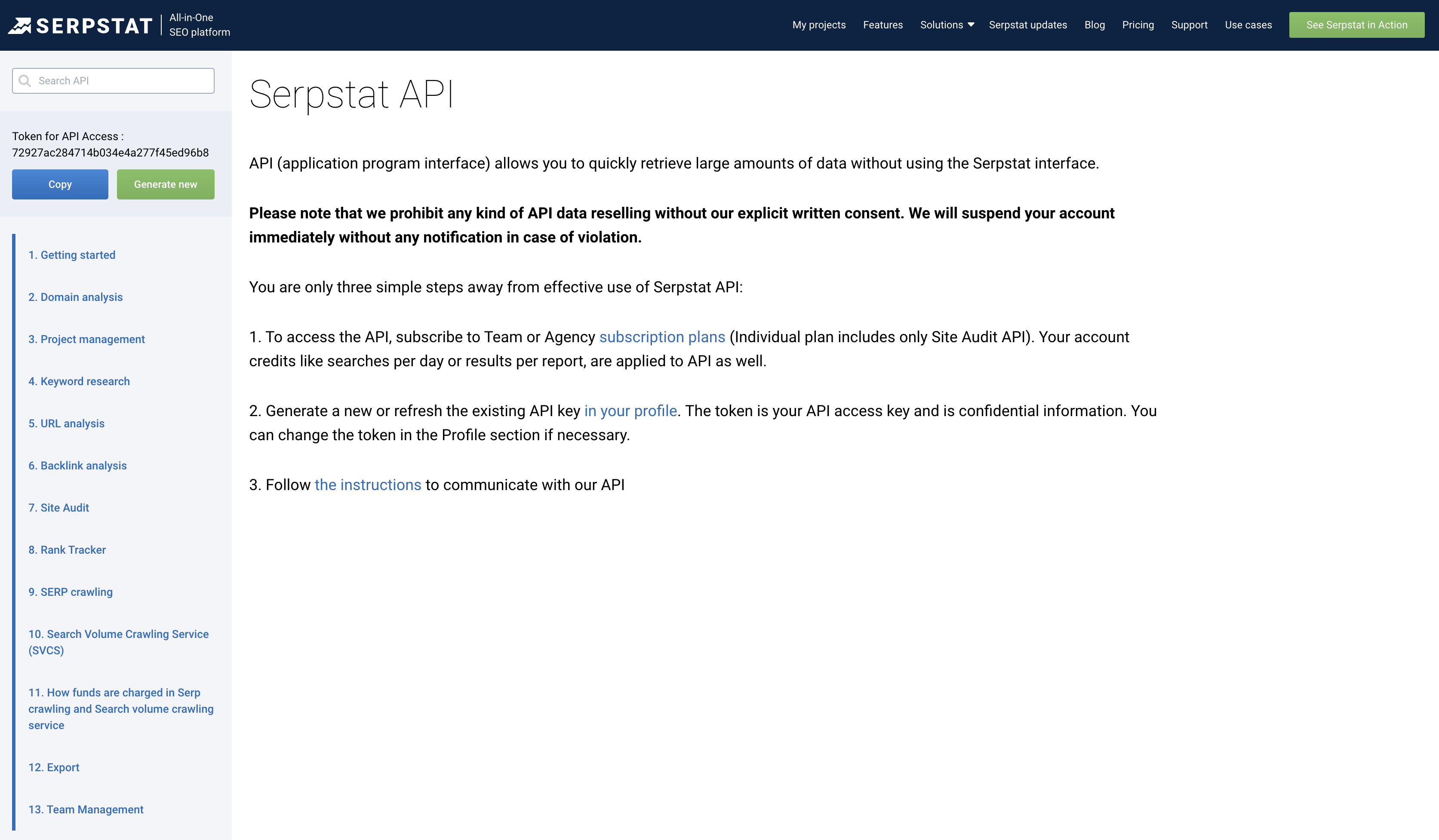 If you're technical, Serpstat also offers a completely open API, but be aware of your plan as you have API credits. Every time you perform a request, you use a credit.
What's interesting here is that you can automate this with Zapier and run a report automatically every week or run keyword research through Zapier and another application.
Having an open API as a tool like Serpstat opens a vast amount of possibilities for you to automate a lot of your manual processes.
Who Is Serpstat Made For?
Serpstat is made for content creators with a budget to spend on a premium SEO tool.
There are a lot of great tools out there which can do parts of what Serpstat can do, but only a few can do the same, and they cost $99 and up.
Next up, you have everything collected in one place, which makes it much easier to run analysis for backlinks, your website and audits. That means you save time.
And then the depth of the analysis you're running combined with Serpstat's database of keywords and backlinks really shows that this is a premium tool.
The closest competitor is Seranking, and they're in the same price range with some of the same features.
There are not a lot of one-stop SEO tools like Serpstat that provide that much value for such a low price.
And they keep adding modules, but here are the 2 closest competitors as I see it.
SE Ranking is the closest competitor to Serpstat, and this is both in functionality and price.
They both offer great functionality at a great price point, and they're both just below Ahrefs and Semrush.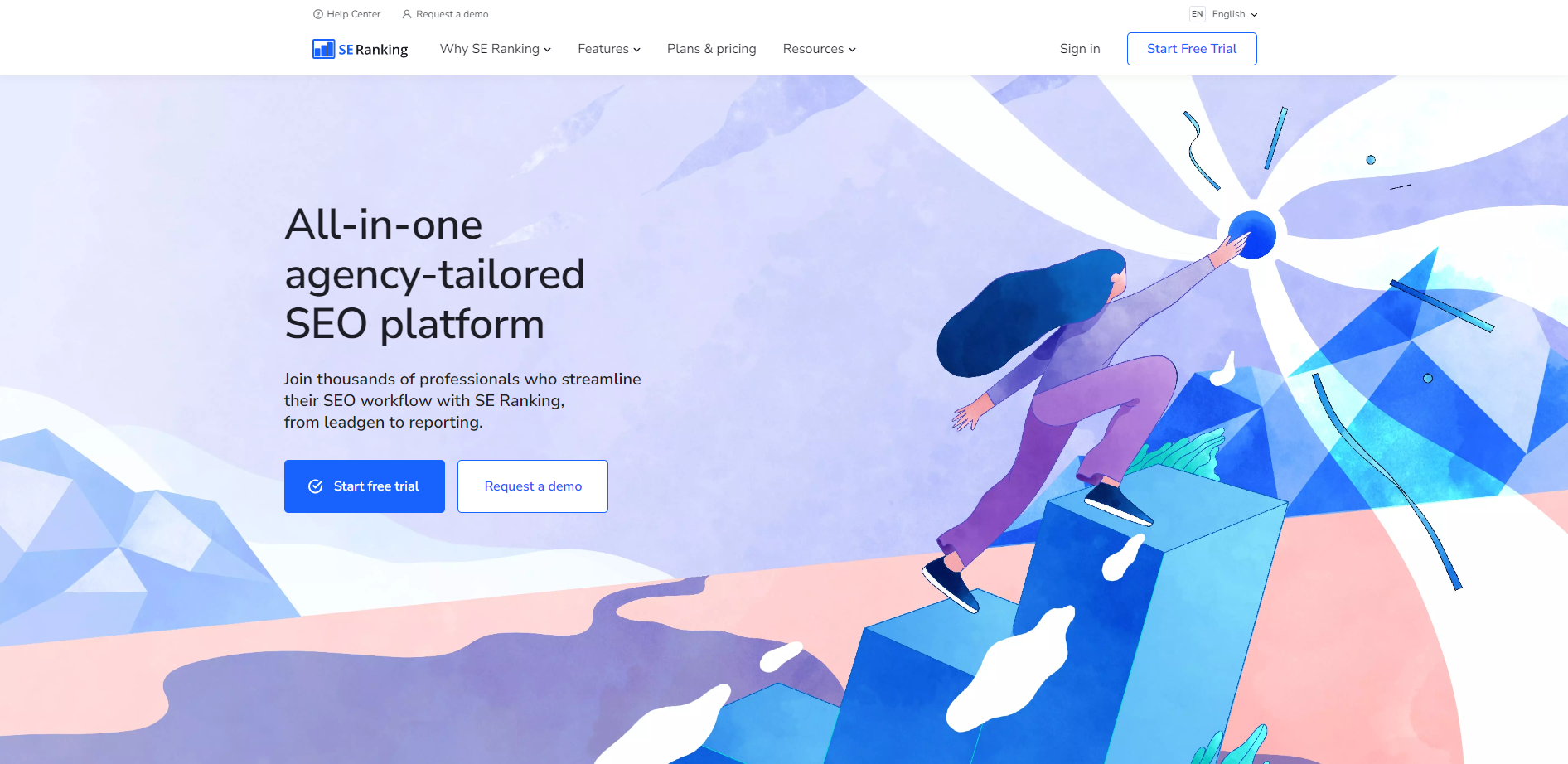 Ahrefs, together with Semrush, are the biggest and best SEO tools in the industry, but it also shows in the price.
Compared to Serpstat, Ahrefs has a bigger database of keywords and backlinks, but other than that, they have many of the same features.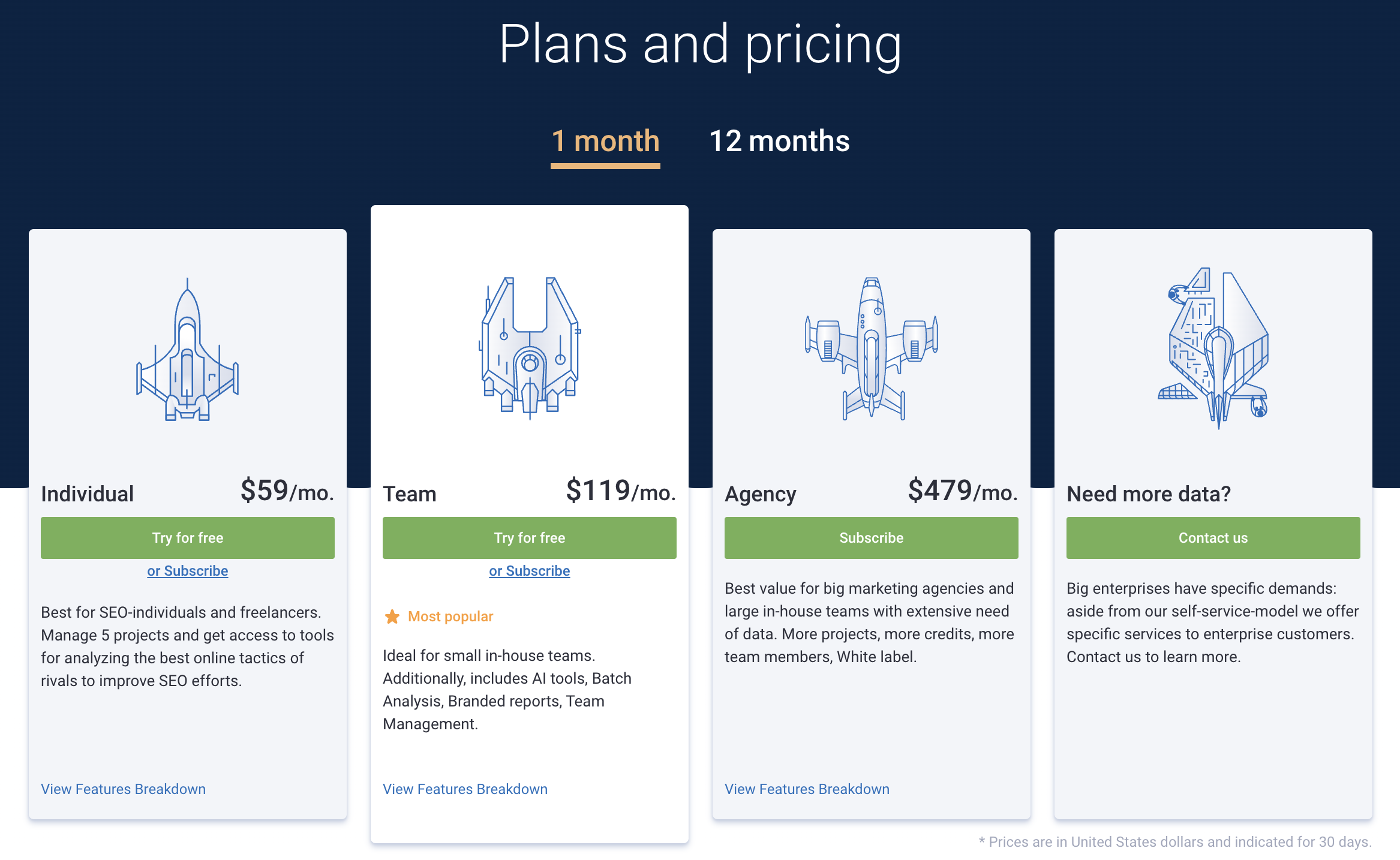 The pricing model is super simple; they have 3 prices, and the names indicate what you need.
The individual plan starts at $59, where you get access to everything except for the APIs, reports, batch analysis and AI tools.
But as an individual, I can't see you need that anyway unless you're looking to automate.
The team plan gives you access to everything except for premium support.
Each plan is also limited on the following points:
Tool points
Data retention period
Maximum pages per scan
Pages to audit
Position checks per month
Share access
Rank tracker and site audit
API requests per second
API credits per month
Export rows per month
Results per backlink analysis report
Results per website analysis report
Search per day
Those are the elements you need to look into when you decide on the right plan for you.
Wrap-up: Is Serpstat Worth It?
Yes, Serpstat is worth it on so many angles. You get such an incredible all-in-one SEO platform with so many tools for such a small price.
You can do keyword research in 10 different ways, reverse engineer it with the URL analysis, and then write great content using the AI content tools.
You can also track your keywords and even your backlinks while you run a site audit and fix your technical SEO.
I think you get the point, and this all-in-one SEO platform has everything you need to succeed with your SEO strategy.
Now, it's just up to you to use this powerful SEO tool to your advantage and take your SEO game to the next level. I'm super impressed by Serpstat, and I hope you can feel that in my Serpstat review.
Serpstat is a one-stop shop SEO tool where you have everything collected.
If that's what you're looking for, then I strongly recommend trying Serpstat.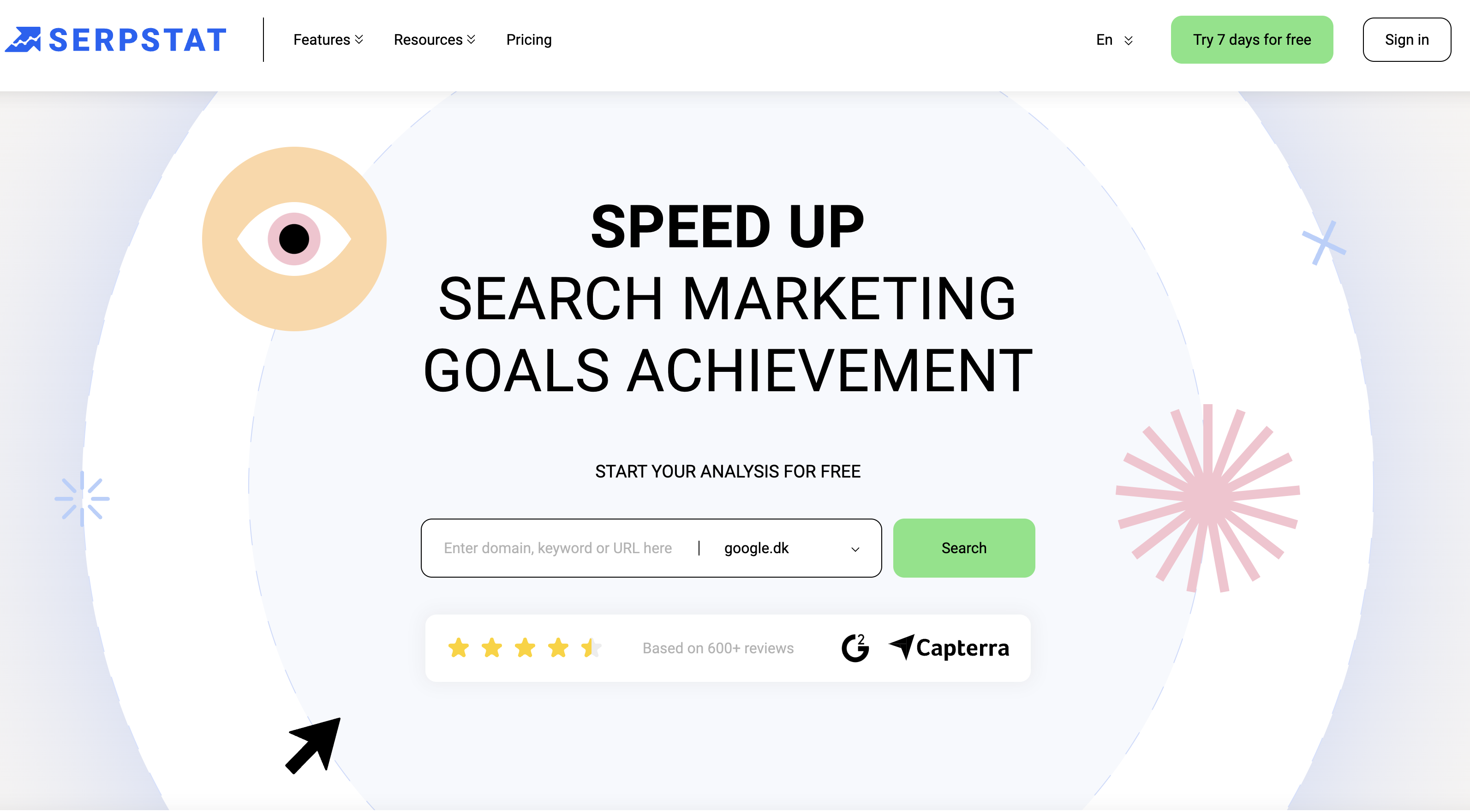 A one-stop SEO tool with all the modules you need.
Serpstat Review: The Most All-Around SEO Tool?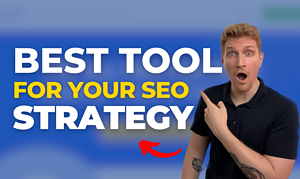 Serpstat is a one-stop SEO tool with all the SEO modules you need. In this Serpstat review I go through each and one of them.
Operating System: Web
Application Category: SEO
Pros
Your entire SEO strategy is collected in one place.
Great keyword research with a large database of keywords.
Cluster your keywords to achieve topical authority.
Cons
Sometimes, the keyword database doesn't cover all niches as Ahrefs does, for instance.
Everything you do costs credits, and depending on your plan, you quickly run out of them.