RankAtom positively surprised me. It's an SEO tool you can use to perform keyword research based on Google Autosuggest, and that's my favourite way of doing keyword research.
I got 5,000 keywords based on a seed keyword, and this was one of my first tests, but I was also interested in seeing the quality of these keywords.
So, let's dive in and find out.
Find thousands of keywords in seconds based on your seed keyword and Google Autosuggest.
Track your keyword rankings and see the entire SERP historically over time.
Use the BERT analysis to ensure you're covering your subject from all angles.
Pros And Cons Using RankAtom
RankAtom is a great keyword research tool, and it can really help you with building a topical map. Here are my pros and cons of using RankAtom.
RankAtom surprised me positively, it found thousands of keywords based on one of my seed keywords. On top of this, it's great to build a topical map with clusters.
Thousands of keywords in seconds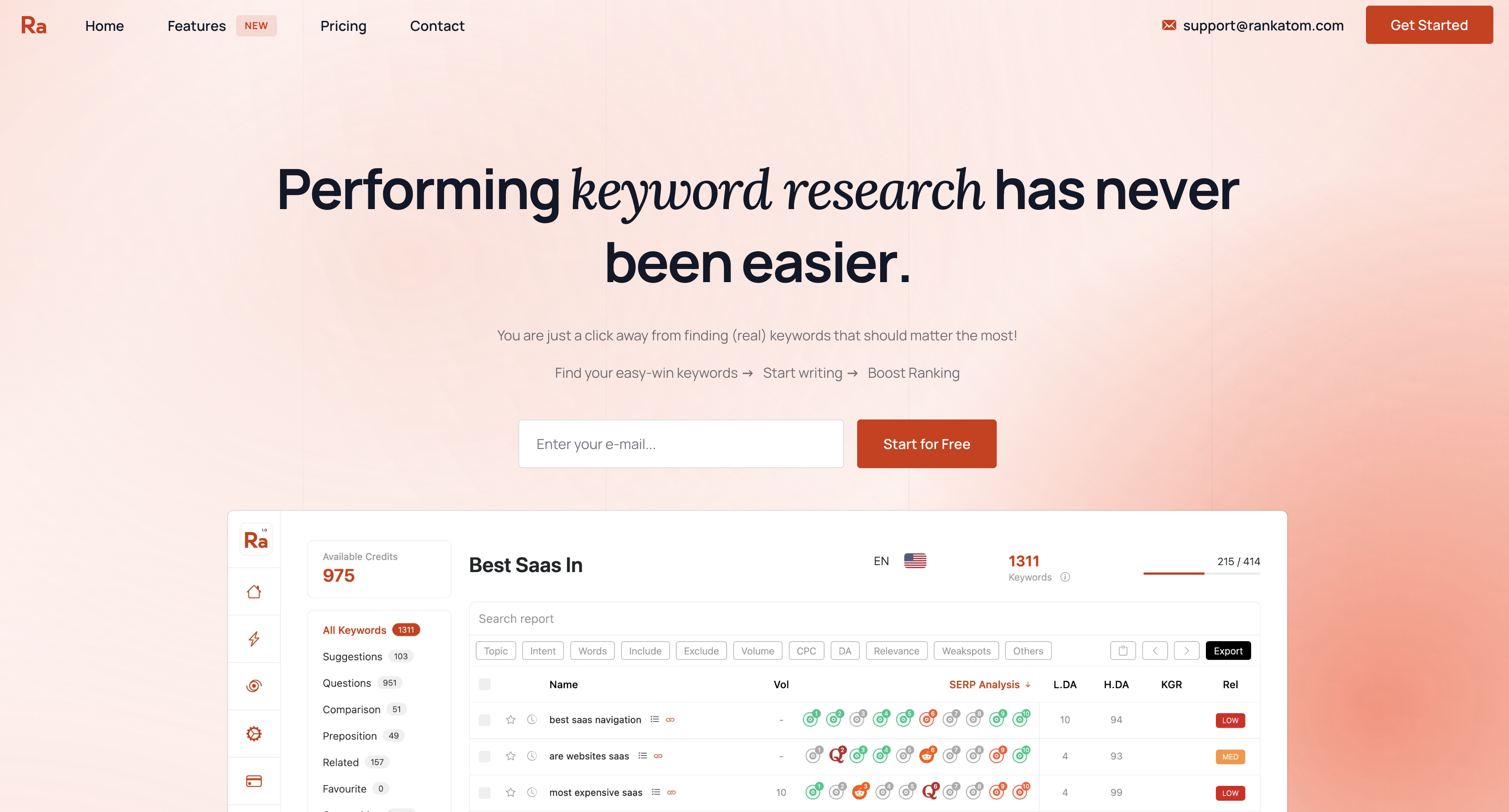 RankAtom is an SEO tool consisting of 3 modules.
Keyword research
Rank tracking
BERT analysis
The keyword research method uses Google Autosuggest to find low-competition keywords, but it also makes it perfect to help you build a topical map.
The rank tracking module is perfect for tracking your rankings in the search engines and overall makes you aware of how it's going with your SEO game.
The BERT analysis is the newest feature, and it's great for content marketers as it helps you show everything you need to cover around a subject.
Let's get into the features which can help your SEO strategies.
Get Actionable SEO Tips Right In Your Inbox
Join 700+ to receive an SEO tool review from my YouTube channel weekly, which I'll share with you. And on top of that, an actionable SEO tip every week.
This is my favourite section, where I get to dive into the features with you and share my experience while using RankAtom.
Let's start with the keyword research module, which is my favourite using RankAtom.
Keyword Research: Thousands Of Keyword Opportunities In Seconds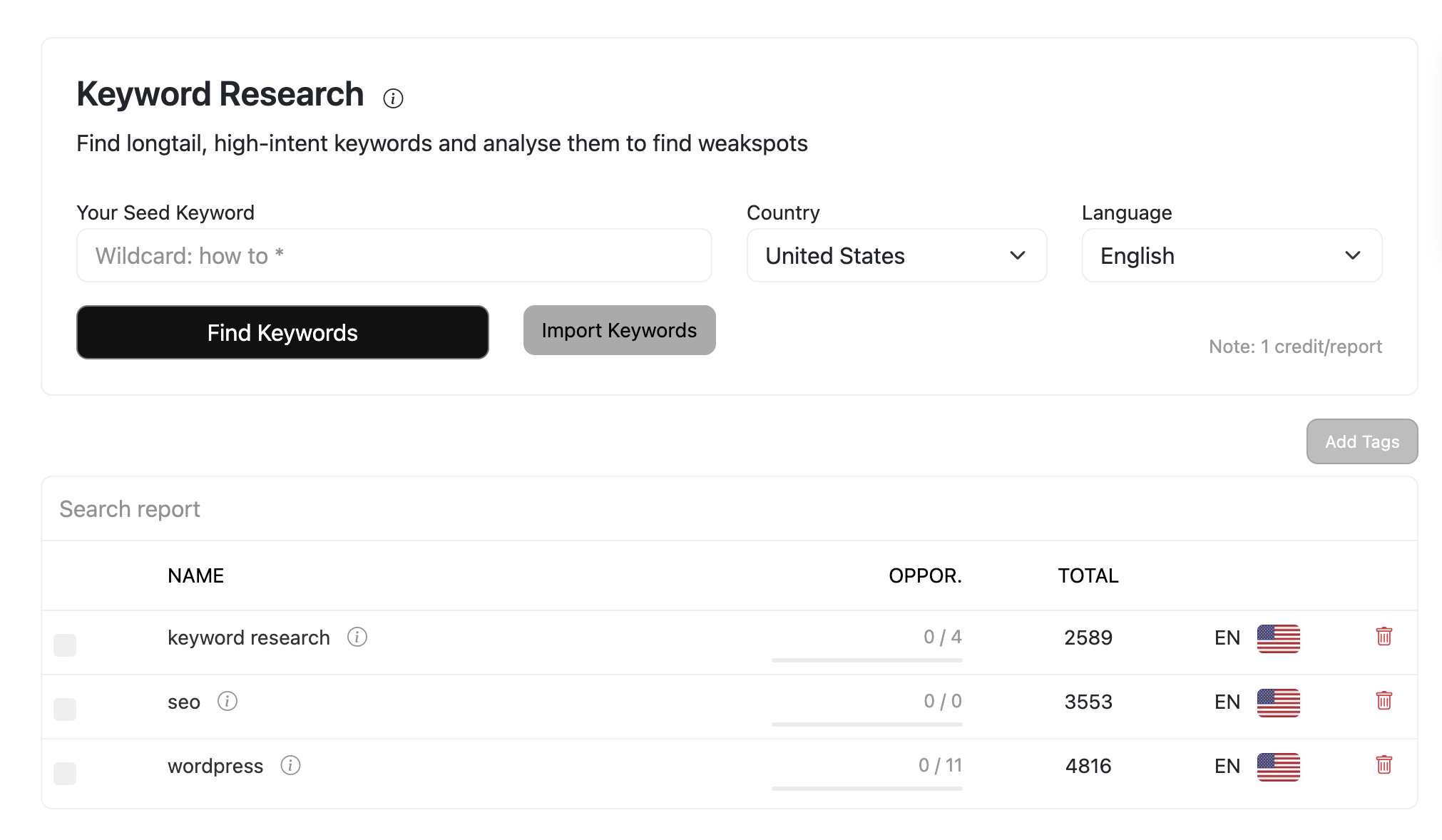 The keyword research module is where you get the most out of RankAtom, and it's definitely where I spent most of my time while I was testing RankAtom. It's perfect for finding longtail keyword ideas.
It's super simple to get started. You can both enter your seed keyword, but you can also import a list of keywords, and you can use an asterisk if you want to search for the best dog food for *, for example.
I tested with the seed keyword WordPress, and I got almost 5000 keywords. To compare, I got a little less than 3000 using LowFruits, so I was super curious to see the quality of these keywords.
You can choose your country and language for each report you run, and it costs 1 credit to just run the report and then 1 credit per keyword you want to analyse further, but I'll dive into that a little further down.
When you open the report, it's a super nice view where you have a ton of options.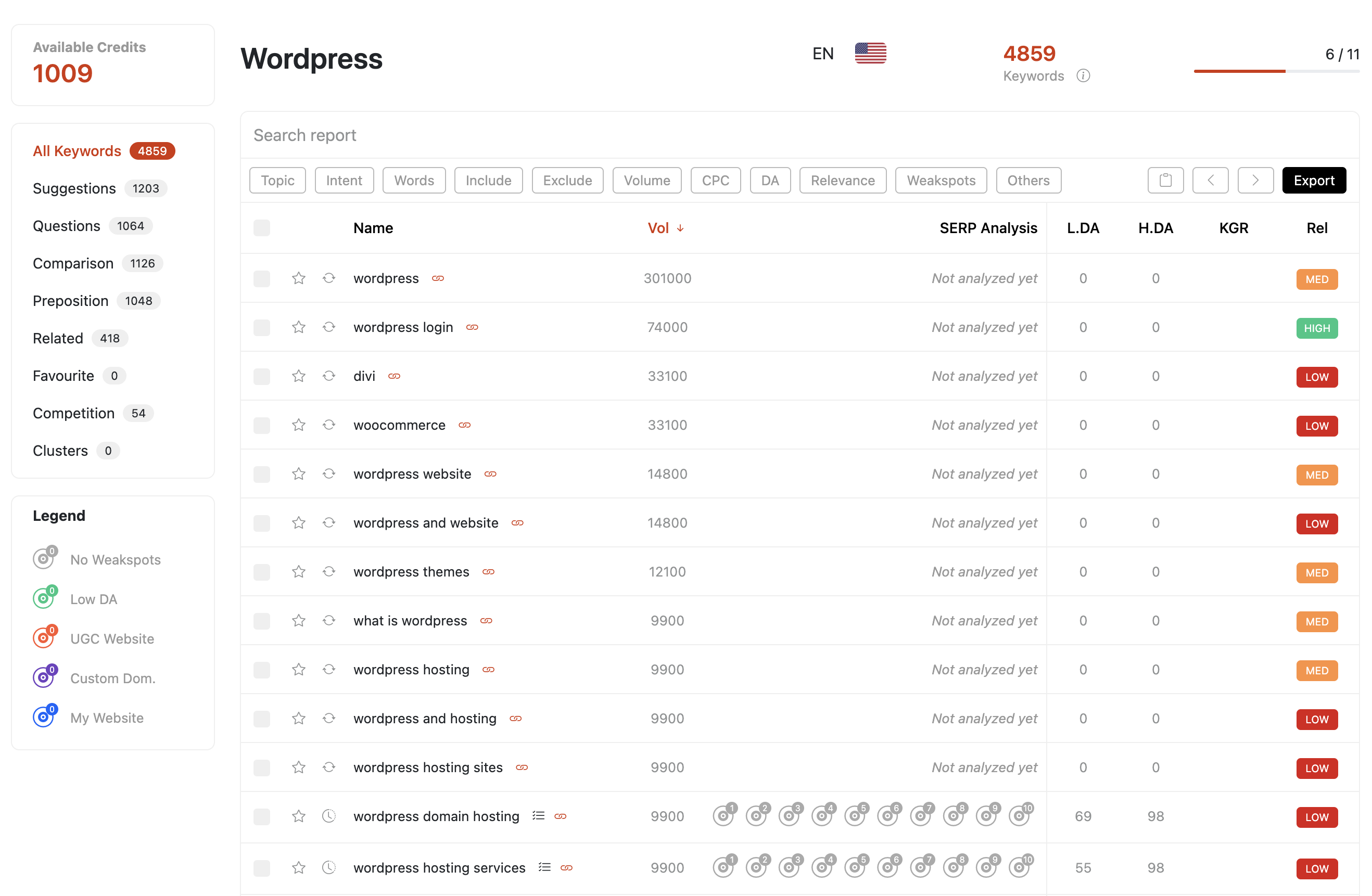 I really like this view; it's simple, and it manages to package a lot of functionality without losing sight of what's important: The keywords.
So, as you want to run a keyword research report, I assume it's because you want to rank keywords, but here is a pro tip:
Pro-tip
Don't just find low-competition keywords in different keyword clusters because they're attractive. Focus on one keyword cluster, start with the low-competition keywords in that cluster and write all the content in the cluster before you move on to the next cluster of keywords.
With the keyword research report, you have 2 filtering layers. You can either choose by filtering from a high-level where you can filter on:
Suggestions
Questions
Comparison
Preposition
Related
Favourite
Competition
Clusters
From there, you can filter further with the low-level filtering options:
Topic
Search intent
Amount of words
The keyword needs to include a word
Exclude all keywords with this word
Search volume
CPC
DA
Relevance
Weak points
Others

My website
Not analysed
Only analysed
Related Searches
People Also Ask
It really gives you a lot of options to filter and get the view of keywords you really need. I've used a lot of the filters, but I primarily used the topic filter, which is my favourite.
You see, the thing is, when you use the keyword research module to build your topical map, you want to remove all the irrelevant keywords, and here, the topic filter comes in handy.
Another thing I really like about RankAtom is that even though you don't get real-time search insights using this keyword research module, you do get an idea of your competitors without running a competitor analysis, as they'll show up multiple times in your keyword research reports.
For each keyword included in the 1 credit you spend creating the report, you get search volume, which is a nice add-on.
If you want more information about each keyword, you have to analyse the keyword, and it costs 1 credit to analyse a keyword, but then you also get the following:
SERP Analysis of top 10 ranking on the keyword
Lowest domain authority
Highest domain authority
And you can click on the keyword to get even more information, such as related searches, people also ask and ads results.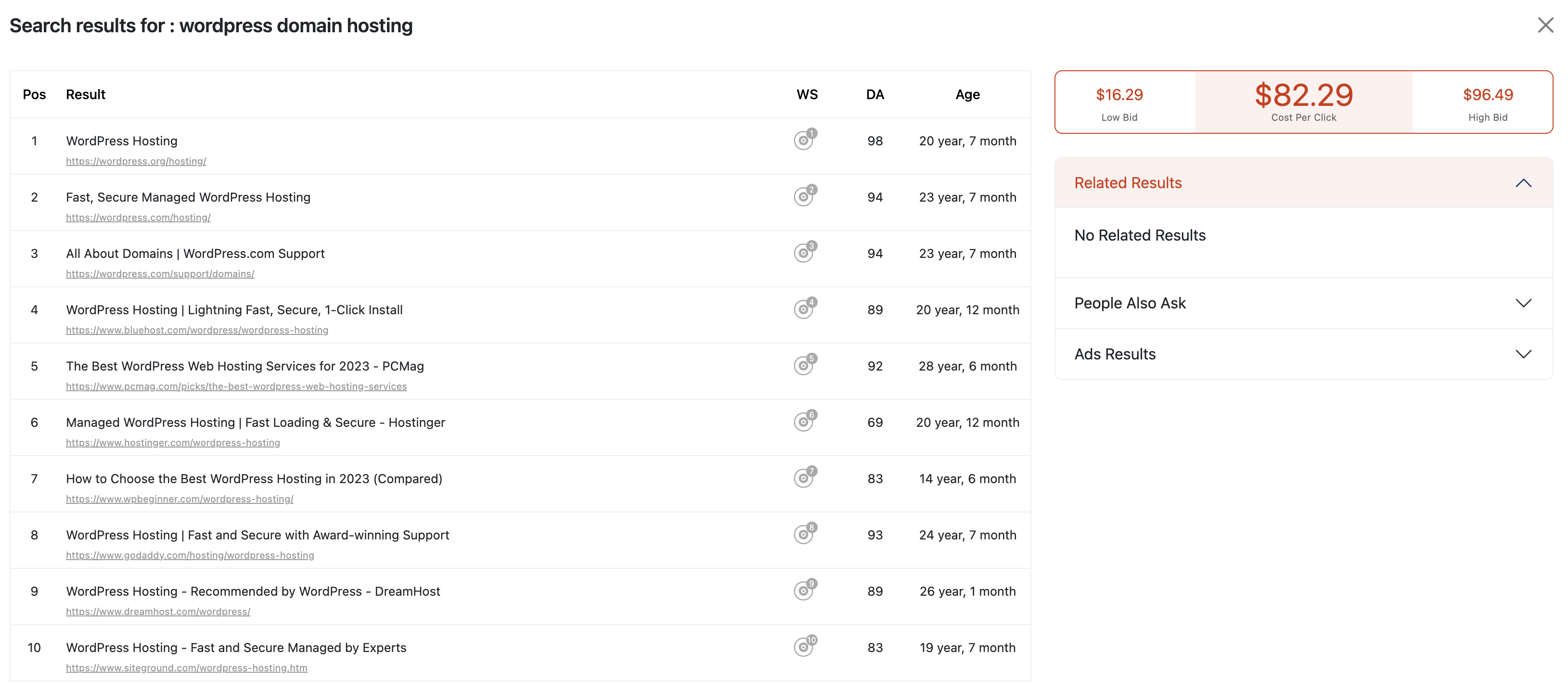 Pro-tip
I don't recommend you analyse each keyword in your report, as you'll end up spending your credits fast, but if you're in doubt, then it's well worth spending a credit analysing a keyword.
Rank Tracking: Watch The SERPs Historically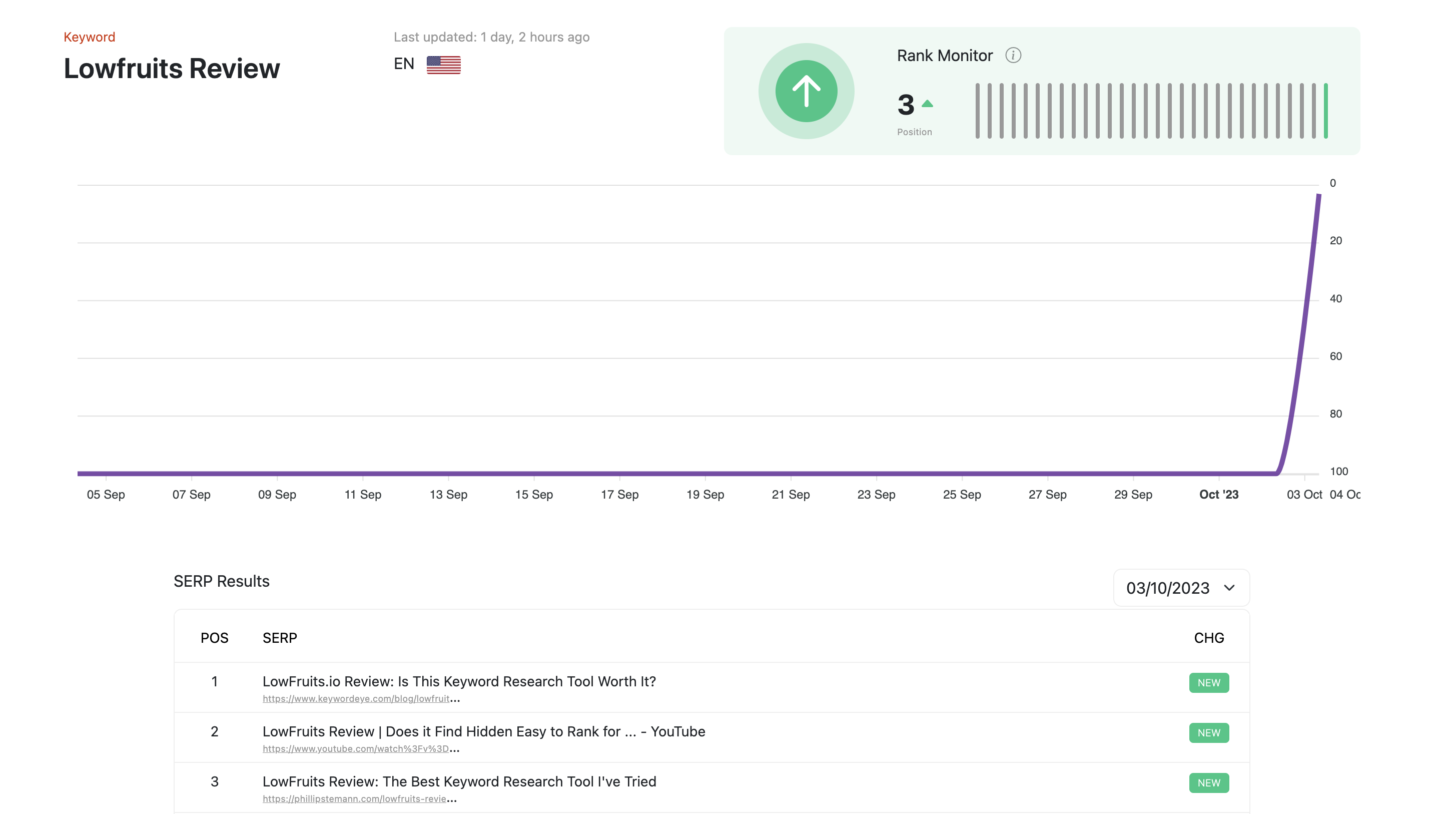 Now, to the built-in rank tracker, which is super simple, yet it has one incredible feature I don't see every day in SEO tools.
With the rank tracking module, it's super simple: you enter your keyword and your target page for the keyword, and then RankAtom tracks your keyword every single day, week or month, depending on your choice.
You can also track your keywords in different countries, which is perfect if you work with local SEO. You can target specific languages as well.
I found this module to be super simple and straightforward, and I do hope for a Google Search Console integration in the future so it'll autoselect my page just like SiteGuru does it.
But other than that, it works great, and here is the incredible feature.
You can change the date you see on the image to the right and then see how the SERP changes over time. Such an incredible feature because it allows you, without doing a competitor analysis, to see if new competitors are spiking up in the rankings.
And if they do, then you know you need to look at them to see what they're doing so you can get inspired for your content.
I found the rankings to be super precise and, overall, a great keyword rank checker for both long-tail keywords and short-tail keywords.
Bert Analysis: Ensure You Cover Your Topic From All Angles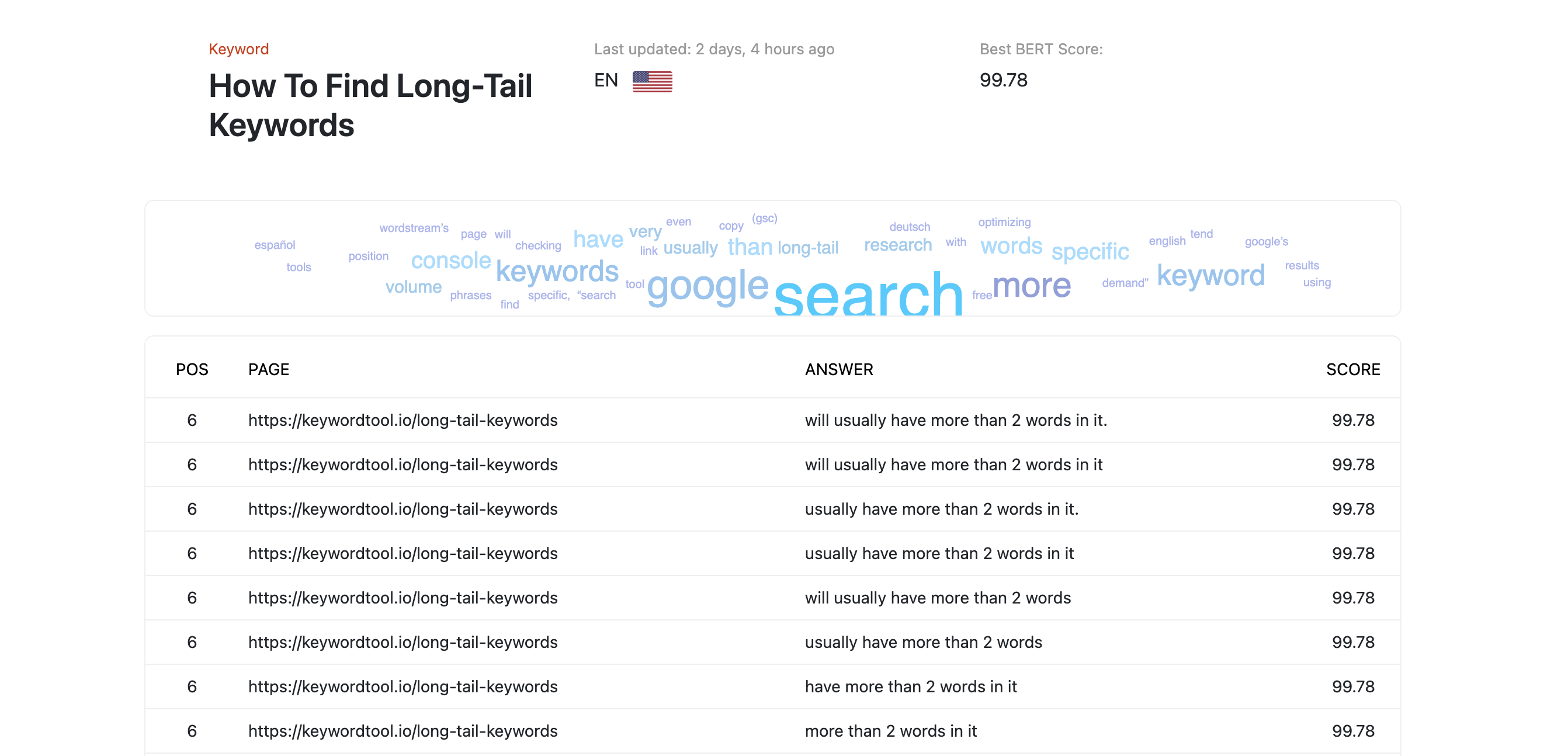 And now for the unique feature I haven't seen before: The BERT analysis.
It's super simple to use, but you might get confused the first time you use it.
The best way to use it is to enter your target keyword as a question.
BERT will then analyse the SERP and find facts, angles and basis for what it is you need to include in your article.
For example, I ran the BERT analysis for "How to find long-tail keywords", and here are some key takeaways:
It will usually have more than 2 words in it
Google autocomplete
Because it only gets 50 searches per month.
The search volume
Search terms with relatively low search volume and competition levels
As you can see, it gives me an idea of what a long-tail keyword is and what identifiers are behind it to identify a long-tail keyword.
I asked Krishna Anubhav as well, he is the founder behind RankAtom, and he explained it as follows:
You probably already know who I'll mention if you've read this far. RankAtom is super similar to 2 other SEO tools I've previously reviewed, and they were both great.
LowFruits is super similar to RankAtom, but based on my testing, you get more quality in your keyword reports.
LowFruits also offers many more features than RankAtom at this point.
Keyword Chef is more similar to RankAtom, but I like the design of RankAtom more.
Keyword Chef also has a library of niches you can use to find the most profitable for you.
Who Is RankAtom Made For?
RankAtom is made for content creators and people who want to rank keywords and improve their SEO strategy by creating more of the right content.
I often see people find low-competition keywords in 10 different clusters and just pursue them, but it's super dangerous, especially after the most recent Google Helpful Content update.
You have to focus on one cluster at a time, and this is exactly what RankAtom is made for.
It helps you find all the keywords you need as a content strategist within your keyword clusters and then work on those keywords to improve your overall search engine rankings because, in the end, everything is connected.
Wrap-Up: Is RankAtom Worth It?
Yes, RankAtom is worth it. Starting at $39 per month, it's an absolute steal.
You get thousands of keywords in seconds, and the filtering options when you perform keyword research are outstanding.
To answer my question from the intro, the quality of keywords varied. While I got a lot of relevant keywords, I also got a lot of irrelevant keywords, so get comfortable with the filter options because they come in handy when you need to find the right keywords for your keyword cluster.
On top of this, you get a simple rank-tracking module where you can see the entire SERP change over time on your keyword.
Lastly, the BERT analysis is still in BETA, but I can see the potential of showing you everything you need to up your keyword game and content game.
So, if you're looking to build a topical map while finding longtail keyword ideas, then I strongly suggest you give RankAtom a try.
If you're looking to expand your SEO strategy or build a topical map, then you have to try RankAtom. It'll save you a ton of time in the process and show you keywords you wouldn't think of.
RankAtom Review: Find Weak Spots In the SERPs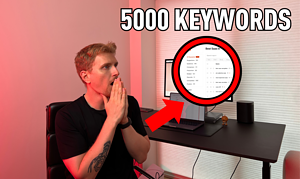 In this RankAtom review you see how to do keyword research and find thousands of low-competition long-tail keywords in seconds.
Operating System: Web
Application Category: SEO
Pros
You can start using it entirely free, with 10 credits, and it costs 1 credit to run a keyword research report.
Thousands of keywords in seconds with excellent filtering options to make your life easy.
The ranking features allow you to look at the SERP over time to analyse its changes.
Cons
The quality of the keywords in the keyword report varies. Often, I got completely irrelevant keywords.
The BERT analysis is a great idea, but the output is not great right now. It's super redundant.